How wonderful would it be to fill your Christmas tree with handmade crochet ornaments this year?
This list of the best free crochet Christmas ornament patterns will help you trim your tree with snowflakes, garland, stars, and crochet baubles that will impress even Rudolph.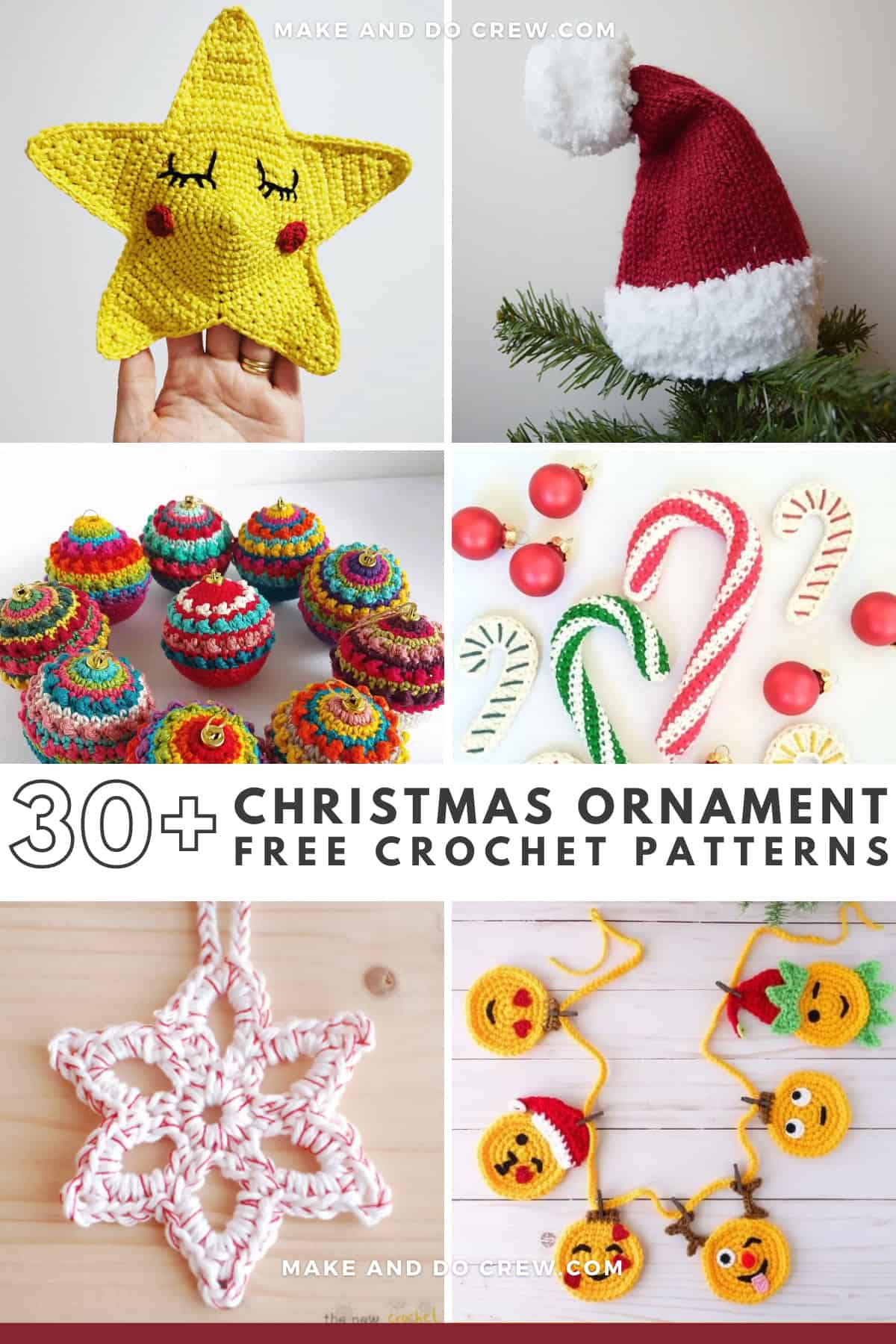 Jump to:
Crochet Christmas tree ornament patterns
I love how handmade Christmas decorations can hold special significance when you pull them out of the garage or crawl space each season.
Plus working on your own crochet ornaments is a perfect excuse to play Christmas music in early November, right?
Whether you're looking for a Santa Claus, angel or snowflake ornament pattern, we've got you covered. This list also includes easy crochet Christmas ornaments that make great beginner projects, like the classic stars or the crochet mini stocking pattern.
More Christmas crochet patterns
If you're looking for more handmade holiday cheer, don't miss these free Christmas crochet patterns:
Related: Kick off January with a temperature blanket pattern
Crochet Christmas Ornament Patterns to Try
The free Christmas ornament crochet patterns in this collection are organized by category so you can easily find your perfect pattern. Here are some of the types of projects you'll find in this list:
Crochet Christmas tree patterns
Victorian crochet Christmas ornaments
Classic ball ornaments

Adorable crochet gnomes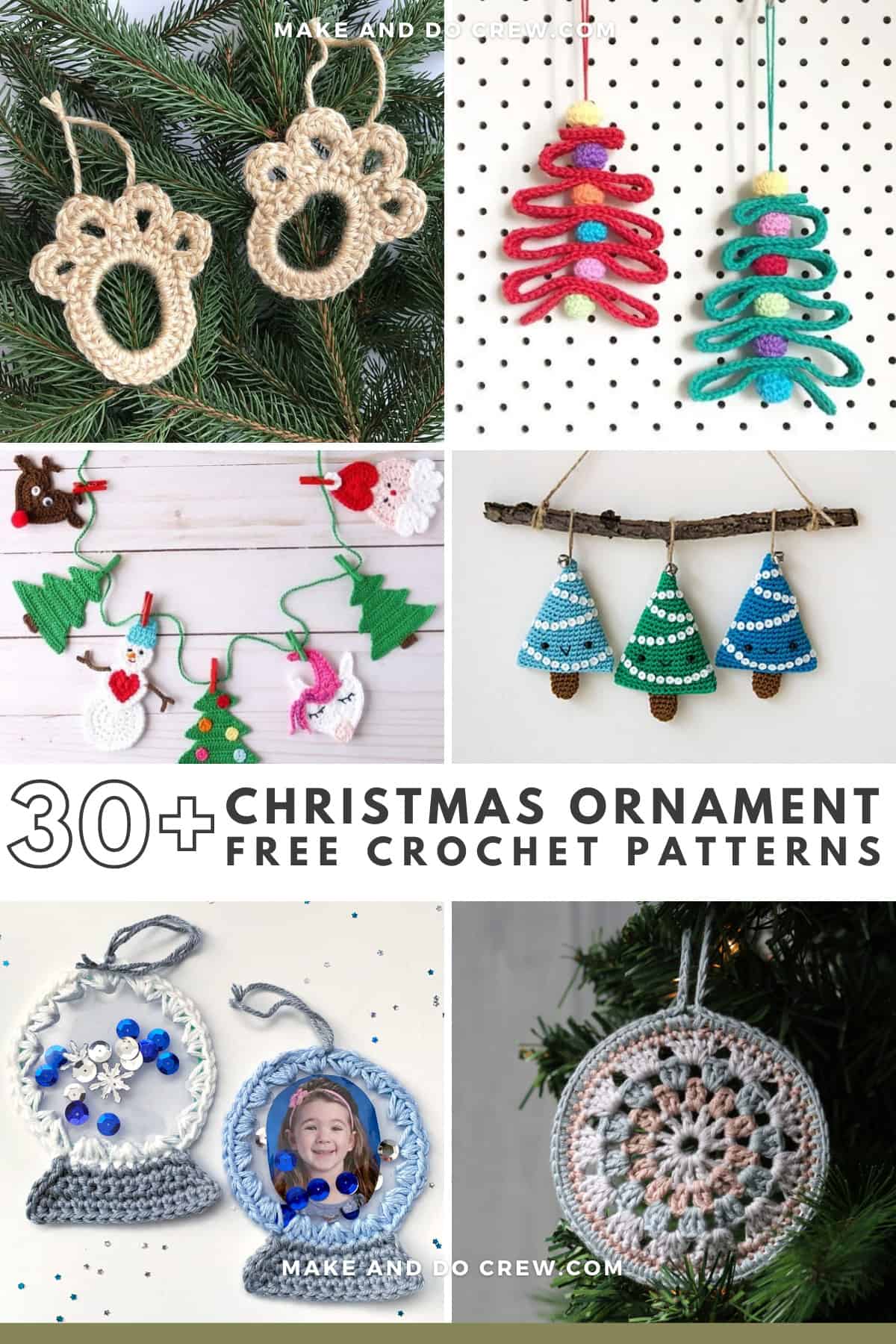 Helpful Crochet Supplies
When you're thinking about how to crochet a Christmas ornament, you'll want to have all the right supplies. Here are some materials you'll want to have available (in addition to yarn, of course).
Crochet hook

- your gauge won't matter as much with ornaments, but you'll want the right size hook for the yarn you're using
Stitch markers - for marking your place or preventing your live loop from unraveling

Fiber fill - for stuffing any 3D parts of amigurumi ornaments
Some optional supplies that can be really fun to add to crochet Christmas ornaments include jingle bells, pom poms, buttons and leather accents. I also really love to attach a special gift tag when giving a handmade gift.
How to Choose Christmas Ornament Crochet Patterns
Often our success with a crochet project has to do with choosing the right pattern to begin with. When you're looking through this list of crochet ornament ideas, here are a few things to keep in mind:
The Best Yarn for Crochet Tree Ornaments
Christmas ornaments can be crocheted with almost any yarn. You may even choose to substitute a different weight yarn from what the pattern calls for to make the ornament bigger or smaller.
I often reach for Lion Brand Basic Stitch or Vanna's Choice for crochet projects like this because both come in a wide variety of vibrant colors.
Sometimes choosing an alternate fiber can add a lot of charm and character to your crochet ornaments though. Consider using jute or dollar store twine to give your Christmas ornaments more of a farmhouse style.
Related: How to Shop Your Stash: The Best Patterns for Using the Yarn You Have
Free Crochet Christmas Ornament Patterns
Below you'll find our absolute favorite crochet ornament patterns. Grab your hook and let's make the most of the holiday season!
Christmas Baubles
There's nothing quite as festive or classic as a great ball or bauble ornament. Crocheting your own allows you to customize the color scheme and add loads of interesting texture.
Easy Patterns for Beginners
While there are many easy ornament patterns in this list, the following are a few that are great if you're fairly new to crochet. You may also enjoy turning easy amigurumi projects into ornaments by adding a tree hanger.
Ornaments to Gift
If you're trying to figure out what to crochet for the co-workers, teachers, neighbors or coaches, these ornaments are fun and easy to personalize.
Angel Ornament Patterns
Crochet Christmas angels have been a holiday staple for a long time. These free crochet angel patterns will add classic touch to your tree this year.
Snowflake Ornaments
Crochet snowflakes some of the most beautiful qualities about crochet AND snow and combine them into delicate, timeless Christmas ornaments.
Vintage Ornament Patterns
Looking for some Christmas nostalgia? These vintage-inspired patterns will remind you of times gone by.
Christmas Tree Garland
Crocheted Christmas garland patterns are perfect to add a handmade touch to you holiday home decor and can sometimes be enjoyed long after Christmas is over.
Christmas Tree Toppers
Help your Christmas tree take center stage with these crochet tree topper patterns.
Christmas Amigurumi Patterns
Is there anything cuter than Christmas Amigurimi? This technique of using single crochet stitches to crochet Christmas ornaments is quick and satisfying. There's really no end to what you can crochet for Christmas with basic amigurimi skills.
Check out our favorite crochet stuffed animal patterns if you want to make some one-of-a-kind gifts for the kiddos this year.
Related: While they're not made of yarn, my kids and I love making salt dough Christmas ornaments each year.
More DIY Christmas Crafts
If you love this season as much as I do, here are more festive DIY ideas to try.