No one will ever guess these DIY gift wrap ideas are all born from dollar store supplies!
We're closing in on a week before Christmas and I'm guessing all you thoughtful gift givers have already spent a lot of time or money on presents for the people on your list.
(Or, like me, you have nothing figured out, much less purchased, but BIG plans to do so right after you write a blog post about gift wrap ideas.)
Here's the thing about DIY gift wrapping fanciness:
The gift wrap shouldn't cost more than the gift inside.
Am I not right? And since I know you hit those Black Friday, Small Business Saturday, Cyber Monday, Orange Tuesday and Cheapskate Wednesday sales hard, your gift wrap ideas--however creative and fancy--need to be an equal bargain.
So today I give you easy ways to pimp out your packaging with supplies from the dollar store. (And if you'd like to download the free printable gift tags pictured, just sign up in the box at the bottom of the post to access these and lots of other crafty freebies.)
The key to inexpensively adding a lot of style to your gift wrapping is to think outside of the (gift!) box about what constitutes gift wrap materials in the first place. I used everything from clothesline to Christmas tree ornaments to wrap these gifts. Once you release yourself from the only-bows-belong-on-presents thinking, a whole world of unique and beautiful gift wrapping options open up.

Here are some supplies you can pick up at the dollar store that will make your gifts look all kinds of fancy. Most of these items come in packages of multiples so you're getting several for $1.
-kraft paper
-gold sequin "disco ball" ornaments
-red bulbs
-glittery pinecone ornaments
-jute
-green and white clothesline
-multipack of ribbon
-washi tape
-faux red berries
-gold antiqued jingle bells
Also pictured: collect some pinecones, clean pinecones, and paint the tips white for a charming, nearly-free gift topper.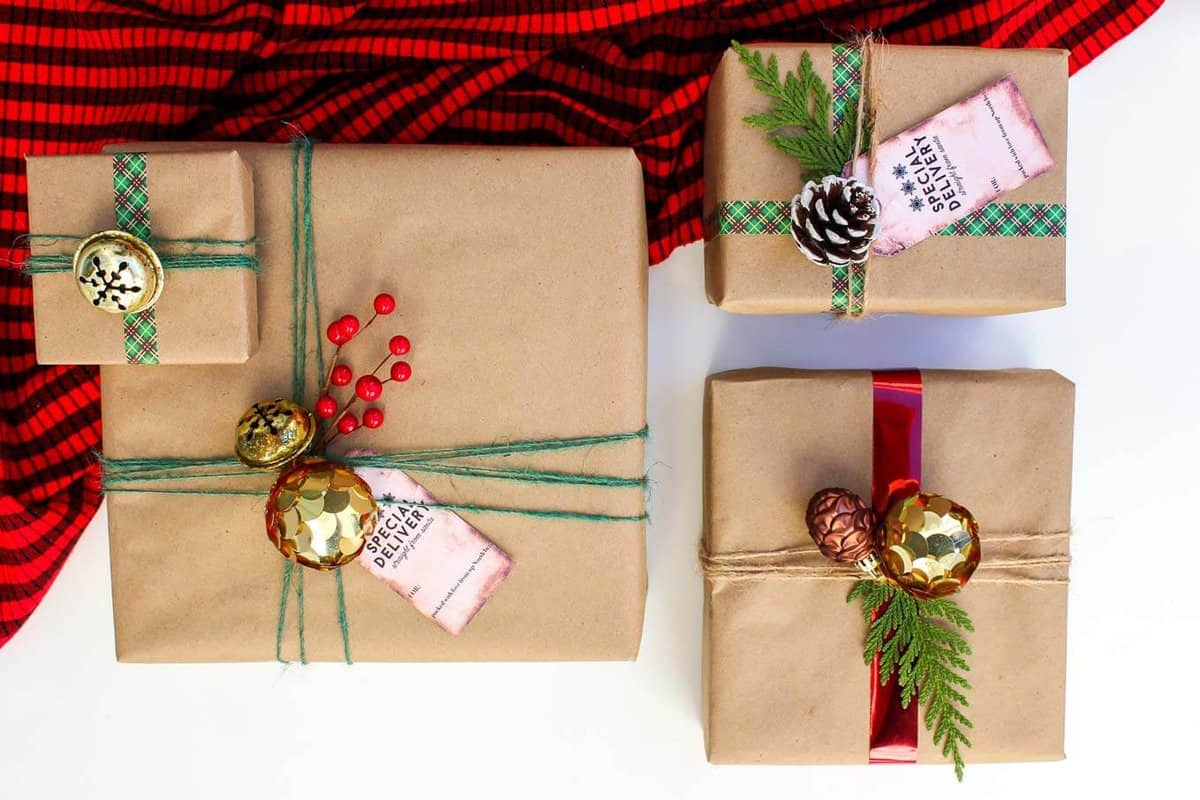 I shopped at Dollar Tree and spent about $10 for everything total. And for two fivers, you can easily wrap far more gifts than I did. I just stopped because it seemed silly to continue wrapping empty boxes. (Re-refrence above if you're wondering why I'm wrapping empty boxes and not actual gifts. Sounds ridiculous to you that I haven't started shopping/DIY-gift-making yet? Well, I have to agree.)
To round out your budget-friendly wrapping job, download our free vintage-inspired printable gift tags. Not even the dollar store can beat free! Enter your email address in the box below and you'll receive instant access to these and other free printables, patterns and craft templates.
More DIY Christmas Crafts