Follow this C2C crochet pattern to crochet a Border Collie, Australian Shepard or a Blue Heeler. The free graph pattern can be downloaded below or you can purchase the ad-free PDF with line-by-line instructions here.
This crochet Border Collie pattern is part of a collaboration with Lion Brand Yarns. This post contains affiliate links.
This corner-to-corner crochet pattern is perfect to crochet a pet portrait of your favorite Australian Shepard or Border Collie. Use it to inspire a C2C blanket, pillow or whatever your dog dreams can imagine!
Keep reading for more yarn and customization details or scroll down for free pattern.
Jump to:
The Best in Show Dog Blanket
RELATED: How to crochet a dog sweater - for any size dog!
Pattern overview
As with all corner-to-corner graph patterns, this project is crocheted diagonally from the bottom right corner to the upper left corner.
If you'd like tips on wrangling your yarn, see this post on how to keep your yarn organized when using multiple colors to get pointers are wrangling your yarn.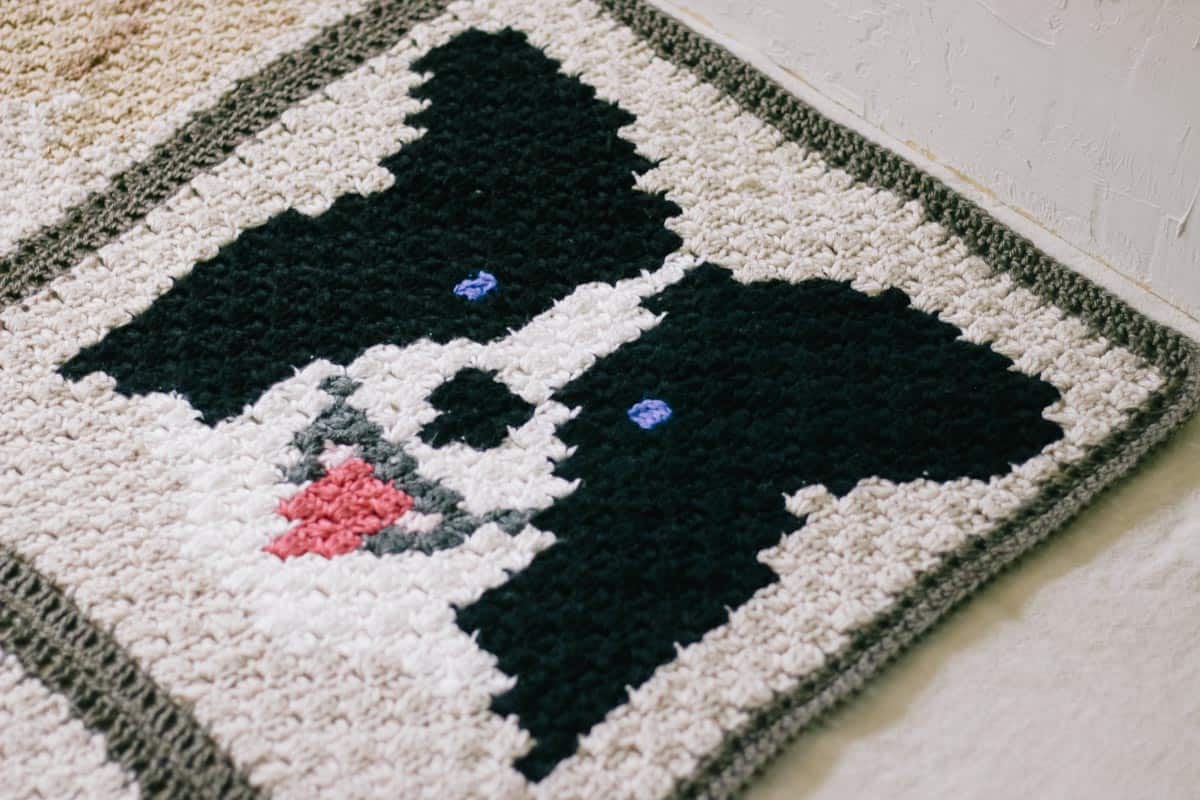 This is a medium level C2C crochet pattern because, while it does contain several color changes, there are large sections where fewer colors are used.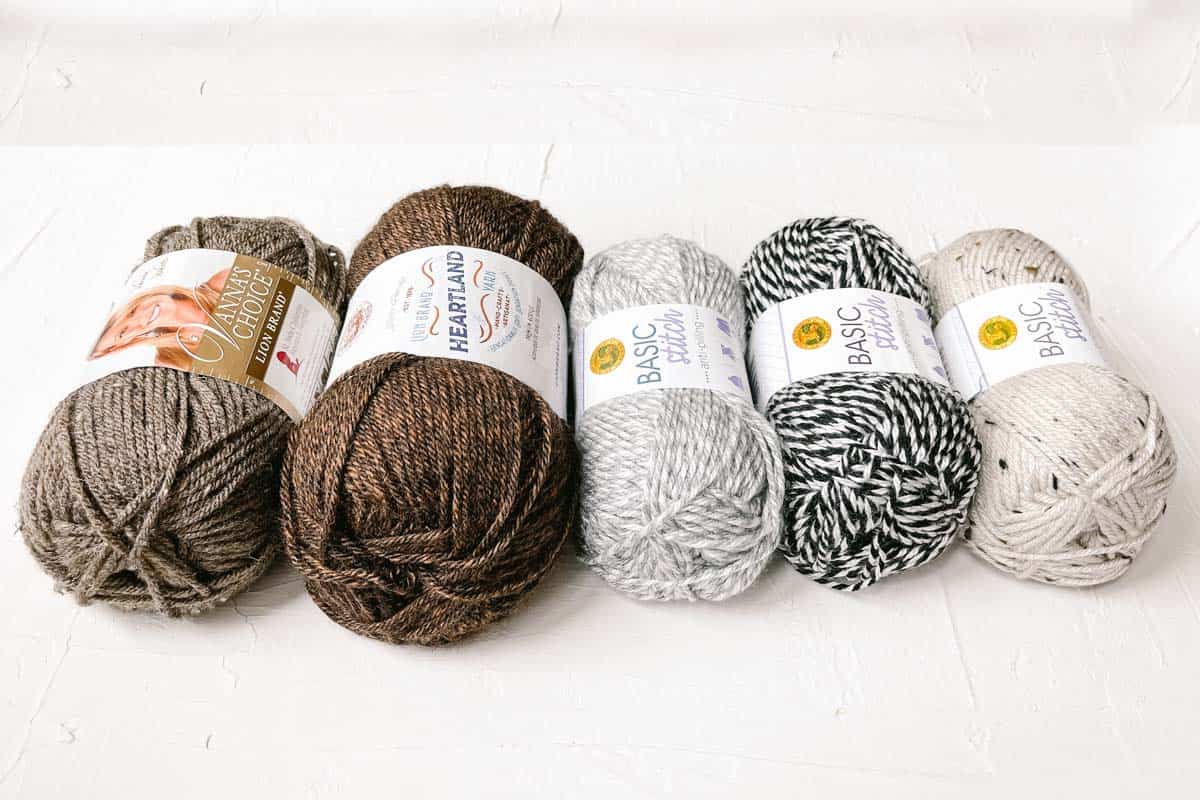 Use tweed, speckled or variegated yarn to easily mimic the color patterns of an Australian Shepard.
Customizing your Border Collie
You can print the free graph pattern and color in different sections to modify the graph to look more like your favorite pup. But even if you keep the design as is, here are a few ways to personalize your crochet Border Collie or Australian Shepard.
Want to add more Australian Shepard and Border Collie variety to your corner-to-corner crochet project? Melissa from Lovable Loops designed six additional dog graphs that can be used alongside this Border Collie pattern. You can find Melissa's C2C crochet dog patterns here.
Related: 33+ Crochet Blanket Border Ideas
Yarn + substitutions
We used Lion Brand Basic Stitch Anti-Pilling yarn for this C2C crochet Border Collie. Basic Stitch tends to be our go-to for C2C patterns because it's available in a lot of colors at a reasonable price point.
You can definitely use any worsted weight acrylic yarn though. Try some of the speckled and variegated shades of Basic Stitch, Lion Brand Heartland or Lion Brand Vanna's Choice to create merled-looking fur.
SUBSTITUTIONS: If you can't get ahold of Basic Stitch, Heartland or Vanna's Choice, you can check YarnSub.com for similar suggestions.
RELATED: How to Shop Your Stash: The Best Patterns for Using the Yarn You Have
Print this pattern
You can download and print the free C2C graph pattern and crochet directly from it.
You will likely find it much easier to also cross reference the graph with the line-by-line C2C instructions included in the premium PDF. Written graph instructions are incredibly helpful with this C2C crochet Border Collie because they:
Allow you to crochet much faster than if counting squares in a graph.
Reduce the likelihood of mistakes that need to be torn out.
Make it easier to set down your work and know right where to pick the pattern back up.
Free pattern
Great free option.
---
C2C dog pattern graph only.
Printable.
Cross off each graph row as you crochet.
Premium PDF
Easier, faster with fewer mistakes.
---
Includes line-by-line written instructions for each graph row.
Saves time and mistakes.
Graph pattern included as well.
If you're planning on crocheting more than one C2C dog design, purchasing the Best In Show Blanket premium PDF offers the best deal. It includes the complete set of nine C2C dog graph patterns, the written instructions and all the tutorial photos.
---
Additional Corner-to-Corner Crochet Resources:
Help with learning corner-to-corner-crochet basics can be found here:
BOOK: Corner-To-Corner Crochet: 15 Modern Projects (I cover all the details you need to know to master C2C in this book!)
ALL THE BASICS: Intro to C2C and the skills you need to get started.
VIDEO TUTORIAL: How to increase and decrease to create a rectangle.
PHOTO TUTORIAL: How to change colors in C2C crochet.
C2C Crochet Border Collie
Explanation:
Follow this C2C crochet pattern to crochet a Border Collie, Australian Shepard or a Blue Heeler.
Supplies:
YARN:
• Lion Brand Basic Stitch Anti-Pilling Yarn (Weight: 4/medium - 185 yds, 3.5 oz)
ADDITIONAL SUPPLIES:
• Printed graph pattern (download here)
• Tapestry needle
• Size H (5.0 mm) crochet hook or size needed to obtain gauge
• T-pins
• Steamer or iron with steam function (alternative: use a spray bottle)
• Blocking board
Measurements:
Finished dog block measures approximately: 18 X 18" when gauge is met
Gauge:
10 tiles = 6.25"
Each tile = approx. .6"
Abbreviations and Glossary
(US Terms):
ch – chain
dc – double crochet
hdc - half double crochet
rep – repeat
RS – right side
slst – slip stitch
sp – space
st(s) – stitch(es)
WS – wrong side
IMPORTANT: The Border Collie pictured is worked in the diagonal box stitch (also called corner-to-corner crochet) using half double crochet C2C stitches. Therefore each tile begins with a chain 5, then a half double crochet is worked in the third chain from the hook and the next two chains. Similarly at the beginning of each tile (after the slip stitch), use two chains instead of the usual three you'd use with a double crochet C2C project.
Permissions + Copyright:
Please do not publish or share this pattern as your own. You may make items to sell with this pattern. In exchange, please link back this post. Do NOT use our photos as your own sales photos.
---
How to Read Written Line-By-Line C2C Instructions (included in the PDF)
→ Row 21 [WS]: A11, (B Popcorn) x 6, A4
• Row # is always the same as the number of tiles in that row. (Row 21 = 21 total
tiles)
• Arrow indicates direction of row when RS of blanket is facing up.
• Letter indicates which color of yarn to use. (See "Supplies" for abbreviations.)
• Number indicates how many tiles of each color to work. Therefore, for this
example, you'd work 11 tiles in Color A (typical C2C stitches) , 6 tiles in Color B
---
Print the premium pattern!
Crocheting the Border Collie Pattern
Notes:
All tiles are worked in corner to corner (C2C) half double crochet stitches as described in Glossary above.
It can be very helpful to wind smaller balls of each color before beginning a graph. This allows you to keep a color attached when it will be used in the next row and avoid carrying contrasting colors underneath as you work.
Each pixel in the graph corresponds with one tile in your afghan. A tile = 2 ch (the tch, which counts as a hdc) + 3 hdc
While you may find it faster to work predominantly from the line-by-line
written instructions in the premium PDF, double checking your work against the graph patterns periodically will help catch any mistakes sooner rather than
later.
Finishing:
Once you've completed your crochet Border Collie or Aussie, follow the finishing instructions in the Best in Show Blanket to learn how to block your square and add a border if you'd like.
More C2C Crochet Dog Patterns
Click the link below to go to the blog post and free pattern for the each dog.
More Corner-to-Corner Crochet Patterns:
Here are a few C2C crochet patterns makers love and we think you will too!
Share your stitches!
Tag us (@MakeAndDoCrew) to show off your makes!