Make a modern, muted rainbow crochet blanket pattern using the c2c crochet technique. This bohemian design is an perfect gift for welcoming a rainbow baby or commemorating Pride.
The free corner-to-corner crochet rainbow graph pattern is below, or purchase the ad-free, printable PDF with line-by-line instructions.
This crochet rainbow blanket pattern is part of a collaboration with Lion Brand Yarns. This post contains affiliate links.
Jump to:
Rainbow Crochet Blanket Pattern
Ever wonder what's at the end of a crochet rainbow? Puff stitch clouds, of course!
This crochet rainbow blanket pattern combines traditional corner-to-corner diagonal box stitches (what you typically think of as c2c) with richly-textured popcorn stitches to create a modern, cheerful rainbow. It's the perfect handmade gift for anyone who needs a little magic in their lives!
Keep reading for more resources or jump down to the free pattern.
Why you'll love this rainbow blanket pattern!
More Crochet Blanket Resources
If you love crocheting blankets as much as we do, I think you'll find these resources really helpful.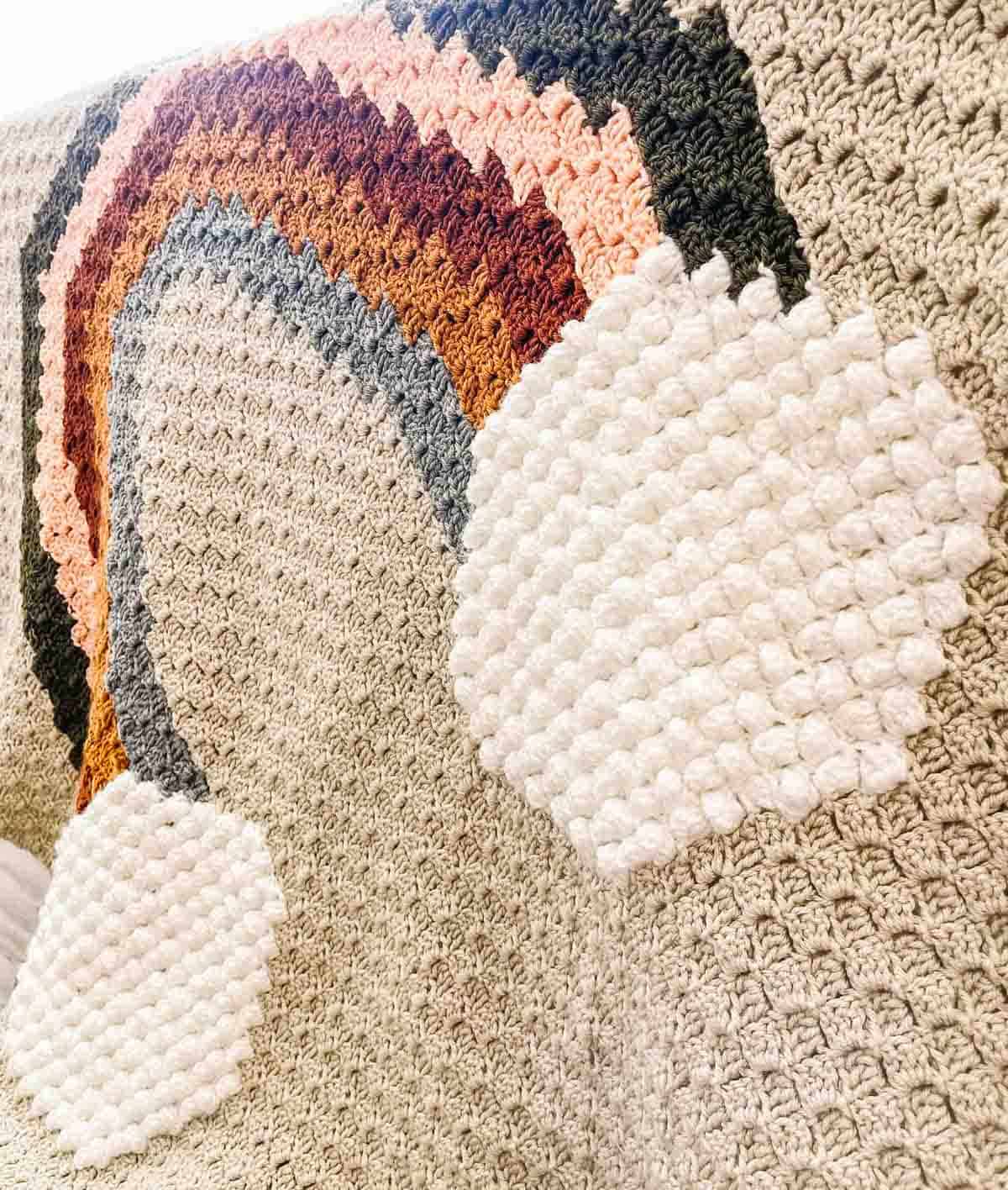 Pattern Overview
This rainbow crochet blanket is an intermediate-level C2C crochet pattern. Before attempting this project, you should have some experience with corner-to-corner crochet, but with a little effort, you'll have a rainbow blanket in no time!
In the Over the Rainbow Blanket pattern, you'll have an opportunity to practice changing colors in C2C crochet, crocheting a corner-to-corner popcorn stitch, and adding a crab stitch (aka reverse single crochet) border around your blanket.
Additional C2C Crochet Resources
If you're completely new to this fun technique, check out our Beginners Guide to Corner-To-Corner Crochet. And if you're the analog type, you'll love my book: Corner to Corner Crochet: 15 Contemporary Patterns. In this comprehensive book, I cover everything you need to know for success with C2C.
And if you're already a C2C crochet pro, you'll love this tutorial on how to design your own corner-to-corner crochet graph patterns.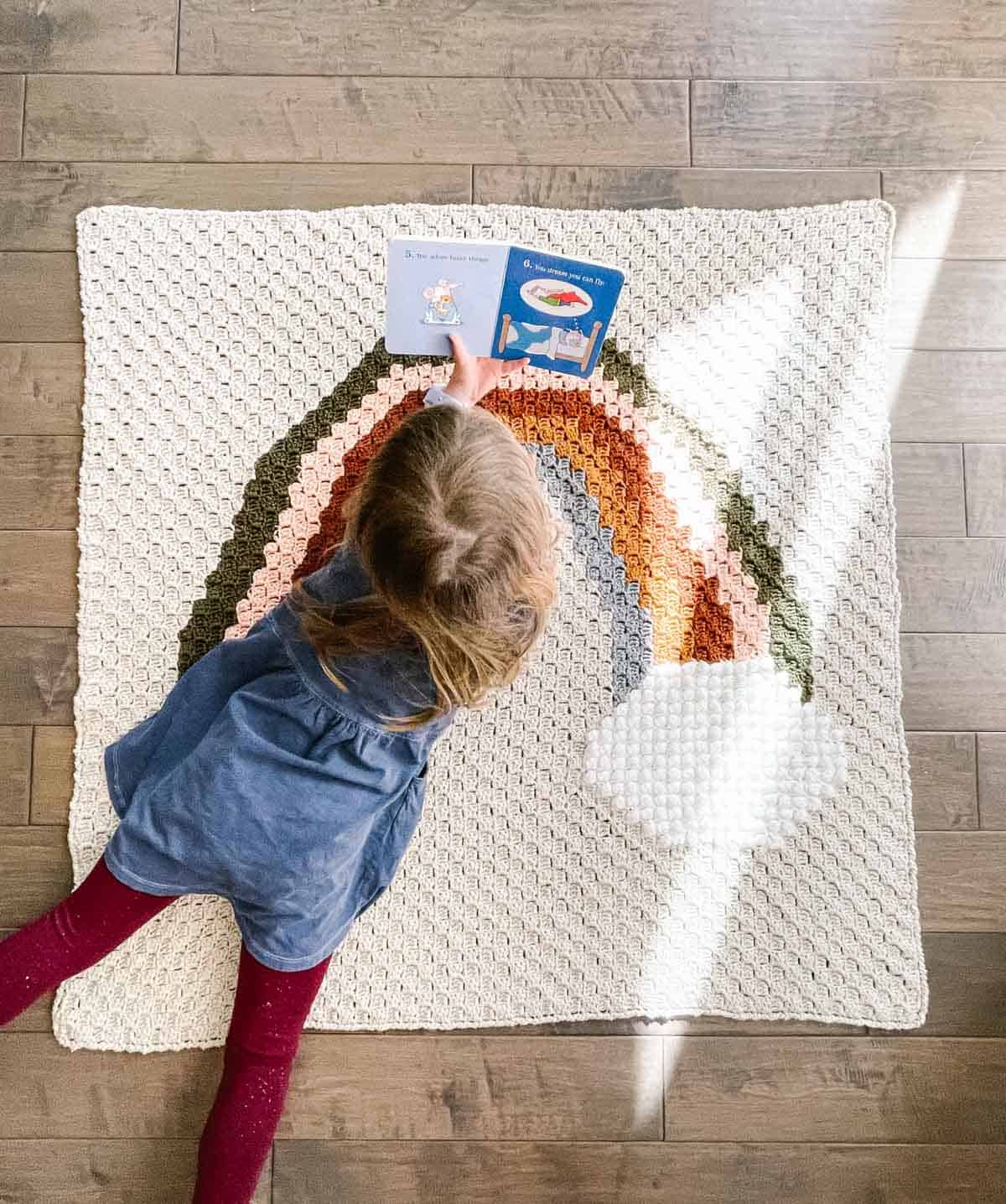 All-in-One Crochet Kit
If you don't live near amazing yarn stores or just want to receive rainbows in the mail, the all-in-one kit is a perfect way to make your Over the Rainbow Blanket.
This bundle from Lion Brand includes all the Basic Stitch Anti-Pilling yarn you'll need, plus a bonus printable PDF of the pattern with line-by-line C2C instructions (delivered digitally).
When you order the rainbow blanket crochet kit, you can customize the yarn colors to suit your style.
Print this Pattern
I love sharing our crochet patterns for free, but I always recommend upgrading to the printable PDF if possible for C2C patterns. Why? Our premium PDFs include line-by-line instructions that tell you how many tiles of each color to work in a row.
These written C2C crochet instructions are incredibly helpful because they:
Reduce the likelihood of mistakes that need to be torn out.
Allow you to crochet much faster than if counting squares in a graph.
Make it easier to set down your work and know right where to pick the pattern back up.
The instantly downloadable, ad-free PDF is formatted for easy printing and includes the complete pattern, graph, and written instructions.
Premium PDF
easier and faster with fewer mistakes.
---
Complete pattern + photo tutorials
Instant download
Formatted for easy printing
Over the Rainbow C2C Blanket - Free Pattern
Supplies + Materials
Order an all-in-one kit from Lion Brand.
• Lion Brand Basic Stitch Anti Pilling (Weight: 4/medium - 170 yds, 3.5 oz)
- A: Beige Heather (202-410) - 6 skeins [approx 575g]
- B: White (202-100) - 2 skeins [approx 175g]
- C: Olive (202-132) - 1 skein - [approx 60g]
- D: Peachy (202-184S) - 1 skein [approx 50g]
- E: Honey (202-134) - 1 skein [approx 50g]
- F: Adobe (202-135) - 1 skein [approx 45g]
- G: Silver Heather (202-404) - 1 skein [approx 45g]
• Size J (6.0mm) crochet hook or size needed to obtain gauge
• Printed copy of the free rainbow blanket C2C graph pattern (click to open and print)
Measurements
Approx 44 x 44"
Gauge
5.5 tiles = 4"
Each tile = approx. .75"
Abbreviations and Glossary (US Terms)
ch – chain
dc – double crochet
c2c popcorn - corner-to-corner popcorn stitch (see below)
rep – repeat
RS – right side
sl st – slip stitch
sp – space
st(s) – stitch(es)
WS – wrong side
How to Crochet the C2C Popcorn Stitch
Follow the C2C popcorn stitch instructions with tutorial photos for more details.
Step 1: Sl st into next ch 3 turning space. Ch 3.
Step 2: 5 dc in same sp. Remove hook from fifth dc.
Step 3: Re-insert hook from front to back in first of 5 dc. Then insert hook in live loop of fifth dc.
Step 4: Keeping hook inserted in first dc, pull loop from fifth dc through first dc.
Step 5: Ch 1 to close popcorn.
Step 6: Dc in same sp to complete C2C tile.
Skill Level
This rainbow blanket pattern is appropriate for a crocheter with some C2C crochet experience.
How to Read Written Pattern:
The premium PDF pattern includes written instructions for each line of the C2C graph. Here's how to read them:
→ Row 21 [WS]: A11, (B Popcorn) x 6, A4
• Row # is always the same as the number of tiles in that row. (Row 21 = 21 total tiles)
• Arrow indicates direction of row when RS of blanket is facing up.
• Letter indicates which color of yarn to use.
• Number indicates how many tiles of each color to work. Therefore, for this example, you'd work 11 tiles in Color A (typical C2C stitches), 6 tiles in Color B (C2C popcorn stitches) and 4 more tiles in Color A (typical C2C stitches) and then turn your work and proceed with Row 22.
Permissions + Copyright:
Please do not publish or share this pattern as your own. You may make items to sell with this pattern. In exchange, please link back this post. Do NOT use our photos as your own sales photos.
Overall Pattern Notes
Pattern is worked using the diagonal box stitch (c2c) in double crochet stitches. Clouds are created using diagonal C2C popcorn stitches. The borders are added once the blanket is complete.
C2C popcorn stitches are meant to be viewed on RS of fabric. When worked on WS rows, simply push them through to the RS so they appear on the blanket front.
Written instructions in the premium PDF are provided in two formats so you can print whichever you find easier to follow. For color-coded written instructions, see end of pattern. Note: Both sets of instructions create the same blanket, it's just the pattern format that differs.
Rainbow Blanket Instructions
Here are the basic steps to crochet your blanket:
Follow the graph pattern (and written instructions if you've purchased the PDF) to crochet the blanket. Right and left handed crocheters begin in the bottom right corner of the graph. Unless otherwise noted as a popcorn stitch, all tiles are worked in corner-to-corner double crochet stitches.
Add the blanket borders.
Weave in your ends.
Related: How to C2C Crochet With Multiple Colors With WAY Less Frustration
Free pattern
Great free option.
---
C2C rainbow pattern graph only.
Printable.
Cross off each graph row as you crochet.
Premium PDF
Easier, faster with fewer mistakes.
---
Includes line-by-line written instructions for each graph row.
Saves time and mistakes.
Graph pattern included as well.
Blanket Borders
Notes:
• Borders are worked in the round with RS of the rainbow blanket facing throughout. This means the puff stitches should be facing you.
Using A yarn already attached:
Border Round 1: Ch 3 (counts as sc and 2 ch), sk first tile, sc in sp between next 2 tiles, *ch 2, sk tile, sc in sp between tiles; rep from * around blanket. Place [sc, ch 1, sc] in each corner. Sl st to first ch from beginning of round to join.
Border Round 2: Ch 1, rsc around blanket placing 1 rsc in each sc and 2 rsc in each ch2sp, slst to first st of round to join. Fasten off and weave in the yarn tails. (I like to do all the ends of one color at a time to make it more of a game!)
If you'd like, lightly steam block your blanket by following our guide to blocking crochet.
Snuggle yourself up in your new rainbow!
Obsessed with finding the best free crochet patterns?
Check out these collections of handpicked patterns to find your next project.
Find Your Next Blanket Pattern
Need a new project on your hook? We've got you covered with more easy crochet blankets and afghans!
That was so fun! Now what?
Invitation to our Facebook group
Come discuss crocheting corner to corner blanket patterns and lots of other crochet projects and techniques in our Make & Do Crew Facebook group. Here thousands of helpful crocheters answer each other's questions and share their stitches. Join us!