Learn how to crochet the knit stitch successfully in this step-by-step video tutorial. The knit stitch (AKA the waistcoat or center single crochet stitch) can be tricky at first, but trying the few specific tips mentioned in this video, you'll know how to make crochet look like knitting in no time!
This free knit-stitch video tutorial is part of a collaboration with my friends at Lion Brand Yarn. This post contains affiliate links.
UPDATE: I've put together a collection of 15+ of my favorite modern FREE crochet patterns that look knit here!
Can I make a crochet confession?
While I love the freeform nature of crochet, I often prefer the look of knitting.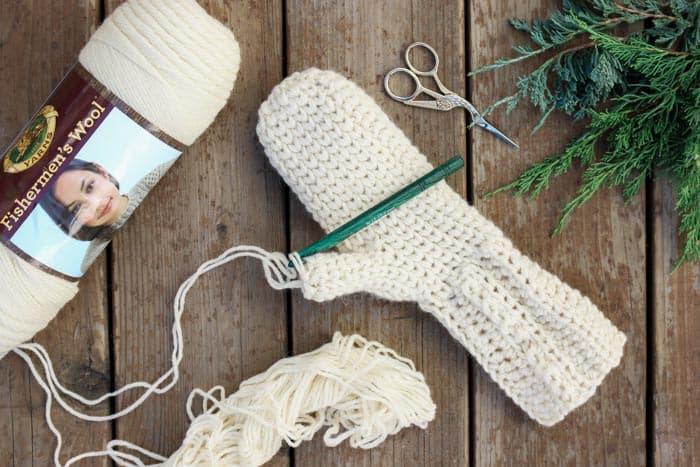 Is that a sin to admit on a crochet blog? I don't think so, right? All yarn lovers can be friends, whether we're knitting, crocheting or–like my kids–just cutting up old skeins.
I've wanted to learn how to crochet the knit stitch for years. And I've tried. Every time it's turned out too tight, too janky or just not knit-looking enough. After studying several different tutorials though and a lot of trial and error, I figured out the tricks that make crocheting the knit stitch a success for me. I thought I'd share those tips with you in a quick video tutorial in case you've had the same struggles (or if you just want to learn how to make crochet look like knitting!)
P.S. You can always find all my stitch tutorials and round ups here. Find all my crochet video tutorials here.
The thing I love about the knit stitch/waistcoat stitch/center single crochet stitch is that is worked using ONLY single crochet. Seriously! Once you get your tension working and master the few tips I share here, this stitch is e-a-s-y.
Personally, I find that the knit stitch looks a lot more like legit stockinette when worked in the round versus in rows. It can be crocheted either way though, so find what works the best for you and what serves the purpose of your project.
In the video tutorial below, I cover how to crochet the knit stitch in the round as well as how to make the join as invisible as possible while you work. Scroll down a bit further for the written instructions.
And if you're interested in trying out the knit stitch on a project, you can find the free Everyday Crochet Beanie here and the free Morning Mittens pattern here. Then learn how to dye your mittens with food coloring here!
How to Crochet the Knit Stitch
(aka Waistcoat or Center Single Crochet Stitch)
Abbreviations (US terms):
ch – chain
sc – single crochet
sl st – slip stitch
Notes:
When crochet the knit stitch in the round, there are two ways to work:
– Work in rounds by chaining one at the beginning of the round and slip stitching to the first single crochet at the end of the round.
– Work in a spiral in an amigurumi-type method.
For this tutorial, I'm describing the first option, but just know that both are possible.
Written instructions for the working the knit stitch in the round:
Foundation Round: Ch any multiple of chains, sl st to first ch of round to form a circle.
Round 1: Ch 1, sc in each ch, sl st to first sc to join.
Round 2: Ch 1, sc in between the posts of each sc (see photo below), sl st to first sc to join.
Repeat Round 2 for remainder of project.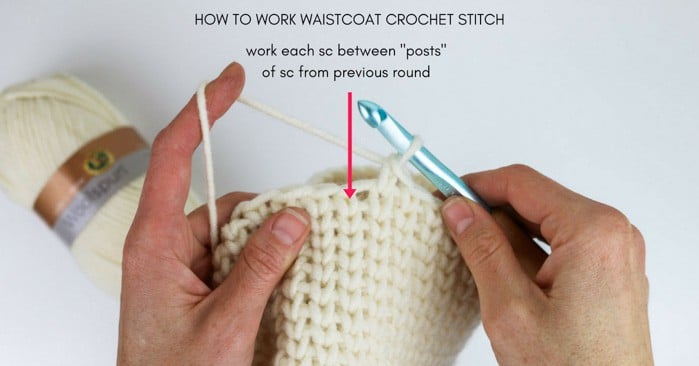 Tips for Working the Crochet Knit Stitch Successfully
If you're not the video-watching type, here are the tips in cliff notes form:
• Use a larger hook than you usually would for the yarn. I can't stress this enough. You need a significantly bigger hook to make the spaces between the single crochet posts wide enough to insert your hook through.
• Once you insert your hook in the correct place and yarn over, tip your hook up a bit to loosen the stitch even further. This will help make the next stitch easier to work. (See photo below.)
• When slip stitching at the end of each round, pull the slip stitch quite tight. This will make the join nearly disappear. (See photo below.)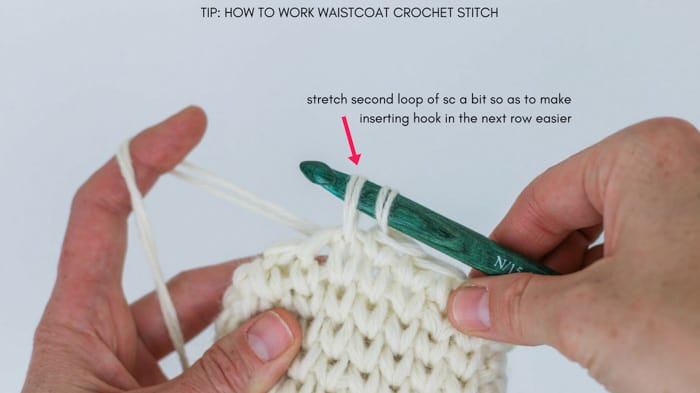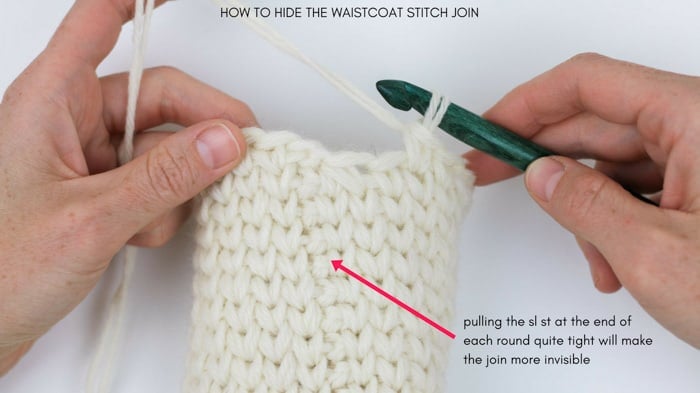 How to Decrease in the Crochet Knit Stitch
You can shape items crocheted with the knit stitch just as you would any other crochet project. Increasing is as simple as working two single crochets into the same space between the single crochet posts.
If you're wondering how to decrease using the knit stitch though, it's also very similar to a typical sc2tog. In the photo on the right below, you can see how the sc2tog is simply worked between the posts of two sc stitches. When you have three loops on your hook as pictured on the right, you'll yarn over and pull through all three loops. This will decrease your round by one stitch.
I hope this tutorial helps you know how to crochet the knit stitch with confidence! If you have any pattern ideas you'd like to see created with this stitch, please let me know in the comments below.
More Free Crochet Patterns
Ready to create more beautiful crochet projects? Here are some free crochet patterns for you to check out.
1. The Saturday Slippers – free pattern with men's and women's sizing
2. How to Patch Jeans with Crochet Lace
3. Cabin Boots with Flip Flop Soles – free crochet pattern and video tutorial
4. The Revival Scarf – free crochet pattern and video tutorial
WANT MORE FREE CROCHET PATTERNS?
I've got more free crochet goodness for you that'll knock your little handmade socks off.