Follow this step by step how to crochet a sweater video tutorial to make your own cardigan from a simple rectangle. Get the complete free crochet pattern with plus sizes here or purchase the printable PDF with stitch chart here.

This how to crochet a sweater video tutorial is part of a collaboration with Lion Brand Yarns. This post contains affiliate links.
Last month I shared the Haven Cardigan free crochet pattern and today I'm back with Part 1 of a video tutorial that will show you how to make this easy sweater step-by-step.
How To Crochet a Sweater Video Tutorial -- For Garment Newbies!
If you're new to making crochet clothing, this is an excellent pattern to try because it's nothing more than a large rectangle with some simple accessorizing. There's no increasing or decreasing and very little seaming, which makes it quite similar to working a large blanket. It's really so satisfying to watch it come together!

More Free Crochet Sweater Patterns
Crochet sweater patterns don't need to be difficult. In fact, most of ours are made with very simple shapes. Dive into the wonderful world of crochet garments with cardigans, pullovers, ponchos, shrugs and more!
See more free crochet sweater patterns →
What's Covered in Part 1 of this Crochet Sweater Video Tutorial?
Because this is a pretty beefy crochet sweater video tutorial, I've broken it up into two sections. You can watch Part 2 here.
In Part 1 we'll cover:
- What supplies you need to crochet your Haven Cardigan.
- Why checking your gauge is important.
- How to crochet the main rectangle using the crossed cluster (bobble) stitch.
- How to seam your rectangle into a shrug so that it's ready for Part 2 of the tutorial.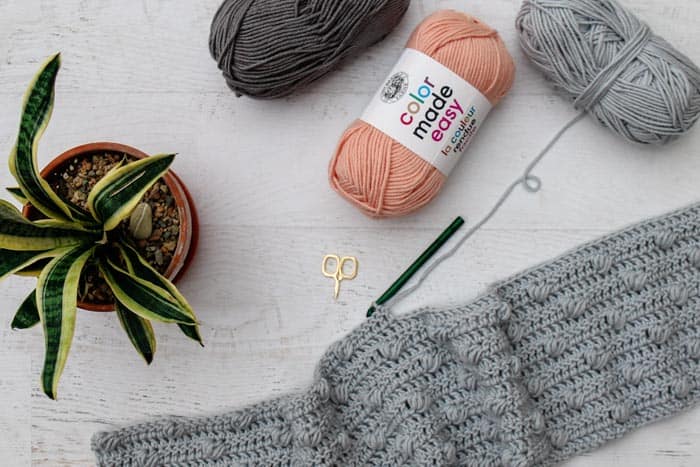 Haven Crochet Sweater Video Tutorial - Part 1
Below you'll find Part 1 of the Haven Cardigan video tutorial. All the links I mention in the video can be found right below the video player. In Part 2, we'll cover how to add a collar, sleeves and pockets to finish off your easy crochet cardigan! (Watch Part 2 here.)
Links Mentioned in the Video:
• Haven Cardigan - free pattern in sizes S-3X here.
• Haven Cardigan - ad-free, printable PDF with stitch chart here.
• Save this pattern to your Ravelry here.
• Pin it for later here.
• Part 2 of the Haven Cardigan video tutorial.
Supplies Mentioned in the Video:
Purchase a kit with all the yarn you'll need, plus a printed copy of the pattern here.
• Lion Brand Color Made Easy (Weight: 5/bulky - 247 yds, 7 oz)
- Shade (#195-149) – 7 (8, 10, 11, 12) skeins [approx. 1370 (1580, 1820, 2060, 2270) g]
• Tapestry needle
• Size L (8.0 mm) crochet hook
• Stitch markers or safety pins
That was so fun! Now what?
Invitation to our Facebook group
Come discuss crocheting bobble cardigan and lots of other crochet projects and techniques in our Make & Do Crew Facebook group. Here thousands of helpful crocheters answer each others questions and share their stitches. Come join us here.
Find Your Next Sweater Project
More Free Patterns + Tutorials
Can't get enough free crochet patterns!? Me either. You'll definitely want to breeze through these collections to find your next project.
Learn a New Skill
And when you're ready to master a new skill, check out our detailed guides that include everything you need to know to level up your crochet game.
More Free Crochet Clothing Patterns
If you've enjoyed making your own sweater, here are some more free crochet patterns to help you add to your handmade wardrobe. You can always find all our free crochet garment patterns here.
1. Braided Poncho - free knit-look crochet poncho pattern with stitch video tutorial
2. Saratoga Poncho Top - free crochet summer poncho top pattern
2. Greyscale Poncho - free crochet poncho pattern with a cozy pocket