Follow this step by step how to crochet a sweater video tutorial to make your own cardigan from a simple rectangle. Get the complete free crochet pattern with plus sizes here or purchase the printable PDF with stitch chart here.

This how to crochet a sweater video tutorial is part of a collaboration with Lion Brand Yarns. This post contains affiliate links.
Last month I shared the Haven Cardigan free crochet pattern and today I'm back with Part 1 of a video tutorial that will show you how to make this easy sweater step-by-step.
How To Crochet a Sweater Video Tutorial — For Garment Newbies!
If you're new to making crochet clothing, this is an excellent pattern to try because it's nothing more than a large rectangle with some simple accessorizing. There's no increasing or decreasing and very little seaming, which makes it quite similar to working a large blanket. It's really so satisfying to watch it come together!

More Simple Crochet Sweater Patterns with Video Tutorials
I'm a big fan of simple geometry, so I've designed several crochet sweater patterns that can be made from very basic shapes that you might also enjoy. The best part? Each one of these patterns is free and includes a step-by-step video tutorial!
1. Up North Cardigan / 2. Dwell Sweater / 3. Day Date Cardigan / 4. Habitat Cardigan
What's Covered in Part 1 of this Crochet Sweater Video Tutorial?
Because this is a pretty beefy crochet sweater video tutorial, I've broken it up into two sections. You can watch Part 2 here.
In Part 1 we'll cover:
– What supplies you need to crochet your Haven Cardigan.
– Why checking your gauge is important.
– How to crochet the main rectangle using the crossed cluster (bobble) stitch.
– How to seam your rectangle into a shrug so that it's ready for Part 2 of the tutorial.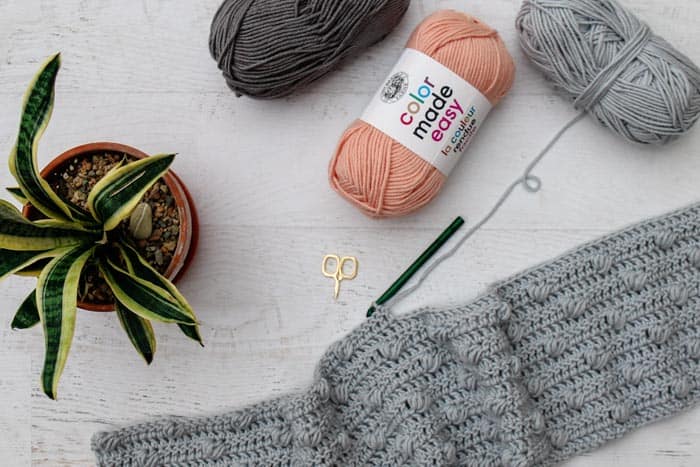 Haven Crochet Sweater Video Tutorial – Part 1
Below you'll find Part 1 of the Haven Cardigan video tutorial. All the links I mention in the video can be found right below the video player. In Part 2, we'll cover how to add a collar, sleeves and pockets to finish off your easy crochet cardigan! (Watch Part 2 here.)
Links Mentioned in the Video:
• Haven Cardigan – free pattern in sizes S-3X here.
• Haven Cardigan – ad-free, printable PDF with stitch chart here.
• Save this pattern to your Ravelry here.
• Pin it for later here.
• Part 2 of the Haven Cardigan video tutorial.
Supplies Mentioned in the Video:
Purchase a kit with all the yarn you'll need, plus a printed copy of the pattern here.
• Lion Brand Color Made Easy (Weight: 5/bulky – 247 yds, 7 oz)
– Shade (#195-149) – 7 (8, 10, 11, 12) skeins [approx. 1370 (1580, 1820, 2060, 2270) g]
• Tapestry needle
• Size L (8.0 mm) crochet hook
• Stitch markers or safety pins
More Free Crochet Clothing Patterns
If you've enjoyed making your own sweater, here are some more free crochet patterns to help you add to your handmade wardrobe. You can always find all our free crochet garment patterns here.
1. Braided Poncho – free knit-look crochet poncho pattern with stitch video tutorial
2. Saratoga Poncho Top – free crochet summer poncho top pattern
2. Greyscale Poncho – free crochet poncho pattern with a cozy pocket
✕
WANT MORE FREE SIMPLE SWEATER PATTERNS?
I'd love to send you more fashion-forward free crochet patterns that will make you feel like a goddess of DIY! You in?