Learn how to make the Habitat Cardigan step-by-step in this beginner crochet sweater video tutorial! Reference Part 1 and Part 2 of the free pattern while you work along with the free video lesson. Alternatively, you can purchase the ad-free, printable PDF of the complete pattern here.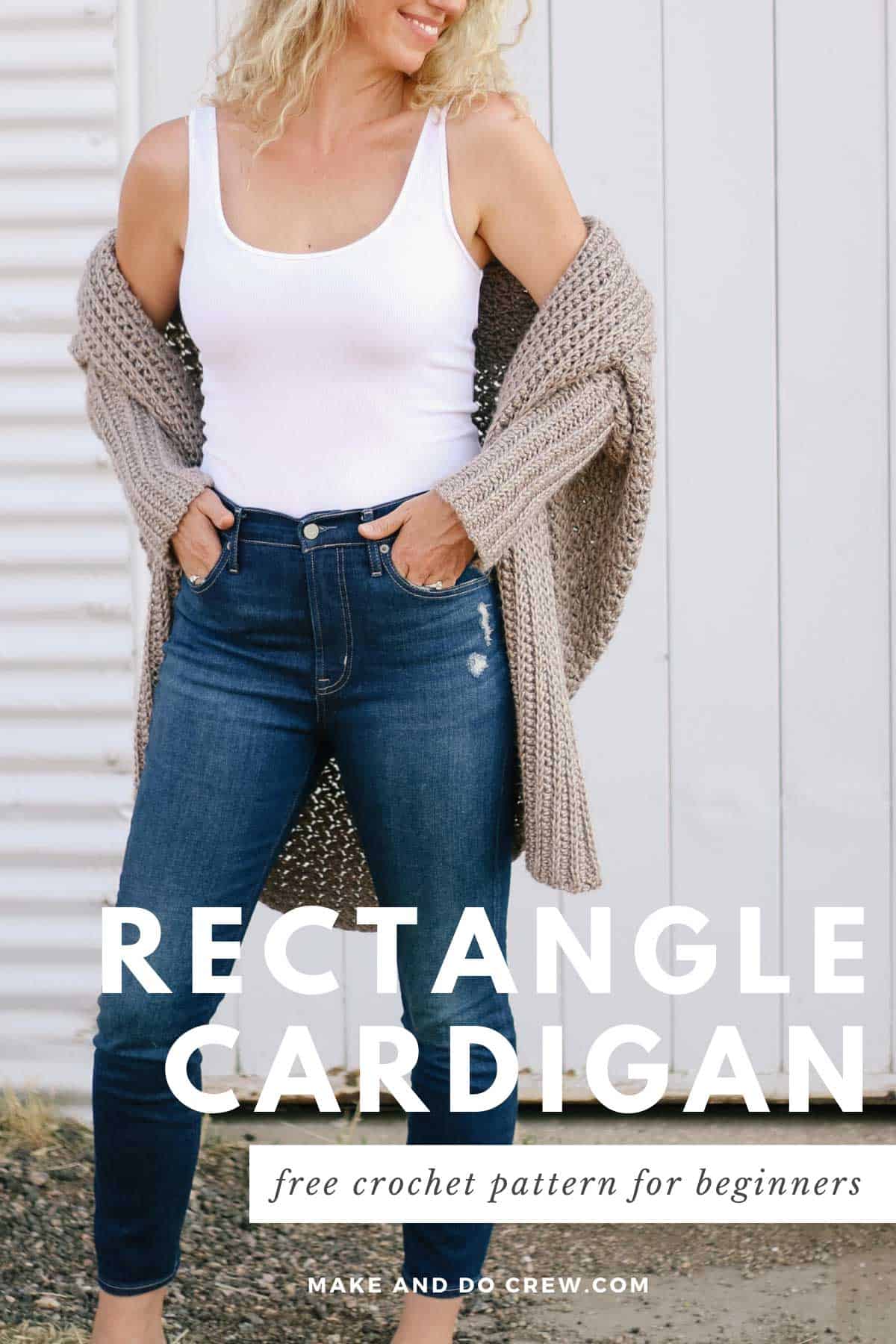 This beginner crochet sweater video tutorial is part of an ongoing collaboration with my friends at Lion Brand Yarn. This post may contain affiliate links.
I've loved seeing so many of you get started on your Habitat Cardigans since I shared the free pattern. (If you'd like to show off your stitches too, tag me on Instagram (@makeanddocrew) and use #habitatcardigan.)
As I was editing the video tutorial this weekend, I was reminded of how legitimately simple this crochet cardigan is. A series of basic rectangles come together to form a super comfy, drapey, effortlessly cool sweater--and it's no harder than crocheting a scarf!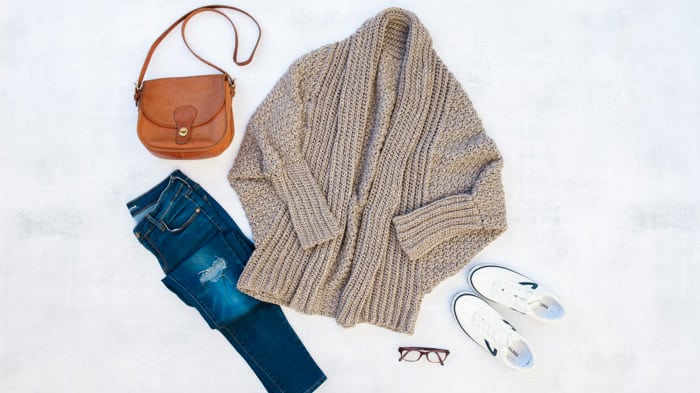 Based on a few questions I've received about the Habitat Cardigan, I thought I'd run through a couple of FAQs before we get started with this beginner crochet sweater video tutorial. (And if you like to learn by watching video tutorials, you can find all my crochet video tutorials here!)
What if my gauge isn't the same as what's listed in the pattern?
Getting the right gauge is what will ensure your cardigan is the same size as the measurements listed in the pattern. This sweater has a significant amount of positive ease, so if you're off by a smidge, it'll likely still work out. If you're off by more than a stitch or so though, I recommend changing your hook size to adjust the tightness or looseness of your stitches.
Keep in mind that the sweater will stretch a bit once worn, so if necessary, I recommend erring on the side of a slightly smaller rather than larger gauge.
RELATED for your furry friends - easy crochet dog sweater pattern for small and large dogs
Can I substitute a lighter/heavier yarn?
I chose Lion Brand Heartland yarn for this pattern because it's washable, has beautiful drape and is quite affordable for a larger project like this. If you'd like to use a yarn that's a different weight, I suggest doing a gauge swatch to determine how many stitches you need in your initial rectangle chain in order to achieve the rectangle dimensions listed in the pattern. (Then be sure to chain an odd number of stitches to begin.)
You can grab a kit from Lion Brand with all the yarn necessary to make your Habitat Cardigan, plus a pattern PDF formatted for printing pattern here.
Deliver it! Click to purchase a kit with all the yarn you'll need ⇨
Can I work extra rows to make it longer?
Sure! If you finish your rectangle rows and see that your rectangle is a bit shorter than the dimmensions listed in the pattern, feel free to work some extra rows until it's the correct size. Or if you just want a longer overall sweater, work extra rows of the "tush extension," just make sure to crochet an odd number of rows so that you end with a RS row.

Will this crochet sweater fall off my shoulders?
Some shrug-type sweaters tend to be a bit back heavy and therefore fall off your shoulders easily. The Habitat Cardigan has a pretty substantial collar in the front though that helps serve as a effective counterweight to keep the sweater comfortably in place. (Unless of course, it's 90 degrees like it was when I took the photo at the top of this post. Then it can easily drape off your shoulders intentionally in a casual, sexy way. Ha.)
More Free Crochet Sweater Patterns
Crochet sweater patterns don't need to be difficult. In fact, most of ours are made with very simple shapes. Dive into the wonderful world of crochet garments with cardigans, pullovers, ponchos, shrugs and more!
See more free crochet sweater patterns →
Alright, I really hope you make something you're proud of with this beginner crochet sweater video tutorial! I wore my sweater around NYC recently for my visit to Lion Brand and it felt like a great big hug--a hug that I MADE MYSELF! Woohoo!
New to making cardigans? Don't miss How to Crochet a Sweater for our best beginner tips
The Habitat Cardigan
Beginner Crochet Sweater Video Tutorial
Purchase the ad-free, printable PDF of the complete pattern here on LoveCrafts.com or here on Etsy.
Add this pattern to Ravelry here.
Pin this easy crochet sweater video tutorial for later here.
Links mentioned in the video:
Habitat Cardigan Free Crochet Pattern - Part 1
Habitat Cardigan Free Crochet Pattern - Part 2
If you enjoyed this pattern or found the video helpful, I'd love for you to pin it or share it on Facebook so more crochet addicts can find it too. Thank you!

That was so fun! Now what?
Invitation to our Facebook group
Come discuss crocheting rectangle cardigan patterns and lots of other crochet projects and techniques in our Make & Do Crew Facebook group. Here thousands of helpful crocheters answer each others questions and share their stitches. Come join us here.
Find Your Next Sweater Project
More Free Patterns + Tutorials
Can't get enough free crochet patterns!? Me either. You'll definitely want to breeze through these collections to find your next project.
Learn a New Skill
And when you're ready to master a new skill, check out our detailed guides that include everything you need to know to level up your crochet game.
More Free Crochet Cardigan Patterns With Video Tutorials
Are you ready to crochet another cozy sweater? Here are some more free crochet sweater patterns, all with video tutorials included!
1. Day Date Cardigan - Two simple crochet hexagons transform into a lightweight, on-trend cardigan complete with cozy pockets and roomy bishop sleeves.
2. Alchemy Cardigan - This lightweight sweater is perfect to toss on for some summer stargazing or layer with a long-sleeve shirt in the colder months.
3. Dwell Sweater - Creatively constructed from a simple rectangle, this flattering chunky crochet sweater comes together easily with zero shaping, increasing or decreasing.
4. Up North Cardigan - This easy, cotton crochet cardigan pattern for beginners uses a very simple construction to create a show-stopping look with entry level skills.