Two simple shapes is all it takes to make this easy crochet rectangle poncho. This surprisingly simple poncho will be a go-to favorite for all those cool, crisp nights and blustery mornings. Get the free pattern below or purchase the ad-free, printable PDF here.
Thanks to Lion Brand Yarns for providing the yarn for this easy crochet poncho pattern. This post contains affiliate links.
Welcome back to the Make & Do Crew guest designer series where talented designers from across the internet share their free patterns with you, right here on Make & Do Crew.
Today Ambrea from Bonnie May Blue is here with her free crochet rectangle poncho pattern! You can see lots of of Ambrea's crochet patterns on Etsy and Ravelry. And in fact, last fall she shared an adorable modern baby bonnet pattern right here on Make & Do Crew. Be sure to check her out on social media too: Instagram, Pinterest, and Facebook. Ambrea, take it away!
The Inspiration for My Easy Rectangle Poncho Pattern
Hello all, Ambrea here, the face and hands behind Bonnie May Blue. I want to give a big shout out to Make & Do Crew for allowing me to be featured again in the guest blogger series! (See my first guest post, an easy, modern baby bonnet here.)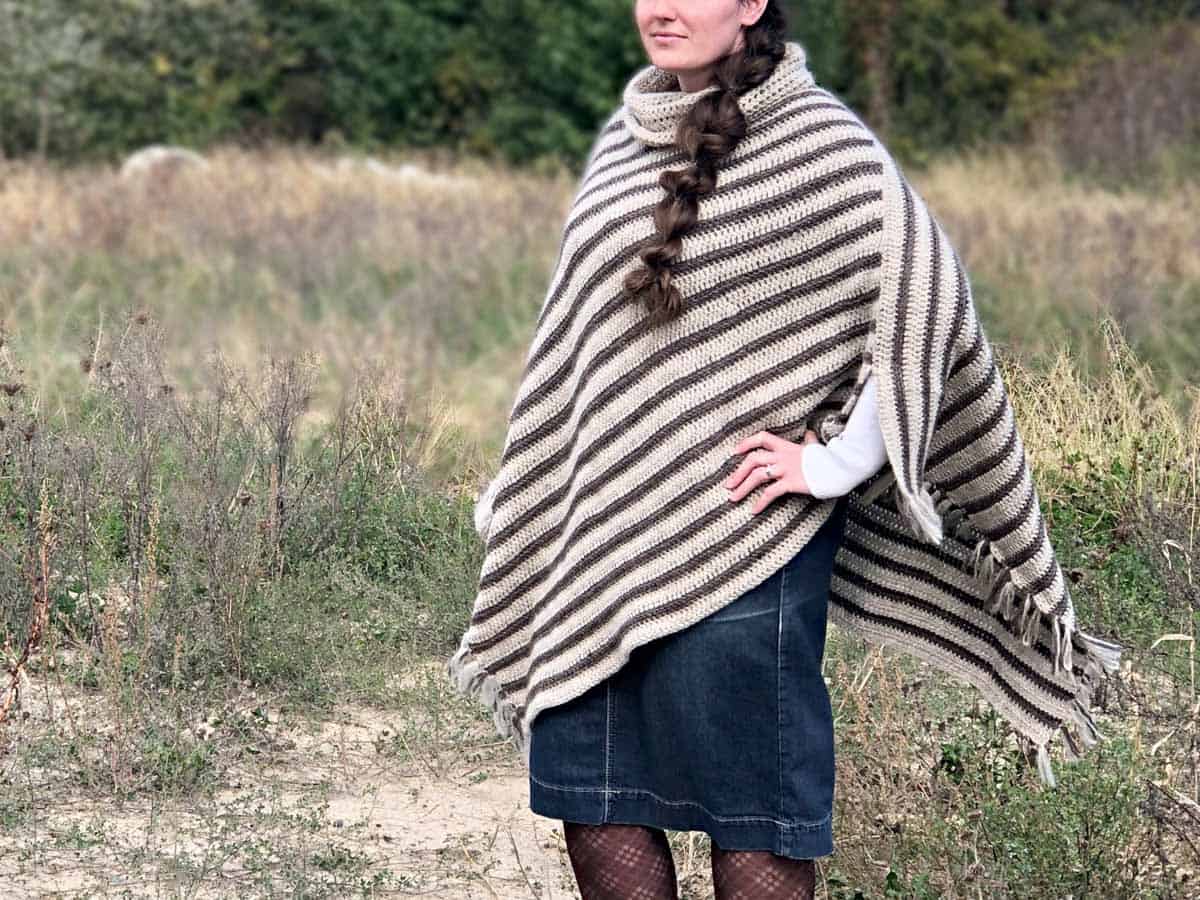 Jess and her "Crew" are so awesome to provide this amazing platform for all of us makers to get together, learn new techniques, channel our creativity and do what we love…MAKE! Be sure to check out all of the free crochet patterns, from socks to hats and everything in between. There is seriously something for everyone! Keep reading for another easy crochet project.
I cannot get enough of "sweater weather". Cooler weather is my favorite, with the invigorating fresh air, the leaves like an endless sea of colors floating on the breeze, the crackle and smoky scent of bonfires. Wouldn't life be perfect if we could stay cozy warm wearing a crochet blanket to work, school, the store?
Let's be honest, wearing an outright blanket in public may earn an odd stare or two, but most likely won't win anyone a fashion award. So slip on the Mountain Haze poncho and give the appearance of being stylish and put together while enjoying the feel of being cocooned in a blanket all day.
Classic Wool Yarn Comes Through Again
Lion Brand's Fishermen's Wool seemed like the ideal choice for a poncho to create the warm, squishy feel of a blanket. Fishermen's Wool is a virgin wool yarn with natural lanolin oil. The lanolin oil makes this wool naturally water resistant, which is a pretty neat feature, especially if you find yourself caught in a mist or snow flurry.
The undyed natural, earthy tones of the Fishermen's Wool will be calling your name day or night, rain, shine or snow.
Fishermen's Wool has so many possibilities; it can be dyed and also felted for projects. The Fishermen's Wool creates this surprisingly lightweight garment weighing less than 30 ounces finished. You'll have no worries staying warm in the Mountain Haze poncho made with this cozy wool.
Related: 30+ Free Crochet Poncho Patterns - for all seasons
A Poncho As Easy As a Rectangle
This is a beginner-friendly crochet garment utilizing single crochet, half double crochet, and double crochet stitches. If crocheting a garment seems a little daunting, this poncho is a great first piece to try. The pattern includes directions on how to seam two crochet pieces together.
Huge plus, the Mountain Haze poncho is great for nursing. I'm a nursing momma and truly appreciate versatile garments. So just snuggle your little one under your blanket, ahem…I mean poncho.
New to making garments? Don't miss our beginner's guide to crocheting your first sweater.
click to pin this pattern for later ⇨
More Free Crochet Sweater Patterns
Crochet sweater patterns don't need to be difficult. In fact, most of ours are made with very simple shapes. Dive into the wonderful world of crochet garments with cardigans, pullovers, ponchos, shrugs and more!
See more free crochet sweater patterns →
---
Mountain Haze Free Crochet Rectangle Poncho Pattern
Purchase the ad-free, printable PDF on Etsy or Ravelry.
Pin this pattern for later here.
Explanation: Two rectangles, seamed together, create this asymmetrical poncho without which you won't want to leave home. With zero shaping, this poncho will be a great beginner crochet project. If you can crochet a rectangle and work in the round, you can whip up the mountain haze poncho.
The whole poncho is worked up with three basic crochet stitches; the single crochet, half double crochet, and double crochet. The front and back rectangles are seamed together using a lace up seam method (Directions below). Add the final details with a collar and fringe.
Supplies:
• Lion Brand Fishermen's Wool (Weight: 4/medium – 465 yds, 8 oz)
- Oatmeal (#150-123) - 3 balls
- Brown Heather (#150-125) - 1 ball *(Size XL will use slightly more than 1 skein of the contrasting color)*
• US H/8 (5.00mm) crochet hook
• Scissors
Sizes/Measurements:
• S (4-8)
• M/L (10-14)
• XL (16-20)
• Size pictured is XL on 5'8" model with 46" bust.
Gauge:
• 17 stitches x 12 rows = 5"
Abbreviations and Glossary (US Terms):
ch – chain
sc – single crochet
hdc – half double crochet
dc – double crochet
blo – back loop only
sl st – slip stitch
st(s) – stitch(es)
RS – right side
WS – wrong side
MC – main color
CC – contrasting color
Overall Pattern Notes:
• **The ch1 or ch2 of each row does NOT count as a stitch. Work the first stitch of each row in the same space as the ch1 or ch2**
• **Unless you have a love for weaving in ends, work the yarn up the sides of the work to keep a continuous working yarn**

Body – Make 2
Foundation Row: (MC) Ch 106 (118, 136).
Row 1 (WS): Beginning in 3rd ch from hook, dc to end of row; ch2, turn. (104 (116, 134))
Row 2 (RS): Dc to end of row, (CC) ch2, turn.
Row 3: Hdc to end of row, ch1, turn.
Row 4: In blo, sc to end of row, (MC) ch2, turn.
Row 5: Dc to end of row, ch2, turn.
Row 6: Dc to end of row, (CC) ch2, turn.
Row 7: Hdc to end of row, ch1, turn.
Row 8: In blo, sc to end of row, (MC) ch2, turn.
Repeat Rows 5 – 8: 11 (13, 16) times.
Finish panel by repeating Rows 5 & 6 one more time for all sizes. Do not ch2 at end of Row 6; break yarn and weave in ends.
Repeat for second panel.
Seaming
With right sides together, hold the selvedge edge of one panel and the finished edge of the other panel together. Align the bottom corners. Pin the panels together, if needed, to ensure the bottom edges stay aligned.
With your tapestry needle and a long piece of yarn, join the yarn approximately 6 – 8" up from the bottom corners. To seam, insert the needle into each stitch along the edge from back to front, on the right panel, and then from back to front, on the left panel. Repeat until you reach the end of one panel (the selvedge edge). Periodically, pull the yarn taut as you seam to close the gap.
Break yarn and secure. Repeat on the other side, aligning the selvedge edge of one panel and the finished edge of the other panel. Note, if you used the selvedge edge of the panel, you will now use the finished edge of that panel and vice versa.
Break yarn and secure. You will end up with an asymmetrical poncho with a slit on the bottom of each side and an "eye" shaped neck hole.
Collar
With working yarn, join the yarn in one corner of the neck hole, Ch2. (Ch2 does not count as a stitch). Work the collar around the entire neck hole.
Rounds 1 – 12: Dc around, sl st to join in first dc, ch2.
Break yarn and weave in ends.
Work more or less rounds for your desired look.
Fringe
Cut yarn in 7" increments. Tie fringe along the selvage edges of the front and back panels. I used 2 pieces of yarn at a time, then used a brush to fray the yarn.
Cut longer or shorter pieces of yarn for your desired look.
Block your poncho and enjoy.
Thanks again to Ambrea from Bonnie May Blue for sharing this free and easy crochet poncho pattern! Be sure to check out Ambrea's Etsy shop for lots more modern crochet patterns!
That was so fun! Now what?
Invitation to our Facebook group
Come discuss crocheting two rectangle poncho patterns and lots of other crochet projects and techniques in our Make & Do Crew Facebook group. Here thousands of helpful crocheters answer each others questions and share their stitches. Come join us here.
Find Your Next Sweater Project
More Free Patterns + Tutorials
Can't get enough free crochet patterns!? Me either. You'll definitely want to breeze through these collections to find your next project.
Learn a New Skill
And when you're ready to master a new skill, check out our detailed guides that include everything you need to know to level up your crochet game.
More Free + Easy Crochet Patterns
Looking for your next crochet garment pattern? Here are some more free crochet patterns that are made from very simple shapes.
1. Free Range C2C Crochet Cardigan - A few basic rectangles come together to form a gorgeously drapy, on-trend sweater in this simple corner to corner crochet cardigan pattern.
2. Crochet Sherpa Sweater Jacket - Recreate the popular look of "teddy bear" fleece in this crochet sherpa sweater jacket pattern. By using fuzzy yarn and the most beginner Tunisian crochet stitch, we'll make a fabric that looks decidedly not crocheted.
3. Haven Bobble Crochet Cardigan - With a super easy construction based on a rectangle, this free crochet sweater pattern is playful, fast and perfect for beginner to advanced crocheters. Video tutorial included.
4. Saratoga Crochet Poncho Top - Made from two simple rectangles, this summer crochet top will take you effortlessly from music festival to BBQ to beach vaca this season.