No one will ever guess your happy, textured DIY Easter decorations were once cheap plastic eggs.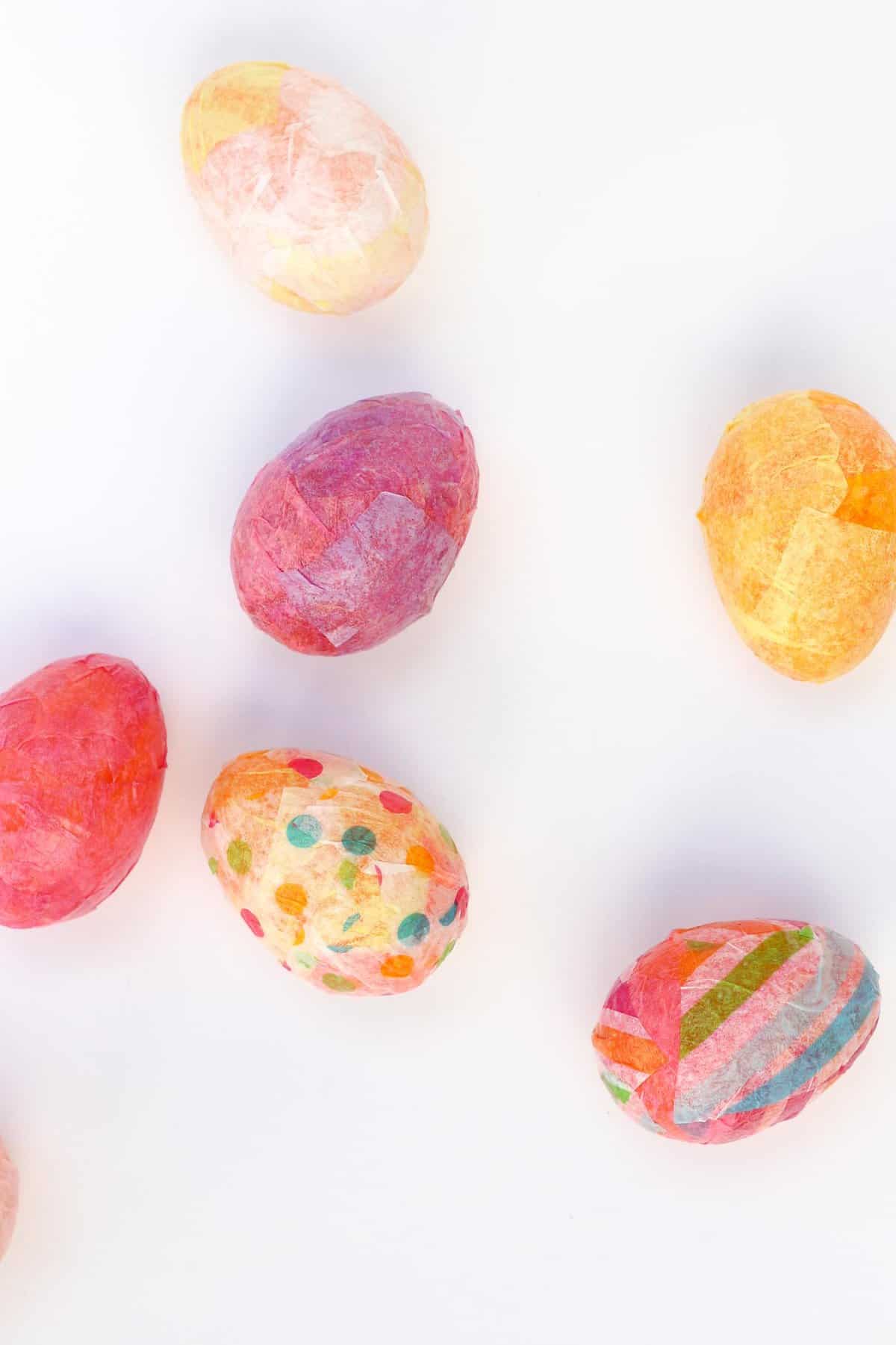 There's been a lot of bird talk around our house these days. Somehow, our family has gotten on a real imaginary-bird-kick and everything we play now has something to do with being baby birds, foraging for worms or keeping our feathers warm.
So it's really no surprise that I also decided to craft a bird's nest to add to our Spring decor. If you too have a current bird fascination, or you are just looking for a quick and inexpensive DIY Spring decor idea, check out my tutorial for architecting your own bird's nest out of twigs. (It's really pretty easy. Calling yourself a bird's nest "architect" just sounds cool!)
Alright, so now you've got a nest? What will you put in it? Well, you could plop some plastic eggs in it and call it a day, but there's something just so, well, plastic about those ubiquitous eggs.
All you need for this simple upgrade though is some tissue paper and Mod Podge and suddenly you have an Easter decoration that looks all fancy-like. I think these tissue paper eggs are what all the plastic ones are hoping to be when they grow up.
These DIY Easter eggs can be made in less than 30 minutes for less than $5 (and potentially a lot less than that because you might have some of the supplies already lying around your house). Got kids nipping at your ankles every time you try to craft? Put them to work! This is a project kids can enjoy too.
DIY TISSUE PAPER EGGS SUPPLIES
So you can spend more time Easter egging and less time shopping, this post contains affiliate links at no cost to you. Thank you for using them to support this blog!
• plastic eggs
• tissue paper
• Mod Podge (I used "gloss" because it's what I had, but I would have preferred "matte.")
• scissors
1. Cut your tissue paper into 1.5-2" squares
2. Coat your plastic egg with a thin layer of Mod Podge and layer on tissue paper squares, adding as much ModgePodge as necessary to get them to stick. HINT: Add a few drops of water to your Mod Podge if it's seeming too thick. You only need a thin layer to coat your egg and tissue paper.
3. My approach was to combine similar colors of tissue paper on each egg, which resulted in each egg taking on its own distinct color. If you'd like your eggs to be more patchwork-like, simply use a wider variety of colors on each egg.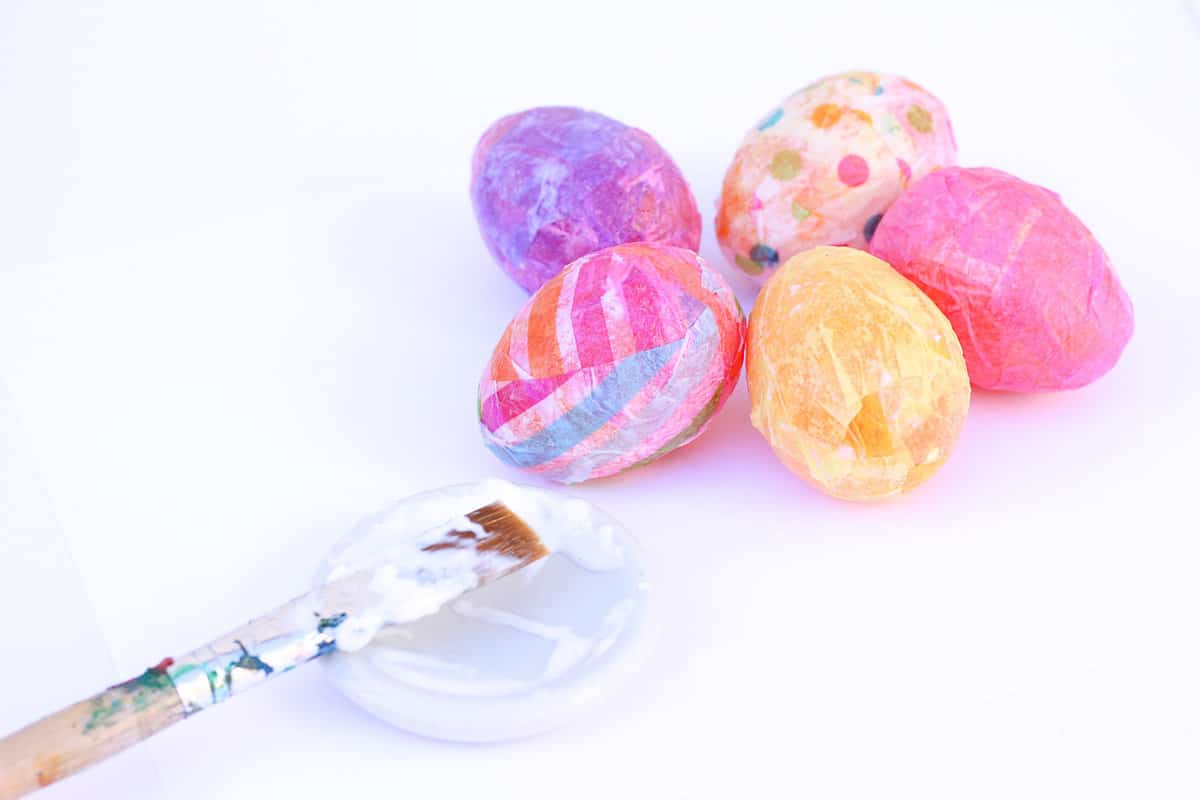 4. Let the eggs dry.
5. Place them lovingly in their new nest home.
Do you decorate for Spring? I haven't much in the past, but I'm surprised how darn happy it's making me to see this little nest and egg ensemble on our dining room table. I think it's thawing my cold, Daylight-Savings-Timed-out heart.
If you're on an Spring decorating roll perhaps you'd like to whip up this sweet Easter bunny art/shelf/sculpture/new pet next. (Entirely from popsicle sticks!)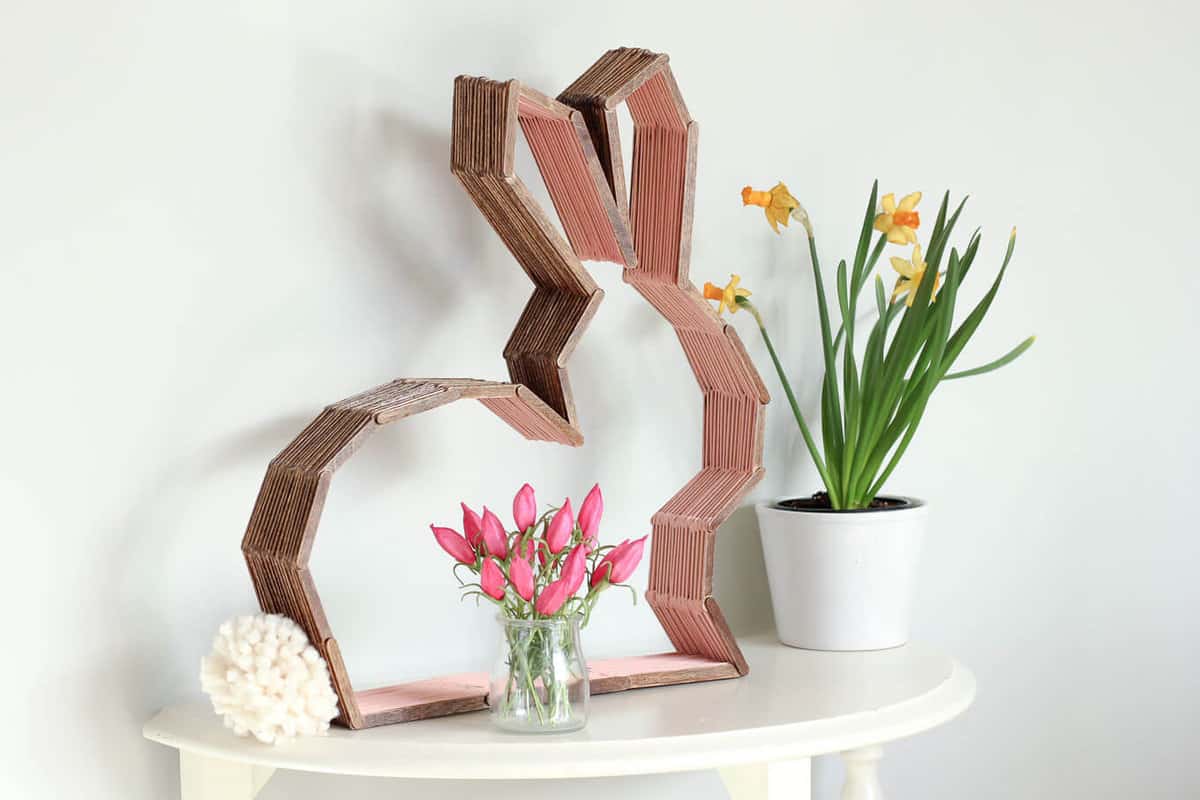 Snazzy blog photos can make it look like some people are doing it all (effortlessly!) while others of us (me!) are barely holding it together. So whenever I can, I like to introduce a little reality check in the form of a very un-Pinterest-worthy detail from my perfectly imperfect real life.
My hope is that it's a helpful reminder to anyone reading that NO ONE is doing it all perfectly. 
The kids are really running with the bird theme around here–complete with sprinkling an entire bag of flax seeds all over our kitchen floor. Unfortunately, unlike birds, my kids aren't yet experts at picking up thousands of seeds with their beaks…
WANT THE SECRET STUFF?
Get instant access to my vault of exclusive FREE crochet patterns and craft templates.