In Part 3 of the free Breckenridge Boots pattern and video tutorial, we'll add "sheepskin" trim and toggle buttons to finish off our crochet sweater boots. Check out Part 1 and Part 2 of the pattern, or purchase the ad-free, printable PDF of the full pattern here.

This crochet sweater boots with flip flop soles pattern is a collaboration with my friends at Lion Brand Yarn. This post contains affiliate links.
I hope you've enjoyed Part 1 and Part 2 of the Breckenridge crochet sweater boots pattern! If you're here, it means that you're in the final stretch of boot-making and you'll have those puppies on your feet in no time.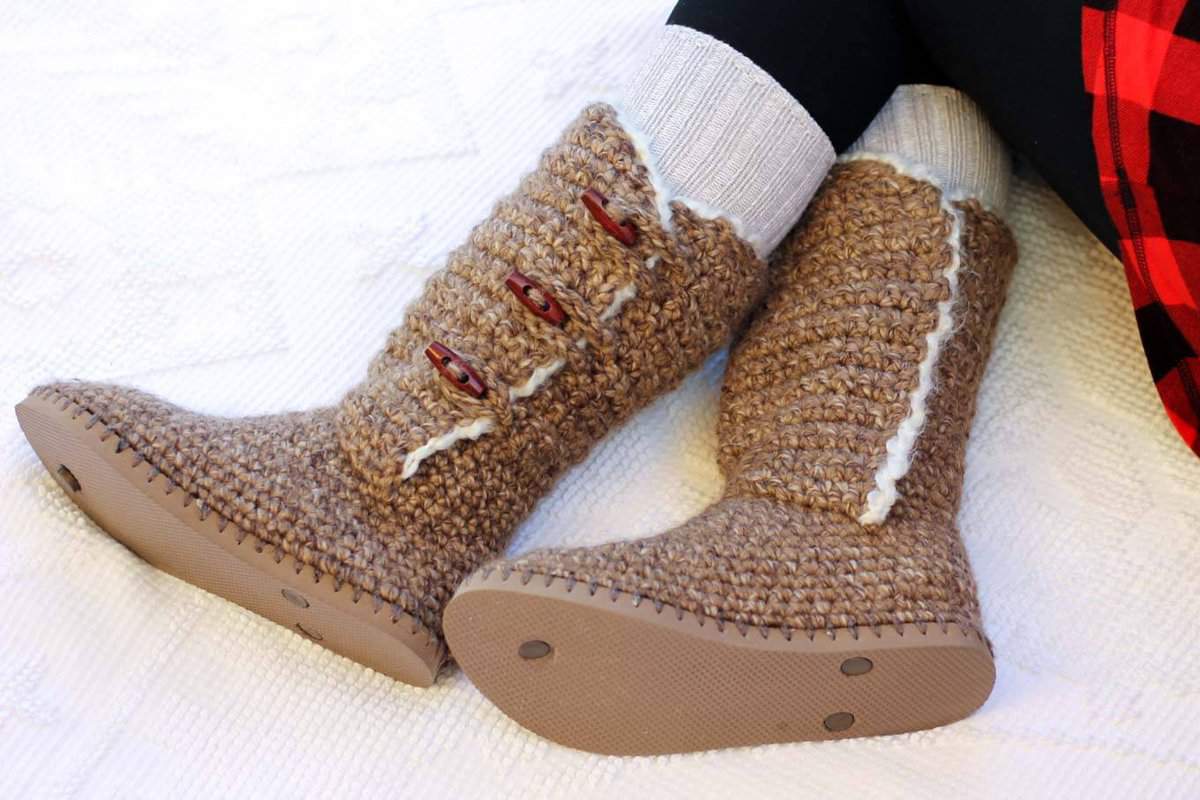 Whether you plan to wear you're new boots with flip flop soles as slippers or outdoor shoes, adding the faux sheepskin trim and toggle buttons really finishes up the UGG-style look of this free pattern.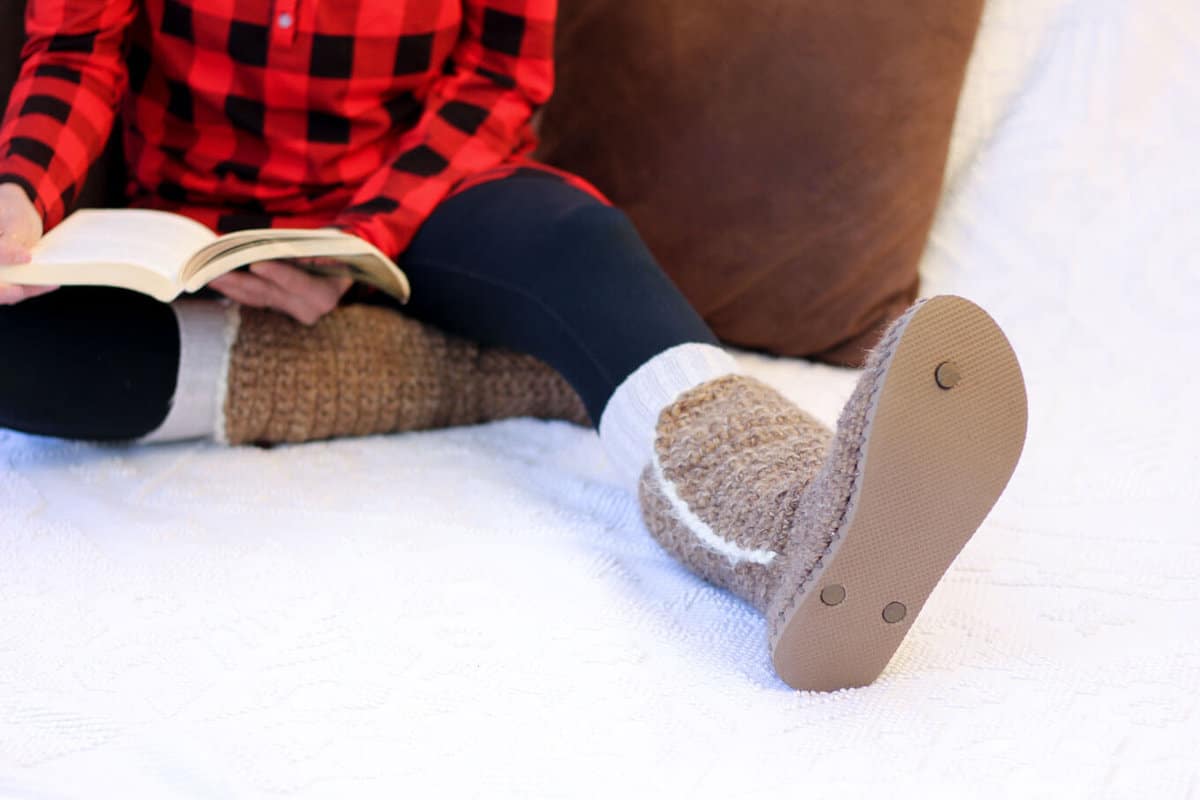 For the "sheepskin" trim on your crochet sweater boots, you have two great lamb-like color options in Homespun yarn from Lion Brand. While I ultimately used the color Dove for my boots, I wanted to photograph the color Pearl as well just to show you the two colors next to each other. Pearl is on the left and Dove is on the right below. I think either would look really nice as trim and I had a hard time choosing which to use on my boots!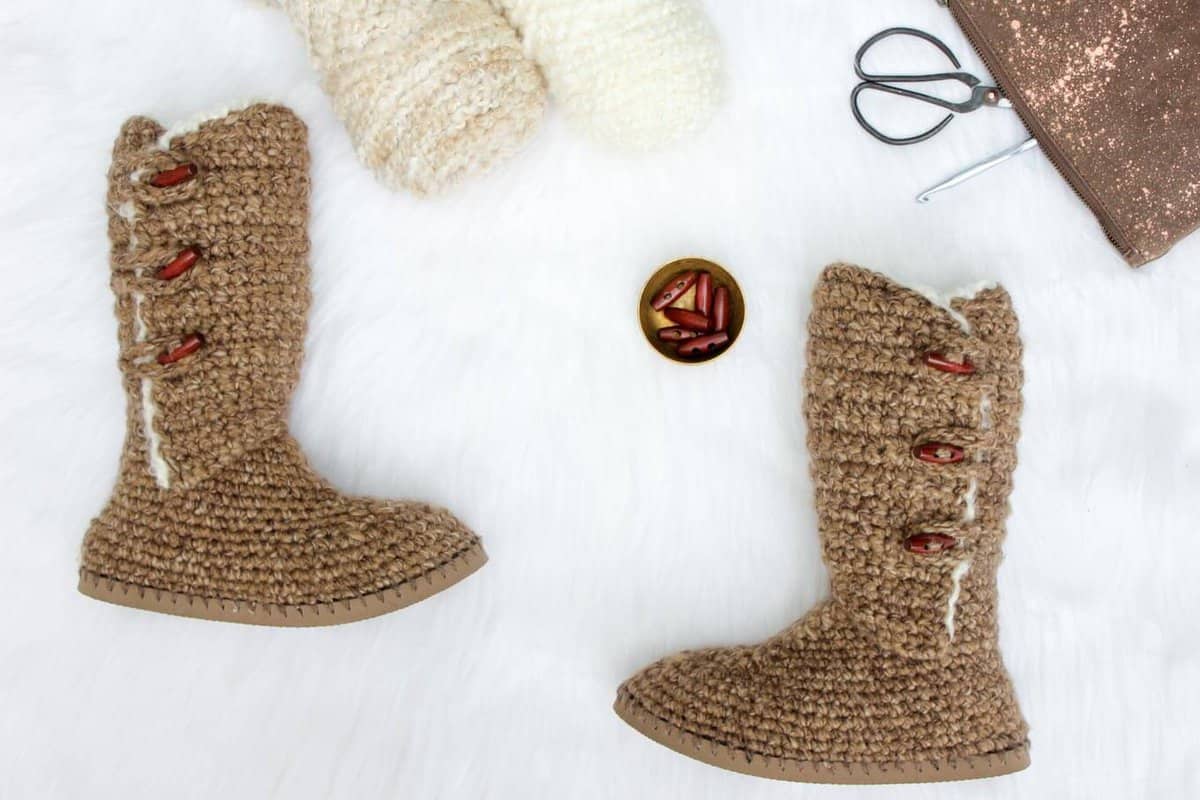 Alright, let's finish off these crochet sweater boots with flip flop soles! As a reminder, you can find the links to Part 1 and 2 of the free written pattern and video tutorial below. And you can purchase the printable PDF with the hole-poking guide here on LoveCrafts or here on Etsy.
PART 1: Supplies, poking the holes, crocheting the boot base
PART 2: Crocheting the back and front of the ankle shaft
PART 3: Adding the "sheepskin" trim and buttons (below!)
Please do not publish or share this pattern as your own. You may make items to sell or donate in small batches with this pattern. In exchange, please link back to this post and credit me as the designer. You can view all my policies here. Do NOT use my photos as your own sales photos. ­­Now go make something awesome!
Thanks to Lion Brand Yarn for sponsoring this post and enabling more free patterns on Make & Do Crew. All opinions and ideas are my own.

Breckenridge Crochet Sweater Boots Pattern - Part 3
Purchase the ad-free, printable pattern with the hole-poking guide here on LoveCrafts and here on Etsy.
Add this pattern to your Ravelry favorites here.
Pin this pattern for later here.
Supplies:
So you can spend more time making boots and less time shopping, this pattern contains affiliate links at no extra cost to you.
UPDATE: Lion Brand has created a kit that includes all the yarn you need to make these boots as well as a copy of the printable pattern with the hole guide. You can even order flip flops along with your yarn! Check out the Breckenridge Boots kit here.

• Lion Brand Wool Ease Thick and Quick Bonus Bundle – 2 skeins (300-350 yards total) – color: Toffee (MC)
• Small amount Lion Brand Vanna's Choice worsted weight yarn in color to match flip flops (approx.15 yards) (SC) – color pictured: Barley
• Lion Brand Homespun Thick and Quick (approx. 40 yards) (CC) – color pictured: Dove (Pearl would look great too.)
• Tapestry needle
• Size B [2.25 mm] crochet hook or size needed to fit through flip flop holes
• Size H [5.0 mm] crochet hook
• Size K [6.5 mm] crochet hook
• 1-2 printed copies of the "ruler" on p. 12 of the printable pattern or a measuring tape
• 1 pair of flip flops (One size smaller than you wear normally. See pattern notes.)
• Sharp tool to poke holes (I use this clay tool. You can also try a skewer, thin drill bit or tapestry needle.)
• 1.25" (34 mm) wood toggle buttons
• Stitch markers
• Sharp scissors
• Strong glue such as E6000 (optional)
Gauge:
• Boot Base: 5.5 sc = 2", 7 rows = 2"
• Boot Shaft: 4.5 sc = 2", just under 7 rows = 2"
Abbreviations and Glossary:
sc – single crochet
sk – skip
sl st – slip stich
ch – chain
WS – wrong side
RS – right side
MC – main color
SC – sole color
CC - contrasting color
Sc2tog (single crochet 2 together)– [Insert hook into next st and pull up a loop] two times, yarn over and pull through all 3 loops on hook.
Edging
Using largest hook and CC, hold boot with sole facing to the right (to the left for left handed crocheters.) Beginning with slip knot on hook, attach yarn with sl st to inside of front shaft.
Continuing to keep RS facing, sl st evenly and loosely around edge of front shaft working into the back (inside) loop of edge. (See photos G and J.) Fasten off.
Repeat for other front shaft and both back shafts.
Reference video for more detailed instruction on getting your trim to look tidy.
Finishing
Try on boots to adjust for calf size. Use stitch markers to pin flaps into desired position.
Sew front shaft to back shaft together at inside of legs, using MC and a basting stitch. Take care to work only on the inside surface of the outer flaps so that your stitches aren't visible from the outside of the boot.
Attach buttons and button loops on the outside of the legs as follows:
Using MC yarn and a tapestry needle, sew three buttons evenly spaced along outside edge of front shaft, as shown in photo below.
Button Loop: With size H hook, ch 12, or a length sufficient to loop around button from back shaft. Fasten off, leaving a 6" tail. Pull tails on both sides of chain through the back shaft, approximately 1" from front edge, and knot securely. Repeat with second and third buttons, adjusting length of chains for a custom fit.
Plugging Flip Flop Holes: If you plan to wear your boots outside, replace the small rubber circle that connected your flip flop straps to the sole between your toes. Glue it in place. See second photo below. In my experience, the other two mid-foot strap plugs stay in place without glue as long as they're cut at an angle like in the photo below.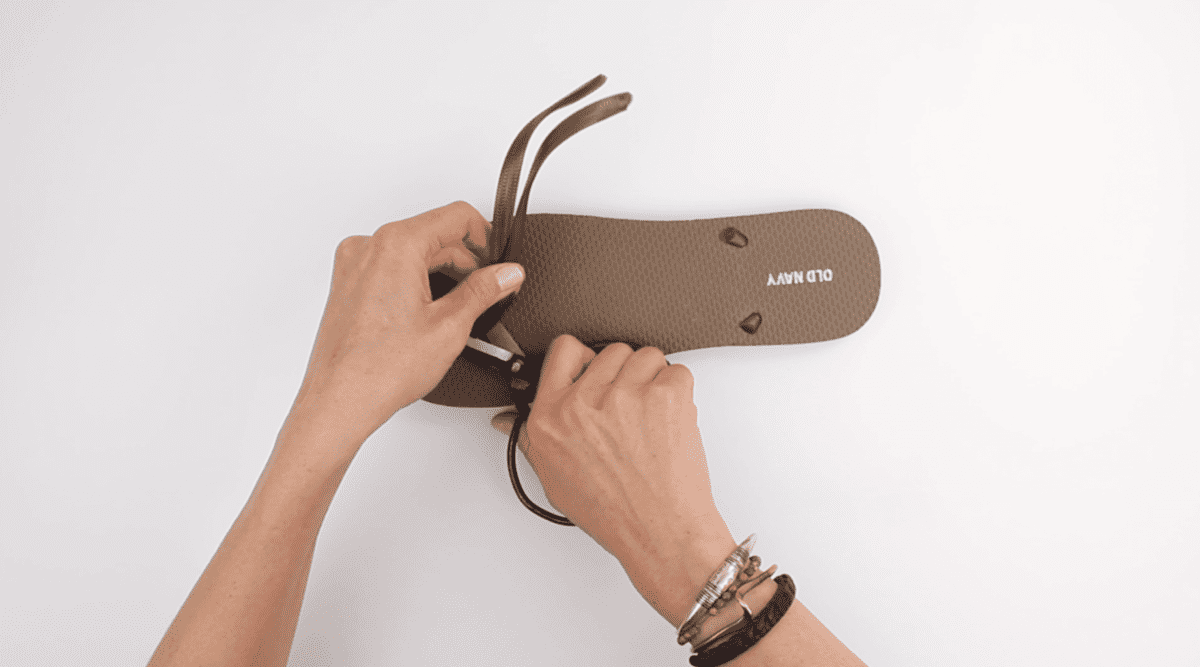 Fancy Feet: Grab some hot cocoa and put your feet up. You just crocheted your own boots!
I love to see your finished projects! Use #MakeAndDoCrew and tag me Instagram (@MakeAndDoCrew) to show off your stitches and have a chance to be featured.
Can't get enough crochet patterns that use flip flops? Check out my other free patterns!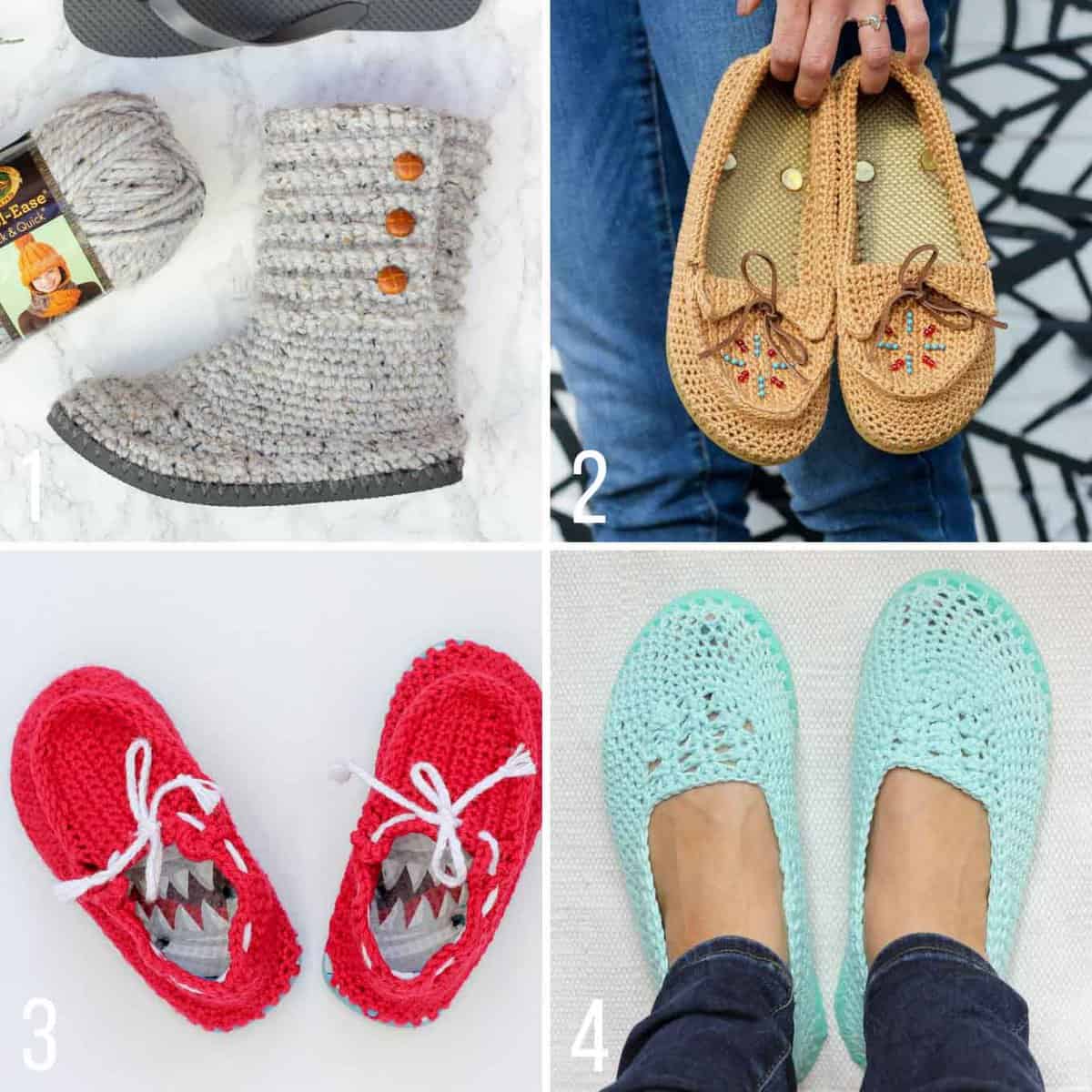 1. Cabin Boots free crochet pattern 2. Moccasins free crochet pattern 3. Toddler boat shoes free crochet pattern 4. Lightweight slippers free crochet pattern
The music in this video, Marathon Man by Audionautix, is licensed under a Creative Commons Attribution license.