Cotton yarn and flip flops combine to make super comfy crochet slippers with soles in this free crochet pattern! These are perfect for warmer weather too!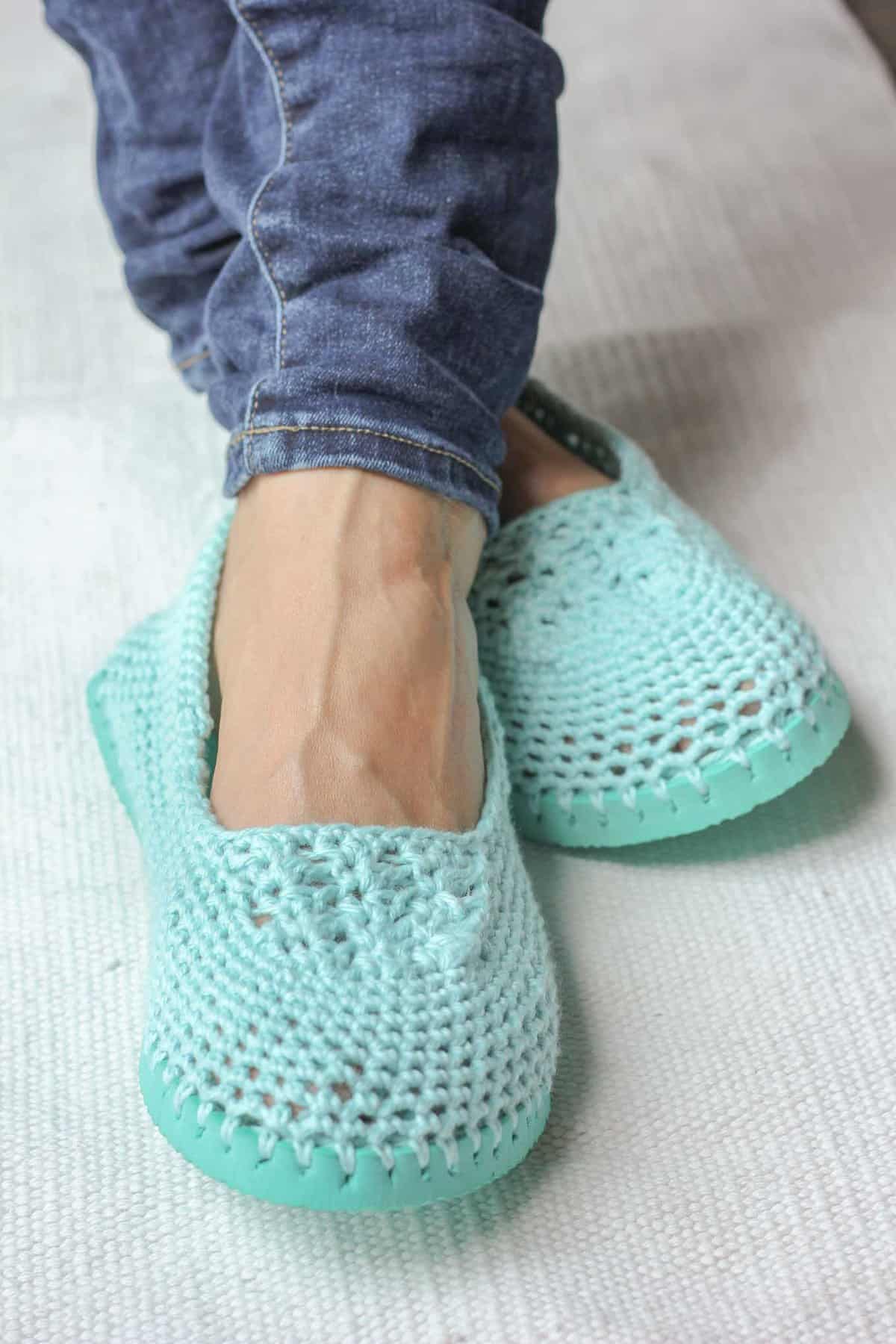 UPDATE: This pattern has been completely updated with a revised toe top, new photos and a video tutorial. You can find all of that goodness here. If you're old school and want the original pattern though, please feel free to crochet to your heart's content using what follows below. 🙂
And you now can find all my additional free crochet patterns using flip flops here!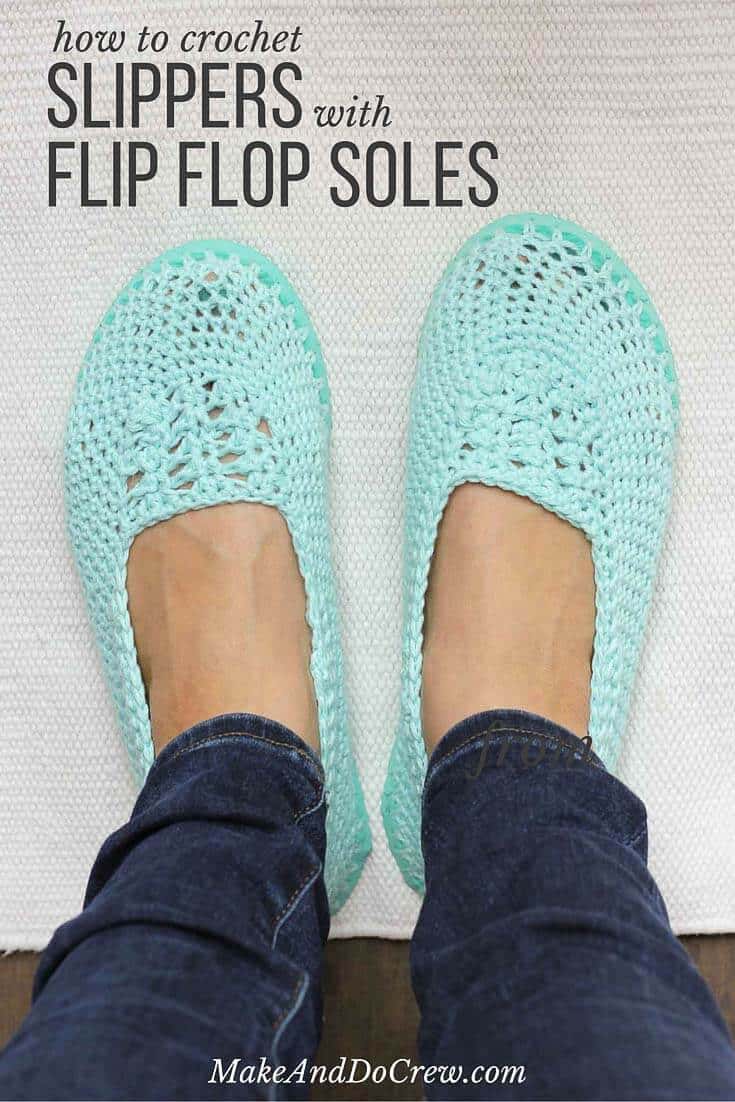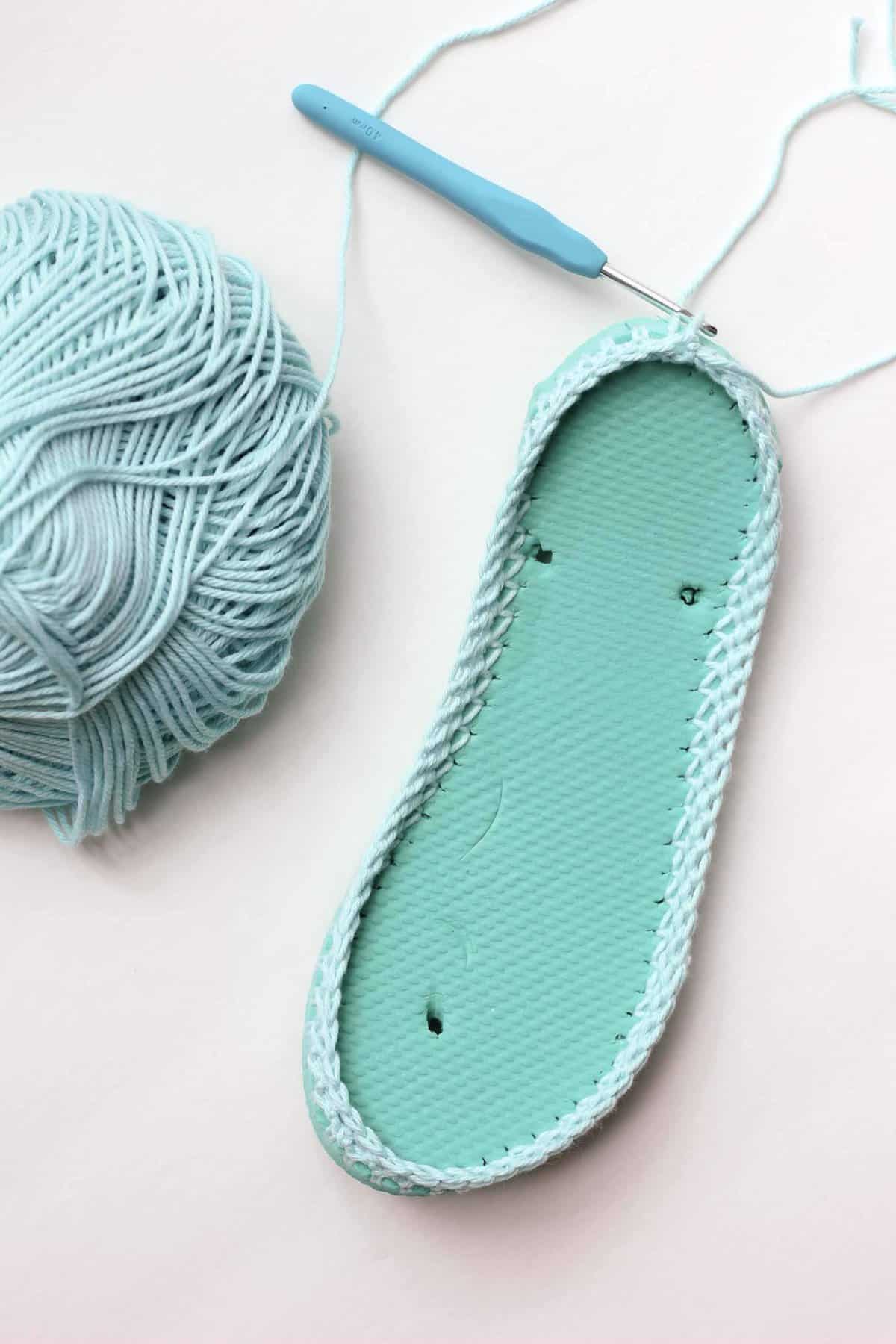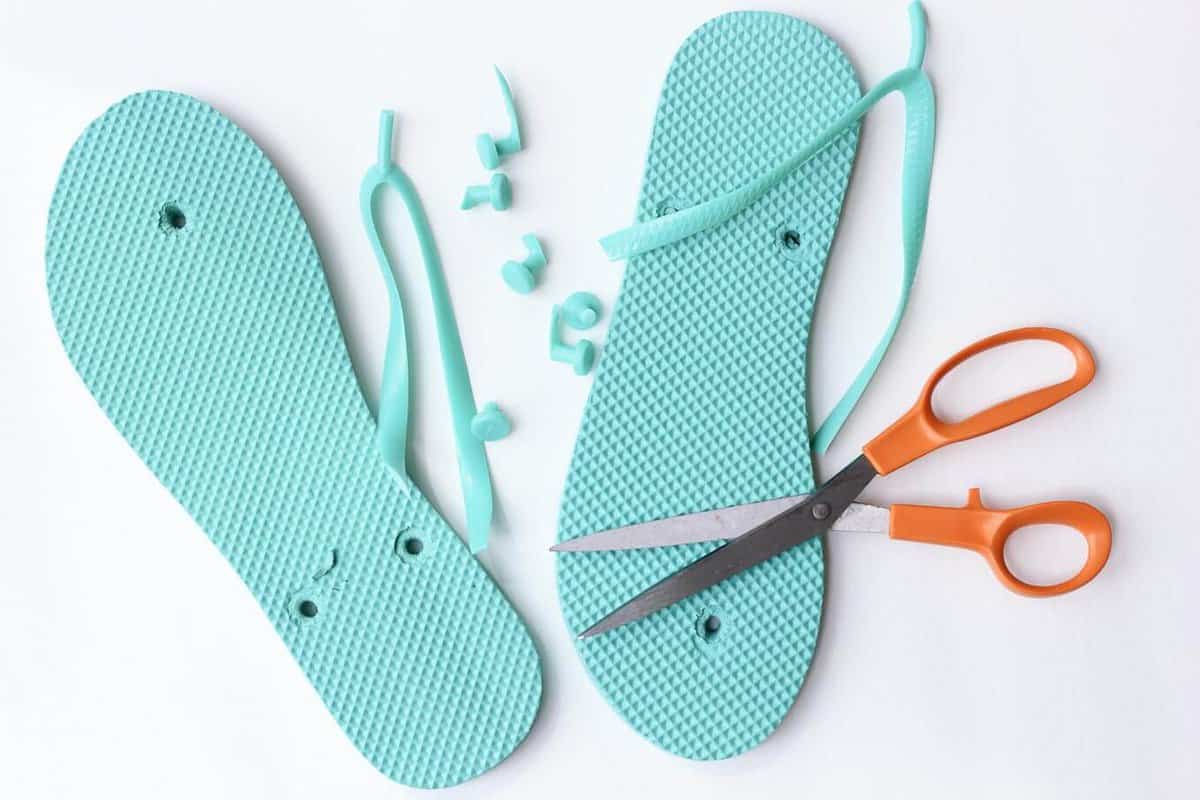 Find Your Next Crochet Pattern on Flip Flop Soles
Crocheting on flip flops can fast track your feet straight to comfort-ville. Flip flops offer functional, non-slip soles for your crochet slippers. They also allow you to crochet shoes customized for your particular feet.
See more free crochet flip flops patterns →
UPDATE: Many readers have asked how these crochet slippers with flip flop soles hold up over time. I've answered that question (with photos!) and many more in my FAQs about crocheting on flip flops.
I love to see your finished projects! Tag me on Instagram (@MakeAndDoCrew) to show me your stitches.
You may make items to sell with this pattern. In exchange, I ask that you link back to me into two places -- one link to my homepage (MakeAndDoCrew.com) and one link to this post page. Do not use my photos as your own sales photos. Do not distribute this pattern as your own. All clear? Alright, let's make something awesome!
NOTES -- READ FIRST
• This isn't an exact science! Unlike other patterns, these slippers have a lot of variables, most significant of which is the size of flip flops you use and the number of holes you poke. I'm providing general guidelines and some troubleshooting tips to help keep the process fun. For guidance on the techniques used, you can check out the video tutorial for these sweater boots with flip flop soles.
• You might want to size down when buying your flip flops. Since your foot won't be held in by the flip flop strap, your normal size of flip flops might feel a bit roomy as crocheted slippers.
• The slippers pictured are about a women's size 9. I poked 69 holes in the sole of each flip flop for this size. To make slippers with bigger or smaller flip flops, just adjust the number of holes, poking them about every ¼ inch. The slipper top pattern should fit most women's sizes. If you're making a significantly bigger or smaller size though, you could work fewer or more rows of the slipper top pattern and even add a row or two to the sides/heel section to make it taller.
• I used a sharp tool meant for clay to poke my holes. A skewer, small drill bit or something similar could work too.
• Find $1 flip flops on Amazon or at Walmart. I've tried Dollar Tree's $1 flip flops and the rubber is a bit too flimsy for this.
• Similar to some ballet flats, your slippers should curl in a bit. That's what gets them to shape to your feet without a lot of increasing or decreasing. If you're finding that the crocheted sides/heel/toe isn't tapering in, it might be because you have more holes in the flip flop than are necessary (and therefore more stitches total). In this case, use a smaller hook or do a few sc-decreases on row 3 or 4 near the toe and heel to decrease the number of total stitches.
• The reason the pattern calls for a smaller hook for the first row is simply because it's hard to fit the larger hook into the sole without stretching the holes out too much.
Lightweight Crochet Slippers with Flip Flop Soles - Free Pattern
If you'd like to purchase an ad-free printable PDF of the updated pattern, you can do so by clicking here. Perfect for crocheting on the go or mobile viewing!
So you can spend more time crocheting and less time shopping, this post contains affiliate links at no extra cost to you.
• B /2.5 mm hook (I love this affordable set!)
• G /4.00 mm hook
• Approximately 120 yards worsted weight cotton (I used "I Love This Cotton" in turquoise from Hobby Lobby)
• one pair of flip flops (One size smaller than you wear normally. See note above.)
• scissors
• 2 stitch markers
• sharp tool to poke holes in the flip flops


Abbreviations - US terms
ch – chain
cluster – 3 hdc in one stitch
hdc - half double crochet
sk - skip
sl st - slip stitch
sc - single crochet
st(s) – stitch(es)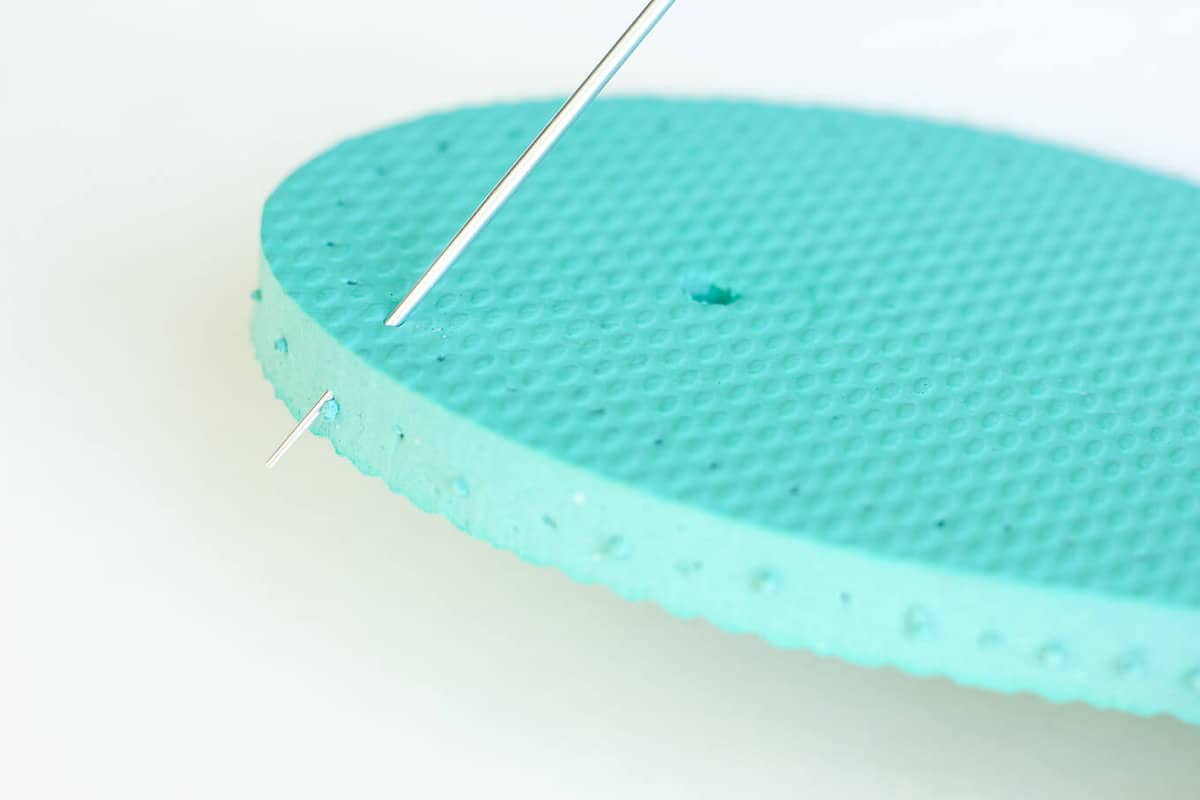 Using your sharp instrument, poke holes every ¼ - ⅓ inch around each flip flop sole. You want the hole to go at an angle from about the middle of the way down the sole to about a ¼" into the top of the sole. It's important to make your holes far enough from the edge that the yarn won't rip through the rubber when you create your first row of crochet.
Slipper Sides and Heel
Using smaller hook, attach yarn at the back of the heel by inserting your hook from the top of the flip flop toward the bottom of the sole, grabbing the yarn and pulling through to the top. Ch 1 through the loop you've created to attach the yarn to the flip flop. (Reference the photos in this boat shoes post for help.)
Round 1: Using smaller hook, sc in each hole around sole. Do not turn. Place marker in first st of round and move it up as you work each round.
Rounds 2-9: With larger hook, sc in each sc around sole. Do not turn.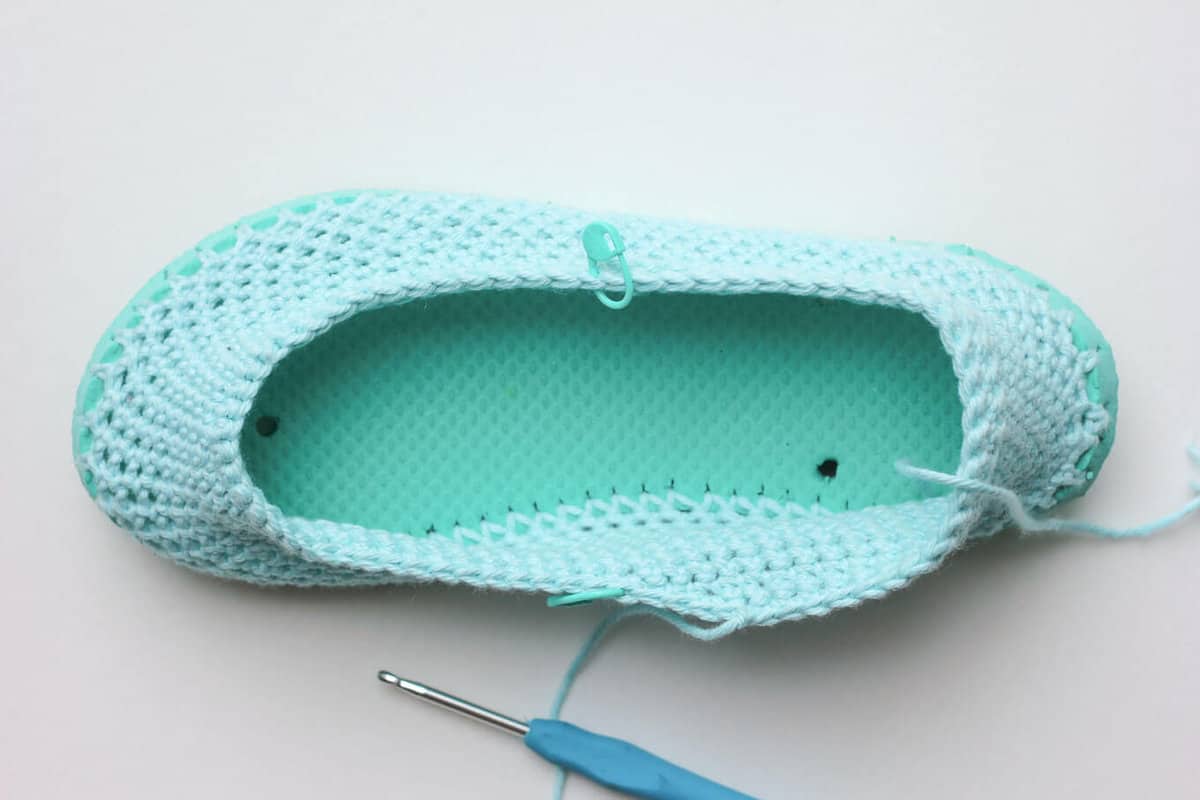 Remove marker. Place stitch markers opposite each other in the middle of each side of the last round. This is where the back heel "lip" of your slipper will taper to.
Do not turn work, continue with the rest of row 9.
Row 9 cont: Sc in each sc until 1 st remains before next marked st, sl st in next sc, turn.
Row 10: Ch 1, sk first sc, sl st in next sc, sc in each sc until 1 st remains before next marked st, sl st in next sc, turn.

Row 11: Ch 1, sk first sl st, sl st in next sc, sc in each sc until 3 stitches remain before next marked st, sl st in next sc, turn.
Row 12: Ch 1, sk first sl st, sl st in next sc, sc in each sc until 3 stitches remain before next marked st, sl st in next sc, turn.
Round 13: Ch 1, sk first sl st, sl st in next sc, sc in each sc around entire slipper, past where this round started, until you reach the center back of the heel, sl st in next sc. Fasten off.

Slipper Top
Cluster = 3 hdc in one stitch
Position flip flop with the toe toward you and the heel away from you.
Find the approximate midpoint of the front of the slipper. Place stitch markers at the toe "corners" with 11 sc between them. Reference chart below for visual schematic of slipper top.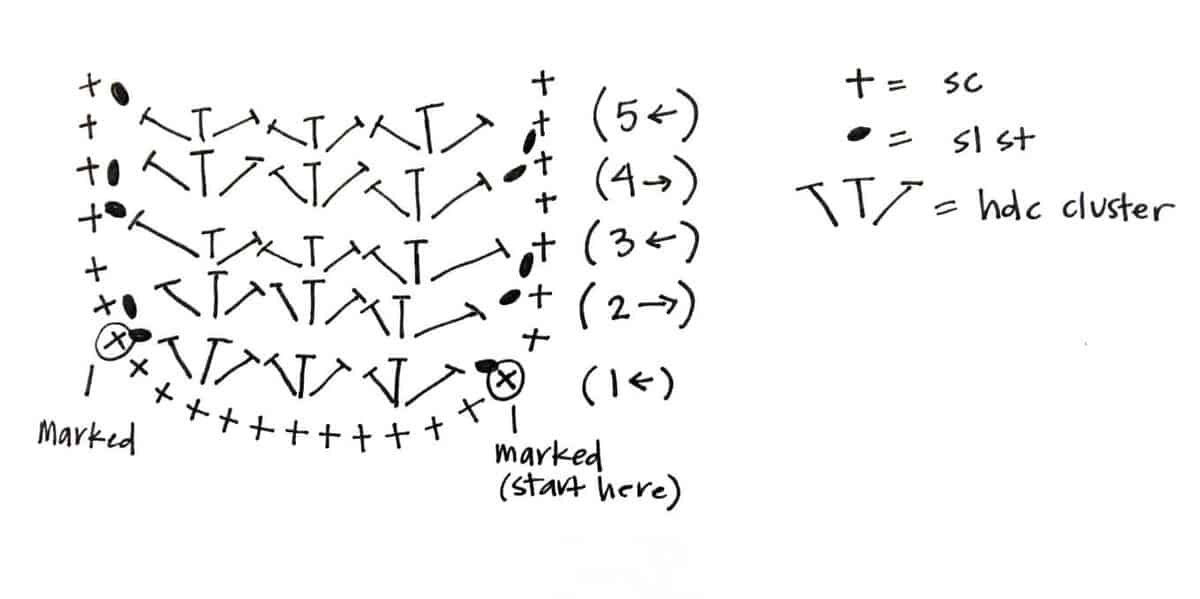 Row 1: With the toe facing toward you, sl st in first marked st, (sk 2 sc, cluster in next sc) 3 times, skip 2 sc, sl st in next marked st, sl st in next sc of Rnd 13 (up left edge of slipper), turn.
Rows 2-4: Cluster in center hdc of each of next 3 clusters, skip 1 sc in Round 13, sl st in next 2 sc of Rnd 13 (up right edge of slipper), turn.
Row 5: Cluster in center hdc of each of next 3 clusters, skip 1 sc in Round 13, sl st in next 1 sc of Rnd 13. Do not turn.
Round 6: Sc in each sc around entire slipper until you return to where you began this round. Fasten off.
Repeat pattern with second rubber sole.
Weave in ends. Tap your toes together, smile and run around your house like I did because you just made your own crocheted house slippers!
That was so fun! Now what?
Invitation to our Facebook group
Come discuss crocheting slippers with soles patterns and lots of other crochet projects and techniques in our Make & Do Crew Facebook group. Here thousands of helpful crocheters answer each others questions and share their stitches. Come join us here.
More Free Crochet Patterns Using Flip Flop Soles
More Free Modern Crochet Patterns for Summer
If these crochet summer slippers made you excited to keep crocheting all though the heat, don't miss these M&DC favorites for warm weather crochet patterns!
1. Afresco Crochet Top - If you can crochet a rectangle, you can make this easy crochet top pattern! With very simple stitches and minimal counting, this lightweight top is a perfect mindless make to work on poolside.
2. Streetfair Boho Purse - Channel your inner free spirit with this easy crochet boho purse made from two fun circles. Easily customizable!
3. Seaside Slip-ons - These Seaside crochet shoes with rubber bottoms come together easily with cotton yarn and a pair of flip flops. Wear them to cruise the boardwalk or when frolicking on your yacht!
4. Saratoga Crochet Top - Made from two simple rectangles, this summer crochet top will take you effortlessly from music festival to BBQ to beach vaca this season.
[convertkit form=4869877]