If you're curious about how to crochet on flip flops, this post will answer many of your questions and give you some helpful tips to get started!

This post may contain affiliate links.
Whenever I design a new patten, I seem to get many similar questions about how to crochet on flip flops and how they hold up once you do, so I thought it might be helpful to answer them all in one place. If there's something you're wondering that I don't cover here, please leave a comment and I'll update this post with the answer!
Jump to:
Find Your Next Crochet Pattern on Flip Flop Soles
Crocheting on flip flops can fast track your feet straight to comfort-ville. Flip flops offer functional, non-slip soles for your crochet slippers. They also allow you to crochet shoes customized for your particular feet.
See more free crochet flip flops patterns →
Durability
How do crochet shoes with flip flop soles hold up? Does the yarn rip through the sole eventually?
This is by far people's number one question. My experience has been that my boots, slippers and shoes have held up incredibly well. The trickiest part of each pattern is working the first row of single crochet in the holes on the flip flop soles. Once that this finished though, the tension is really evenly spread between the holes, which is what I think makes them durable.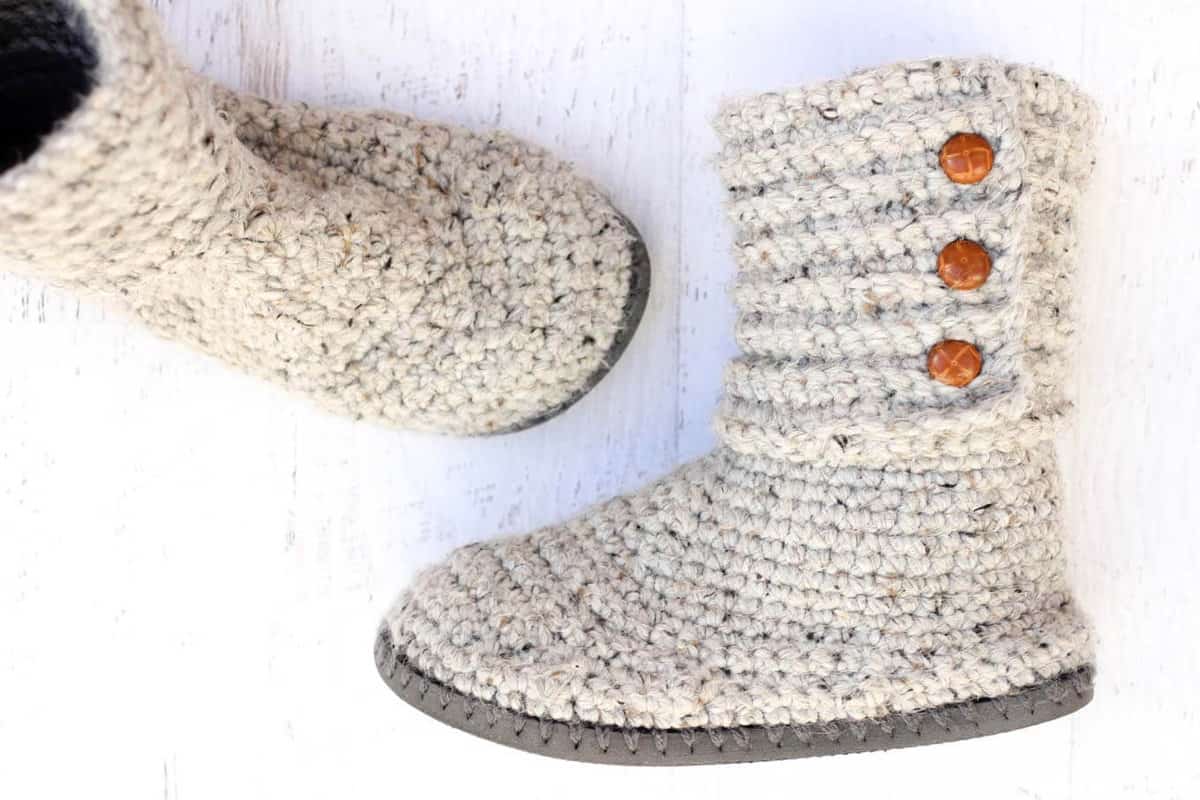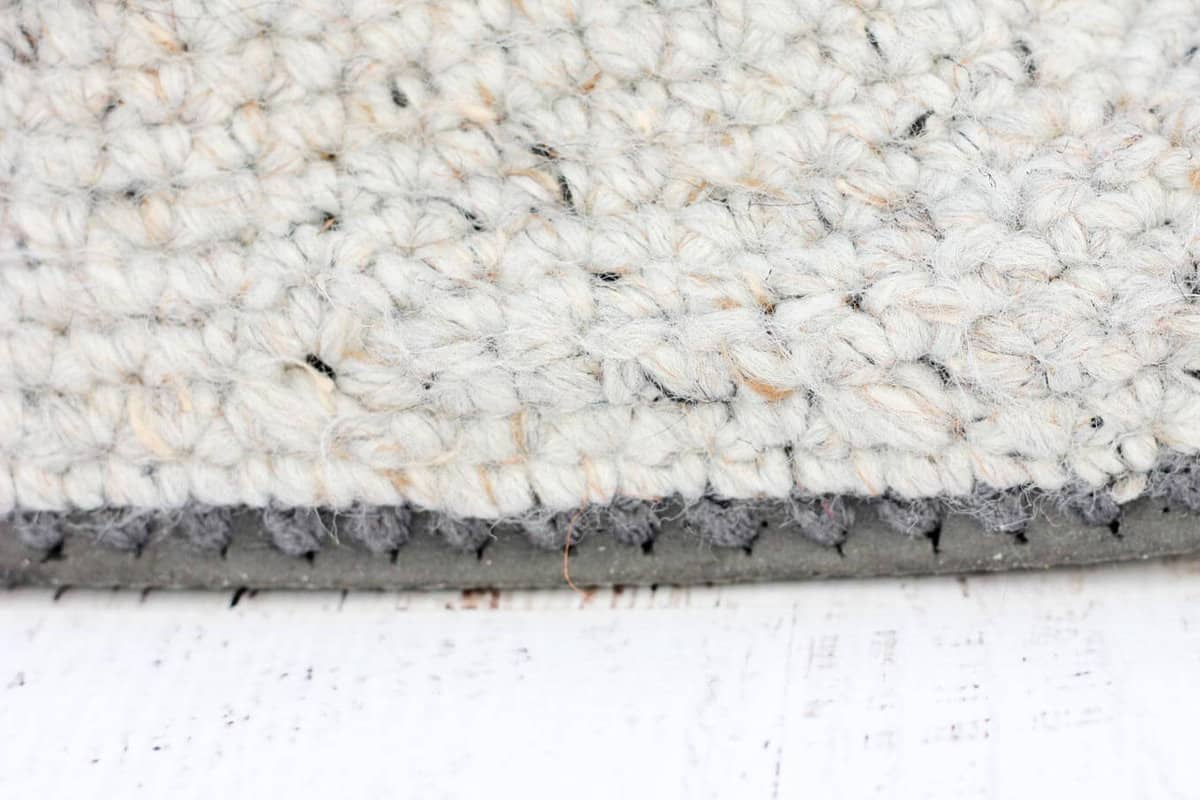 I tried to photograph some of my well-worn projects so that you could get an idea of how they're holding up. Above are my Cabin Boots, which I've been wearing every day as slippers since I made them about five months ago. I only wear them inside or to chase a child who has escaped outside, but in my opinion, they really look fantastic still for the fact that I wear them about 6-14 hours a day. ('Tis the life of a work at home mom of two tiny kids. 🙂 )
Below is a photo of my Lightweight Summer Slippers, which also got about five months of wear before I transitioned to wearing the boots for the winter. As you can see, they're pretty dirty (thanks for nothing, light blue!), but the flip flop sole is totally intact and no holes have ripped through the sole.
Crocheting into the flip flop sole
But what if my yarn is ripping through my sole as I work the first row of single crochet?
Working the first row of single crochet onto the soles is the most delicate part of any of these crochet flip flop projects. If you're finding that your yarn is pulling through the holes as you work, here are my suggestions:
• Check out the next question about where to buy flip flops.
• Poke your holes with the smallest tool you have available. You want to make the least "trauma" to the flip flop as possible so that it is as stable as it can be when you crochet through it.
• Make sure you're poking your holes far enough from the edge of the flip flop. (Mine do best with about .25" or more from the edge.)
• Use a smaller crochet hook to work the first row of single crochet. I usually use a size B for the first row and it doesn't rip my holes. I wouldn't use anything larger than about a 2.25mm hook because it will put too much strain on the holes.

Supplies + materials
Where should I buy flip flops?
I've tried a lot of flip flops!
• Old Navy - a ton of great colors, the quality of sole is good and they are sold in stores year round. (Yay, sweater boots!) They cost about $4, but are often on sale. Old Navy has a big summer flip flop event in June where all their flip flops are $1! Stock up!
• Walmart - usually only available in spring and summer in stores and online the rest of the year. The quality of the sole is great. Last year, solid color flip flops were 98 cents and ones with a pattern on the sole were about $3-4.
• Michaels - great selection of colors in store during the spring and summer. The pair of Michael's flip flops I used for my moccasins were slightly flimsier than others I've tried from different stores. They cost between $2.50-$4.
• Amazon - year round selection of great colors for about $1-$7. Great for anyone who hates to shop or who doesn't live near a store mentioned above.
• Dollar Tree - much flimsier than the options above, but workable if you're careful. I used Dollar Tree flip flops for my Lightweight Summer Slippers and as I showed you above, they've held up well. I did have to be extra careful working into the soles though because they are thin overall lower quality. Cost: $1, but you already knew that. 🙂
What should I use to poke the holes?
I usually use a sharp tool that's meant for working with clay like this. I've heard of readers having success with very thin drill bits as well as awls like these.
Can I use something besides flip flops for the sole?
Of course! Crochet is one big experiment! I've seen readers who have used the soles of worn out Crocs and other shoes. The most important part of executing the pattern is poking the holes the recommended distance apart, regardless of what sole you use.
What yarn should I use? Can I substitute yarns?
Many yarns can be used to crochet on flip flops, but here are two I tend to use often. Wool-Ease Thick & Quick is what I used in my Cabin Boots and my Breckenridge Boots. It's available in a smaller skein and a larger skein and like I showed you above, it's holding up extremely well in the Cabin Boots.
I love 24/7 Cotton for warmer weather projects. It's mercerized, so it doesn't stretch a ton and it's durable and beautiful at the same time. Below, you can see it in action in my moccasins and a new pattern I've been working on.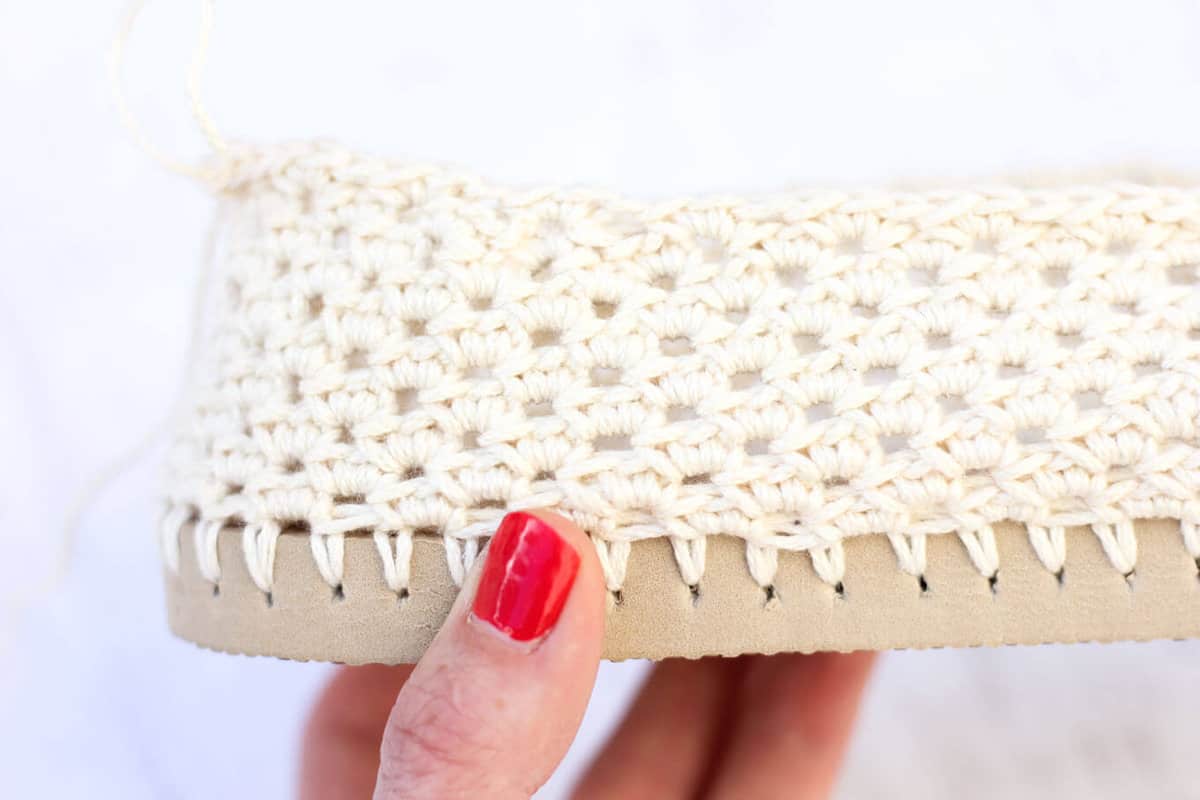 In the interest of transparency, I'll tell you that I do currently partner with Lion Brand, which means I get my hands on a lot of this awesome yarn! Both of these products were my preferred flip flop yarns before I started working with Lion Brand in 2017 though, which made me even more excited to about the partnership.
Substituting yarns can become slightly tricky because each pattern is based on how far apart the holes in the flip flops are poked, which is based on the yarn weight and thickness. I do understand some people have allergies, etc, and need to substitute yarns. YarnSub.com is an awesome resource for this.
Removing the straps
Can I leave the flip flop straps on and crochet over them?
Honestly, this idea had never occurred to me until a few readers started asking me about it and telling me they had success doing it. For many of my patterns, especially boots, leaving the straps on should pose no issue. For patterns that are less substantial and more like a ballet flat, you might find that the straps are visible under the crocheting.
Stretching
Do crochet shoes with flip flop soles stretch out over time?
I've found that my cotton slippers stretch out a bit, but not so much that they're not comfortable or wearable. It is important to keep this in mind though as you crochet if you're using cotton so that you begin with shoes that feel snug enough to begin with.
I haven't noticed my crochet boots with flip flop soles stretching much at all.
My shoes/boots are turning out too loose as I crochet. What should I do?
Everyone's feet, crochet style and flip flops are slightly different. If your project is turing out too loose, you have a couple options:
• Make sure your holes are poked the recommended distance apart. Using the printable guide in the pattern PDF is super helpful for this. If you want to start over, you can try poking your holes just slightly further apart.
• Size down in the hook you're using and work deliberately tight stitches. (Think similar to amigurumi.)
• Work extra decreases early on in the pattern so that you have fewer stitches overall when you're crocheting the rest of the boot.
• In general, my Breckenridge Boot pattern (pictured below) will fit tighter than the Cabin Boots.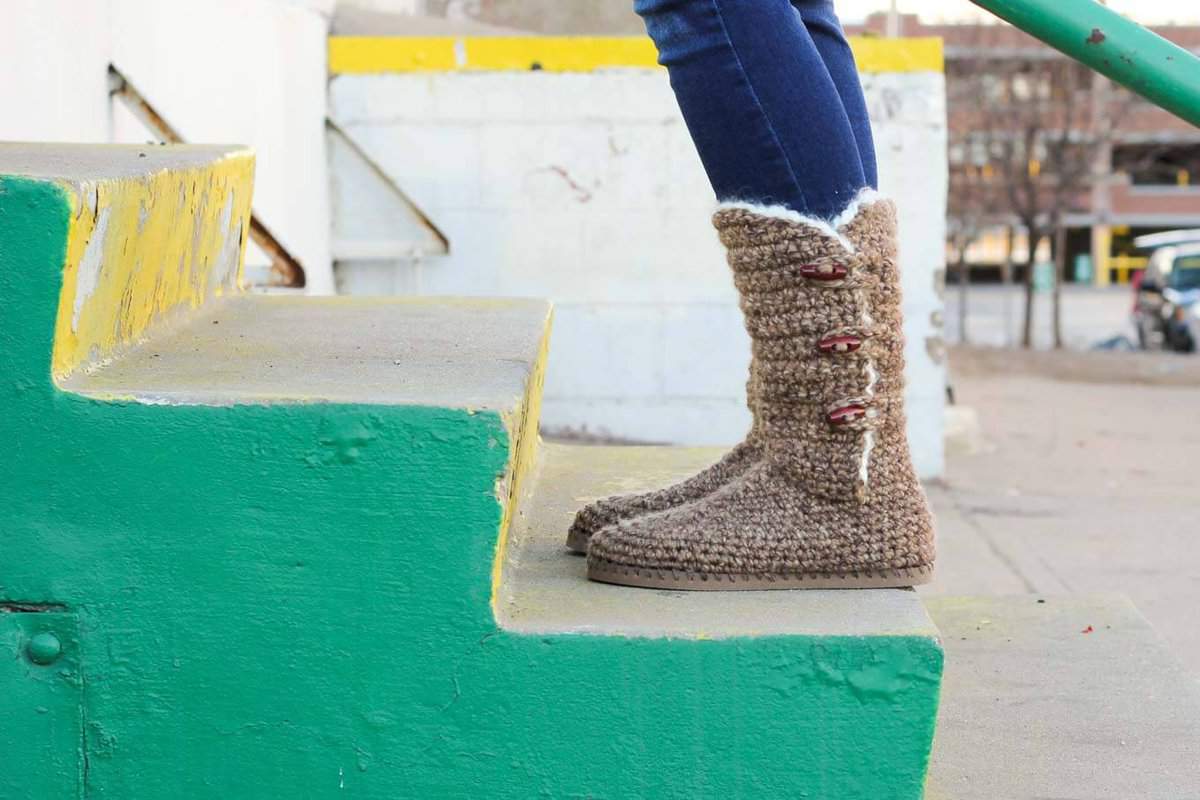 Are these going to be comfortable?
Heck yes. Like nothing your feet have ever felt.
What sizes are offered?
Do you have child's/men's/toddler sizing for a particular pattern?
Only if it's listed in the original pattern. I get a lot of requests for different sizing options and try to gauge interest in what the most people want additional sizes in. If you subscribe in the box at the bottom of this post, I'll send you a note when I publish a new flip flop crochet pattern or additional sizes of existing patterns.
Do you make crochet shoes with flip flop soles to sell?
I don't. I'm a gal who thrives on novelty and thus, I always want to make something new. Several of my readers are Etsy sellers who will customize a pair of flip flop shoes to exactly you're liking though! Check out Mindy from Loving Lea Created if you'd like to commission a pair.
Knitting on flip flops
Do you have a knit version?
I am working on it! Again if you subscribe below, I'll send you a note when I publish the free pattern.
What did I miss? If there's anything else you'd like to know about how to crochet on flip flops, please leave a comment below!
That was so fun! Now what?
Invitation to our Facebook group
Come discuss crocheting flip flop patterns and lots of other crochet projects and techniques in our Make & Do Crew Facebook group. Here thousands of helpful crocheters answer each others questions and share their stitches. Come join us here.
More Free Crochet Patterns Using Flip Flop Soles
Feel free to pin this post to reference in the future: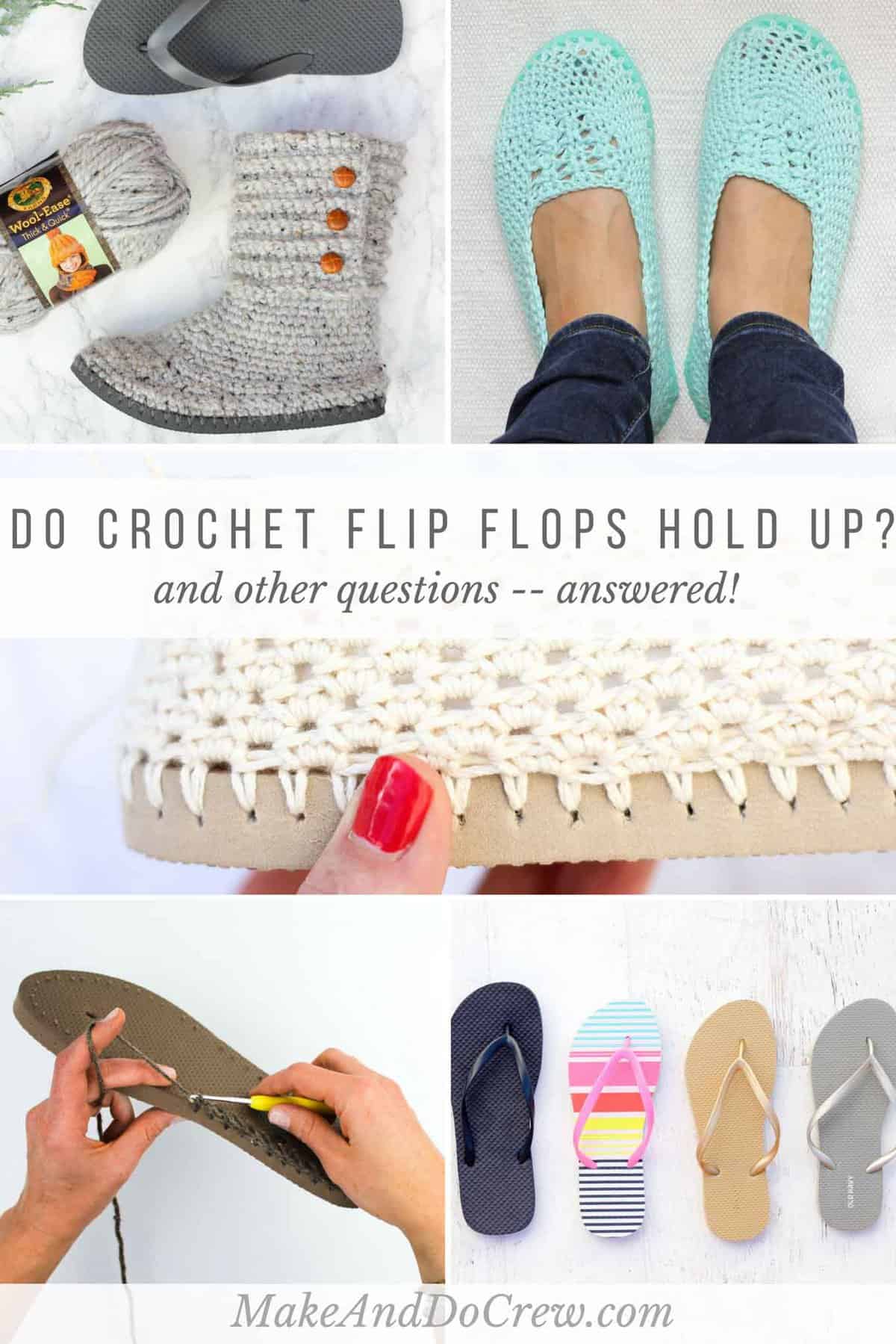 Are you ready to crochet on flip flops!? Here are a few free patterns to get you started!