In the second stage of this modern crochet granny square blanket pattern, we'll transform our puff stitch circles into squares. Get the free pattern below or purchase the pattern PDF in its entirety on LoveCrafts here and on Etsy here.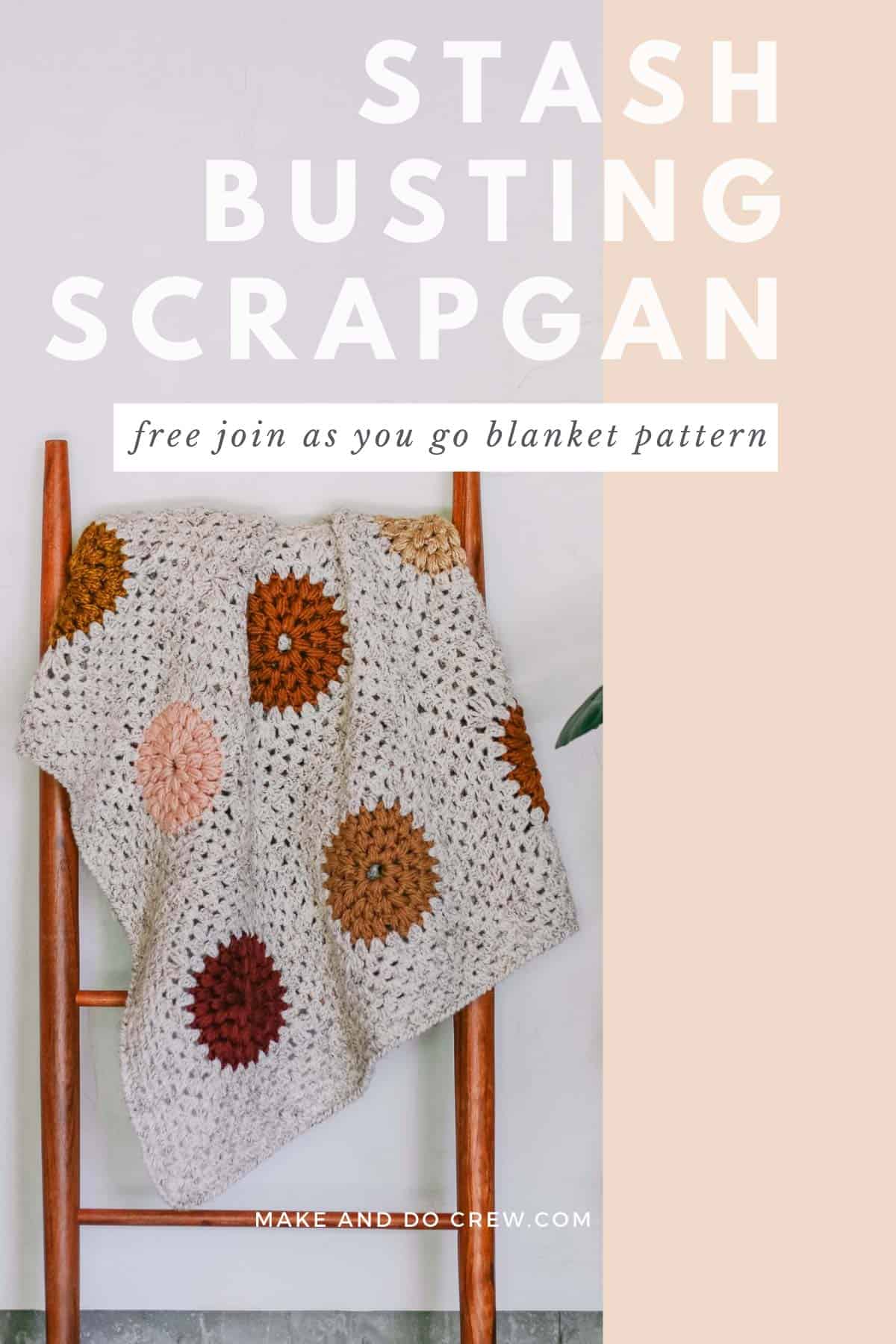 This free modern granny square blanket pattern is part of a collaboration with Lion Brand Yarns. This post contains affiliate links.
If you're new to the Dahlia Scrapgan Casual Crochet Along, head to the main page here to learn all about the inspiration behind the pattern, which yarns will work well and what to expect from the rest of the crochet along.
Then grab your puff stitch circles and let's get square!
A Modern Take on the Good Ol' Granny
Can I tell you a secret? I've never been super keen on the completely traditional granny square. I have always really enjoyed putting a modern spin on the traditional motif though, like in the popular Revival Cardigan, for example. Sunburst granny squares have stolen my heart because they don't feel quite as retro as the classic grannies.
I find the rhythm of the granny stitch so relaxing because you don't have to even really pay attention to where you're placing your hook. Just aim somewhere in the vicinity of the space and you'll be fine. The granny stitch is also such a nice way to work with fuzzy or more complicated yarns, like is the case of in the Tributary Baby Blanket or the Done in a Weekend Blanket.
In the Dahlia Scrapgan, the puff stitch "flowers" in the middle allow each granny square to feel quite understated and modern. No matter what your decor style, I think these contemporary grannies can fit right in!
Related: 33+ Crochet Edgings for Blankets
Video Tutorial Support
If you're a visual learner or hoping to listen to the sound someone else's voice while you're stuck at home, I put together a video tutorial that picks up where we left off in the crochet puff stitch circle video tutorial.
You can learn how to turn your puff stitch circles into modern granny squares in the video tutorial here.
Want to Work At Your Own Pace?
If you want to continue the Dahlia Scrapgan at your own pace or just prefer to print a pattern instead of viewing it from a screen, consider upgrading to the ad-free PDF. It includes all four parts of the pattern immediately and it's formatted for easy printing or viewing on a phone or tablet. Purchase the ad-free, printable PDF on LoveCrafts here and on Etsy here.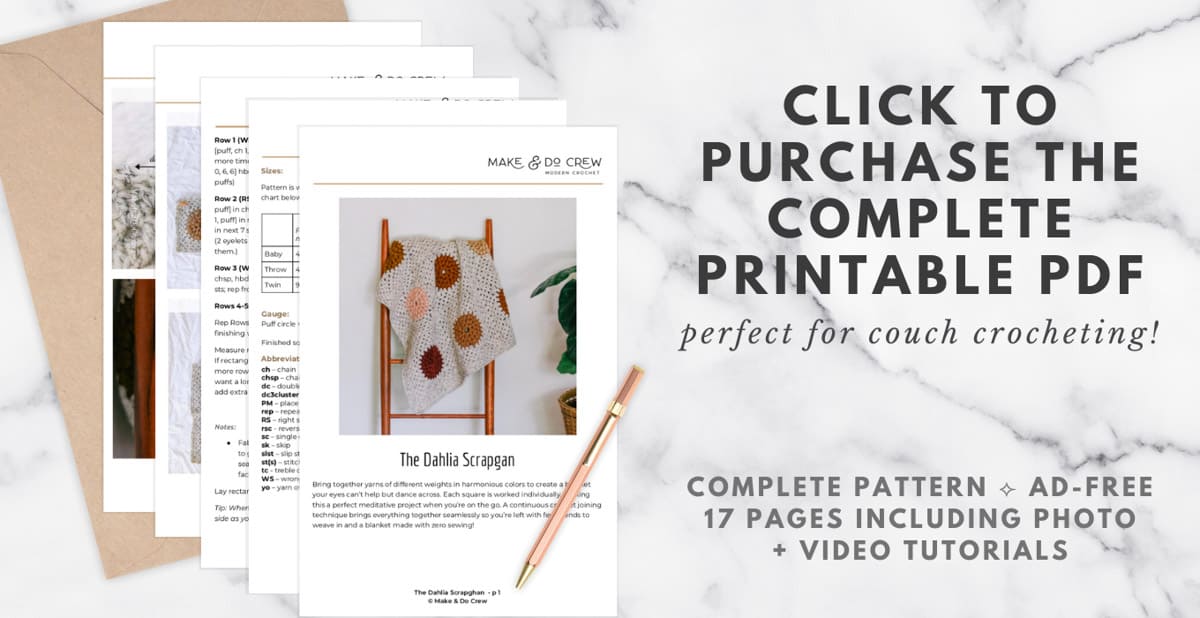 ---
The Dahlia Scrapgan
Free Granny Square Blanket Pattern - Part 2
Purchase the ad-free, printable PDF on LoveCrafts here and on Etsy here.
Save this pattern to your Ravelry here.
Pin this pattern for later here.
Explanation:
Bring together yarns of different weights in harmonious colors to create a blanket your eyes can't help but dance across. Each square is worked individually, making this a perfect meditative project when you're on the go. A continuous crochet joining technique brings everything together seamlessly so you're left with fewer ends to weave in and a blanket made with zero sewing!
Supplies:
Main Color (MC:)
Lion Brand Wool-Ease (Weight: 4/worsted - 197 yds, 3.0 oz)
- Wheat (620-402) – 10 skeins (approx. 875 g)

Accent Colors (AC):
Lion Brand Basic Stitch Anti Pilling (Weight: 4/worsted - 185 yds, 3.5 oz)s
- Pomegranate (202-138)
- Gold Heather (202-401)
Lion Brand Basic Stitch Premium (Weight: 4/worsted - 219 yds, 3.5 oz)
- Gold Mine (201-126)
Lion Brand Color Made Easy (Weight: 5/bulky - 247 yds, 7 oz)
- Millennial (195-184)
- Kombucha (195-126)
Lion Brand Heartland (Weight: 4/worsted weight - 251 yds, 5 oz)
- Great Sand Dunes (136-123)
• Tapestry needle
• Size 6 (6.00 mm) crochet hook or size needed to obtain gauge
• Size M (9.00 mm) crochet hook or size needed to obtain gauge
• Stitch markers or safety pins
• T-pins for blocking
• Steamer or iron with steam setting for blocking
• Blocking board or towel
Purchase a kit with all the yarn you'll need + the pattern ⇨
Gauge:
Puff circle = 5.5" diameter using larger hook
Finished square = 9.5" after blocking
Abbreviations and Glossary (US Terms):
ch – chain
chsp – chain space
dc – double crochet
PM – place marker
rep – repeat
RS – right side
sc – single crochet
sk – skip
slst – slip stitch
st(s) – stitch(es)
tc - treble crochet
WS – wrong side
yo – yarn over
Overall Pattern Notes:
• Ch 3 counts as 1 dc throughout.

• Circles and squares may not lay completely flat depending on your stitch tightness and yarn used. This is normal and will be resolved with blocking.
If you haven't already crocheted Part 1 of the pattern, do so first. Get Part 1 here.
CREATING SQUARES
Notes:
This section is worked with category 4 (worsted weight) yarn regardless of what weight yarn was used for the puff circle.

Once again, square is worked with right side of fabric facing you throughout. Do not turn at end of rounds.
Make 20 or however many squares are needed to complete your preferred blanket size.
With smaller hook and category 4 MC yarn:
Join yarn in any chsp of puff circle.
Round 1 (RS): Ch 3 tightly, 2 dc in same chsp, 3 dc in each chsp around circle; slst to top of beginning ch to join. (24 3dcClusters)
Round 2: Slst 2 into next sp between 3dcClusters, ch 1 (does not count as a stitch), 3 sc in same space, 3 hdc in next sp, 3 dc in next sp, [3 tc, ch 1, 3 tc] in next sp (corner made), *3 dc in next sp, 3 hdc in next sp, 3 sc in next sp, 3 hdc in next sp, 3 dc in next sp, [3 tc, ch 1, 3 tc] in next sp; rep twice more, 3 dc in next sp, 2 hdc in next sp, slst to first st to join. (4 distinct sides, 7 clusters per side)
Round 3: Slst 2 into next sp between 3dcClusters, ch 3 tightly, 2 dc in same sp, *3 dc in each sp to corner, [3 dc, ch 1, 3 dc] in corner sp; rep from * 3 more times, 3 dc in each sp to end of round; slst to top of ch from beginning of round to join. (8 clusters per side)
Rep Round 3 twice more. Rounds should increase by 1 cluster per side per round.
Square should now have 5 total rounds and 10 clusters per side. Fasten off.
Weave in ends. Seriously. Do it now. Your future self with thank you.
BLOCKING SQUARES
Taking the time to block your squares now will result in a much tidier-looking blanket. (These are the blocking boards I use.)
Use T-pins to pin each square down to a blocking board or other surface. Stretch squares enough that any waviness is removed and blocks measure 10" square when pinned down. Steam block squares using steamer or iron, taking care not to touch yarn directly.
The Dahlia Scrapgan Part 3
Head to Part 3 of the free pattern where we'll learn how to join all our modern granny squares together SEAMLESSLY. That's right--without a tapestry needle! If you'd like all the patter stages in one easily printable file, you can upgrade to the premium PDF. Purchase the ad-free, printable PDF on LoveCrafts here and on Etsy here.
More Free Crochet Blanket Patterns
Always want a few good crochet blanket patterns in your queue? You can peruse all our free crochet blanket patterns here or stroll through the archives of C2C crochet blanket patterns or blanket patterns for babies.