With this simple, inexpensive trick, you'll learn how to stiffen the brim of any crochet hat while your hat remains flexible and packable.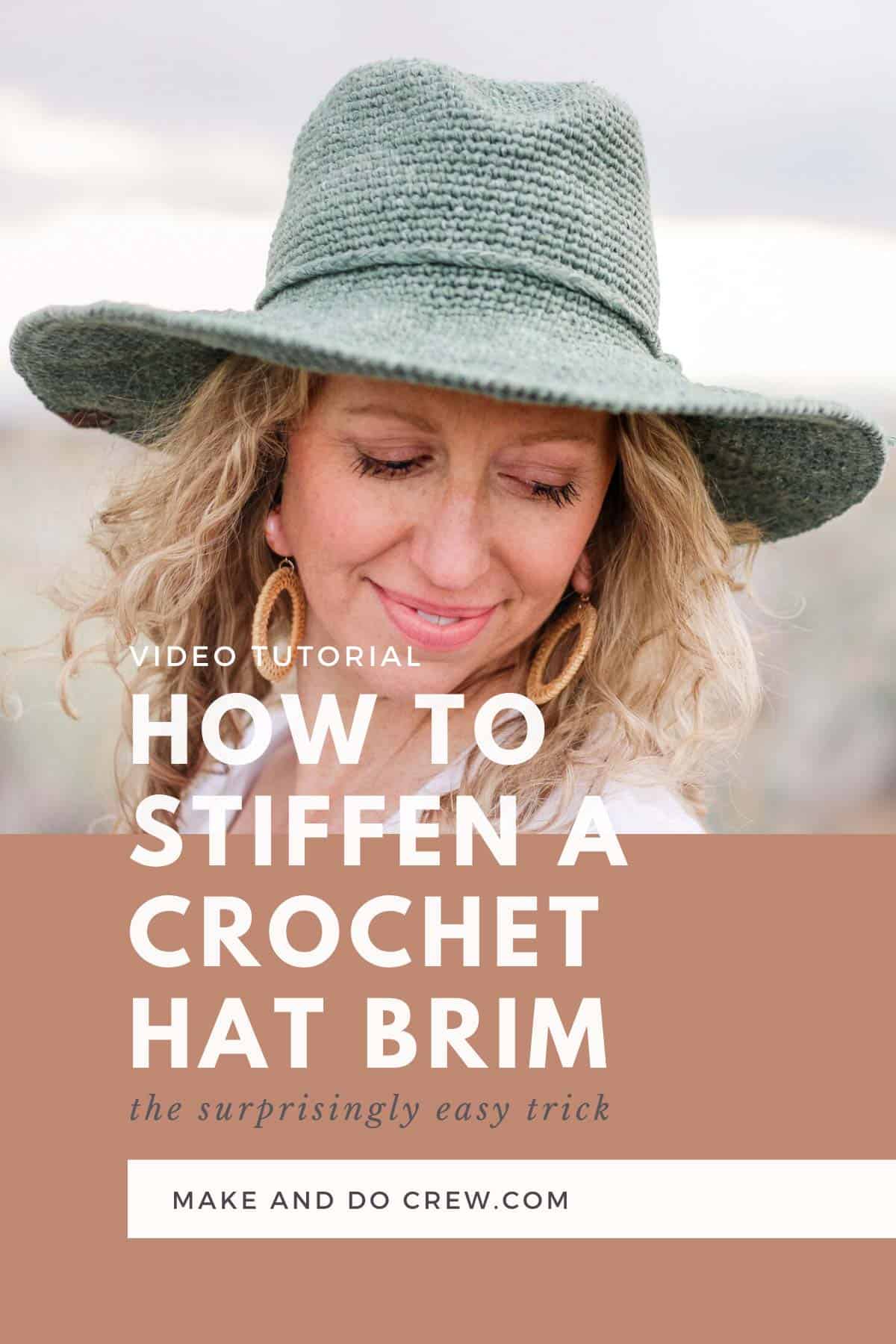 Video: How to Stiffen the Brim of a Crochet Hat (Without Starch!)
Watch how to stiffen the brim of any crochet sun hat in the video below and then scroll down for more details about the technique.
Related: Cleo Fedora - Free Crochet Sun Hat Pattern
Not All Wires Are Created Equal
Whether you're using straw-like yarn, cotton or raffia, crochet really lends itself well to creating the perfect beach hat vibes. Crochet sun hats are packable, durable and so comfortable to wear.
But you may have noticed the little secret about almost any crochet sun hat you find in a store. They have a supportive wire ensuring the brim stays stiff and functional on your summer adventures.
The problem with most wires though is that they hold their shape (as wires do ya know) and often look kinda janky after being stuffed in your beach bag. Womp womp.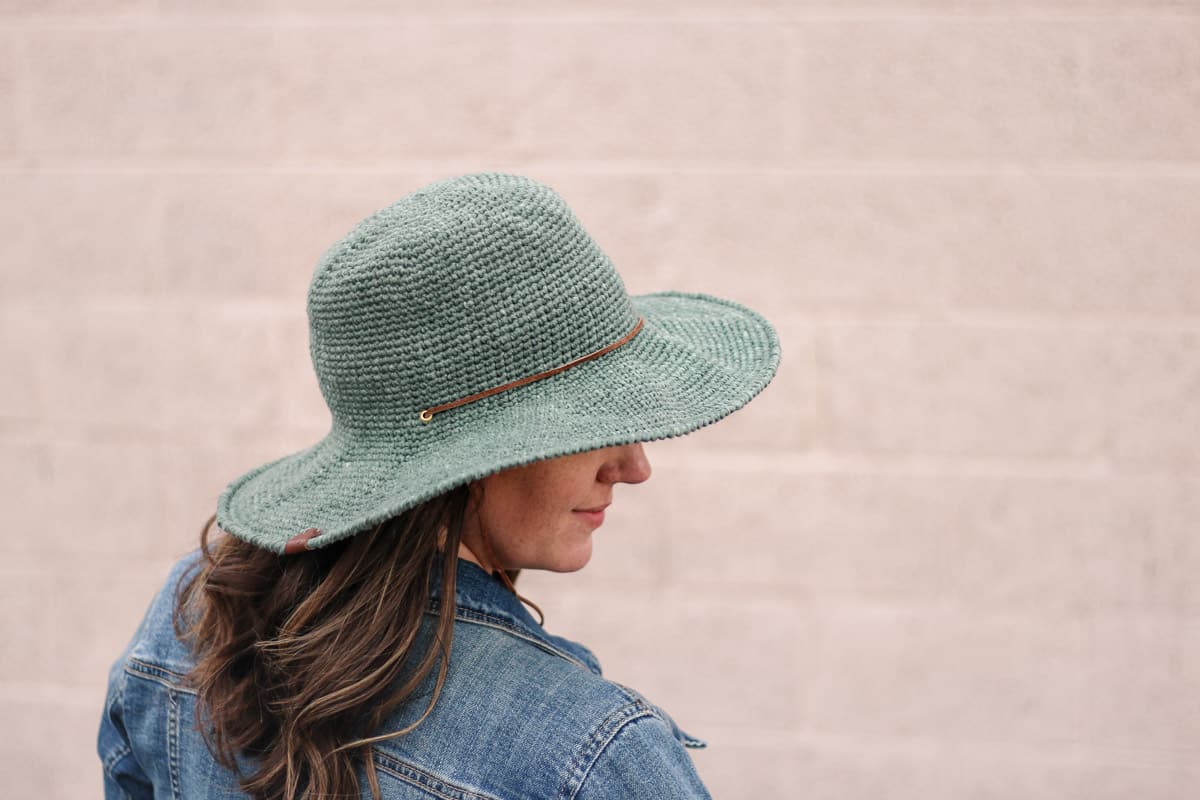 The Best Wire to Use to Stiffen a Sun Hat Brim
After I finished designing the Cleo Fedora crochet sun hat, I knew I wanted to add a little extra support to the brim. I also knew I wanted to find something that wasn't actual wire that would mold into weird shapes. This hat needed to be able to bounce back from anything I threw at it!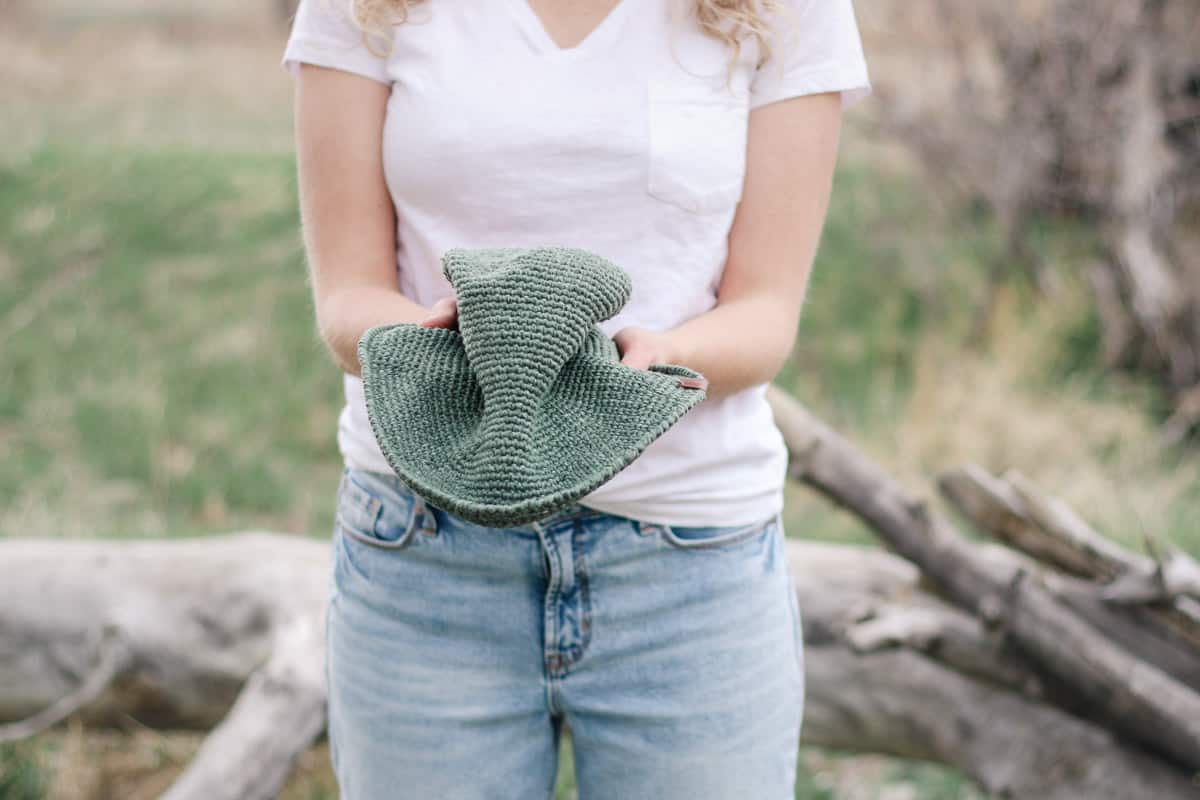 After lighting up google for hours, I eventually headed to Home Depot and found exactly what I needed. (Don't you hate that when you don't even know what to google to solve your problem? That's when you know you're really in a pickle.)
Galvanized wire rope is sold by the foot at most hardware stores (Links: Home Depot | Lowes) and it's perfectly stiff without having too much memory. I purchased the 1/16" thick rope from the "rope aisle" of Home Depot. And possibly the best part--it only costs 26 cents a foot! If you don't have access to a hardware store, you can purchase it on Amazon too.
Related: 27+ Free Crochet Beanie Patterns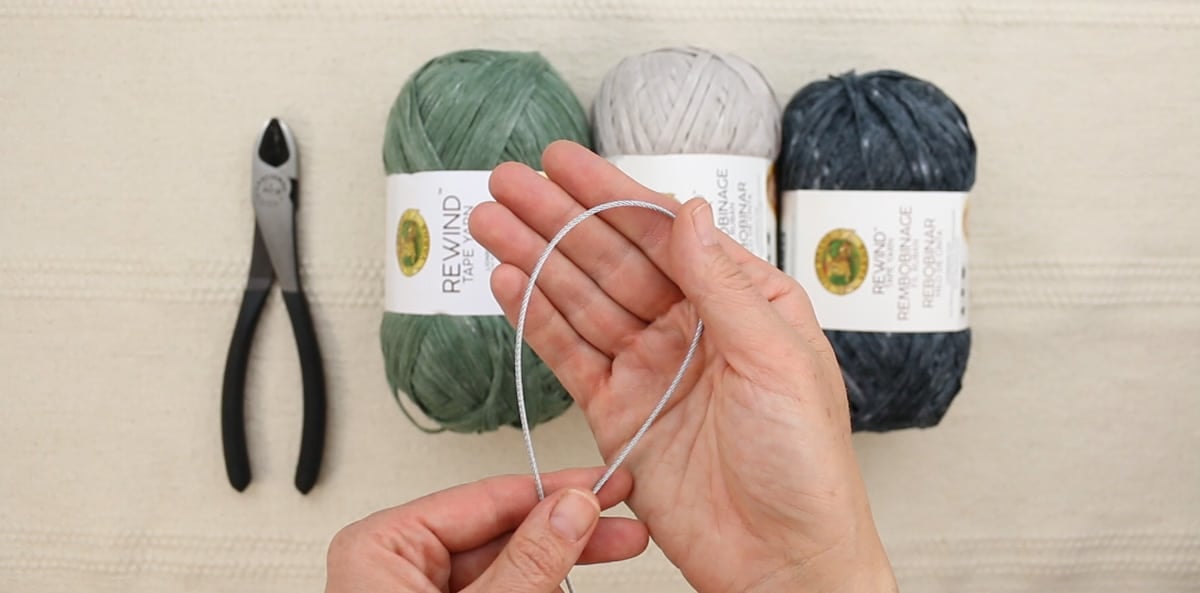 Millinery Wire Is What the Pros Use
Now having found this galvanized rope option, I have since discovered that you can actually buy plastic millinery wire that bounces back into its shape. Here's an Etsy shop you can buy it from and here's some you can order from Amazon.
The galvanized wire rope works so well though and it's so easily accessible I'm not sure I would seek out millinery wire for my next crochet sunhat unless it fell in my lap.
Related: 30+ Modern Crochet Tops + Tanks
How to Add Wire to The Brim of a Crochet Hat
If written instructions and photo tutorials are your preferred way to learn, you're in luck. Here's how to stiffen the brim of any crochet hat explained in black and white.
If you're using a pattern other than the Cleo Fedora Sun Hat, you'll want to work until one round before the brim is complete. Add the wire as you work the final round. Then if you'd like, follow the instructions for working one round of reverse single crochet (crab stitch). This final step adds a nice "braided" looking edging and further stabilizes the brim of of your crochet bucktet hat or sun hat..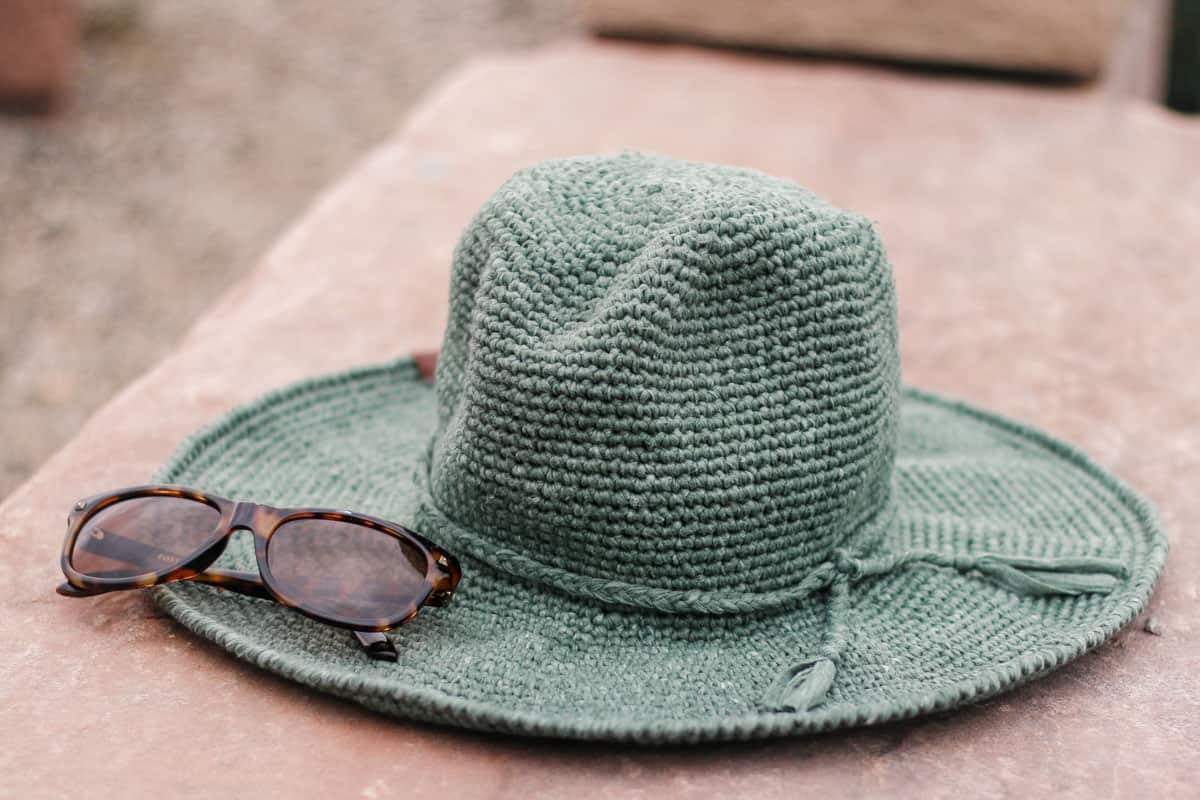 Supplies:
• 6' galvanized wire rope, 1/16th" thick (sold by the foot inexpensively at hardware stores. Links: Home Depot, Amazon, Lowes)
• Wire cutters
• Almost finished crochet sun hat (here's the free pattern for the hat pictured)
Abbreviations and Glossary (US Terms)
ch – chain
rep – repeat
RS – right side
rsc - reverse single crochet
sc – single crochet
slst – slip stitch
st(s) – stitch(es)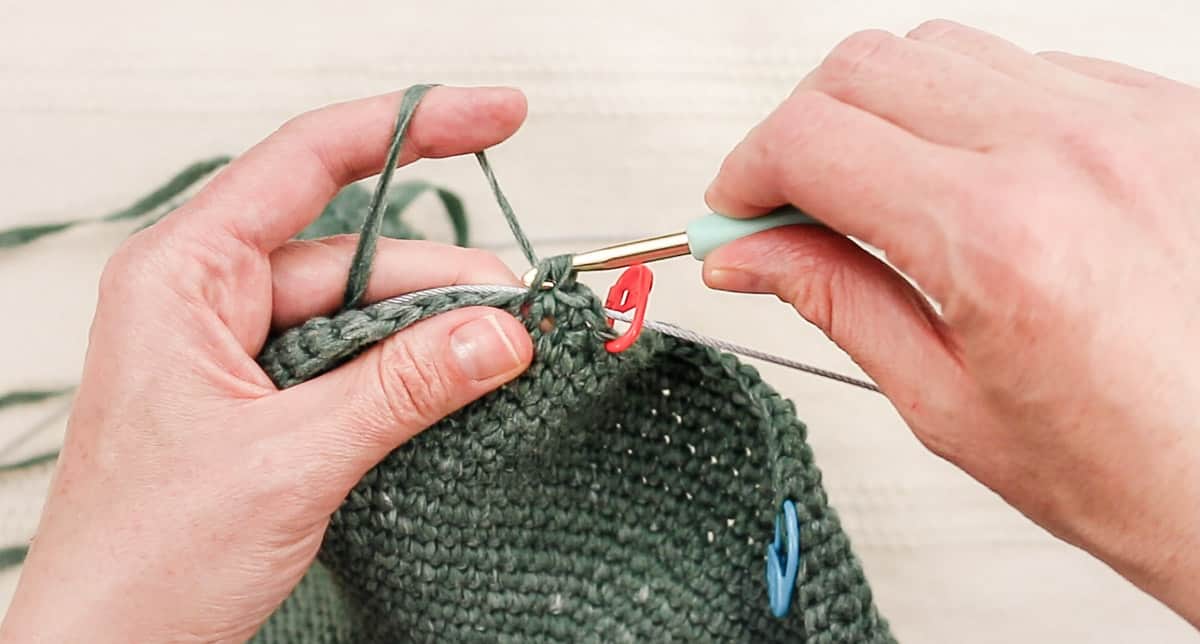 Adding Wire to Hat: Hold galvanized wire rope along previous round of brim. Crochet over it as you sc in each st. Pause when 3" of round remains unworked. Rub brim flat and try on hat to make sure density of stitches around rope is to your liking. (Spreading out stitches more around rope will result in a more wavy look.)
Using wire cutters, snip rope so it overlaps itself by 2". Complete round by sc in each st, working over both ends of rope as you go. Move on to finishing round.
Finishing Round: (This round is worked with RS facing still, but in opposite direction as all other rounds. View video tutorial above for extra help.) Ch 1, rsc in each st; sl st to first st of round to join.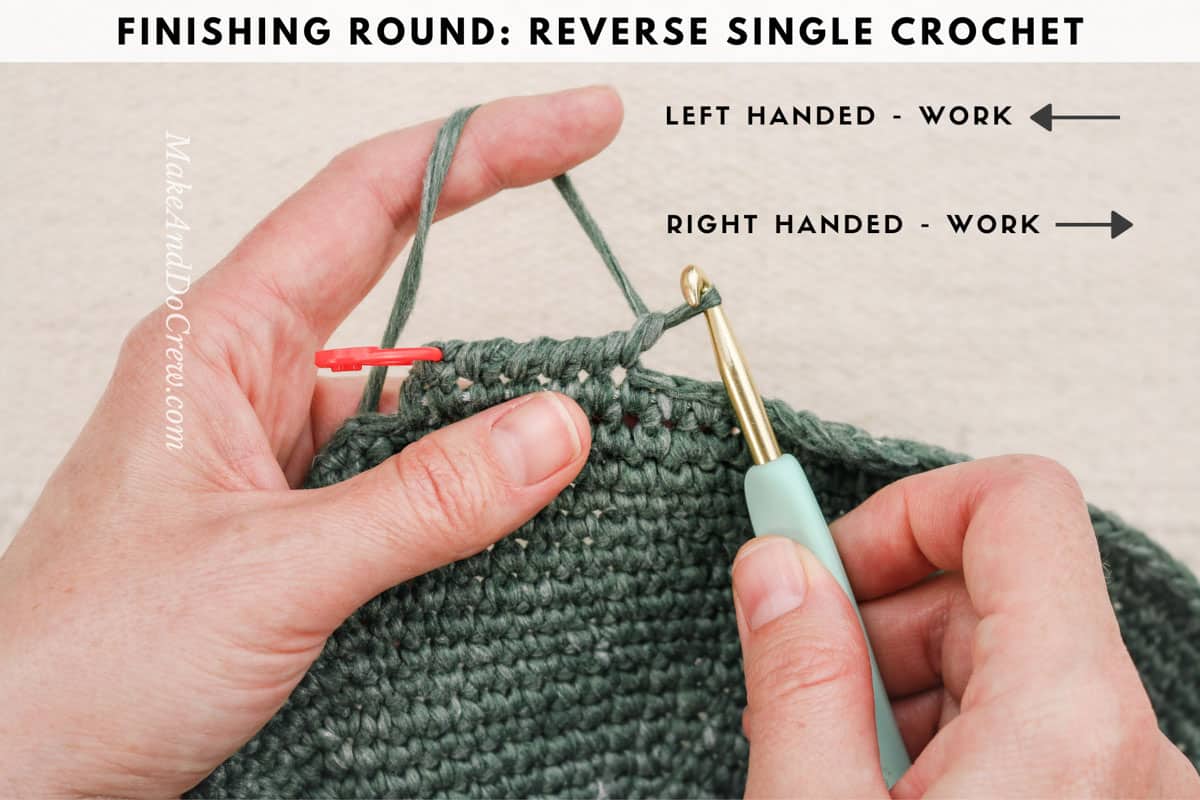 And that's it! You now know how to stiffen the brim of a crochet sun hat without using starch.
click to pin this tutorial for later ⇨