A visual synopsis of how my craft swap project evolved from two balls of Lion Brand Fisherman's Wool yarn to two cozy slippers:

As I mentioned Saturday, I was recently invited to participate in a craft swap. Basically, you make stuff for someone else and someone makes stuff for you. It's selfless crafting--an idea that is quite out of the ordinary for me.
I found the process a good mix of intimidating and inspiring. It's tough to make something for someone you don't know. I never want to burden anyone with another piece of junk they feel obliged to hang onto for ten years because it's handmade. I also didn't want to make something for my recipient, Marla, that she would prefer to make for herself, exactly the way she wanted it.
So when I looked at her profile on our swap blog, I noticed she didn't list knitting as one of her "craft skills." As it's becoming the season where one wants to wrap themselves in wool, I got to thinking that maybe she might appreciate something knit.
I decided a pair of cozy slippers might be just the ticket. They'd be a manageable project to take on. If she hated the colors I chose, she could wear them in the privacy of her home and not feel embarrassed. And, the temperature here is falling faster than a ton of bricks.
After digging around on Ravelry a bit, I found this pattern for Two-Hour Felted Slippers. Bingo! Adorable, efficient and style-friendly.

I decided to knit with two strands of Lion Brand Fisherman's Wool to achieve the chunky thickness of yarn the pattern called for. The pattern didn't lie about the speed of these puppies. I got the majority of the first slipper done in an hour.
Then I had to switch to double pointed needles.
Everything came to a screeching halt.
I don't own size 15 double pointed needles.
And no one within 8 zip codes of me sells them either.
That's when I turned to Amazon to save the day.
Once the needles arrived in the mail, I was able to finish the righty and crank out the lefty lickity split.
Then it was time for the fun part––shrinking those slippers! For those of you unfamiliar with the process of felting, let me briefly explain it's awesomeness. You basically knit loosely (using 100% wool yarn or another feltable fiber) and then throw the finished knit garment in the washer with very hot water to shrink it down to the size you want it. It's exactly like what you always try to NOT do to your wool sweaters. The result is a cozy wool "fabric" of sorts that is great for bags, slippers and even sweaters.
When Marla's slippers looked like about a size 7.5 (which I really had no idea about since I have giant clodhoppers for feet), I snatched them out of the washer and set them in front of the fire place to dry. Then all that was left was to add some trim around the edge. The pattern suggested using ribbon so I bought some in a nice grasshopper green shade. When I got it home though, I decided I liked the look of a matte trim better so I cut a 1.75" strip of cotton quilting fabric, ironed the edges under and whip stitched that around the edge as trim.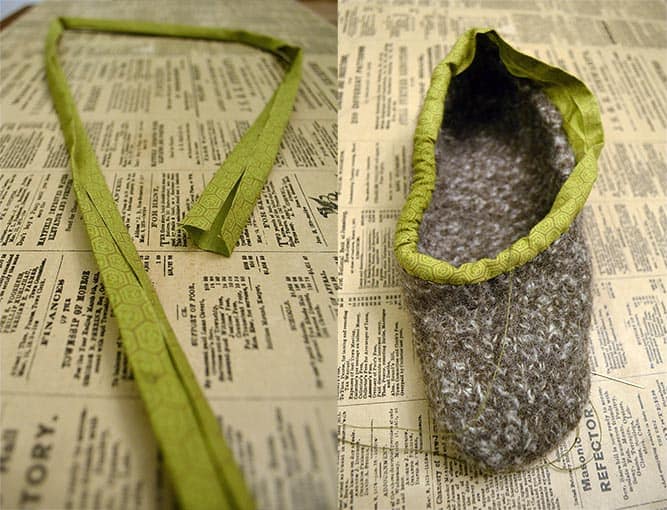 I think these slippers will give Marla's toes a cozy snuggle.

Come back later to see what else I made for Marla. Here's a hint: it's hair flair even a bald man would love.