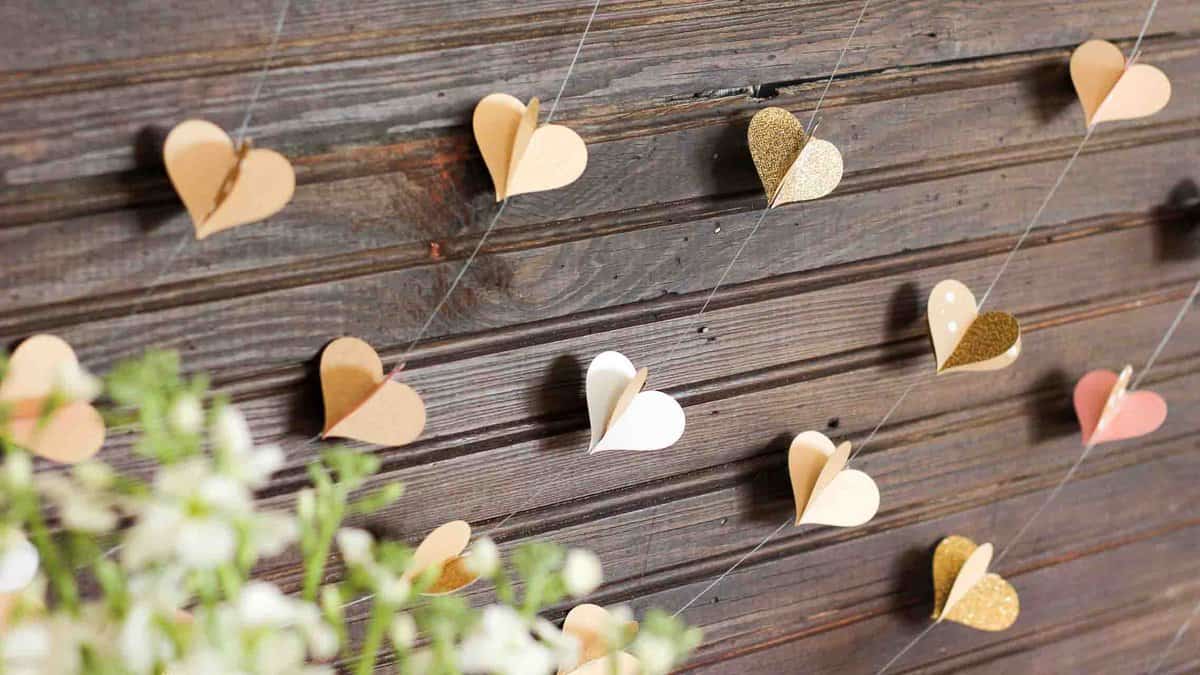 Is it too early to DIY some Valentine's Day decor?
Well, our mantel has been devoid of Christmas decorations for a whopping hour and half, so I think not. As the Christmas dust glitter settles, I've started to think about the next excuse to eat loads of my kids' candy--Valentine's Day!
So I'm just going to go ahead and call this paper heart garland a Valentine's Day craft, but if you have stricter rules about when Valentine's Day decorations go up, feel free to think of this as love-filled wedding garland instead. (It would make such a sweet wedding photo booth backdrop, don't you think?)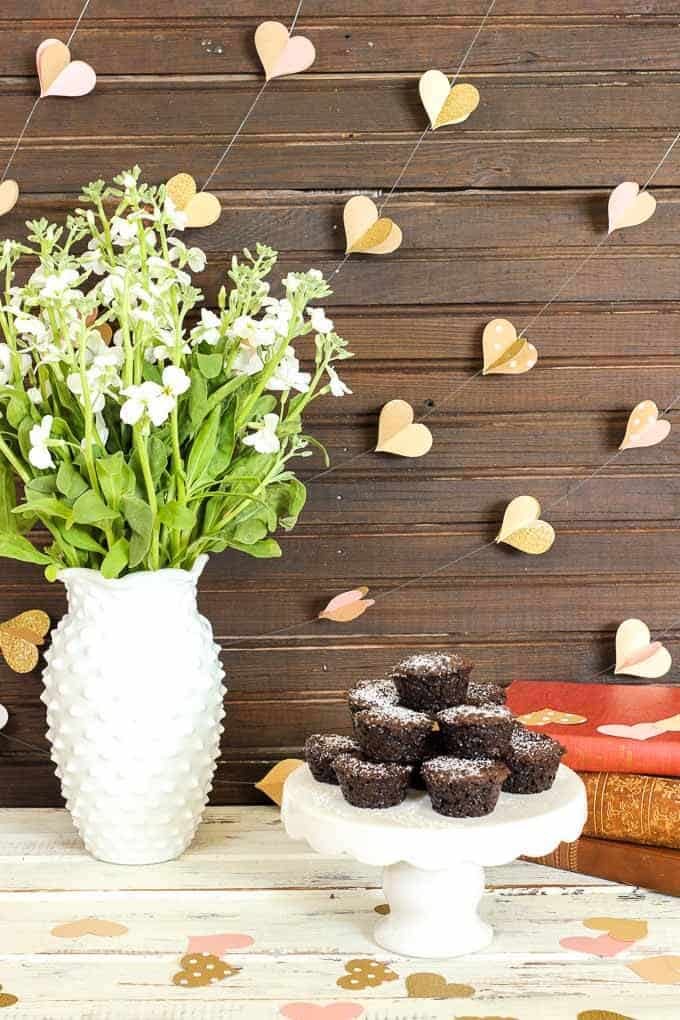 If you already have a stash supplies from other paper crafts, this is a budget-friendly project that you can whip up using leftover pieces of scrapbook paper. Or if you're like me, go indulge yourself in $3 worth of brand new, unadulterated paper while you're spending a gazillion dollars on other craft supplies. (Suddenly none of it seems so budget-friendly at that point, does it?) If you already have a heart scrapbooking punch, then you're way ahead of the game.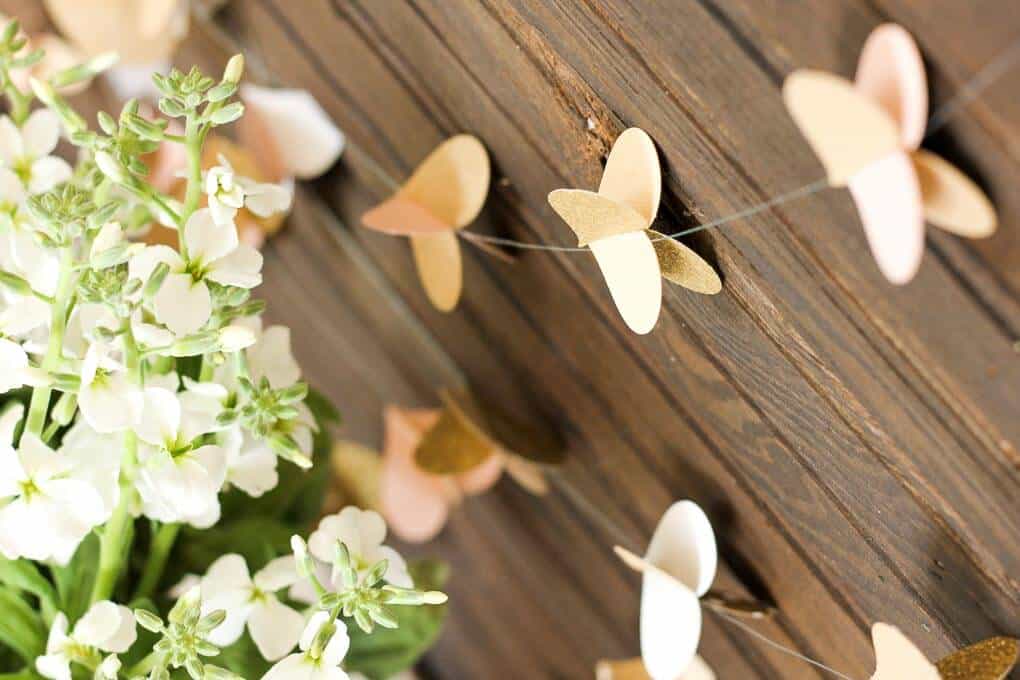 You can make this DIY paper garland in less than an hour, probably even while a kid is playing in the background. Or even better, make a few extra paper hearts, give the kids some glue and get them to bang out some DIY Valentines for Grandma and Grandpa while you're making garland.
DIY Paper Heart Garland Supplies
This post contains affiliate links at no extra cost to you so you can spend more time garland-making and less time shopping. See my full disclosure here. Thank you so much for supporting M&DC!
• heart scrapbooking punch
• scrapbook paper (use up your small scraps!)
• monofilament fishing line (baker's twine would work well too)
• tacky glue
• scissors
Instructions
1. Use your scrapbooking punch to make a bunch of paper hearts. You'll need two hearts for every three-dimensional heart on your garland.
2. In half of the hearts, make a cut from the bottom to halfway up the middle of the heart. In the other half of the hearts, do the same, but from the top.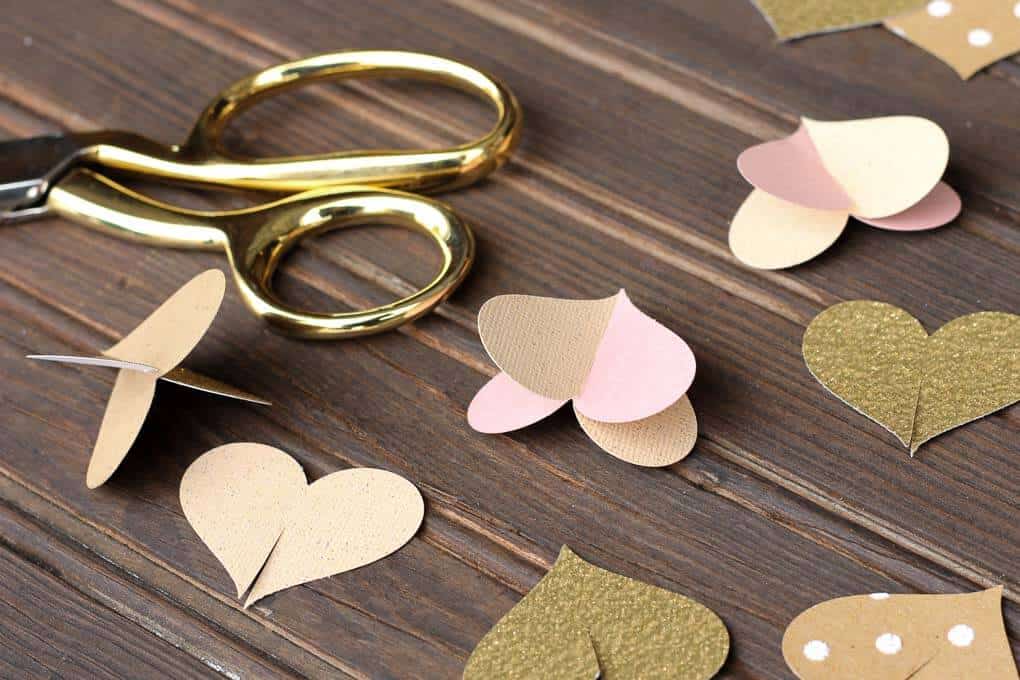 3. Slide a top-cut heart and a bottom-cut heart together as pictured. Repeat! Repeat! Repeat!
4. Cut a length of fishing line, stretch it out and weigh it down with a few objects so that it's laying flat. Add a small line of glue to the middle seam of each heart and place them under the fishing line, spaced out evenly.
5. When your hearts are dry, gently coax them back into their dimensional shape.
That's it! This garland makes for some super easy Valentine's Day decor, dontcha think?
...Or a great low time-investment, high-handmade-payoff wedding garland if you're like I was and WAY too ambitious about your wedding DIYs (hello craftathon 12 hours before walking down the aisle. 🙂 )
And if your DIY engine is revving and you're looking for other handmade Valentine's Day crafts, check out these DIY Wooden Valentines. And this DIY Leather Catchall Tray makes a great Valentine's Day gift idea for him too!