Learn how to crochet the Tunisian rib stitch in this brief video tutorial. This type of Tunisian crochet ribbing mimics the look of knitting and is beautiful used as an accent on sweaters or home dec projects.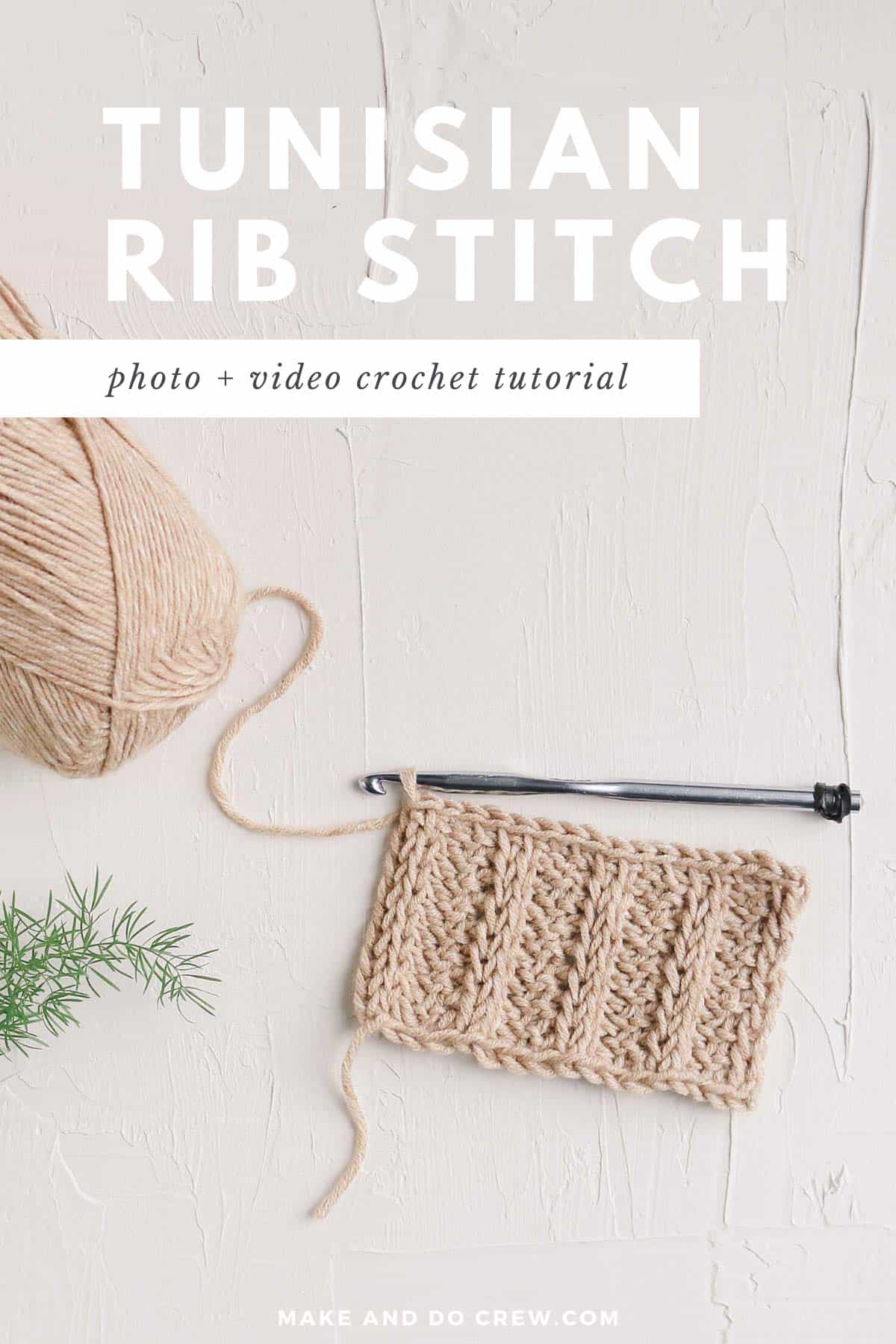 This Tunisian crochet rib stitch video tutorial is part of a collaboration with Lion Brand Yarns. This post contains affiliate links.
If you're new to Tunisian crochet, get all your questions answered in our free intro course: The Absolute Basics of Tunisian Crochet. This will prepare you perfectly for learning the Tunisian rib stitch!
I walk you through exactly how to crochet Tunisian ribbing in the brief tutorial below including what size hook to use, how to modify basic ribbing and how to fasten off when you're finished in the video below. If you learn better from still photos, scroll down past the video for a complete photo tutorial.
A Crochet Stitch That Looks Like Knitting!
Tunisian crochet is so fun for the versatility it brings to the craft. If like me, you love finding ways to make crochet look like knitting, you're going to love the Tunisian rib stitch.
The Tunisian rib stitch looks very similar to knit ribbing and similar to knit ribbing, you can work any pattern of Tunisian knit stitches (tks) and Tunisian purl stitches (tps) to create your desired effect. In this tutorial, we're doing 2x2 ribbing (2 tks x 2 tps), but you could also do 3 tks x 1 tps or 1 tks x 1 tps--you get the idea.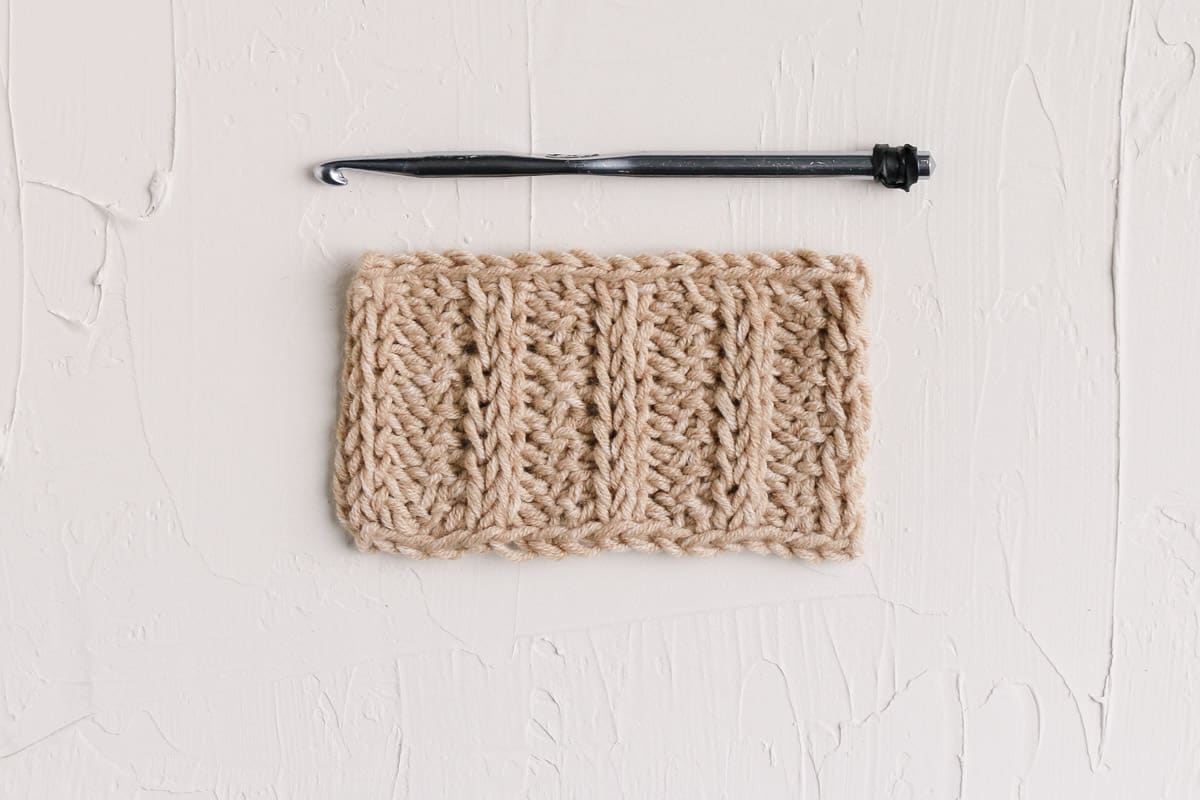 What is the Tunisian Crochet Rib Stitch Good For?
Unlike knitting, the Tunisian crochet rib stitch is not very stretchy. This makes it perfectly adequate (and pretty!) when used as a sweater trim, but it wouldn't work as well in an item that needed a fair amount of give.
In the video I mention that this stitch could work for hats and beanies, but upon further thought, it lacks the stretch you might be looking for in a hat band. (Personally, I like rows of slip stitch through the back loop only worked sideways for crochet hat bands.)
The Tunisian rib stitch could even work well for a sophisticated throw blanket, especially if it was made in chunky yarn to show off all the knit-like texture.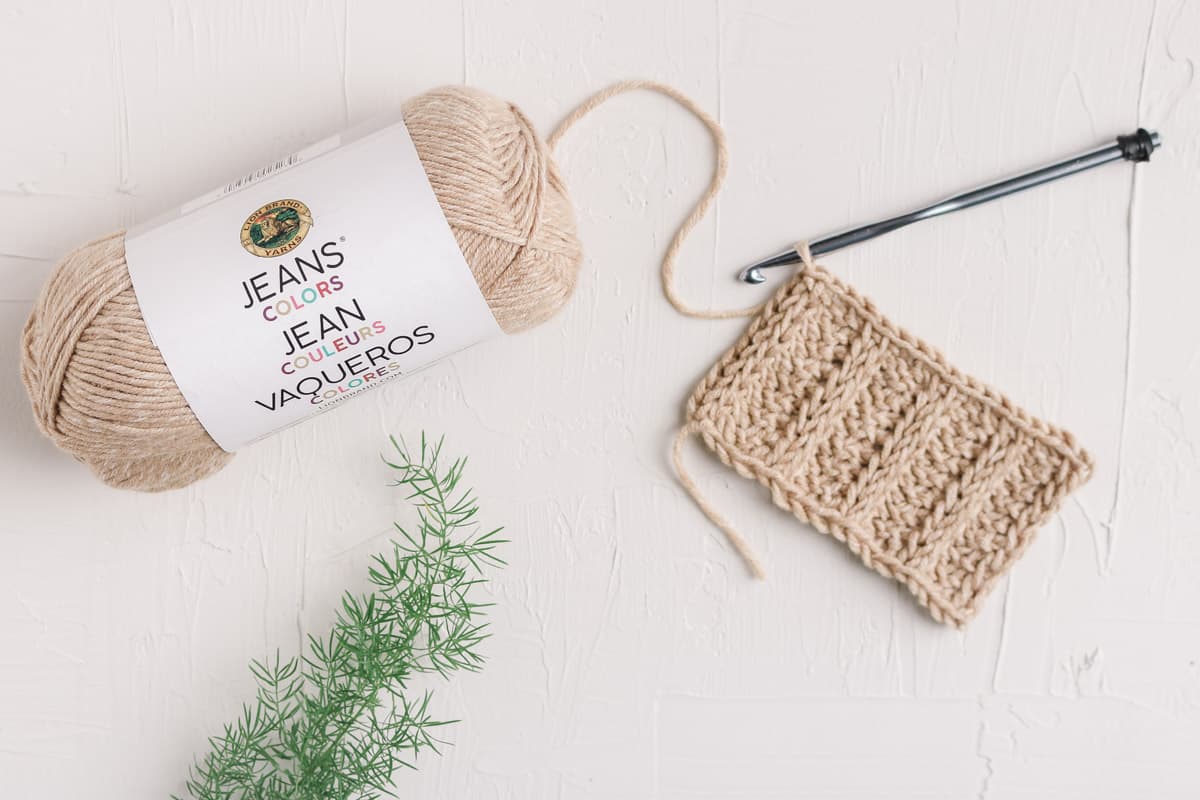 More Free Tunisian Crochet Patterns and Tutorials
I love taking simple crochet concepts and translating them into modern, wearable patterns. Tunisian crochet offers so many possibilities for this! Here are a few free patterns and tutorials that you might enjoy. You can always find all our free Tunisian crochet patterns here.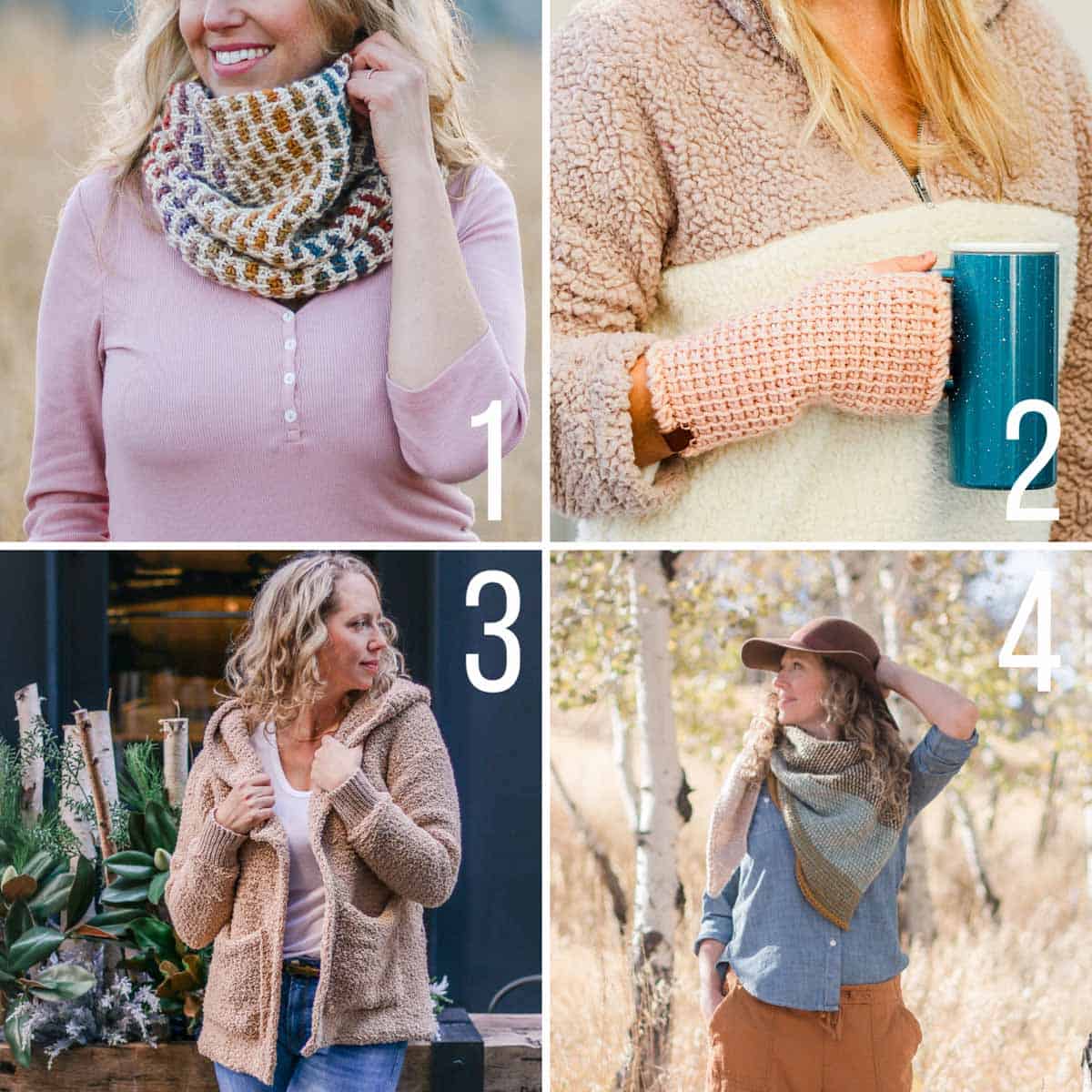 Stained Glass Cowl (coming soon!) // 2. Easy Tunisian Mitts // 3. Sherpa Sweater // 4. Brushland Reversible Wrap
How to Crochet the Tunisian Rib Stitch Video Tutorial
In the video tutorial below, I walk you step-by-step through how to crochet Tunisian ribbing.
click to pin this tutorial for later ⇨
Links mentioned in the video:
• Mercantile Cardigan - free pattern (coming this week!)
• Lion Brand Jeans Colors Yarn
• My favorite Tunisian crochet hooks:
- Knitter Pride (wood, smaller sized hooks, cable key style)
- Denise Interchangables (plastic, larger sized hooks, twist to lock style
• Subscribe to our free weekly crochet patterns and tutorials in the box below. Welcome to the Crew!
[convertkit form=5275069]
How to Crochet the Tunisian Rib Stitch Photo Tutorial
And if you're more of a still-photo learner, here are the main steps of the Tunisian crochet rib stitch in photography form!
Stitch multiple:
- 4 (+ 2) if project will lay flat (because then both sides will be symmetrical.)
- 2 if project will be seamed into a circle (because then columns of knit and purl will alternate seamlessly around.)
Notes:
• Row instructions are for the Forward Passes (FwP).
• Work a standard Return Pass (RetP) after each Forward Pass.
Row 1 - Foundation (Color A): Ch appropriate number of stitches. Draw up a loop in second bump from hook and each bump to end of row.
Row 2: Tks in next st, *tps in next 2 sts, tks in next 2 sts; rep from * to end of row (ending with 2 tps if necessary).
Row 3 and beyond: Rep Row 3 until piece measures desired length.
To finish, work a FwdP of tslst in each stitch. Fasten off.
That's it! How will you use the Tunisian rib stitch in your next crochet project? I can't wait to see what you make. Tag me on Instagram (@makeanddocrew) and use #MakeAndDoCrew to show off your stitches!
click to pin this tutorial for later ⇨