Add stunning, versatile piece to your handmade wardrobe as we crochet the Idlewild Dress together this September! Written in 16 sizes women and girls, you can create a dress for a little lady in your life too!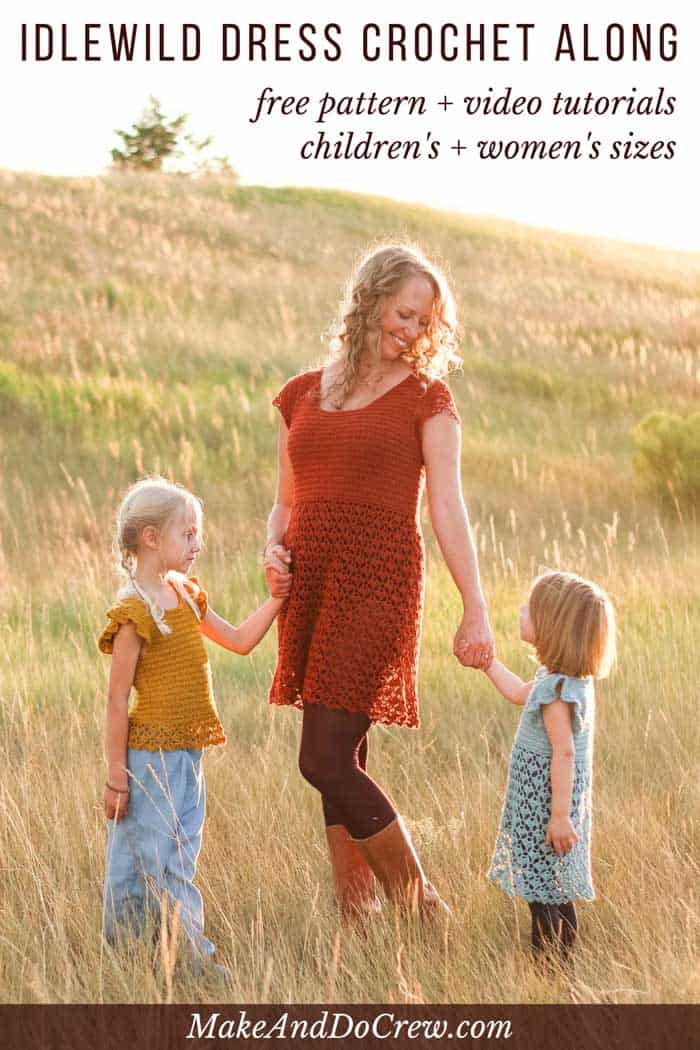 This free crochet dress pattern is part of a collaboration with Lion Brand Yarns. This post contains affiliate links.
UPDATE: You can find each stage of the free pattern + video tutorial as they're published here!
I've kept this secret for months and I'm so excited to finally invite you to make The Idlewild Dress along with me and other Make & Do Crew-ers.
With a ton of video instruction included, this project is a wonderful chance to add some new skills to your crochet tool belt and make a piece that is wearable year round. Watch the video below for a quick introduction and then read on for all the crochet along details!
Idlewild Crochet Along -- Quick Video Overview
(If you're having any trouble playing the video above, make sure you're not running an ad blocker.)
What's a crochet along anyway?
If you're new to the idea of a crochet along, it simply means that we all crochet the same pattern over the same timeframe, usually in stages. If you're the social type, we'll be offering each other help and encouragement in the Make & Do Crew Facebook group, sharing our photos on Instagram and supporting each other digitally as we crochet our dresses.
With over 12 pattern combinations, you'll choose your own adventure in this crochet along with the option to customize the bodice length, the skirt length and the sleeve style. Make a dress, tunic or peplum top that you can layer and dress up or down all year.
Tell me more about the dress!
I'm a dress kind of lady and oh boy do I love wearing this dress. It's drapey, comfy and strikes that perfect balance of "I care how I look, but it's not the only thing I think about." It's flatteringly flowy in all the right places and I think you'll find a million ways to wear this lace-accented stunner.
If dresses aren't your thing, you can extend the bodice of the pattern and add a shorter lace "skirt" for a peplum-style top. You'll get to play the designer a little bit in this pattern. But don't worry, we've done all the hard work of figuring out the details. You'll just be choosing the fun stuff!
Does the pattern include my size? Can I make a child's dress?
Yes and yes! The Idlewild Dress is written in women's sizes small-5x and child's sizes 2-16. (That's a total of 16 sizes to choose from!) For ease of pattern reading, we've separated the women's pattern instructions from the child's pattern instructions, but if you know you'd like to own both, feel free to snag the two-pattern PDF here.
How much does it cost to participate?
NOTHING! How great is that? Because we run ads on the blog and have fantastic sponsors who support us, we're able to give you the entire Idlewild Dress pattern in 16 sizes and step-by-step video instruction for no cost. It makes my heart so happy to be able to offer this option!
If you'd like to have access to ALL the extra helpful resources we've created so you can knock this dress out of the park with ease, then consider upgrading to the ad-free, printable PDF version of the pattern. Not only does it make couch crocheting as easy as possible, it includes additional measurements, stitch charts and photo tutorials to help you out along the way!
Women's Sizes: Purchase the Idlewild Dress PDF ⇨
Children's Sizes: Purchase the Idlewild Dress PDF ⇨
Women's + Children's Sizes: Purchase the Idlewild Dress PDF (best deal!) ⇨
When will the pattern be released?
The Idlewild Crochet Along will kick off with the first stage September 13th. We'll be releasing the free pattern and accompanying video tutorials in four sections each Friday, September 13-Oct 4, 2019.
If you upgrade to the PDF, on September 13th, you'll have immediate access to all four stages of the pattern. The PDF will contain all the written instructions, photo tutorials and charts to finish your dress as quickly as you'd like. (The PDF will not contain all four video tutorials in advance as those will be released with the free pattern each Friday. )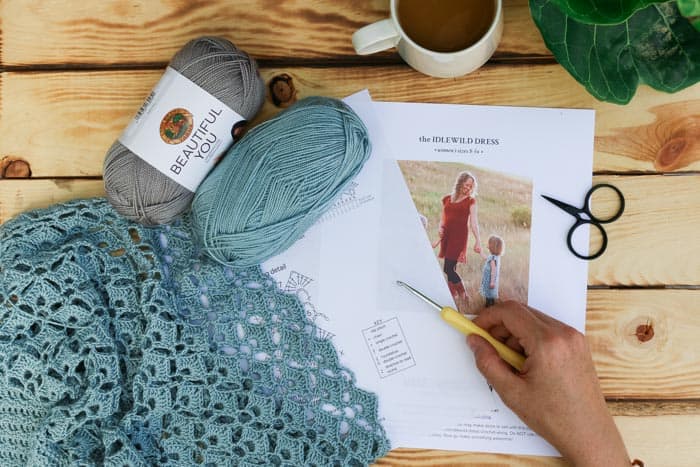 Let's discuss the yarn!
We're going to be using Lion Brand's Beautiful You yarn for this CAL. I love this yarn for the Idlewild Dress because it drapes so beautifully, is fully machine washable and comes in some really fantastic colors. (Pictured here in Rooibos Tea (#165-138), Aquatic (#165-105) and Arrowood (#165-194).)
Here are the yarn requirements for each size:
Women's Sizes S (M, L, 1X, 2X, 3X, 4X, 5X)
Lion Brand Beautiful You (Weight: 2/fine - 326 yds, 3.5 oz)
5 (6, 6, 7, 8, 8, 9, 10)* skeins [(approx. 454 (512, 584, 657, 728, 793, 874, 951) g]
*If you prefer a longer dress, purchase an extra skein.
Child's Sizes 2 (4, 6, 8, 10, 12, 14, 16)
Lion Brand Beautiful You (Weight: 2/fine - 326 yds, 3.5 oz)
2 (2, 3, 3, 4, 5, 5, 5) skeins [(approx. 140 (200, 240, 300, 360, 410, 440, 470) g]
Order your yarn from Lion Brand ⇨
Order your yarn from Amazon with Prime shipping ⇨
Update: Lion Brand created a kit from this pattern that includes all the yarn you'll need to make your Idlewild Dress, plus a printed copy of the pattern. You can grab your kit here for the women's version, or grab your kit here for the children's version!
You will also need:
• Tapestry needle
• Size G (4.25mm) crochet hook (or size required to meet gauge)
• Stitch markers or safety pins
• An iron with steam setting or handheld steamer for blocking
• T-pins or rustproof straight sewing pins for blocking
Can I use a different yarn?
Yes! If you don't have access to Beautiful You or there's another yarn you'd like to use, please make sure it's a Category 2 weight yarn. This is often referred to as Sport or Baby weight yarn. Lion Brand's Dotted Line and L.B. Collection Merino Camel are both great options.
No matter what yarn you choose, please follow the instructions below to make a gauge swatch and adjust your hook size accordingly before you commit to the entire dress. (Gauge swatch instructions will accompany Stage 1 of the pattern on Sept. 13.)
If you'd like more ideas for yarn substitutions, check out YarnSub.com for yarns that closely resemble Beautiful You.
As a beginner, can I crochet this dress?
This is an intermediate crochet dress pattern. While the actual crochet skills involved are quite approachable--single crochet, double crochet, counting and very minimal seaming--there are pattern repeats that require a working knowledge of crochet pattern reading.
If you're a confident beginner with some existing skills and would like to practice pattern reading, then working from the written pattern and video tutorials together will be an awesome chance to develop your skills.
The Make & Do Crew Facebook group is a wonderful place to get help too! I've found M&DC crocheters to be some of the nicest on the internet. Part of the benefit of a crochet along is that you can reach out to the community for extra guidance!
Join the Make & Do Crochet Crew Facebook group ⇨
Can I crochet an Idlewild Dress later?
Heck yes! The free version of the crochet along pattern will be available on the blog forever. So if this isn't a great time for you, pin the pattern for later or save it to Ravelry and come back whenever you're ready.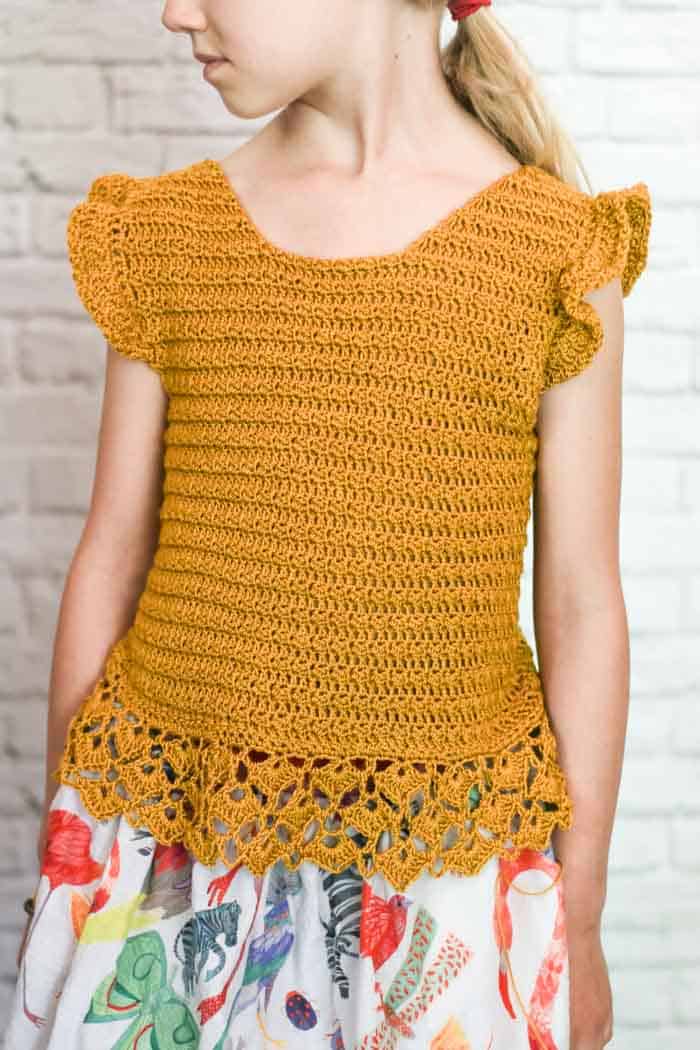 What if I can't keep up with the CAL?
This is meant to be an enjoyable project that leaves you with something you're really proud to wear or gift. That means NO STRESS! If your life doesn't allow you to stick with the crochet along schedule, work at whatever pace feels good. There is no pressure to keep up.
(Remember you're talking to a work at home mom of three young kids here. I'm very familiar with my life being out of my control! 😉)
I'm in! How do I join?
I seriously cannot wait for you to make the Idlewild Dress with us! Here are your next steps:
1. Purchase the PDF if you want the option to print your pattern (includes stitch charts, extra measurements and photo tutorials.)
Purchase a kit with all the yarn you'll need, plus a printed copy of the pattern. You'll find the women's kit here, and the children's kit here.
2. Buy your yarn!
Purchase Lion Brand Beautiful You from LionBrand.com here.
Purchase Lion Brand Beautiful You from Amazon here.
3. Sign up for updates!
Drop your email address in the box below so that you know about each pattern and video release as soon as it happens.
4. Join us on Instagram.
I'll be sharing sneak peeks of the dress over the next two weeks. Follow along here for extra tips during the CAL. (And be sure to use the hashtag #IdlewildDress when you share your photos!)
5. Didn't watch the intro video at the top of this page yet?
What!? It's going to get you so pumped! Scroll up and watch that puppy ASAP!
[convertkit form=5272900]