This crochet granny square cardigan pattern plays on the 1970's classics with reimagined modern details. Scroll down for the free pattern information or purchase the complete ad-free, printable PDF here.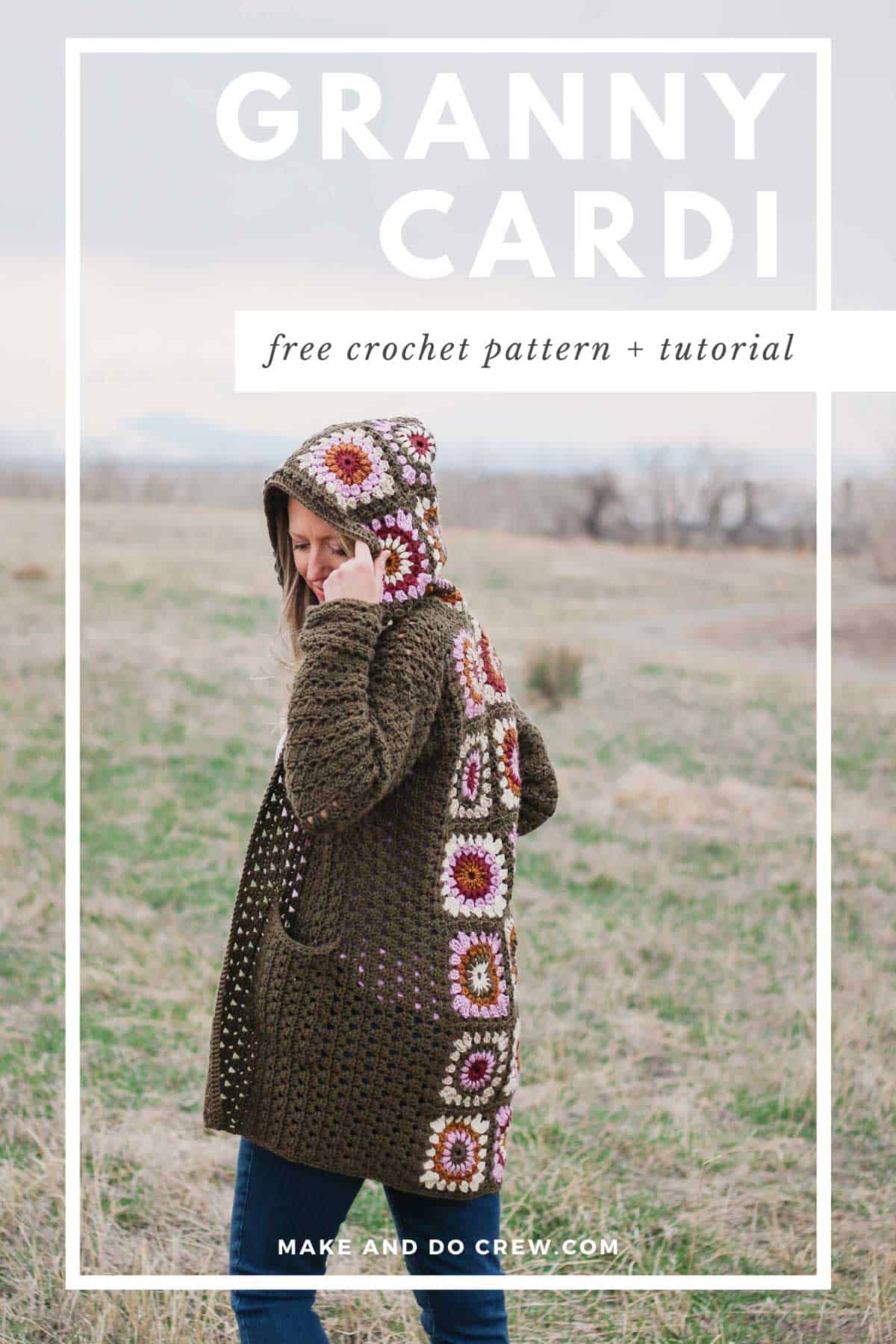 The crochet granny square cardigan casual crochet along is part of a collaboration with Lion Brand Yarns. This post contains affiliate links.
The Revival Cardigan is a perfect pattern to make with stash yarn. If you're new, read all about our casual CAL and find out how much yarn you'll need below.
If you're already in the know, here are the quick links to the pattern:
Free Pattern - Part 1 // Sunburst Granny Square Video Tutorial
Free Pattern - Part 2 // Join As You Go Video Tutorial
Free Pattern - Part 3 // Daisy Farm Craft's Video Tutorial
Free Pattern - Part 4 // Tutorials included in pattern
Focus on Something Positive + Learn Some New Skills
I know a lot of us are at home right now. Many of us are turning to crochet as a meditative escape from world events. Some of us are also feeling isolated without school school, church and work communities.
For all of these reasons, and because this pattern is just a really fun one, I thought it would be cool to host a "casual crochet along" to make our sweaters together.
(You can always find all our free crochet sweater patterns here!)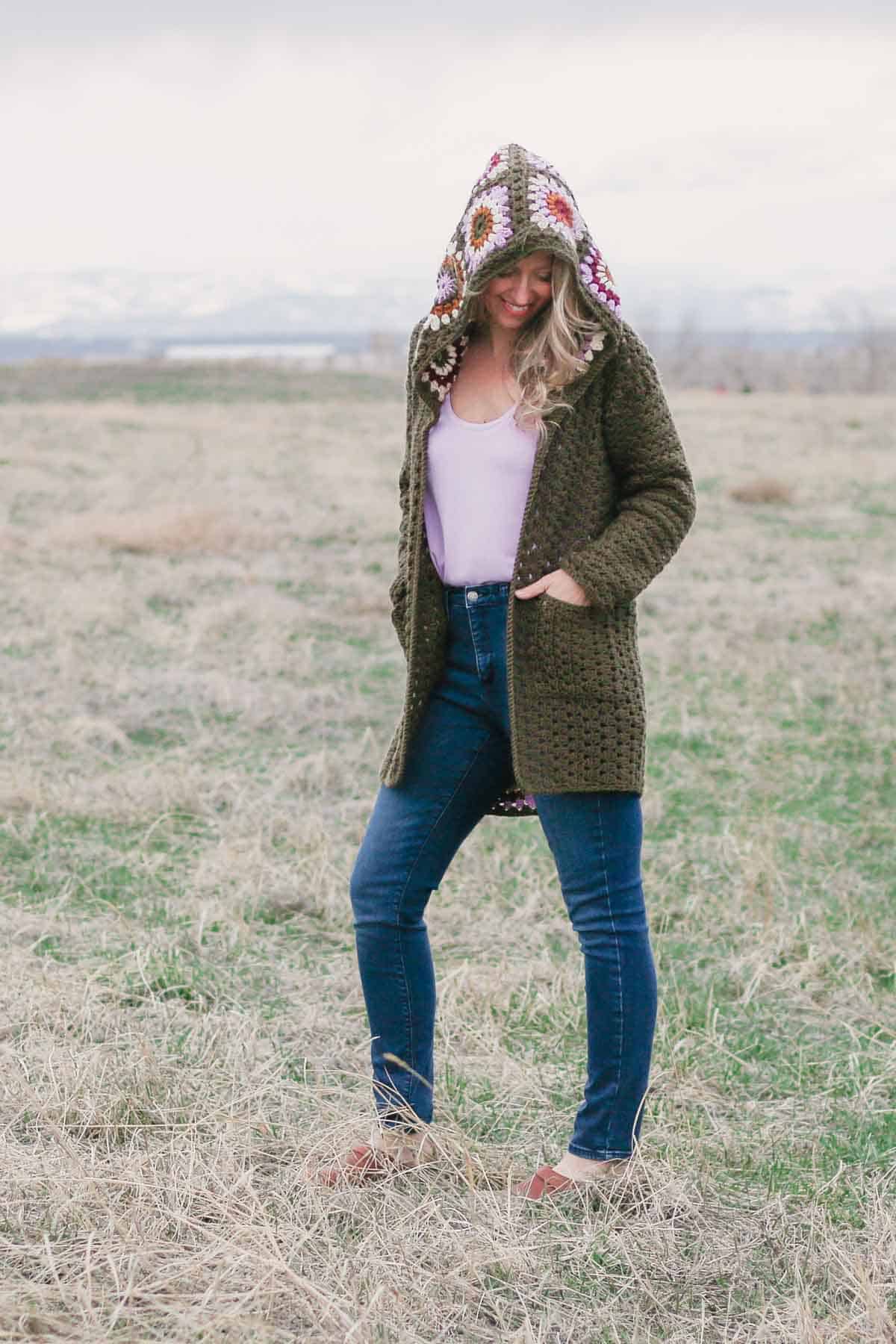 What's a Casual Crochet Along?
Well, it's whatever we want it to be! Typically a crochet along is a virtual community activity where crocheters all join in on making a certain pattern at the same time (from home).
I've decided to call this a "casual crochet along" because I know ALL of us have a lot on our minds right now and feeling any sort of pressure around a crochet pattern would be so silly.
So think of the Revival Cardigan Casual Crochet Along as your chance to join in on a fun, low key sweater-making project. You might possibly use up some stash yarn, you can find some community support and definitely have something positive to count on for the next month.
Fall behind? No problem. Just catch up whenever you feel like it. Catching up on this after the CAL concluded? Just fine. Seriously. Consider this an open-ended, no-stress invitation to crochet yourself sane over the coming weeks.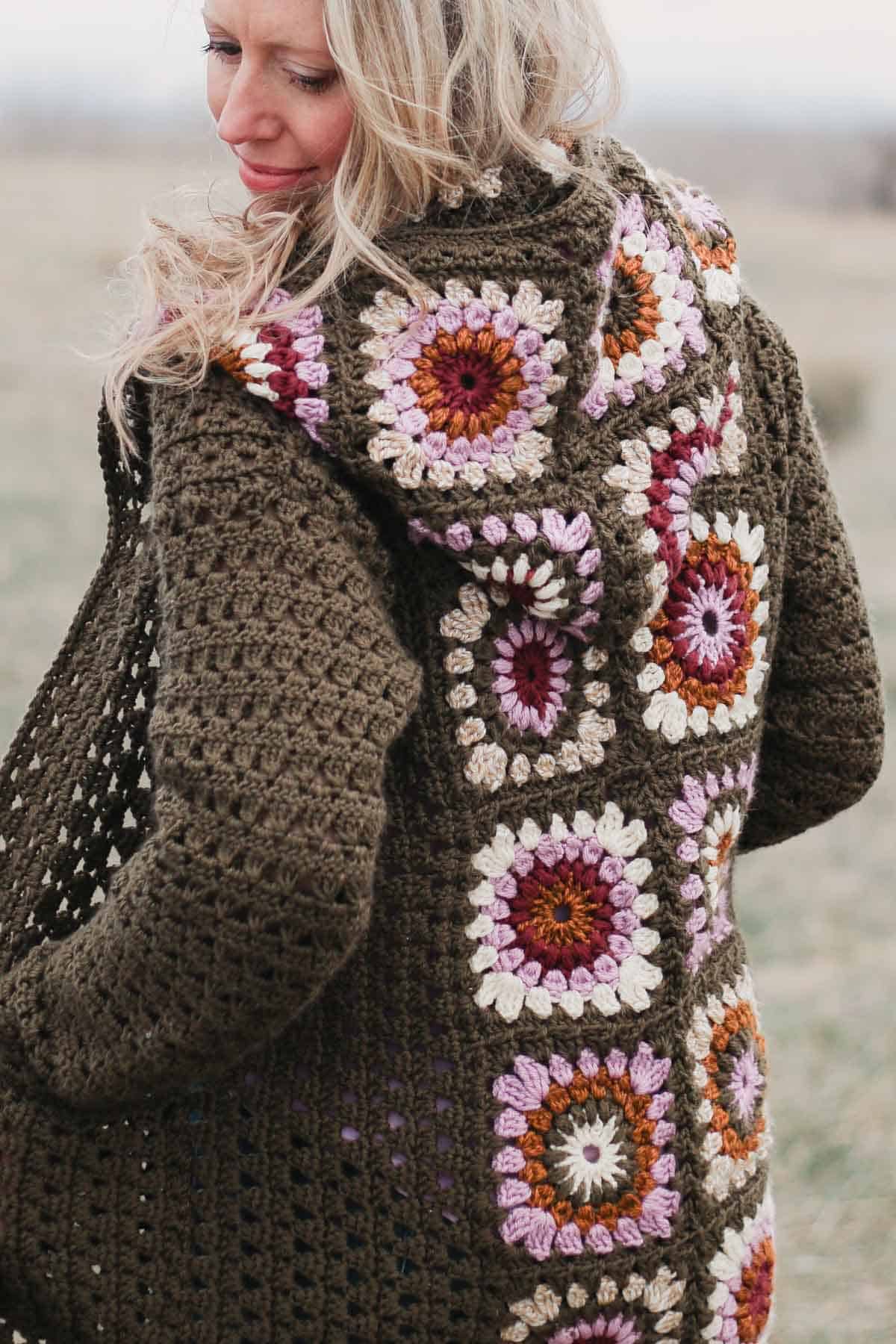 How This Casual Crochet Along Will Work
You can hop right into Part 1 of the free Revival Sweater pattern right here on M&DC. There's a sunburst granny square video tutorial that'll walk you through making these fun little pretties.
Then you can follow along with Part 2, Part 3 and Part 4 to complete your own gorgeous granny square cardigan.
Since many of us are at home right now with some free time, you might also choose to invest in the the printable, ad-free PDF. The PDF includes all four sections of the pattern and tutorials in one large type, easily printable place.
When you purchase my PDFs, you are doing so much to support my family. Like literally putting food on our table and shoes on our feet. So as a thank you for all of you who invest in us in this way, especially right now.
Printable PDF = Basically a Mini Ebook
You know, I never set out to make a 32 page PDF, but like a lot of my DIY projects, I just start with an idea and things get a little out of control from there. Ha.
Honestly, I just really wanted to make this PDF really, really helpful. So it includes the complete written pattern all in one place, tons of step-by-step photo tutorials, links to video tutorials, a stitch chart and join-as-you-go granny square diagrams. I hope you enjoy getting started right away and working at your own pace!
Grab the ad-free, printable PDF HERE.
download the complete pattern immediately ⇨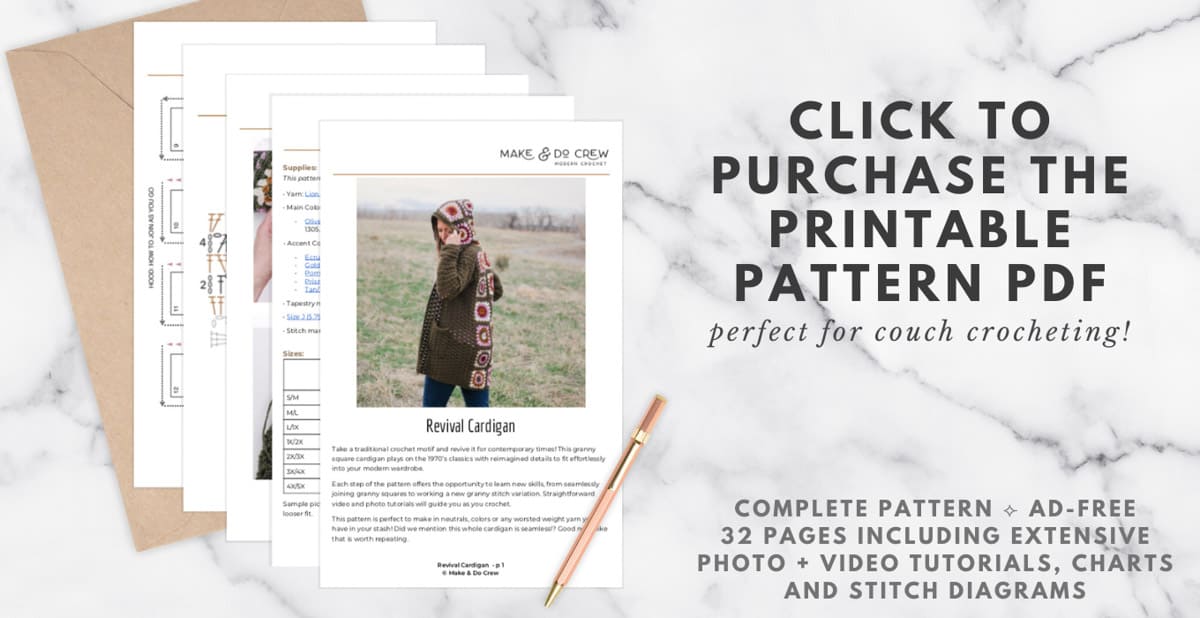 A Crochet Granny Square Sweater --Only Better
Okay, should we talk a little bit more about the pattern itself?!
Last year I became mesmerized with some beautiful granny square cardigans I was seeing in fashion shows and on Instagram (like @cosmic_crochet_creations' amazing sweater!)
I knew that for my own take on the traditional granny square jacket, I wanted to try something a little different, something a bit understated that still highlighted the iconic granny square motif.
After talking to my friends, sisters and husband for hours about different ways to tackle this project, I drew a quick sketch and set to work making granny squares.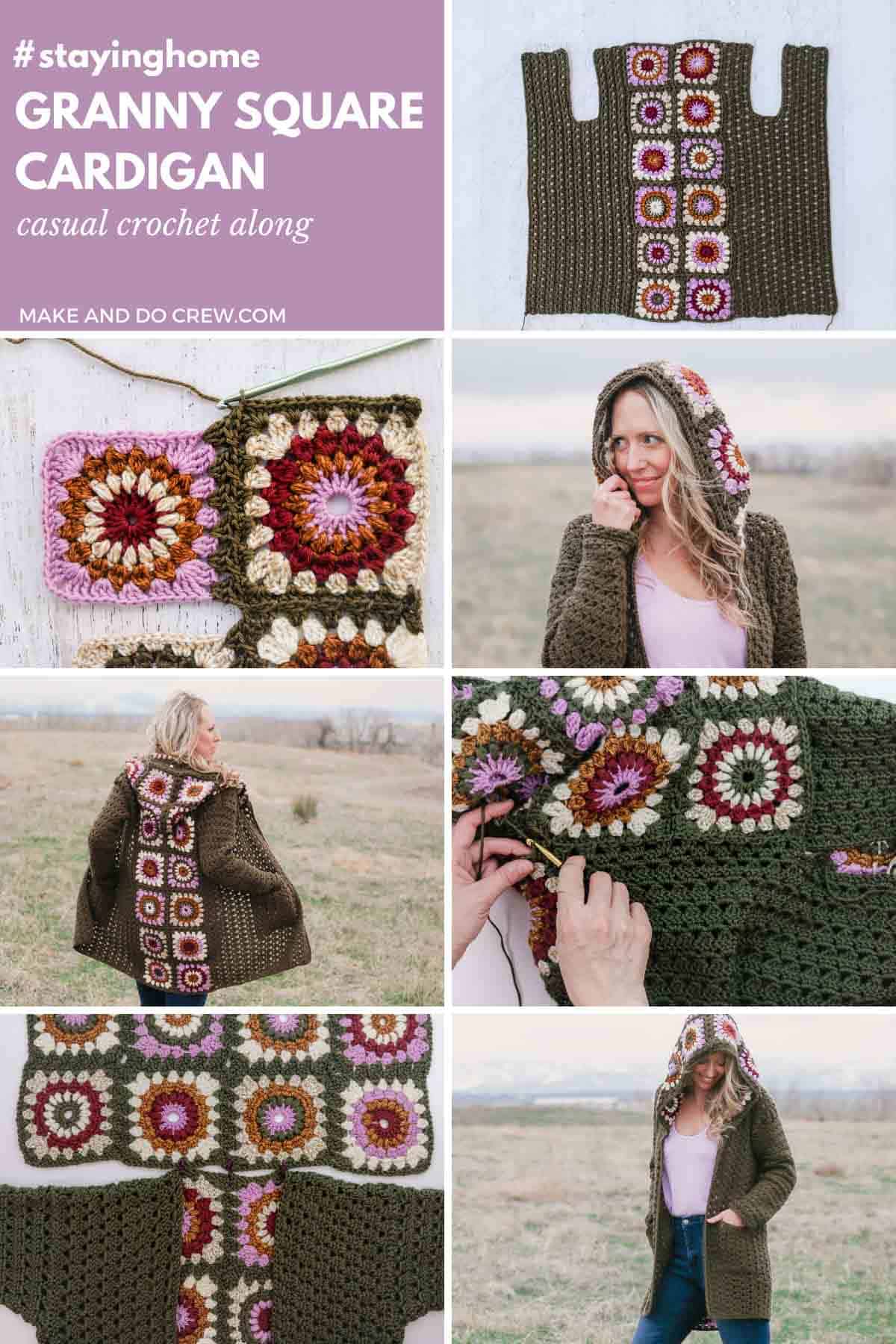 click to pin this pattern for later ⇨
Join As You Go Crochet Granny Squares Change Everything
One of the most special skills you'll have a chance to master in this pattern is joining granny squares as you go. Yes. You heard me. There's no seaming squares together in this granny square cardigan. In fact, there's no seaming whatsoever in the entire pattern!
You'll make a bunch of grannies and I'll show you how to join them together in a nice drapey way that works beautifully in a garment. Then we'll use a modern granny stitch variation to crochet the sweater fronts, sleeves and pockets.
What Yarn Do I Need?
For this crochet granny square cardigan I used Lion Brand Basic Stitch Anti-Pilling yarn. I chose this yarn because the anti-pilling quality is sort of a no-brainer for something I plan to wear A LOT and this line of yarn includes a lot of fantastic colors. (See all the colors HERE.)
If you'd like to shop you stash before buying new yarn, any worsted weight yarn with decent drape will work great for this. You could even begin making the granny squares from scraps on hand while you wait for yarn to arrive for your main sweater color.
And be sure to follow along with the hashtag #revivalcardigan on Instagram to get some color inspiration from other crocheters!
I know it's tough to go to a store right now, so here are a few ways you can get the yarn for your sweater you don't have it in your stash:
• Order the kit from LionBrand.com HERE (includes a printed copy of the pattern too!)

• Order the yarn separately from LionBrand.com HERE (great if you want to choose your own colors)

• Order the yarn from Joann.com for delivery HERE (free delivery on all Lion Brand yarn during April!)

• Order from Joanns.com HERE for contact-less, curbside pickup at your local store if it's open

• Order from Amazon HERE

Here's the supply list for sizes S/M (M/L, L/1X, 1X/2X, 2X/3X, 3X/4X, 4X/5X):
• Yarn: Lion Brand Basic Stitch Anti-Pilling (Weight: 4/medium - 185 yds, 3.5 oz)
• Main Color (A):
- Olive (202-132) – 8 (9, 11, 11, 13, 14, 15) skeins [(approx. 775 (880, 1025, 1100, 1210, 1305, 1485) g)]
• Accent Colors (5 colors, 7 total skeins required for all sizes):
- Ecru (202-098) – 2 skeins
- Gold Heather (202-401) – 1 skein
- Pomegranate (202-138) – 1 skein
- Prism (202-142) – 2 skeins
- Tan/White (202-603) – 1 skein
• Tapestry needle
• Size J (5.75 mm) crochet hook or size needed to obtain gauge
• Stitch markers or safety pins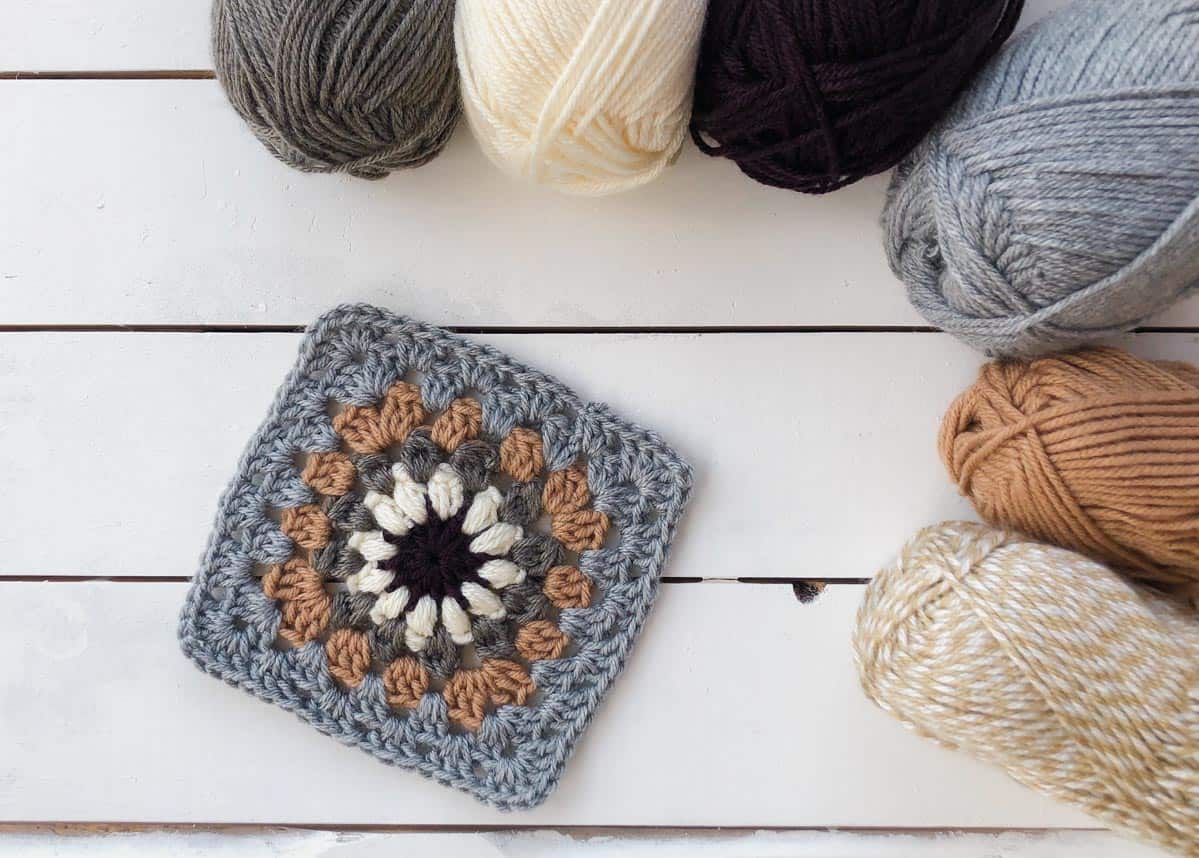 ALTERNATIVE NEUTRAL PALETTE
In case you want to see what the pattern will look like in neutrals, I worked up a swatch in some alternative colors of Basic Stitch Anti-Pilling.
Here's what's pictured:
• Yarn: Lion Brand Basic Stitch Anti-Pilling (Weight: 4/medium - 185 yds, 3.5 oz)
• Main Color (A):
- Silver Heather (202-404) – 8 (9, 11, 11, 13, 14, 15) skeins
• Accent Colors (same amount required for all sizes):
- Ecru (202-098) – 2 skeins
- Tan/White (202-603) – 2 skeins
- Eggplant (202-145) – 1 skein
- Taupe Heather (202-402) – 1 skein
- Lion Brand DIYarn - Camel (205-124) - 4 skeins (120g total)
Okay, I'm In! What's Next?
Wonderful! I'm so excited to have you joining us on this low-key pursuit of #crochetastherapy. Here's what you can do right now:
Purchase the ad-free PDF HERE if you'd like to get started right away or prefer printing your patterns. Otherwise, make sure you're subscribed to my emails below so I can send you a note when Part 1 of the free version is live on April 16, 2020!

Join our Crochet Crew Facebook group HERE for help and camaraderie through the CAL.

Use the hashtag #revivalcardigan when you share your progress on Instagram so that we can all admire it too. (Not following along with M&DC on Instagram yet? You can do so right here!)
Alright, what questions can I answer for you? Ask away in the comments section below or head to Part 1 of the free pattern here.