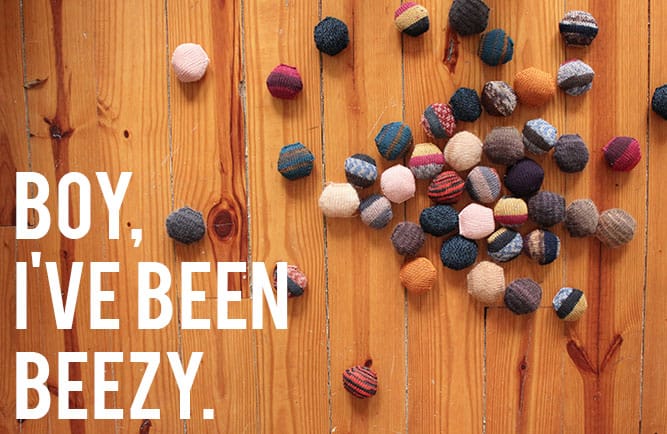 Ha. Periodically I give the random, stray pun a cozy home on Make and Do Crew. What can I say? As outcasts of the "real" world of writing, I feel sorry for puns. Plus, they make me feel so clever.
So, I started this crazy project that is the Beekeeper's Quilt Pattern three short weeks ago. Boy, how the sock yarn flies when you're knitting little hexagons.

These little hexes, or "squishies" as I like to call them when I'm stuffing down them Mike's shirt as I finish them, are the cocaine of crafting. I'm not sure there's been project I've been so addicted to since I made lanyards in Girl Scout camp.
What's not to love about them? They're portable, 89% mindless and each one turns out differently. To date, I've knit 53 of them. FIFTY-THREE!! Honestly, I'm as shocked as you are. I thought I'd be knee-deep in to three new sweaters and a scarf at this point. But there's something perfectly appropriate about this little hexes for my perfectly short attention span. Each hex takes me about 30 minutes, which means...yup...do the math...I've spent 26.5 hours in the last three weeks knitting little squishy balls of yarn and batting. Yikes. And, um, kinda wow?

What I read into this shocking statistic:-I'm watching entirely too much Breaking Bad and Lie To Me.
-I have filled every spare waking moment knitting these things. You might think that's weird. And I'd have to agree with you.
-Tiny Owl Knits has designed what might be the most pointless, yet addicting knitting pattern in the history of time.
So it probably goes without saying that I've also obsessively been collecting sock yarn to use for this new relentless pursuit of mine. Knit Picks. Michael's. Hancock. Hobby Lobby. Ben Franklin's. No one's safe. And although I love this Beekeeper's Quilt pattern more than I can probably explain in these pixels, I'm not willing to let this project to cost a billion dollars.
Unless I get a cat of an extremely rare and distinguished breed and bequeath this quilt as his noble thrown, I'm not even sure what I'll do with the finished project. So, I need to keep it cheap-ish. With the exception of the yarn I bought on Knit Picks, I use a 40% coupon or buy the yarn on sale. Sock yarn is inexplicably pricy, but I try to pay less than $4 for each 50g skein.

Here are the materials for my madness so far:
Patons Lace
Color: Midas
80% acrylic, 10% mohair, 10% wool

Red Heart, Heart & Sole
Color: Toasted Almond
70% superwash wool, 30% nylon

Lion Brand Sock-Ease
Color: Taffy
75% wool, 25% nylon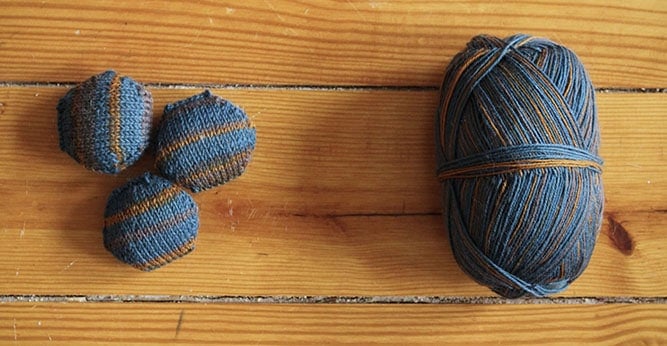 Loops & Threads Luxury Sock Yarn
Color: Redwoods
60% superwash wool, 30% nylon, 10% cashmere

Knit Picks, Comfy Fingering
Color: Flamingo
75% pima cotton, 25% acrylic

Knit Picks, Comfy Fingering
Color: Sweet Potato
75% pima cotton, 25% acrylic

Knit Picks, Stroll Fingering
Color: Vintage Multi
75% superwash wool, 25% nylon

Walk Away Sock Yarn (available at Hobby Lobby)
Color: Twirl
75% superwash wool, 25% polyamid

Knit Picks Felici
Color: Cochineal
75% superwash wool, 25% nylon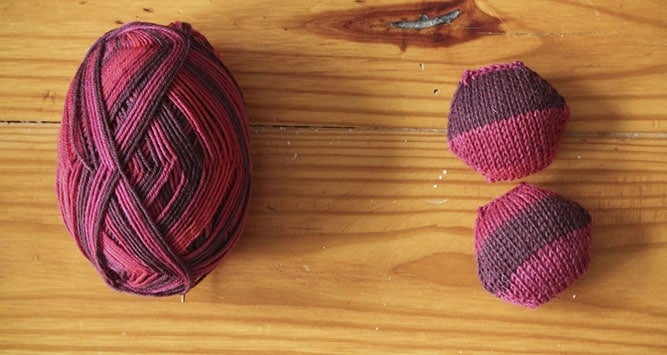 Patons Lace
Color: Patina
80% acrylic, 10% mohair, 10% wool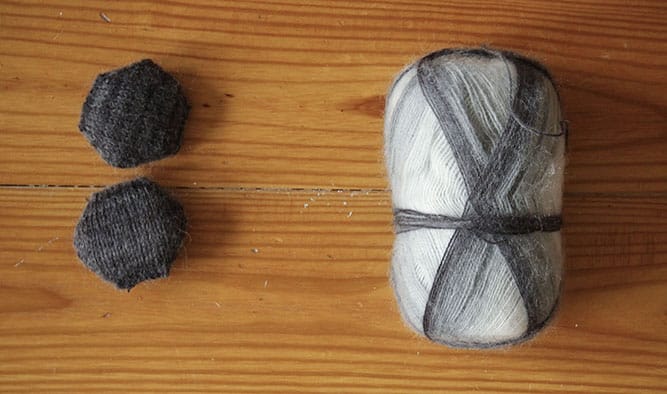 So there you have it, my wooly palate as of week 3. I plan to add more yarn as I find it. (In fact, there might be a package from Joann's arriving in the mail this week...) One thing I love about this project is that I can make it up as I go. Every time I add a new color, the chemistry of the entire blanket changes slightly.
Okay, so is anyone else as obsessed with the Beekeeper's Quilt as I am? If so, please speak up. It's lonely in this big pile of squishies.
Read more about The Beekeeper's Quilt:
Why I Fell In Love
The Yarns I'm Using
How I Tricked My Mom Into Helping Me
The Template I Created To Sew My Beekeeper's Quilt Together
Using a Whip Stitch Instead of Tying