Holy cow, I might actually finish this thing.
The Beekeeper's Quilt---a project that is only for the most manic, masochistic crafters is exhilaratingly close to going in my "win" column. Last night I officially completed my last little hexagon. That makes a grand total of 169 hexes. Let's give a round of applause for those size 4 knitting needles that have been on the job now for over a year. Guys, you deserve a serious break. Plus, I'm not going to knit anything with sock yarn for a very, very long time. In fact, my next project is likely going to be a crocheted clothesline rug or something similarly, gratifyingly bulky.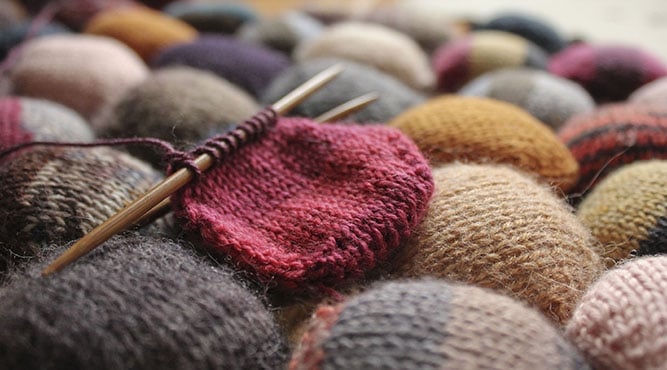 I've been sewing my Beekeeper's Quilt together using a whip stitch on each side of the hexes instead of tying it like the pattern indicates. Although a whip stitch is taking a little bit more time, it makes the quilt reversible and a lot sturdier. Plus, when you're already over 100 hours in on a project, what's a few more?
Although I knew I ultimately wanted to sew my quilt together in a hexagon shape, for a long time I was just sewing the hexes together willy nilly. I just wandered about, wherever my seam took me. Now I'm going about the dirty work of filling in the holes to make one large hexagon. The template I created has come in really handy though because it showed me exactly how many hexes needed to be in each row.

Now, it's time to shuffle this Beekeeper's Quilt through the final stretch. And when it's finished, I'm going to immediately increase my homeowner's insurance coverage. I mean, this thing's gotta be worth at least a million dollars in man hours.
Read more about my Beekeeper's Quilt:
Why I Fell In Love
The Yarns I'm Using
How I Tricked My Mom Into Helping Me
The Template I Created To Sew My Beekeeper's Quilt Together
Using a Whip Stitch Instead of Tying
The Beekeeper's Quilt is Finished!