This guide to crocheting and knitting for charity includes several of my favorite free #yarnheroes patterns and where to donate your finished items.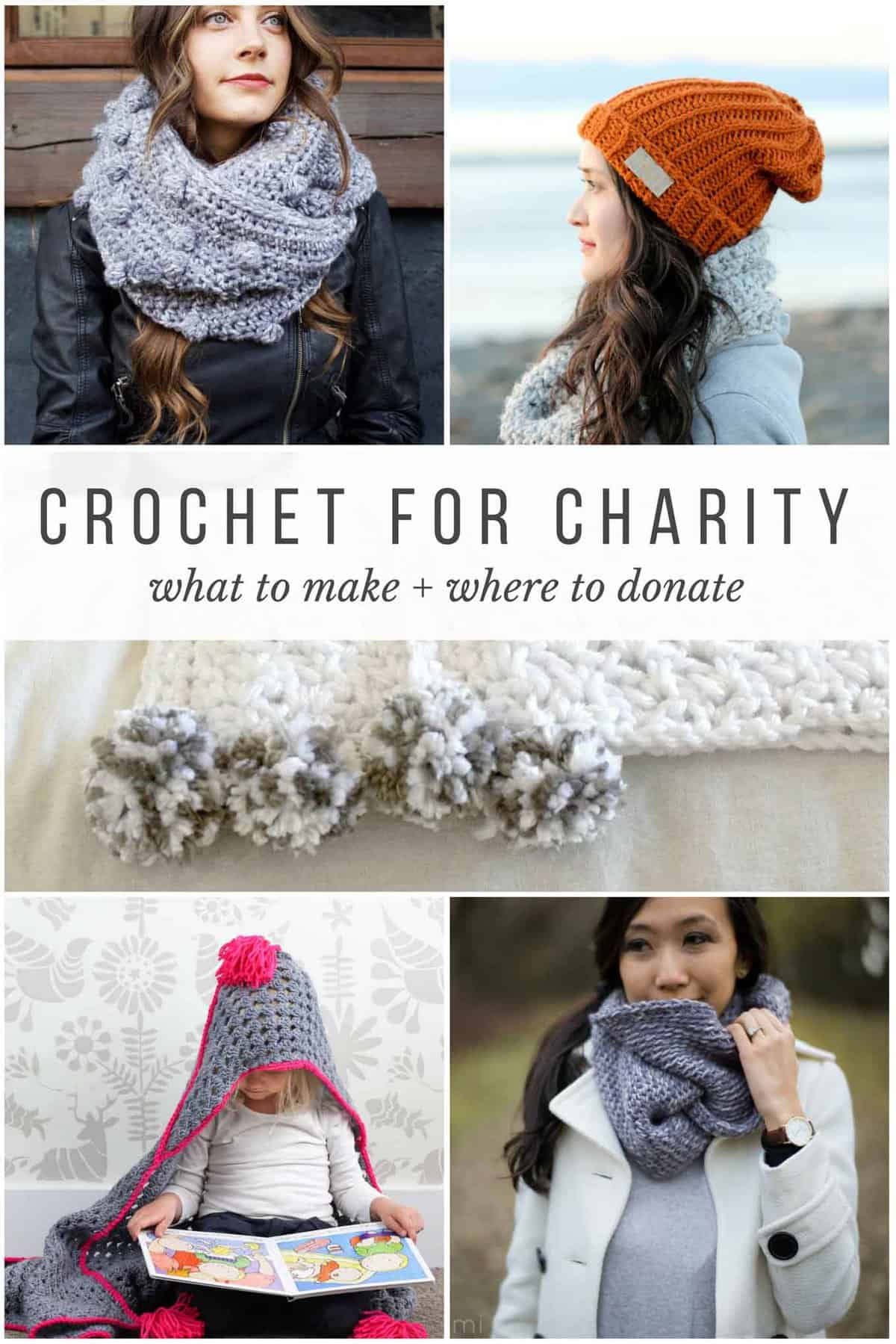 Many of you know I've had the honor of participating in the Lion Brand "Yarn Heroes" campaign for crocheting and knitting for charity this past month. (Read my Yarn Heroes interview with Lion Brand here!)
For my free charity pattern, I designed a child's hooded blanket based on a large granny square. My hope is that this afghan pattern with give young kids who are going through a rough patch because of illness or family trauma a safe place to recede to. You can get the free "Granny Gives Back" hooded blanket pattern here!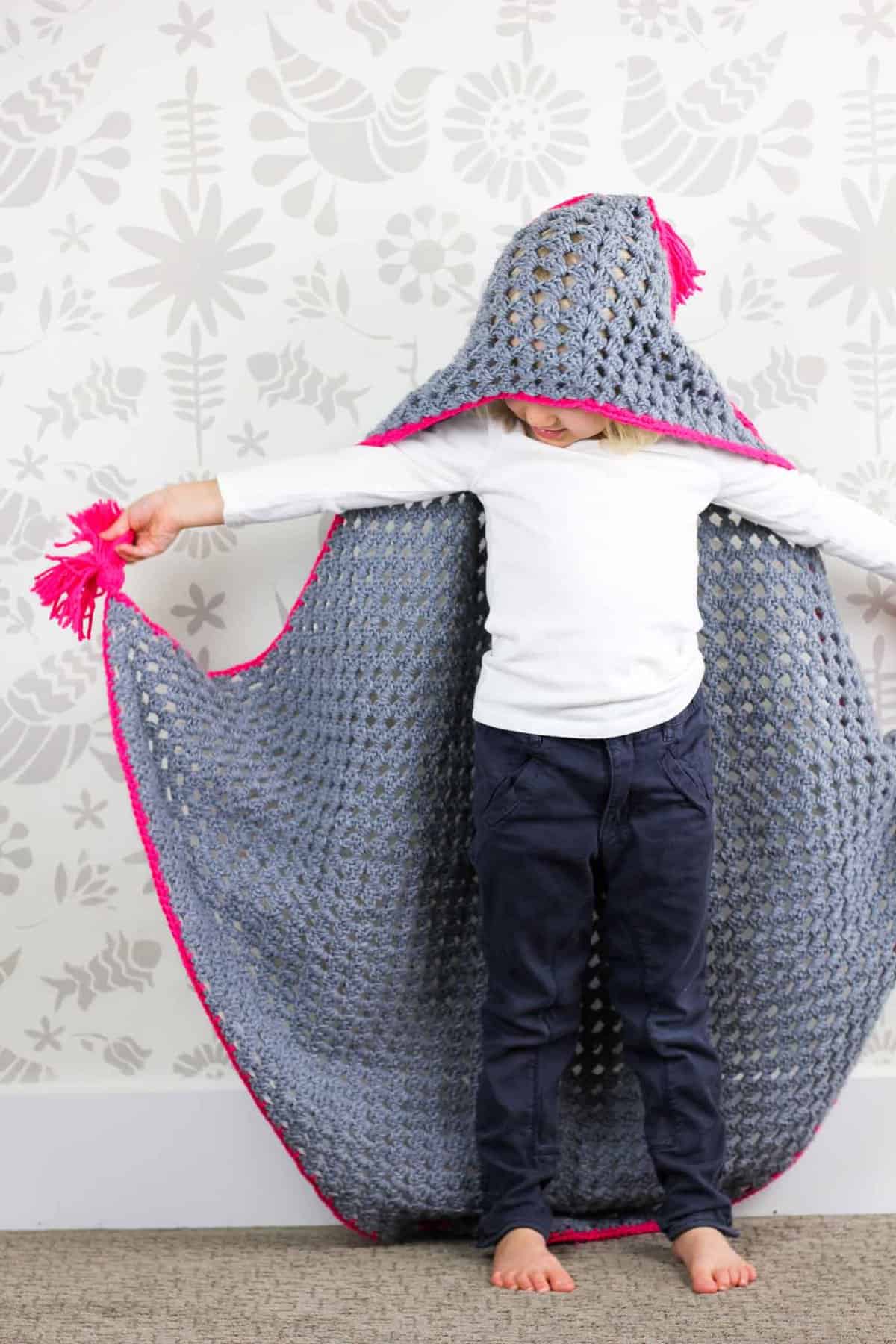 Now that some of you might have had a chance to start your own charity projects, I want to share where I'll be sending my completed hooded blanket.
Project Linus is a charity that brings children security through blankets and has nationwide drop off locations. This charity in particular struck a special chord in my heart because the woman who founded it, Karen Loucks, began it by simply making one blanket for a children's cancer center in Denver (where I live!). She is proof that we can all make a difference, even by starting small.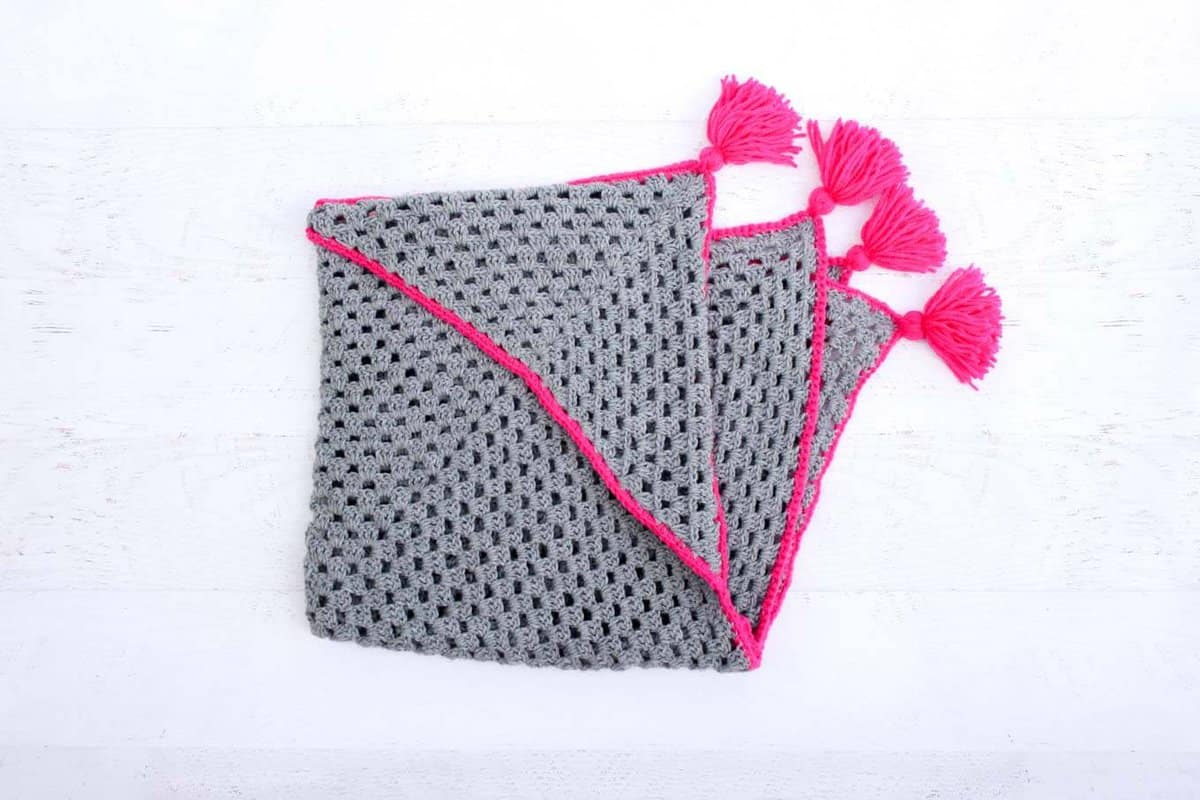 Since 1995, Project Linus has delivered an incredible six million blankets to deserving kids. Isn't that amazing!? I'm so proud to serve a small part in Project Linus' important mission. (If you love Project Linus' mission as much as I do, my free "Snowdrifter" afghan pattern would be another quick project to donate as well.)
There were so many inspiring free patterns that were shared by my fellow bloggers as part of the Yarn Heroes project, I decided to choose five of my favorites to share with you in case you're feeling inspired to be a yarn hero this season.
These crochet patterns are all free and make perfect items to donate to charities. "Donate to which charities, Jess?" you might ask. I've got you covered there too! Scroll down to see my favorite causes that accept crochet and knit donations.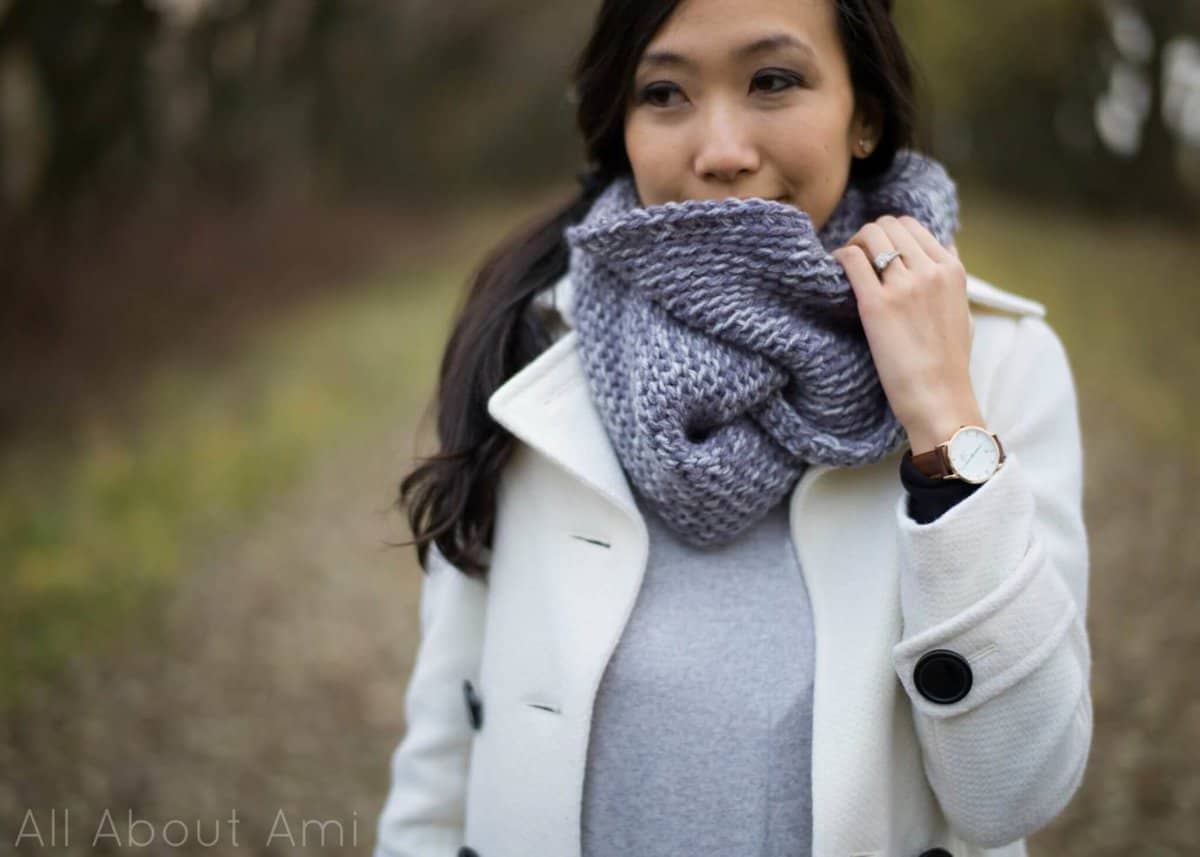 1. Cobblestone Cowl by All About Ami - This piece of neck candy looks like an elegant knitting project, but it's actually a simple crochet slip stitch pattern!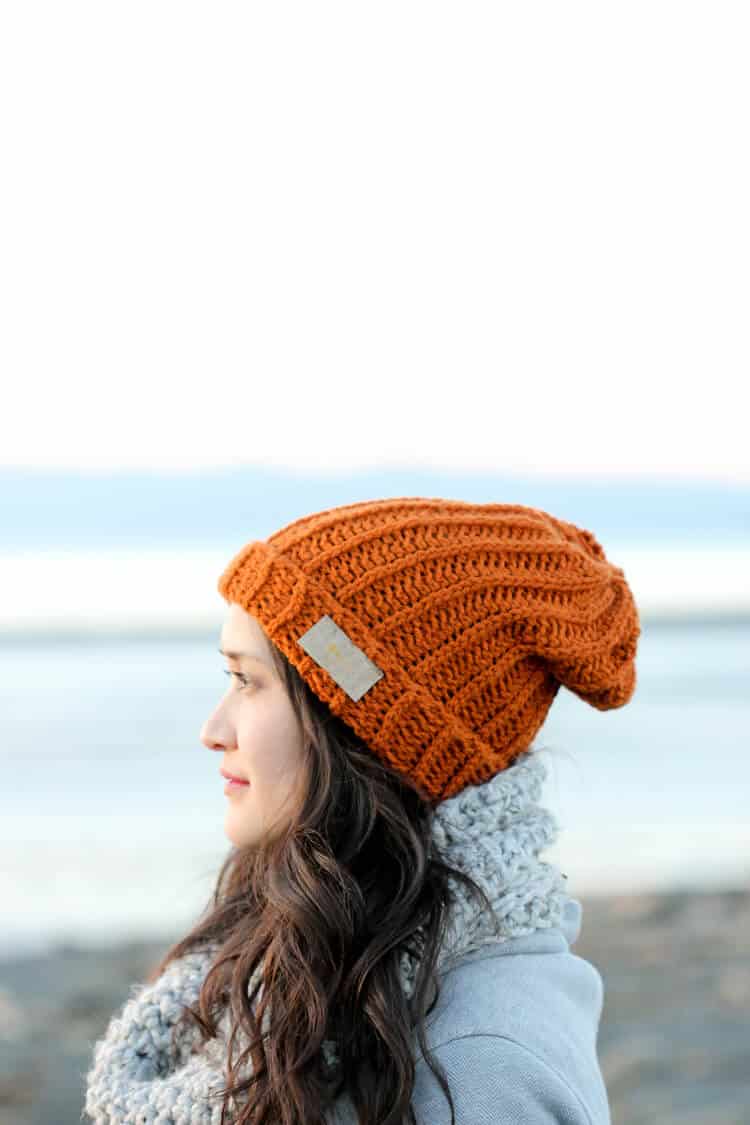 2. Rowan Hat by Delia Creates - This adorable unisex hat is usually a paid pattern on Delia Creates, but she's offering it for free when you use it for charitable crafting! Use the promo code in her blog post to download this pattern!
3. Frozen Lake Infinity Scarf by Two of Wands - This cowl is just the squishy, luxurious hug many people need during the colder months of the year.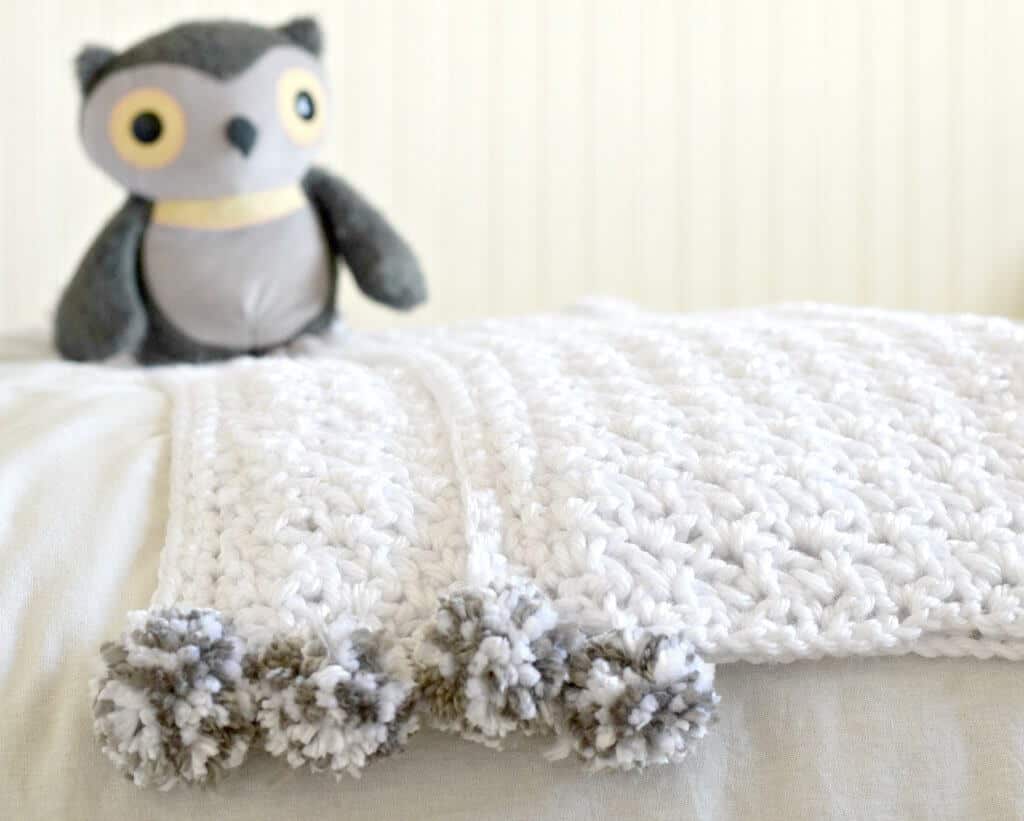 4. The Loft Pom Crochet Blanket by Mama In a Stitch - This free crochet baby blanket pattern works up quickly in chunky yarn and makes a really special gift to give a little one who is going through a hard time.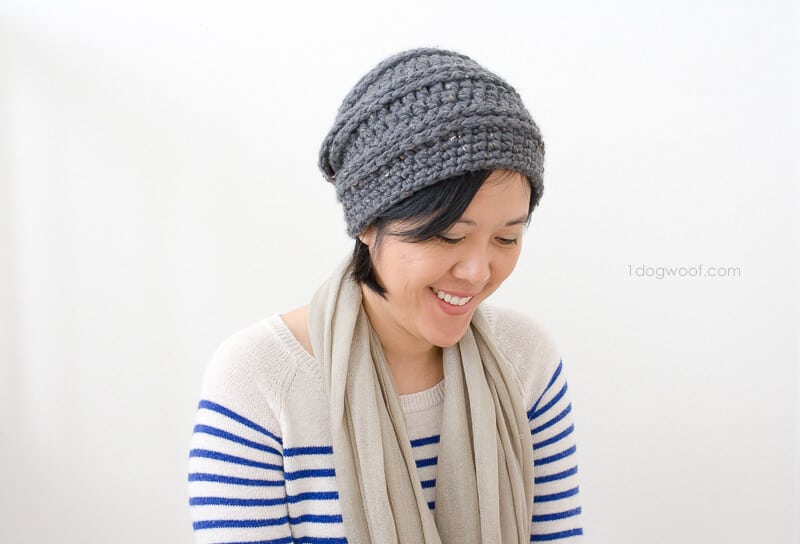 5. Millbrook Slouch Hat by 1 Dog Woof - This free beanie pattern is quick and warm, making it a great charity project for just about everyone.
And there are a few other Make & Do Crew free patterns that I think would make perfect projects for charity:
1. "Piece of Cake" Cowl -- easy and inexpensive
2. "Pom Pom Party" Hat -- great pattern for beginners
3. "Aspen Socialite" Headband - sizes newborn - adult
Crocheting and Knitting for Charity -
Organizations That Accept Donations
Knots of Love
Donate a cozy crochet cap via KOL to those suffering from treatment-induced, traumatic hair loss. That extra warmth is sure to be appreciated by someone this winter.
Operation Gratitude
One of the handful of organizations sending care packages to troops deployed oversees. Crocheted hats and scarfs are always welcomed.
Binky Patrol
Send a DIY blanket (crochet, knit or sewn) to kids affected by illness, trauma or living in foster care. Make a little one smile this holiday season.
Warm Up America
This national organization joins small crochet and knit squares and pieces them together into larger afghans for those in need. This is a great way to be part of something bigger--quite literally.
Snuggles Project
Crochet a security blanket (aka snuggle) for homeless, lost or abandoned dogs and cats. Yarn snuggles always make everyone feel better.
Threads of Compassion
Donate a crochet or knit scarfs to survivors of sexual abuse to help them cope with their traumatic experience.
Knitted Knockers
A reader, Catherine, suggested this fantastic charity. Volunteers use patterns on the site to knit and crochet breast prosthesis for women who have undergone mastectomies or other procedures to the breast. How awesome is that idea?! I just love how the skills of knitting and crochet can make a real, meaningful impact on people's lives.
Which one of these free crochet patterns would you like to make for charity? Let me know in the comments!