Whip up this easy crochet basket with basic stitches and simple construction. Chucky yarn ensures you'll have this versatile basket done before you can decide what to fill it with! Free pattern and tutorial below, or purchase the ad-free, printable PDF here.

Thanks to Lion Brand Yarns for providing the yarn for this free easy crochet basket pattern. This post contains affiliate links.
Welcome back to the Make & Do Crew guest designer series. While I'm getting to know the newest baby in our family, Lou from Malloo is sharing her free easy crochet basket pattern with us today! You can see lots of of Lou's crochet patterns her blog, Malloo, Etsy, and Ravelry. And be sure to check her out on social media too: Instagram and Pinterest. Lou, take it away!
The Inspiration for My Easy Crochet Basket Pattern
Hello! My name is Lou and I am here today to share a free crochet basket pattern with all of you. Crochet baskets are some of my favorites things to make as I like to keep things organized.
The Maja basket is actually my 4th basket pattern and definitely the biggest! It is meant to be placed on the floor and holds just about anything. From the kids toys, to magazines to the lap blanket you keep by your couch for those cold winter nights. It's not just me, am I right?
Designed to look like it belongs to the pages of a Scandinavian style magazine, it will enhance the coziness of every room. Very simple in construction, as all crochet baskets are, but with a different and interesting pattern near the top, that I bet you have not seen anywhere else. It is created by slip stitches and alternating colors and I just love that it almost looks like herringbone.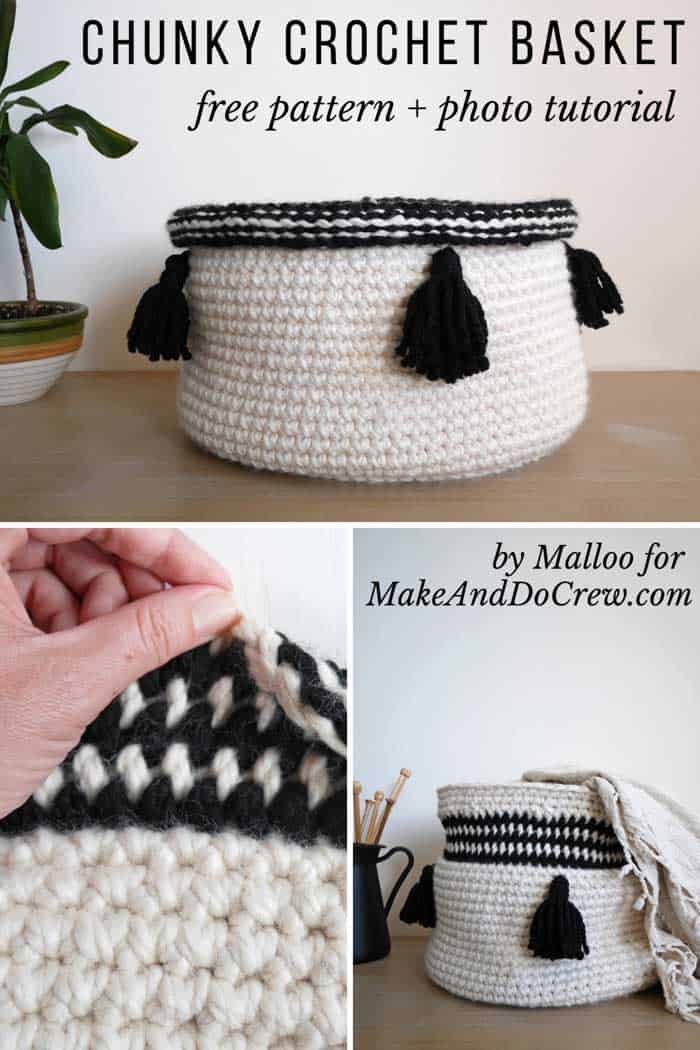 And because I am so indecisive and this pattern has 2 totally cool looks, front and back, you will get two versions of this basket! Sorry, but I just couldn't decide if I like better the taller version or the rolled down one. I hope you don't mind…;-)
A Chunky Crochet Basket Perfect For Beginners
Anyone who knows the basic crochet stitches can make this basket. It is easy enough for a beginner, but I bet it will hold the interest of seasoned crocheters, too, due to its unique construction.
As you can see you will use two different sizes of crochet hooks. The bottom and the main body will be worked with the 10 mm crochet hook and extremely tight tension. The black and white pattern though, will be worked with the 11.5 mm crochet hook and very loose tension.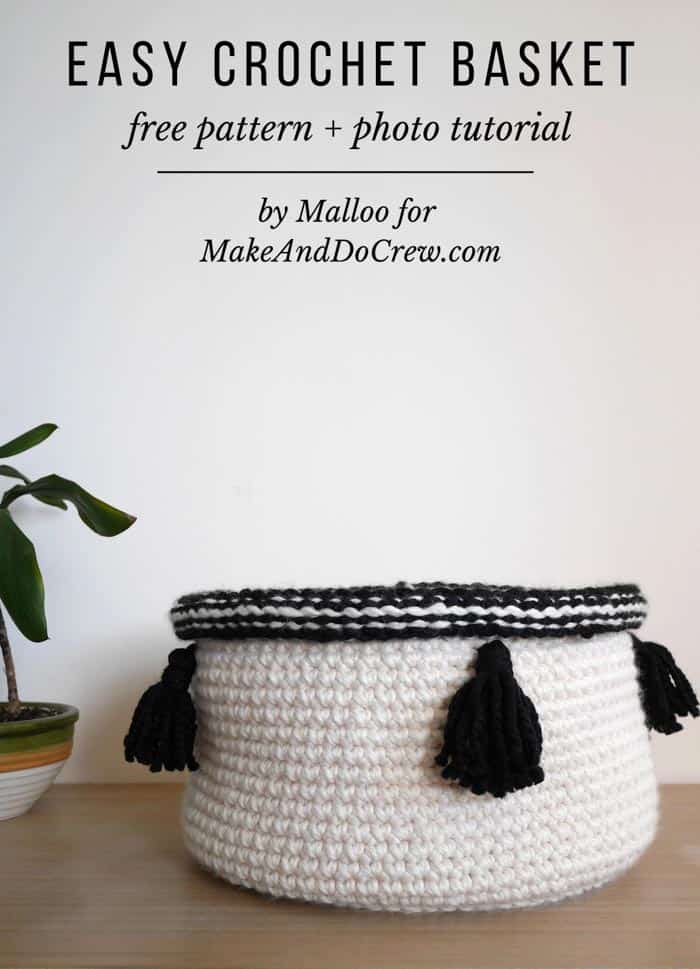 And when I say loose, I mean really loose. You should consider pulling up the loop on your hook before making the next stitch. This is because slip stitches tend to be very tight and the specific pattern tends to also curl up on itself. If you crochet this part too tight, it will add extra weight to the upper part and the basket won't be able to hold its shape. A good way to avoid this, is to just loosen up as much as you can!
When you finish the bottom of your basket the pattern mentions to "slip stitch in the third loop only" (sl st in tlo). If you are unfamiliar with this technique you can check out this tutorial here on how to locate the third loop of a half double crochet.
A Durable Yarn, Sturdy Enough For Household Items
I used Lion Brand Wool Ease Thick and Quick for the Maja basket, which I believe is perfect for this pattern. It is a strong and durable yarn, ideal for household items that you want to keep their shape. It comes in a great variety of colors (see them all here!), and you can choose the combination that suits your interests and your house best.

I chose the ever so classic of black with fisherman. I just believe that this combo is so classy! You will need 6 skeins of the fisherman and 2 skeins of the black, and you will hold two strands of yarn throughout the project. This is what gives the sturdiness and the huge size of the basket. You may have to do a little shaping at the end exactly because of its huge size. You will find more info on this near the end.
More Free Crochet Patterns For Your Home
If you want to add some more crochet flare to your home, you won't want to miss these modern crochet patterns that Make & Do Crew readers love. The best part is -- they are all free! You can find all our free crochet patterns for the home here.
1. Quad Color Throw // 2. Dollar Store Twine + Leather Basket // 3. Sampler Pouf // 4. Sedona Fringed Throw
Maja Basket
Free Crochet Pattern
Purchase the ad-free, printable PDF here. 
Save this pattern on your Ravelry queue here.
Pin it for later here.
Explanation:
Inspired by the Nordic lifestyle and minimalistic living, the Maja basket is here to add a touch of luxury in your living room. Simple in construction, as it uses the most basic crochet stitches, it will capture the interest of both beginners and advanced crocheters. Challenge yourself with this basket pattern as you should change the way you crochet, from very firm to very loose, throughout the project.
Supplies:
• Lion Brand Wool Ease Thick & Quick - (weight 6/super bulky - 106 yds, 6 oz.)
- Fisherman (#640-099) - 6 balls
- Black (#640-153) - 2 balls
• Size N (10 mm) crochet hook
• Size P (11.5 mm) crochet hook
• Small cardboard 4x5 inches for tassels
• Yarn needle
• Scissors
Sizes/Measurements:
• One size - 13.5 x 13.5 inches
Gauge:
• 7 sts and 7 rows = 4 inches in sc with 10 mm crochet hook

Abbreviations and Glossary (US Terms):
R: round
MR: Magic Ring
hdc: half double crochet
sl st: slip stitch
ch(s): chain(s)
st: stitch
inc: increase
dec: decrease
sc: single crochet
tlo: third loop only
flo: front loop only
Overall Pattern Notes:
• The pattern is worked in joined rounds.
• The first stitch of every round is worked in the same stitch as the slip stitch.
With 10 mm crochet hook and color A.
R1: MR, 10 hdc in ring, sl st to join, ch 1 (10)
R2: 2 hdc in each st around, sl st, ch 1 (20)
R3: * hdc, inc * repeat from * to * around, sl st, ch 1 (30)
R4: * hdc 2, inc * repeat from * to * around, sl st, ch 1 (40)
R5: * hdc 3, inc * repeat from * to * around, sl st, ch 1 (50)
R6: * hdc 4, inc * repeat from * to * around, sl st, ch 1 (60)
R7: * hdc 5, inc * repeat from * to * around, sl st, ch 1 (70)
R8: * hdc 6, inc * repeat from * to * around, sl st, ch 1 (80)
At this point the flat circle measures 13.5 inches.
R9: sl st in tlo in each st around, join with a sl st in the first sl st, ch 1 (80)
R10-25: sc in each st around, sl st, ch 1 (80)
Change to 11.5 mm crochet hook and color B. Work rounds 26-31 VERY loosely. Consider pulling each loop on your hook up a bit before making the next slip stitch.
R26: sl st under both loops in each st around, sl st in first sl st to join, ch 1 (80)
Change to color B.
R27: sl st in flo in each st around, sl st in first sl st to join, ch 1 (80)
R28-31: repeat rounds 26 and 27 and remember to alternate colors in each round.
Stop here for the rolled down version of the basket and look below for the tassel tutorial and placement.
Change to 10 mm crochet hook.
R32: * sc 6, dec * repeat from * to * around, sl st, ch 1 (70)
R33-34: sc in each st around, sl st, ch 1 (70)
Fasten off and weave in all ends.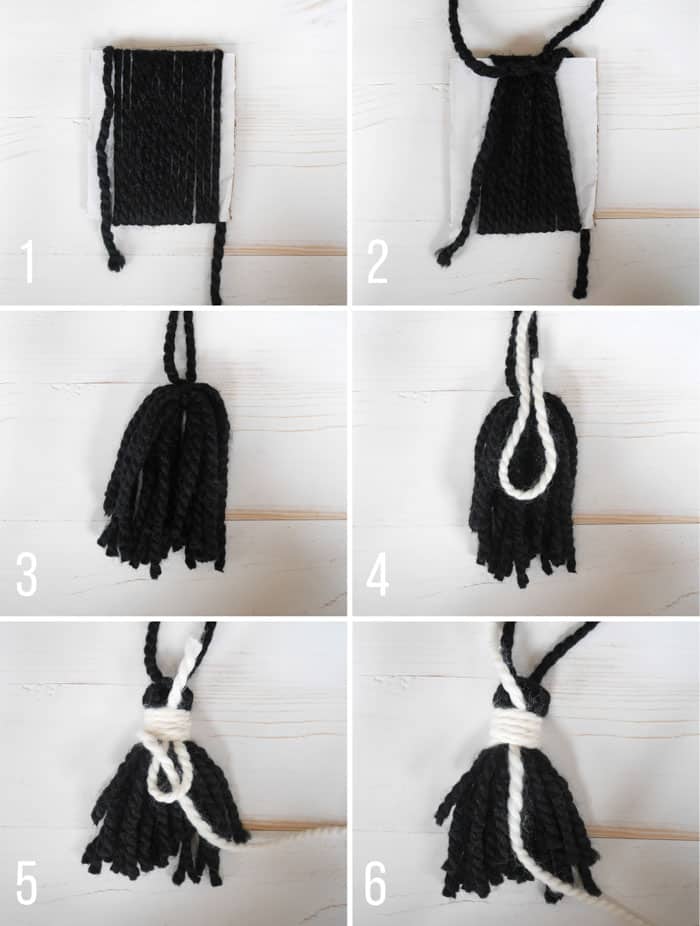 Tassel Tutorial
1. Cut a cardboard 4x5 inches. Wrap yarn 15 times, cut yarn.
2. Cut a piece of yarn, approximately 20 inches, and tie a knot on top.
3. Remove the yarn from the cardboard, make a second knot to secure the tassel and cut through the other end.
4. Make a loop with the same yarn (I used white so you can see what I am doing) and start wrapping around the loop and tassel.
5. When you are done wrapping, cut the yarn and place the end in the loop.
6. Pull the upper end, until the knot disappears inside the wrapping.
7. Cut both loose ends and trim the tassel. It's ready!
Tassel Placement
Make 4 tassels using the tutorial above.The final size of each tassel is about 4 inches. Sew or just make a knot to join them onto the basket if you wish to remove them at some point.
Add the first tassel in the 15th stitch between rounds 24 and 25. Add the rest of the tassels 20 stitches apart from each other.
That's it! Enjoy!
Well done! Now that you have finished your crochet basket there is a little shaping to be done. Nothing too difficult! Just shape it out with your hands. I have found that in some extreme cases you may have to spray your basket with some water and place it upside down to dry. I used 3 large bowls on top of each other so that the basket can hang freely and take its shape. That's it! I hope you enjoyed making your Maja basket.
Thanks again to Lou from MallooKnits.com for sharing this free easy crochet basket pattern! Be sure to check out Lou's blog for lots more free modern crochet patterns!
More Free Modern Crochet Patterns for Your Home
Looking for more ways to DIY your home? Check out these free crochet patterns and storage ideas! You can always find all our free crochet patterns and tutorials here.
1. Jacqueline Easy Crochet Basket - This easy crochet basket pattern is quick to work up and perfect for holding toys, towels, toiletries or best of all, yarn!
2. Corner to Corner Crochet Deer Afghan - Hello ombre! This corner to corner crochet deer afghan will be a hit with your favorite baby, hipster or hunter. Free c2c downloadable graph pattern included.
3. Mudcloth Crochet Pillow - This free crochet pillow pattern uses a mud-cloth-inspired design to make a modern piece of couch flair! Excellent pattern for beginners!
4. DIY Yarn Storage Shelves - If you're looking for a beautiful way to organize your stash, these DIY yarn storage shelves offer an easy, modern solution. The wooden crates make them perfectly customizable to fit your closet, craft room, or heck–your bedroom!