Crochet and knitting with chunky yarn is speedy, satisfying and stylish! The following free patterns all use one of my favorite bulky yarns of all time--Wool Ease Thick & Quick.
This compilation of free chunky crochet and knitting patterns is a collaboration with Lion Brand Yarn. This post contains affiliate links.
Do you ever start a crochet project using thin yarn and then get about of a third of the way through it and vow you'll never do that to yourself again?
Good, me too. Every single time I make a project with lighter yarns (like this Canyonlands Boho Top), I always have to "treat" myself to an indulgently chunky project next.
One of my absolute favorite chunky yarns has always been Wool Ease Thick & Quick from Lion Brand. When I got my first job in San Francisco, I would sometimes ease my homesickness by journeying to the nearest suburb where I could hang out at Joann's Fabrics. I can remember standing in the aisle, looking at all the perfectly wound skeins of Wool Ease Thick & Quick and wondering if I could survive on pretzels for a week so that I could buy more colors.
Fast forward two years later--I found out I was allergic to gluten and I transferred my entire pretzel budget to yarn. 🙂 
There's just something special about this yarn. It's part acrylic, but it doesn't feel plastic-y. It's part wool, but it doesn't feel like a sheep's shoulder. You can wash it, you can wear it for a long time and it doesn't look crummy. (Just check out how it holds up on my sweater boots after six months of wear!) It just let's the stitches you've worked so hard to create shine on their own. And I just love it for chunky home decor projects and even crochet flip flop shoes!

Since I know many of us like to get a head start on fall crocheting and knitting and even maybe a holiday gift or two, I put together a list of some of my favorite free patterns that can be made with Wool Ease Thick & Quick. These range from quick and easy to slightly more time and yarn-consuming, but really, when we're talking a yarn that's so generously thick, any project you choose works up fast enough to scratch that instant gratification itch.
Lion Brand has recently released some new colors of Wool-Ease Thick and Quick and they're pretty dreamy. I'm actually making something for you guys with "Fossil" right now and it's basically the color of cozy. (You can check out ALL the colors here!)
Also, in anticipation of the fall season, Lion Brand is offering all their Wool-Ease Thick & Quick kits from LionBrand.com for 30% off. The way these kits work is that they include all the yarn to make a project and a printed copy of the pattern. Thirty percent off is a serious discount, especially on a larger project kit like an afghan! The sale lasts through July 20, 2017 and you can see all the available kits here. 
12+ Free Chunky Crochet and Knitting Patterns

1. Cabin Boots with Flip Flop Soles - free crochet boot pattern from Make & Do Crew  - Wool Ease Thick & Quick makes the BEST cozy sweater boot yarn. These Cabin Boots are crazy comfy, whether you wear them as slippers or legit shoes.
2. Lineage Laphan - free chunky crochet afghan pattern from Make & Do Crew - if this blanket for a dessert, it'd be double decker fudge. It's that rich, chunky and indulgent. There's even a video tutorial to learn the basketweave stitch! You can purchase a kit of all the yarn you need, plus a printed copy of the pattern right here.
3. Carrington Poncho - free chunky poncho crochet pattern from Lion Brand - for those days you just don't want to get out of bed, you can bring your blanket with you in the form of a stylish knit ruana.
4. The Huggle Hooded Cowl - free modern hood and cowl combo from Make & Do Crew - part hood, part cowl, this chunky, warm knit is great for beginners who want to practice using circular needles.You can purchase a kit of all the yarn you need, plus a printed copy of the pattern right here.

5. Long Double Crochet Cowl - free chunky crochet cowl pattern from All About Ami - Doesn't this look like a Gap ad or something? I love how the perfect color, combined with a very simple stitch creates such a classic statement piece.
6. Simple Hat - free easy knit hat pattern from Lion Brand - If you're looking for a simple pattern you can use to churn out gifts this year, I really think this could be the perfect pattern. You'll only need one skein per crochet hat and you could even add stripes to further personalize each one.
7. Breckenridge Boots - free crochet boots pattern using flip flop soles from Make & Do Crew -  Make your own UGG-style sweater boots for less than you'd pay in tax on a "real" pair. Plus, "I made my own shoes" is a pretty good conversation starter. Choose a different neutral color to put your own spin on them.
8. Chunky Icelandic Blanket - free crochet afghan pattern from Mama in a Stitch - This super chunky afghan is the illustrates exactly what I love about Wool-Ease Thick & Quick. Doesn't the rich texture of this look like something from Pottery Barn or Anthropologie? Nope, it's straight from your hook, baby.

9. Simple Garter Stitch Scarf - free beginner knitting pattern from All About Ami - Sometimes combining fibers can lead to the most beautiful results. In this case, Stephanie used Wool-Ease Thick & Quick and Homespun yarn to create a very simple knit scarf pattern that's filled with texture.
10. Panda Hooded Blanket from Make & Do Crew - The only thing cuter than a panda, is your cute kid cuddled up as a panda. This free crochet afghan pattern is a perfect size for preschool - elementary schoolers.
11. Abella Triangular Scarf - free chunky crochet scarf from A Crocheted Simplicity - This triangle scarf comes together quite quickly and mindlessly, making it a perfect road trip or Netflix crochet project. I love the tassels!
12. Celebration Wine Bag - free chunky crochet pattern from Moogly - Tamara from Moogly is a veteran at whipping up creative, free crochet patterns. I just love how she used the bobble stitch to mimic grapes on this wine gift bag.
I'll add more patterns to this list as I continue to create them, but for now I'm wondering if there's any type of pattern with Wool-Ease Thick & Quick you'd like to see me publish for this upcoming fall and winter season? Let me know! I always love hearing your ideas.
In the meantime, here are some more free crochet patterns in case the previous list wasn't enough!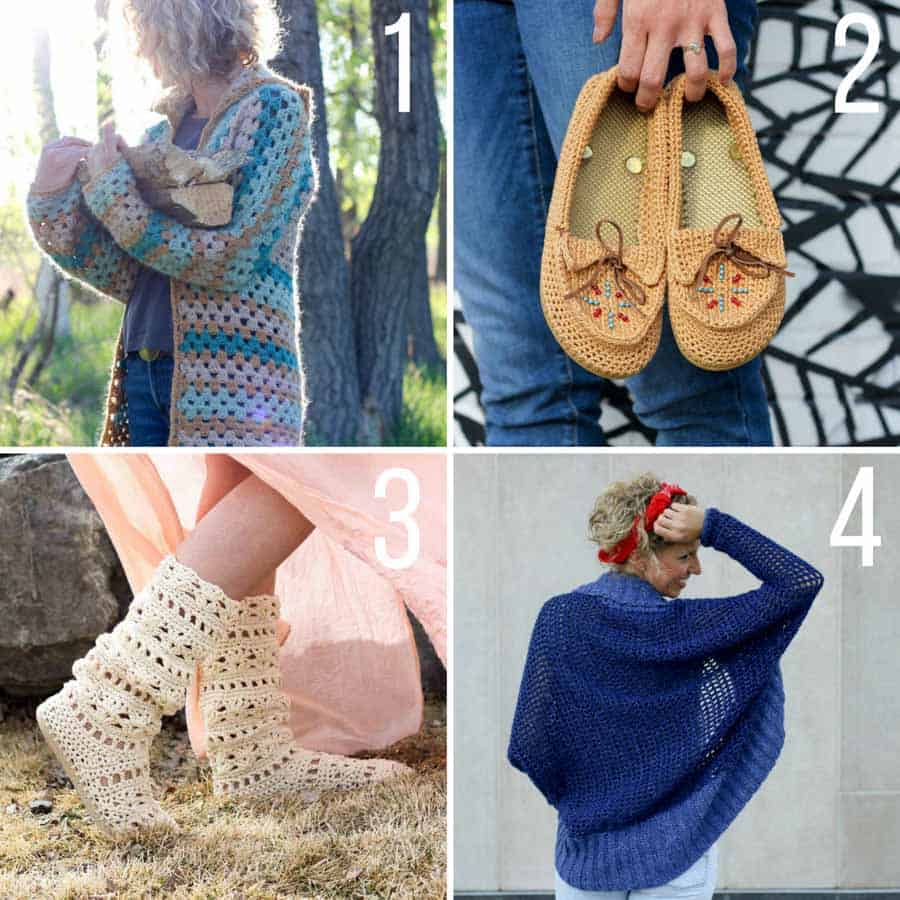 2. Moccasins with Flip Flop Soles (includes a video tutorial!)
3. Coachella Boots with Flip Flop Soles
4. Stonewash Shrug (excellent first sweater pattern!)