Keep your dishes clean and mesh produce bags out of the landfill at the same time with this simple crochet pot scrubber pattern! Perfect Earth Day craft idea you can use year round. Get the free pattern and tutorial below.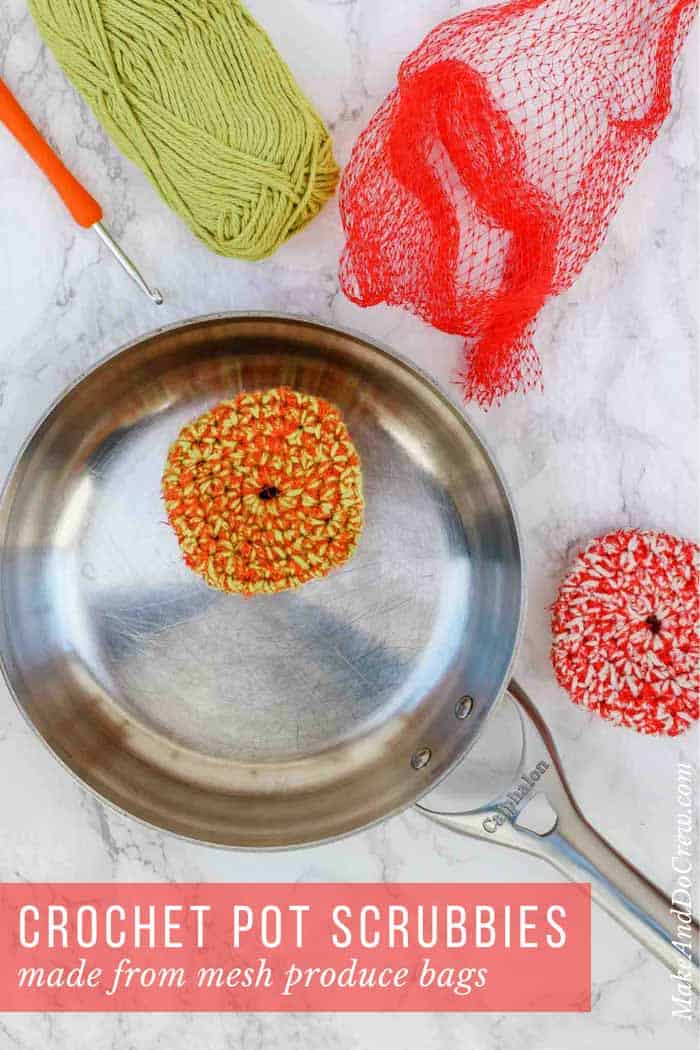 This free crochet pot scrubbies pattern is part of a collaboration with Lion Brand Yarn. This post contains affiliate links.
As a kid, I had quite the bleeding environmental heart. I would spend nights staying awake worrying about rain forest clear cutting and the amount of smog that might be lingering over my small mountain town.
Now as an adult, I really love finding ways to reuse and recycle items we'd otherwise throw away--like the mesh bags that produce comes in at the grocery store!

Nylon Crochet Pot Scrubbers
If you're a thrifty crocheter like me, you've probably noticed some patterns around the internet that use nylon fabric (like tulle) to crochet pot scrubbies. I've always loved this inventive idea, but a couple of years ago I started to wonder if it would be possible to replicate the same pot-scouring effect with something I had laying around.
I've saved almost every bag from all the oranges, grapefruits and lemons we've bought in the last couple of years with hopes that someday I'd be able to figure out a way to crochet with them. After lots of experimenting, I kept getting stuck at how to cut the mesh so that it was actually crochet-able.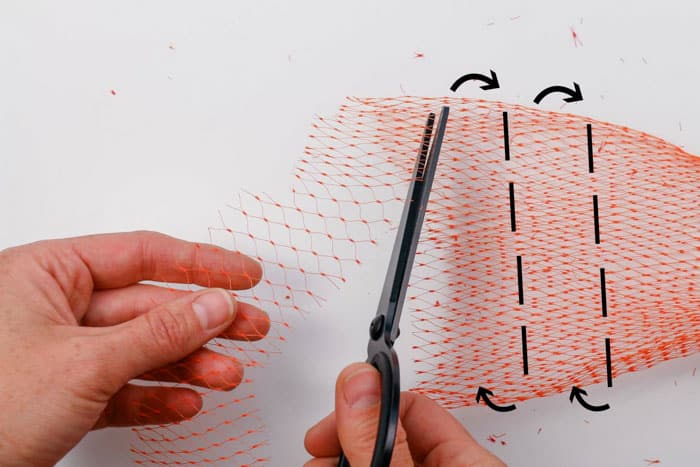 I had nearly written the whole idea off when I recently mentioned it to my mom. She came up with a simple way of cutting the bags in a spiral that totally solved the road block I had hit. Creative momma for the win!

Crochet Dish Scrubbies with Yarn (The Magic Ingredient!)
Even with my mom's way of cutting the nylon bags, the mesh alone is a bit too finicky to crochet with. Adding a single strand of Lion Brand Kitchen Cotton though gives the crochet pot scrubbies the structure they need and helps the mesh behave much better for crocheting. I love that these little scrubbers are like a cotton crochet washcloth, with with an extra cleaning omph.
Scroll down for the free crochet pot scrubbers pattern and tutorial!
More Earth Day Craft Ideas
I've shared lots of upcycled craft ideas on the blog over the years, but a few of my favorites include using an old leather belt as a crochet basket strap, felting a wool sweater to sew into mittens, or turning a thrifted leather jacket into soles for crochet slippers.
If you're looking for other upcycled Earth Day crafts, you might enjoy these free crochet patterns too. (You can always find all my tutorials on upcycling here.)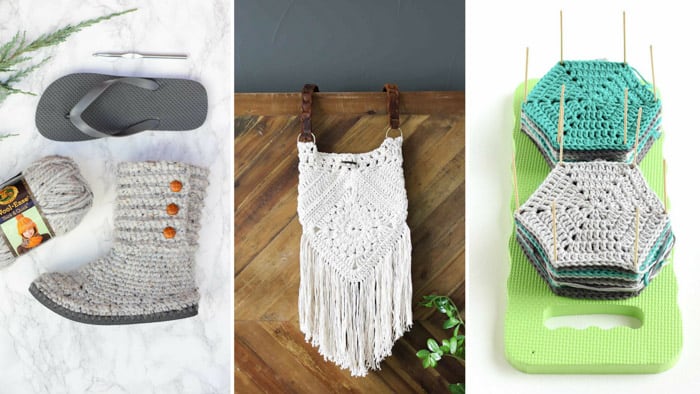 1. Crochet Flip Flop Boots / 2. Urban Nomad Boho Bag / 3. DIY Blocking Board
Crochet Pot Scrubbers From Mesh Produce Bags
Earth Day Tutorial and Free Pattern
Pin this tutorial for later here.
Save this pattern to your Ravelry queue or favorites here.
Explanation:
Keep produce bags out of landfills and your dishes clean at the same time with this simple crochet pot scrubber pattern. Made with a very basic series of increases and decreases, these scrubbies work up very quickly and are perfect for environmentally conscious crocheters who want to try a new material. Grab some cotton yarn and a bag of oranges and you'll be happily scrubbing pots in no time.
Supplies:
So you can spend more time crocheting and less time shopping, this pattern contains affiliate links at no extra cost to you.
• Lion Brand Kitchen Cotton (Weight: 4/medium - 99 yds, 2 oz)
-Kiwi and Vanilla pictured
• 2-3 mesh produce bags (see photo below for details on what kind of bags work well)
• Size J (6.0 mm) crochet hook
•Stitch marker or safety pins
• Scissors
Gauge:
Not critical. More importantly, find a hook size that allows you to work with the material comfortably enough. Size up if you're having trouble.
Abbreviations and Glossary (US Terms):
ch – chain
sc – single crochet
sc2tog – single crochet two stitches together
inc – increase
dec – decrease
rep – repeat
sl st – slip stitch
PM – place marker
Notes:
• Unlike many other crochet projects, this one is all about function over form. Don't worry about perfect stitches, but instead have fun with a new crochet experiment. If you're having trouble crocheting with the mesh, try using your fingers to smooth it into a thinner strand before crocheting with it or increase your hook size to create larger stitches.
• One strand of yarn and one strand of mesh are held together throughout pattern.
• Scrubbies are worked in the round, in a spiral, so you won't be doing a ch 1 at the beginning of each round. Place a stitch marker in the last st of each round and move it as you finish a round.
• You'll want to use the type of produce bags many citrus fruits come in because they don't fall apart when cut. See photo below for example of what to use. You can make one pot scrubber with two of the larger sized bags.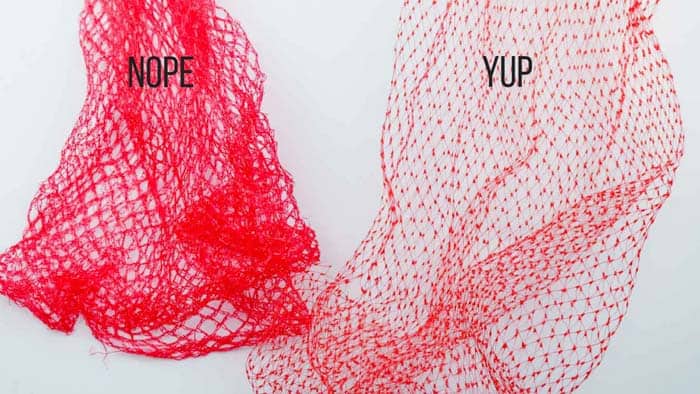 PREPARING MESH BAGS
1. Cut off label so you have a long mesh tube. Beginning at the bottom of the bag, cut around the tube in a spiral to create one long continuous strand of mesh. The strand should be about 1.5" wide and no wider than 2". Repeat with a second mesh bag.
2. Using a magic knot, tie the two long strands of mesh together. (Learn how to make a magic knot here.)
CROCHET POT SCRUBBIES
Increase Side:
Foundation Round: Ch 4, sl st to join into a ring.
Round 1: Sc 8 in ring, PM. Do not turn. (8 sc)
Round 2: [Sc 2 in next sc, sc in next sc] 4 times, PM. (12 sc)
Round 3: [Sc 2 in next sc, sc in each of next 2 sc] 4 times, PM. (16 sc)
Round 4: [Sc 2 in next sc, sc in each of next 3 sc] 4 times, PM. (20 sc)
Round 5: [Sc 2 in next sc, sc in each of next 4 sc] 4 times, PM. (24 sc)
Round 6: [Sc 2 in next sc, sc in each of next 5 sc] 4 times, PM. (28 sc)
Do not fasten off. Continue to dec side.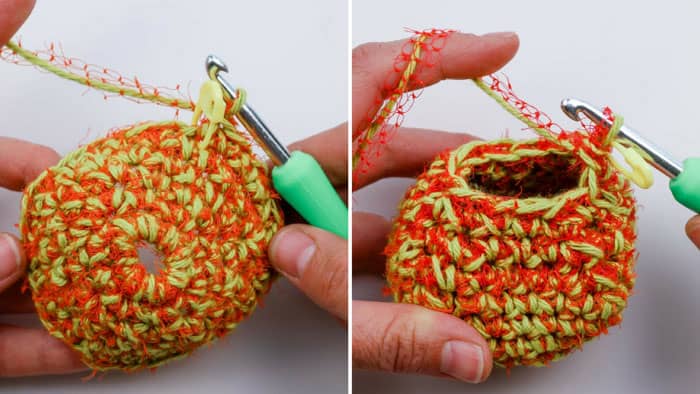 Decrease Side:
Round 1: [Sc2tog, sc in each of next 5 sc] 4 times, PM. (24 sc)
Round 2: [Sc2tog, sc in each of next 4 sc] 4 times, PM. (20 sc)
Round 3: [Sc2tog, sc in each of next 3 sc] 4 times, PM. (16 sc)
Round 4: [Sc2tog, sc in each of next 2 sc] 4 times, PM. (12 sc)
Round 5: [Sc2tog, sc in each of next 1 sc] 4 times, PM. (8 sc)
Optional: Use a sl st from one side of small circle opening to the other to close it up a bit.
Fasten off. Use hook to weave in ends a few times and then tuck them into center of scrubbie.
Run to the kitchen to put your new pot scrubbie to use--or better yet, hand it to your husband or kids and let them get some good practice with it. 😉
More Patterns for Your Kitchen
If you love making functional projects you can put to use around your house, you'll love these free crochet patterns!