This easy crochet slipper socks pattern is easy to customize for most adult feet and makes a great gift. Get the free pattern below or purchase the ad-free, printable PDF here.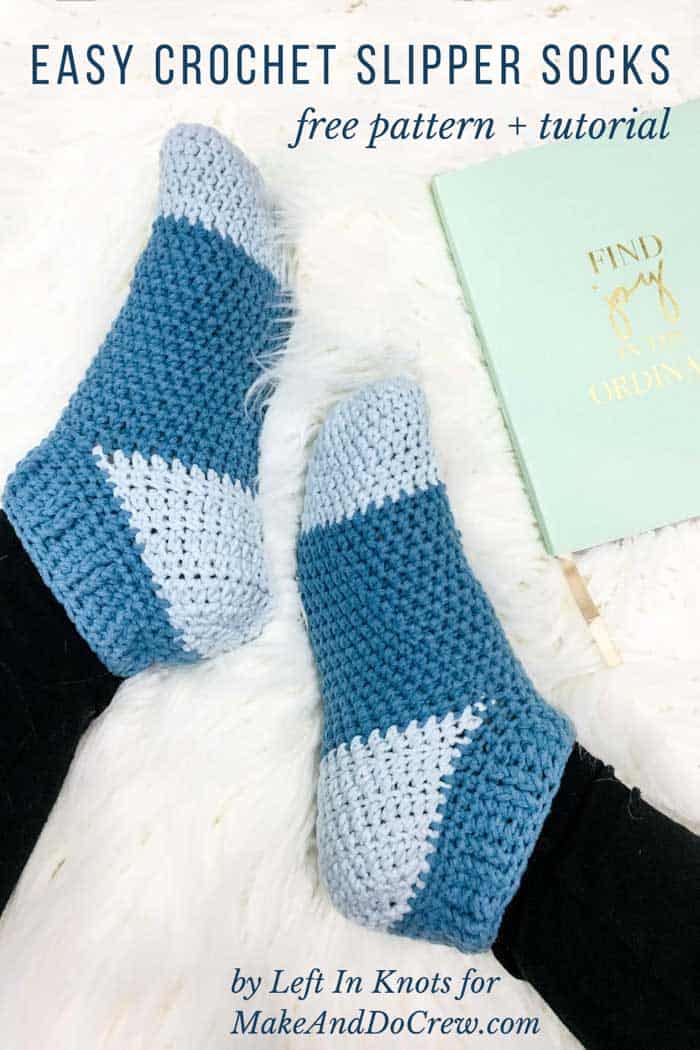 Thanks to Lion Brand Yarns for providing the yarn for this easy crochet slipper socks free pattern. This post contains affiliate links.
Welcome back to the Make & Do Crew guest designer series. While I'm getting to know the newest baby in our family, Megan from Left in Knots is sharing her free easy crochet slipper socks pattern with us today! You can see lots of of Megan's crochet patterns her blog, Left in Knots, Etsy, and Ravelry. And be sure to check her out on social media too: Instagram, Pinterest, and Facebook. Megan, take it away!
The Inspiration for My Easy Crochet Slipper Socks
Whatever the season, I always love an evening at home snuggled up on the couch with my crochet. These not-too-bulky-yet-oh-so-snuggly crochet slippers are made with Lion Brand Yarn Feels Like Butta. They are my new go-to slippers for lounging all year long and are so easy to make! Make a pair for yourself or as a DIY gift with this free crochet pattern.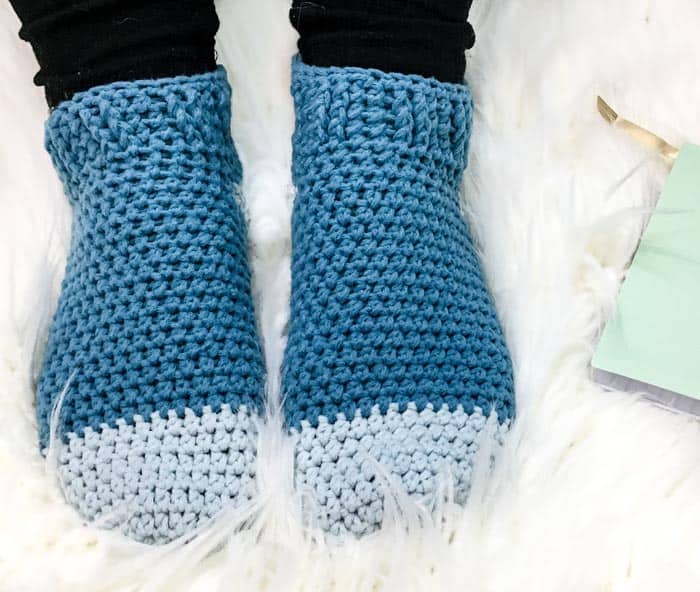 How To Crochet Slipper Socks
One of the hardest parts about crocheting matching pairs or slippers or mittens is making them the same size. As I mentioned above, Feels Like Butta yarn makes it really simple to crochet with an even tension, and even tension = matching slippers that turn out the same size! Hooray! If you are intimidated by crocheting slipper socks - don't be. Crocheting these isn't much different from crocheting a hat. If you want to start with something even more basic - try these Simple Cotton Slipper Socks.
New to crocheting slipper socks? Here is a quick disclaimer! Yarn slippers are SLIPPERY. If these will be worn on any hard floors (tile, wood, laminate, etc), I highly recommend adding something to the bottom to reduce the amount of slip. This can be done with fabric puff paint or sewing a grippy fabric to the bottom of your slippers. Make & Do Crew has a great tutorial here for adding leather to the bottom of your slippers.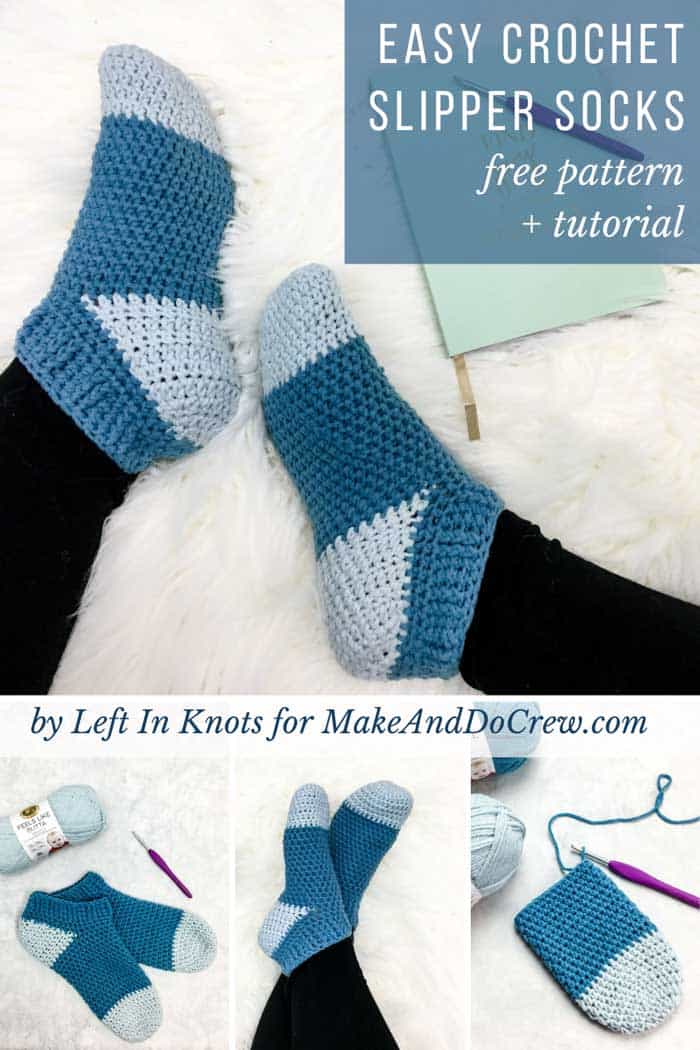 Cozy Yarn = Cozy Slippers
The name 'Feels Like Butta' is pretty self explanatory, but let me take a moment to let you know that this yarn is the SOFTEST. They also started carrying the bonus bundles at Michael's - so it's even easier to add to your stash now!
That being said, you will only need one or two small skeins of Lion Brand Feels Like Butta Yarn to make the Homebody Slipper Socks. I love patterns that can be turned into one skein projects, and if you want to make solid colored slipper socks you will only need one skein! But I also love that Feels Like Butta Yarn is available in so many different complementary colors, and so of course I decided to add an accent toe and heel to my pair as pictured.
This yarn works up like a dream and when working with it, it's very easy to maintain consistent tension. It's just the right amount of fuzzy to be so soft, but not so much that it tangles and catches while you are working with it. In short, it will make your next most cherished pair of slipper socks. You could make them as a gift, but I don't think you'll want to give them away!
Find Your Next Crochet Slippers Pattern
Crochet slipper patterns can be the perfect blend of function, style and speed. Most of these slippers and slipper socks can be crocheted in a weekend or less and rank high in the cozy category. Whether you want to learn how to crochet on flip flop soles or add leather to the bottom of crochet slippers, we've got you covered!
See more free crochet slippers & socks patterns →
Homebody Easy Crochet Slipper Socks Free Pattern
Purchase the ad-free, printable PDF here.
Save this pattern to your Ravelry queue here.
Pin this pattern for later here.
Explanation:
These slipper socks will be your "go-to" crochet footwear when you need something equally cozy and simple. This beginner-friendly crochet pattern uses simple shapes and decreases to make them fit your feet comfortably, and using Lion Brand Feels Like Butta yarn will make your feet happy!
These slipper socks are easily adjustable in size and can be made to fit most adult feet. The colors are customizable (Feels Like Butta yarn comes in 18 different colors!) so you can make them in two colors with an accent toe/heel as pictured, OR turn it into a one skein project and make them in a solid color. Feels Like Butta yarn maintains its tension well, so it will be easy to make your slippers match in size and shape. Can you crochet in the round? Then you can make these slipper socks.
Supplies:
• Lion Brand Feels Like Butta (weight: 4/worsted - 400 yards, 3.5 oz)
- Color A: Ice (#215-106) - 1 ball
- Color B: Dusty Blue (#215-108) - 1 ball
• Size G (4.0 mm) crochet hook
• Tapestry needle
• Stitch markers
• Scissors
• Puffy/fabric paint (optional)
Sizes/Measurements:
• Size Small: Length Heel to Toe = 9.5"
• Size Medium: Length Heel to Toe = 10"
• Size Large: Length Heel to Toe = 10.5"
• Width of foot portion (laid flat) = 3.75"
Gauge:
• 8 HDC x 7 rows = 2" in HDC
Abbreviations and Glossary (US Terms):
ch: chain
sl st: slip stitch
SC: single crochet
SC2Tog: single crochet two together
HDC: half double crochet
HDC2Tog: half double crochet two together
FPHDC: front post half double crochet
Overall Pattern Notes:
• The chain stitches at the beginning of each round/row do not count as a stitch.
• Size S fits sizes 6.5-8; M fits sizes 8-9.5, L fits sizes 9.5-11.
• These slipper socks have some stretch and the sizes are forgiving.
• The last stitch of each round is attached to the first stitch of the round with a slip stitch
• Please be cautious wearing these on hard floors! They are slippery. I added puffy fabric paint to the bottom of mine to reduce the slip.
Start with a magic circle (Color A)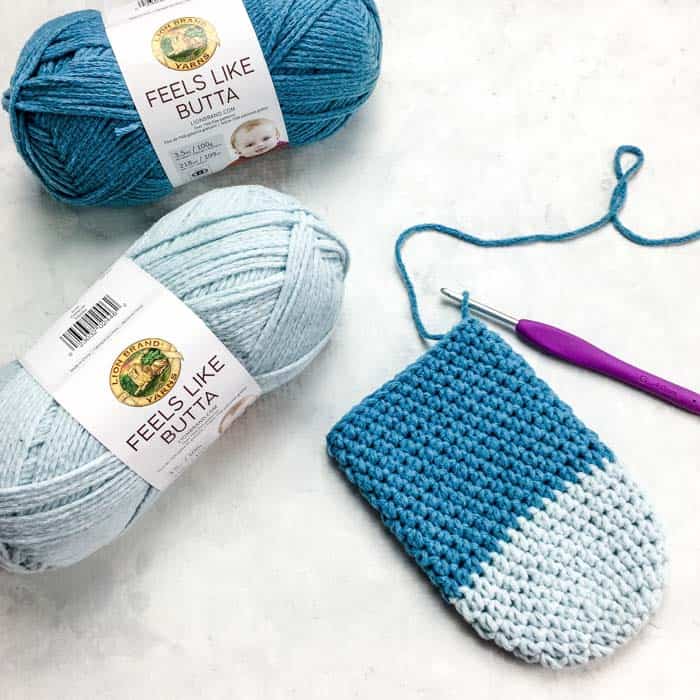 Round 1: ch 1, work 10 HDC into the magic circle, pull tight (10)
Round 2: ch 1, 2 HDC in each st around (20)
Round 3: ch 1, *2 HDC, HDC, repeat from * around (30)
Round 4-8: ch 1, HDC around (30)
**Change to Color B**
(Small) Round 9-21: ch 1, HDC around (30)
(Medium) Round 9-23: ch 1, HDC around (30)
(Large) Round 9-25: ch 1, HDC around (30)
**This section of the slipper should cover your foot up to your ankle (it is ok if it has to stretch just a little bit to do so). You will now start working back and forth in rows with Color A**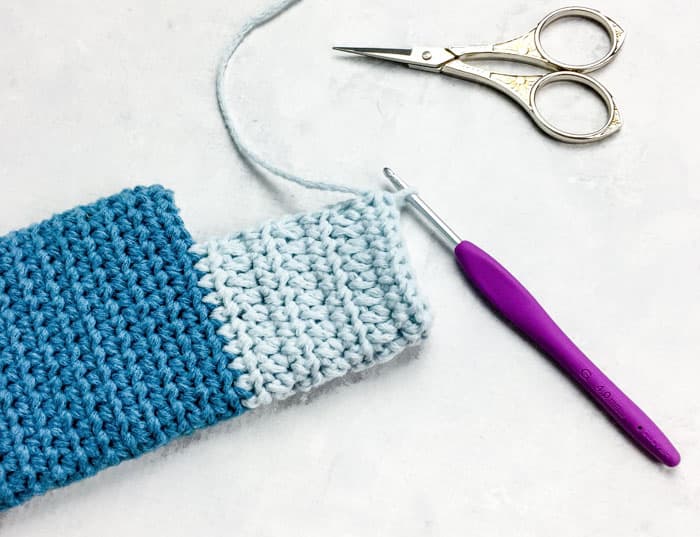 Row 1-7: ch 1, HDC in 18 sts (18) Turn.
Row 8: ch 1, *HDC2Tog, HDC, repeat from * across (12). Turn.
Row 9: ch 1, HDC2Tog across (6). Turn
Row 10: ch 1, HDC2Tog across (3). Turn
**Do not cut your yarn. You will now be working in rounds around the ankle portion of the slipper with Color B**
Round 1: ch 1 and turn, HDC evenly around the ankle opening so that you have 40 stitches around (40)
Round 2: ch 1, *HDC2Tog, SC in next 8 sts, repeat from * around (36)
Round 3: ch 1, HDC around (36)
Round 4-6: ch 1, *FPHDC in 2 sts, HDC in 2 sts, repeat from * around. (36)
Round 7: ch 1, *SC2Tog, SC in next 7, repeat from * around (32) Attach to the first SC of the round with a sl st.
Tie off yarn and weave in ends.
Thanks again to Megan of Left in Knots for sharing this free crochet slipper socks pattern! Be sure to check out Megan's blog for lots more free modern crochet patterns!
That was so fun! Now what?
Invitation to our Facebook group
Come discuss crocheting slipper socks patterns and lots of other crochet projects and techniques in our Make & Do Crew Facebook group. Here thousands of helpful crocheters answer each others questions and share their stitches. Come join us here.
More Free Crochet Slippers + Socks Patterns
More Free Modern Crochet Footwear Patterns
If you loved these easy crochet slipper socks, check out these most popular M&DC crochet slipper and shoe patterns with flip flop soles. Have questions about crocheting on flip flops? We answer them all in the FAQs here!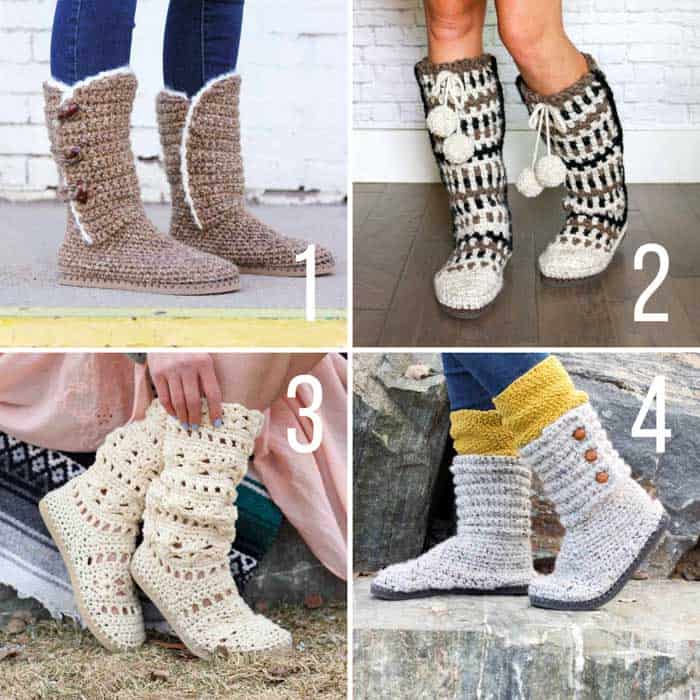 1. Breckenridge Crochet Boots - Learn how to make UGG-style crochet boots with flip flop soles with this free crochet pattern and video tutorial. This adult-sized pattern makes super cozy slippers or even outdoor crochet shoes.
2. Taos Crochet Slipper Boots - Keep your toes epically toasty in these mukluk style crochet slipper boots with flip flop soles. The mukluks are crocheted separately and then added to the flip flops, making this a perfect first crochet flip flop project.
3. Coachella Lacy Crochet Boots - Whether you're headed to Coachella or your local concert in the park, this crochet boots pattern for adults will complete your boho-inspired outfits all season long!
4. Cabin Crochet Boots - You'll be a DIY goddess of cozy with these crochet boots with flip flops for soles! They make excellent slippers or UGG-like sweater boots to wear around town.