Do your holey jeans need a facelift? Learn how to patch jeans with crochet lace in this simple how-to tutorial. Scroll to the bottom of the post for a free crochet doily patch pattern!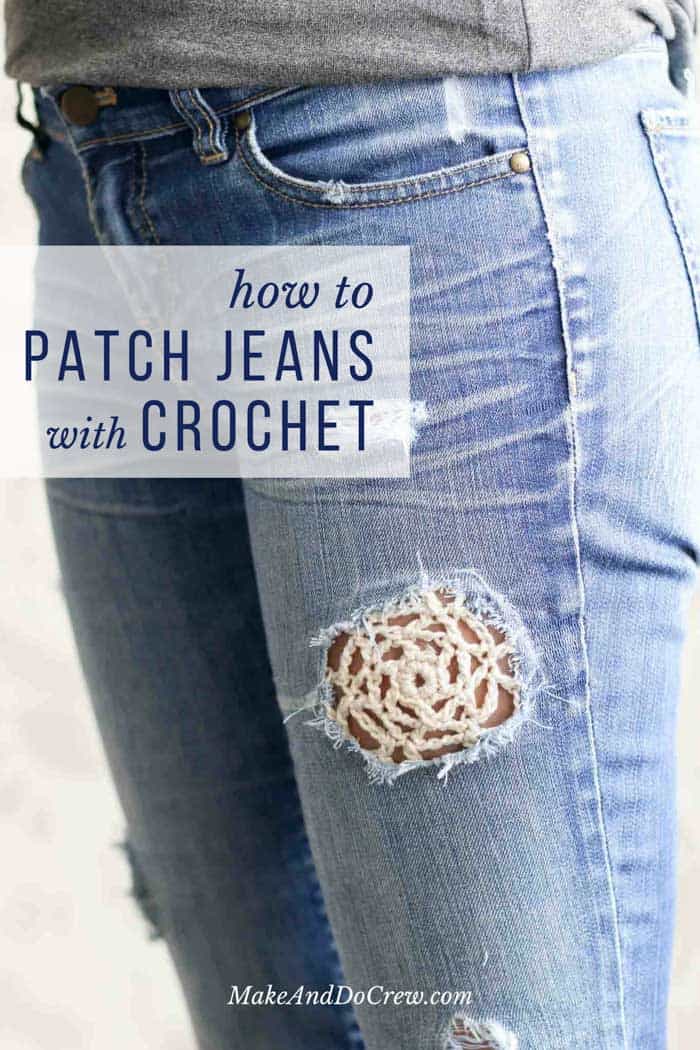 This crochet lace post is a collaboration with Lion Brand Yarns. This post contains affiliate links.
During homecoming week in high school, the was always one day called "70's Day" where--you guessed it--we all dressed up in pseudo-hippie gear and traipsed around the school gymnasium. Most kids would throw on a tie-dye t-shirt or their most flared jeans.
Not me. I would raid my mom's time capsule closet and deck myself out in a fully handmade uniform of embroidered jeans, a crocheted vest, fringed belt and smocked top. I was legit.
So when I saw Marrielle van der Gun's photo of some jeans she patched with crochet lace in the Crochet Addicted Facebook group, it brought back so many memories of my mom's authentic 70's bohemian jeans. I asked Marrielle if I could use her project as an inspiration to try my own and she generously agreed.
You can see in her photo below that the hole in her jeans was much bigger than mine and allowed for some really beautiful, intricate lace. (Marrielle offers this free pattern on her blog. While she's Dutch, she even created an English version with instructions in US terms! Check it out here.)

The Yarn
In my opinion, to patch jeans with crochet, you want a durable yarn that can hold up to lots of wearing and washing. Lion Brand 24/7 Cotton is my go-to yarn for crochet shoes because it's mercerized, really strong and thin enough to have great delicate stitch definition. I thought it could work well paired with holey jeans and it really did! I just love the bohemian look of the crisp cotton stitches juxtaposed against the worn denim.
The Holes
This is pretty obvious, but every hole is going to be different. In fact, while my pair of jeans was basically demolished, I actually made my holes slightly larger by cutting and pulling on the threads in the denim. I wanted a big enough area that the intricacy of the lace could show through.
Don't be afraid to try your jeans on, stick the crochet patch in the hole and then see if you need to expand the size of the piece of lace (or the hole!)

The Crochet Patch
I tried a couple of different ways of creating crochet patches for my jeans. The creme colored circle doily pattern is taken directly from my Dream Catcher Sandals with Flip Flop Soles pattern. (Just scroll down the section of the pattern called "The Circle" and follow it until your crochet doily is big enough to patch your hole.)
Another version I tried was just swatching a little rectangle of the Triangle Stitch, pictured above in the navy yarn. While I loved how this swatch looked, I didn't think it translated very well to the jeans. I suspect that if I had used a higher contract color of yarn or a bigger hole, it would have looked awesome.
If you have any crochet stitch dictionary books, just try swatching any stitches that catch your eye. It's a fun way to get to use different stitches without committing to a big project. This is one of my very favorite stitch dictionary books!
Sewing the Lace Patch onto the Jeans
Marrielle had the very good observation that if your jeans have any stretch at all, you'll want to actually wear them while you're sewing your crochet patch on. Sounds a little sketchy, I know, but the good thing is, I'm almost certain you'll feel the needle far before you actually sew anything to your skin! 😉
Wearing your jeans while you sew the patch on, or at least while you pin the patch to your jeans, will help ensure that the crochet will look good when you're wearing the jeans.
I used some regular cotton sewing thread to sew my crochet patches on using a basic basting stitch and going around the patch twice. You might be able to see that my stitches aren't very tidy at all, but I don't think it matters much on jeans that are already so distressed.
Related: If you like unique crochet projects as much as I do, you can't miss these incredible DIY crocheted lampshades on IkeaHackers.com. They're a super inspiring use of basic puff stitches, cables, and bobbles.
More Free Crochet Lace Patterns for Jeans
Below I've written out the pattern I used to create the mint-colored circle doily. The good thing about this lace option is that it's super easy and can be used to make a circle of any size. The most important thing to keep in mind is to have fun experimenting--let the 70's mantra of peace, love and happiness prevail!
Here are a few additional ideas for creating crochet patches:
• Crochique NL -- this is Marrielle's original pattern that inspired me
• The "circle" portion of my free Dream Catcher Sandals pattern.
• This list from Moogly of lace afghan squares has many free patterns you could use and just stop working when the square is big enough to cover your
• This is a big list of crochet mandala, doily and circle patterns from Crochet Concupiscence, many of which would work well for patching jeans.
Crochet Doily Patch for Jeans
Free Pattern
Add this pattern and tutorial to your Raverly favorites here.
Pin it for later here.
Supplies:
• Lion Brand 24/7 Cotton, color pictured: mint
• Size G (4.00 mm) hook
Abbreviations (US Terms):
ch - chain
sc - single crochet
sp - space
ch3sp - chain 3 space
ch4sp - chain 4 space
ch5sp - chain 5 space
Notes:
• This doily is worked in the round.
Foundation Round: Make a magic circle.
Round 1: Ch 1, sc 8 in magic circle, sl st to first sc to join. (8 sc)
Round 2: Ch 3, sk first sc, sc in second sc, [ch 3, sc in next sc] 6 times. (7 ch3sps)
Round 3: [Ch 4, sl st in next ch3sp] 7 times. (7 ch4sps)
Round 4: [Ch 5, sl st in next ch4sp] 7 times. (7 ch5sps)
Proceed like this, adding one chain per space on each subsequent row until doily reaches desired size.
Fasten off and sew onto jeans. I found it helpful to use my sewing thread to sew through the fastened off yarn strand just to make the crochet patch extra secure as it goes through the wash.
And if you're a big fan of bohemian-inspired crochet or if you just want every day to be "70's Day," you might enjoy this other free patterns from Make & Do Crew. You can see all my boho style patterns here!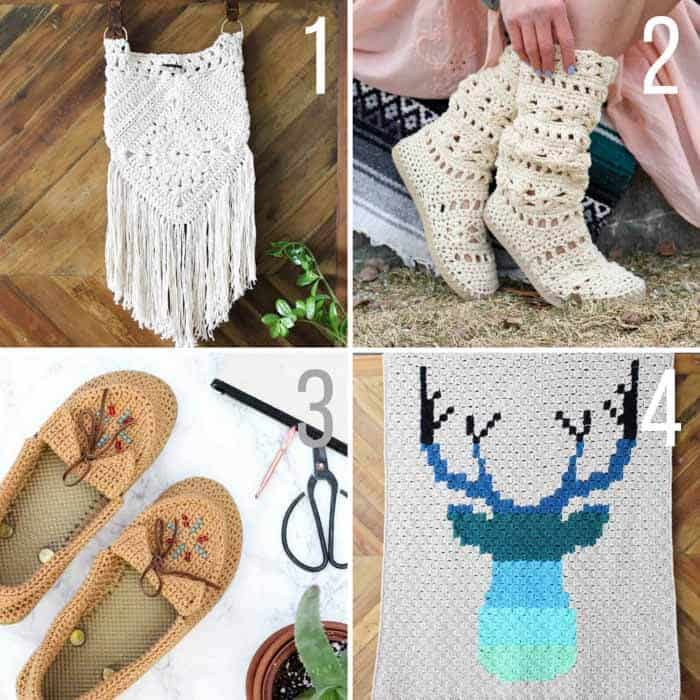 1. Urban Nomad Boho Bag - free pattern
2. Coachella Boots - free pattern using flip flop soles
3. Moccasins - free pattern and video tutorial using flip flops
4. Be a Deer Afghan - free corner to corner crochet pattern
More Lacy Patterns to Crochet