This modern twist crochet headband pattern looks like knit stockinette, but it's actually an easy variation on single crochet. Get the very simple free pattern below or purchase the ad-free, printable PDF here.

This free twist crochet headband pattern is part of a collaboration with Lion Brand Yarn. This post contains affiliate links.
You won't believe a long tube of luxurious baby alpaca yarn can become until you make this super easy twist crochet headband pattern for yourself. If you need a portable, mindless project with big gift-giving potential, this project has your name written all over it. Read all the details below or scroll down a bit for the free pattern and tutorial.

How To Crochet a Twist Headband
This easy crochet headband pattern is one of those that looks far more complex than it actually is. With just a little bit of yarn origami, you can make a twist headband in the style of all the machine-knit versions you see at Anthropologie, Urban Outfitters and Bloomingdales. (And obvi, yours will be much, much cooler because it'll be made with your own two hands.)
You'll start by crocheting a long tube in the round. There's no counting, no increasing or decreasing and literally no reason you can't work on this while multitasking with a movie, car ride or telling your kids to clean up their toys. 😉 Once the tube is complete, you'll seam it into a large circle, twist it a few times and seam it in a few more places. Isn't yarn geometry amazing?!
Related: 35+ Easy Chunky Beanies to Crochet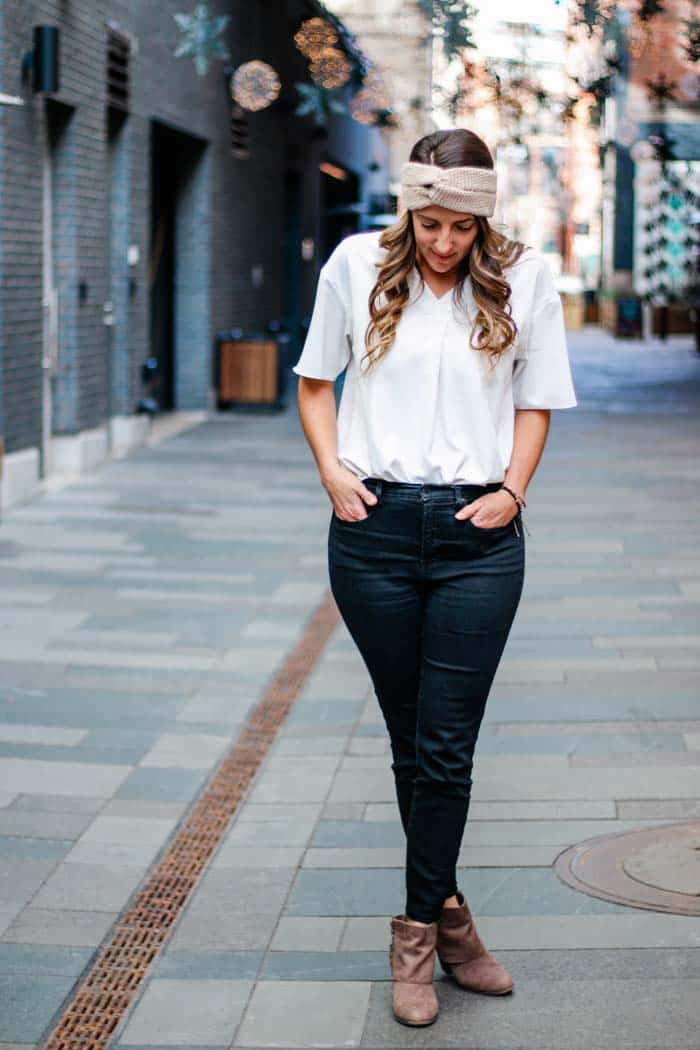 More Free Crochet Headband Patterns for Babies + Adults
There's something about knit and crochet headbands that make a more deliberate style statement than a beanie. For babies, adults and everyone in between, headbands can be worn indoors a little more naturally than a chunky hat and they're even quicker to make. (Although if you're looking for a hat you can make in a flash, definitely check out the free 1 Hour Beanie pattern!)
Here are a few more free crochet headband patterns from Make & Do Crew you might enjoy checking out. Find all our free crochet headband patterns here.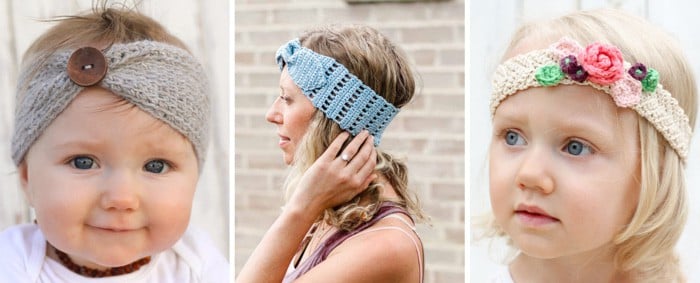 1. Aspen Socialite Headband (baby-adult) / 2. Boho Summer Headband (adult) / 3. Flower Headband (baby-toddler)
The Perfect Super Soft Yarn for a Crochet Headband
When I was talking to my friends at Lion Brand about what type of yarn might make for a really indulgent twist crochet headband, we debated some cashmere, merino and alpaca options. Eventually we settled on LB Collection Baby Alpaca and I'm so glad we did!

This yarn offers the perfect combination of luxury and softness for a modern crochet headband and the price point makes it really manageable for gift giving. (Tip: You can make two headbands from three total skeins of yarn, so order a bit more than you need so you can have a few extra headbands ready for last minute presents.)
Aren't these neutral tones beautiful? They're so perfectly appropriate for crocheting a headband that feels lush and fancy. You can check out all the colors of LB Collection Baby Alpaca here.
Related: 27+ Free Crochet Beanie Patterns
Crochet That Looks Like Knitting is Kinda My Fave
It took me a few failed attempts to figure out how to crochet the Waistcoat Stitch, but once I did, I totally fell in love. This stitch mimics the look of knit stockinette and is just a simple variation on single crochet. That said, without guidance it can be kinda impossible to make work. (At least for me.)
That's why last year I put together a Waistcoat crochet stitch video tutorial that includes all the tips I learned fumbling through teaching myself. If you're new to this stitch, definitely check out the quick video before starting this crochet twist headband pattern. I've also included lots of detail in the pattern below on how to make the Waistcoat Stitch look its best.
If like me, you love crochet that looks like knitting, you might also like these free crochet patterns from Make & Do Crew. Find all our knit-look free crochet patterns here!
1. Three Hour Mittens / 2. Braided Poncho / 3. Everywhere Beanie / 4. Morning Mittens
Infinity Twist Crochet Headband Video Tutorial Coming Soon!
Because the Waistcoat Stitch is so easy once someone just explains it to you and the twisty-ness of this crochet headband pattern is so easy once you just see it for yourself, I'm working on a video tutorial for this pattern that'll be available soon. If you're a visual learner, check back in the next couple of weeks to watch the step-by-step instructions on how to crochet this twist headband pattern.
Infinity Twist Crochet Headband
Free Pattern + Tutorial
Purchase the ad-free, printable PDF here.
Save this pattern to Ravelry here.
Pin it for later here.
Explanation:
You'll love the surprise "twist ending" in this very simple pattern made from a long tube. While the stitches mimic the look of knit stockinette, this on-trend darling is actually crocheted. Luxurious one hundred percent baby alpaca yarn makes this the perfect project to gift (or better yet, keep!)
Skills required include single crochet and basic seaming.
Supplies:
• Lion Brand LB Collection Baby Alpaca (Weight: 3/light - 146 yds, 1.75 oz)
- Tan (#488-124) – 2 skeins [approx. 59 (62, 65) g)]
• Tapestry needle
• Size I (5.25 mm) crochet hook
• Stitch markers or safety pins
• Measuring tape
Sizes:
Child: Fits 18-20" head circumference
Tween: Fits 20-22" head circumference
Adult: Fits 21-23" head circumference
Gauge:
4 sc x 4.25 rounds = 1"
Abbreviations and Glossary (US Terms):
ch – chain
single crochet - single crochet
sl st – slip stitch
st(s) – stitch(es)
Overall Pattern + Sizing Notes:
• Headband size is very easy to customize:
- To make headband larger, work additional inches of tube.
- To make headband smaller, shorten tube length.
- To make a more narrow headband, begin with fewer chains.
- To make a wider headband, begin with more chains.
• Headband is worked in a spiral, so you will not chain 1 at the beginning of each round.
• Round 2 and beyond are worked between the two posts of the single crochet stitch. Watch this step-by-step video tutorial if you're unfamiliar with the Waistcoat (Center Single Crochet) Stitch.
Tips for Working the Waistcoat (Center Single Crochet) Stitch:
• Watch this Waistcoat Stitch video tutorial if you're new to the stitch.
• The hook size used in pattern is intentionally small to allow it to easily slide between posts of the single crochet stitches. It would be easy to work the single crochets very tightly because of this small hook and thin yarn combination. Don't let this happen! Instead, work stitches intentionally very loosely. Draw up each loop of yarn considerably higher than you would normally for a stitch. (See photo above.)
• If you're having trouble inserting your hook between the posts of the single crochet stitches, your stitches are still too tight. Pull each yarn over up even higher before completing the stitch. Focus especially on elongating the second loop on your hook as this will create more space when you need to work between the posts.
• It can be enticing to pull on the work in progress tube width-wise to see how stretchy it is. Doing so will compress your stitches and make them tough to work into. Resist the urge!
MAIN TUBE
Foundation Row: Ch 15, sl st to first ch to join taking care not to twist. (15)
Round 1: Do not ch, loosely sc in each ch. (15)
Round 2: Sc in between posts of each sc. (See two photos above.)
Repeat Round 2 until tube measures approx. 38 (40, 42)" when laying flat. Fasten off leaving a 20" tail.
FINISHING
Notes:
• Since the Waistcoat stitch tends to slant slightly, you may choose to block the tube before seaming.
• See photo below for visual example of twisting steps.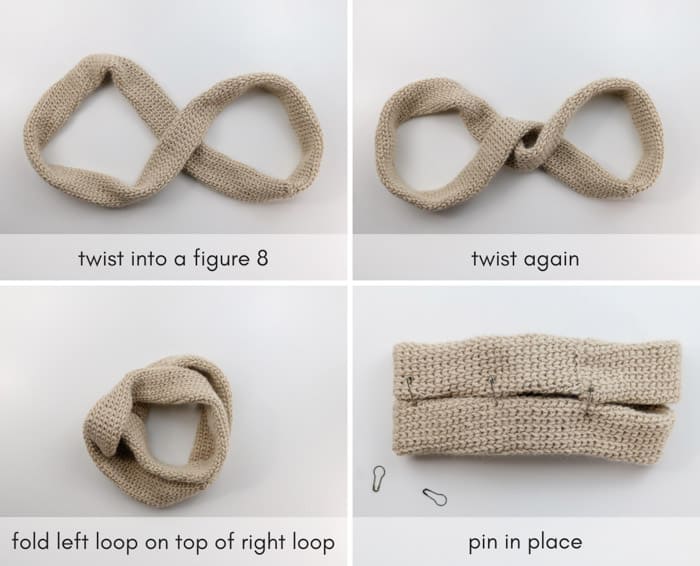 Seaming Loop:
Form tube into a circle. Using tapestry needle and tail from tube, seam Round 1 to last round.
Twisting Headband:
Form loop into a figure 8. Twist one additional time. Fold one circle of "8" onto the second circle of "8".
Seaming Headband:
Adjust and smooth tube until you're happy with how it's laying. Using stitch markers or safety pins, pin loops to each other. Begin whip stitching one loop to the other approximately 1.5" from twist and continue seaming around back of headband. Stop approximately 1.5" from twist on opposite side. (See photo below and within blog post above.)
Snuggle your new twist headband on your noggin' and head out to grab a peppermint latte!
I love to see your finished projects! Use #MakeAndDoCrew and tag me Instagram (@MakeAndDoCrew) to show off your stitches and have a chance to be featured.
More Fast and Easy Free Crochet Patterns
If you love fast crochet projects that make great gifts, here are some more free crochet patterns from Make & Do Crew you might like. You can always find all our free crochet patterns here.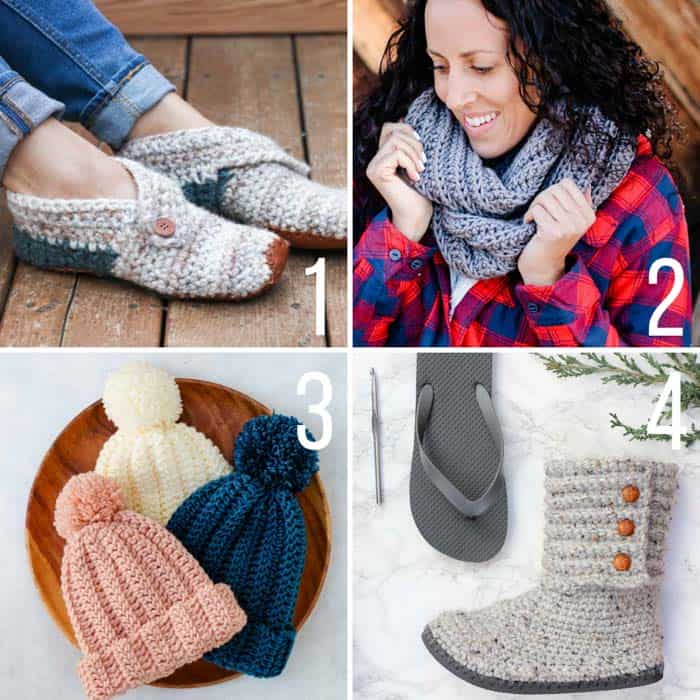 1. Sunday Slippers - a simple free crochet slipper pattern for women
2. Hideaway Cowl - beginner-friendly, knit-look cowl made entirely in half double crochet
3. 1 Hour Beanie - a VERY easy pattern + video tutorial for beginners made from a basic rectangle (sizes preschool-adult)
4. Cabin Boots with Flip Flop Soles - make your own boots with this fun crochet on flip flop pattern + video tutorial