Since kids are awesome zen masters and basically perpetually live in the present, it doesn't really matter if their birthday is a week away or 42 weeks away, the thought of it is equally electrifying.
So the mere whisper of the DIY kids birthday shirt idea I was drumming up was enough to capture 1000% of Mo's attention.
On a rare trip to Walmart, I stumbled across a gold-trimmed shirt I'd describe as "understated Lady Gaga," which is also known as "perfect for a toddler." It even has a POCKET. And the pocket can fit small animals in it. This is the stuff of dream childhoods.
Mo is no stranger to the craft store, so she was very willing when I invited her to come with me to find some paint to customize her 3rd birthday shirt. It took some convincing, but we agreed to temper the gold trim with more gold paint instead of another flashy color. (First time ever gold glitter sounded less Lady Gaga-esque than lime green paint.)
I heart this project for three reasons:
We made it together! The entire process was collaborative, hands on and memorable.
A DIY kids birthday shirt is super special to wear the actual day of the birthday party, just in case there's any confusion about WHO is having a b-day.
Kids can take so much pride in making something themselves that they get to wear and tell people about.
And the controlling part of me that is constantly Photoshopping my life in my mind really likes that this birthday shirt turned out looking pretty intentional, even with an enthusiastic toddler at the helm.
Creating the number stencil to add to the shirt is as easy as finding a font you like, typing one number, increasing the font size to, like, infinity and printing it out.
Buuuuut, if you just want to plug and play, I've created a birthday shirt template in this font for numbers 1-9 and added it to the Make & Do Crew Subscribers Vault.
Simply enter your email in the pink and green box at the bottom of this post and you'll gain instant access to download the template, plus all of our other free patterns and templates.
DIY KIDS BIRTHDAY SHIRT SUPPLIES
So you can spend more time party planning and less time shopping, this post contains affiliate links at no extra cost to you. Thanks for your support!
• spray fabric paint (I used Tulip Glitter Spray Paint in Glistening Gold)
• a cotton shirt (Lady Gaga details optional. Ours was $5 at Walmart.)
• birthday number template (subscribe at the end of the post to download)
• freezer paper
• tape
• iron (for the grownup to use)
• utility knife (for the grownup to use)
• thick paper for inside the shirt
• newspaper to protect surrounding area
1. Wash and dry the shirt.
2. Print the appropriate number from the template or create your own. Tape the printed template on top of a piece of freezer paper. Use a utility knife to carefully cut out the number. (Obviously, this is an adult job.)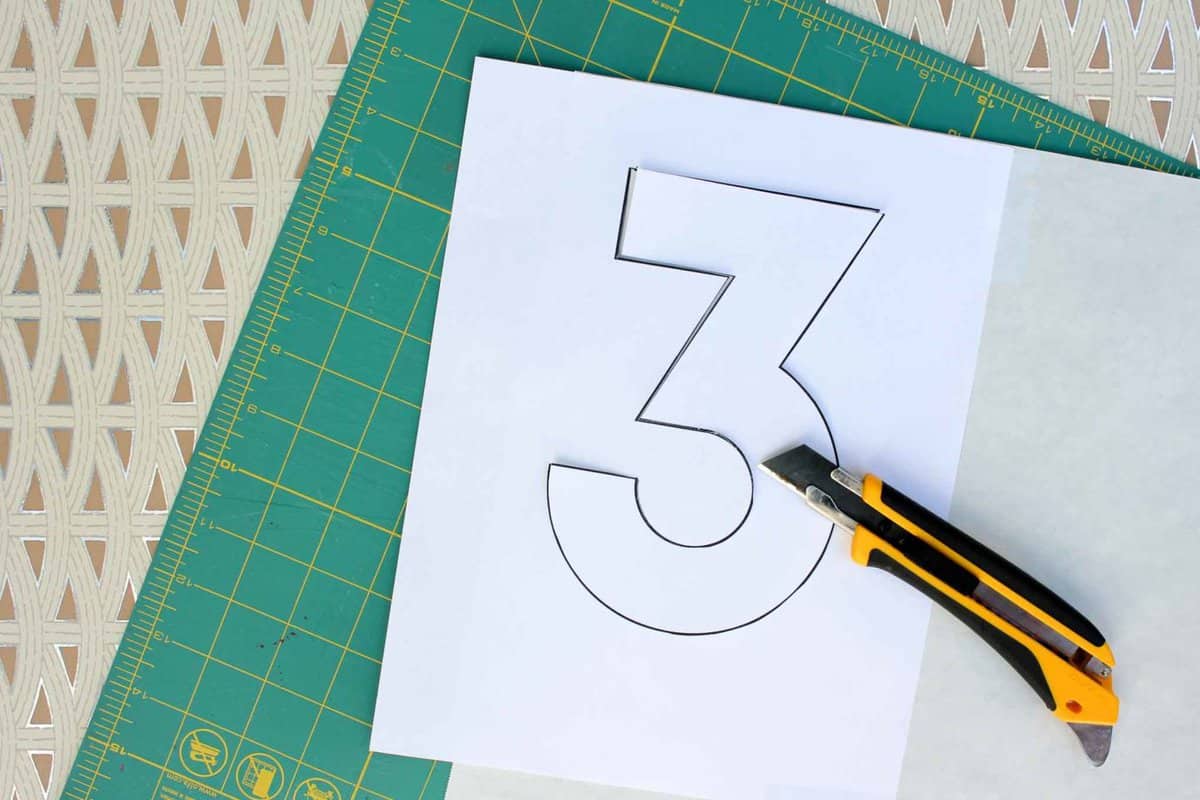 3. Place the cut out number on the shirt, shiny side down. Iron on medium hot until the freezer paper is adhered well to the shirt. (Again, adults only.)
4. Place a sheet of thick paper inside the shirt so that the paint doesn't seep through.
5. Have your child spritz the fabric paint around the entire edge of the number. This proved to be a little trickier for 3-year-old hands than I hoped. I ended up doing a lot of the spraying, while she showed me where to put it. I think a slightly older child would have no problem.
6. Let the paint try a bit and repeat with as many coats as necessary. Since our paint was pretty translucent, we used 3-4 coats to create a saturated enough layer of paint that the number would be pretty visible.
7. Let the paint dry overnight and then let your child peel back the number stencil, revealing the special birthday shirt underneath.
8. Practice endless birthday dress rehearsals with this crochet birthday cupcake until the big day rolls around!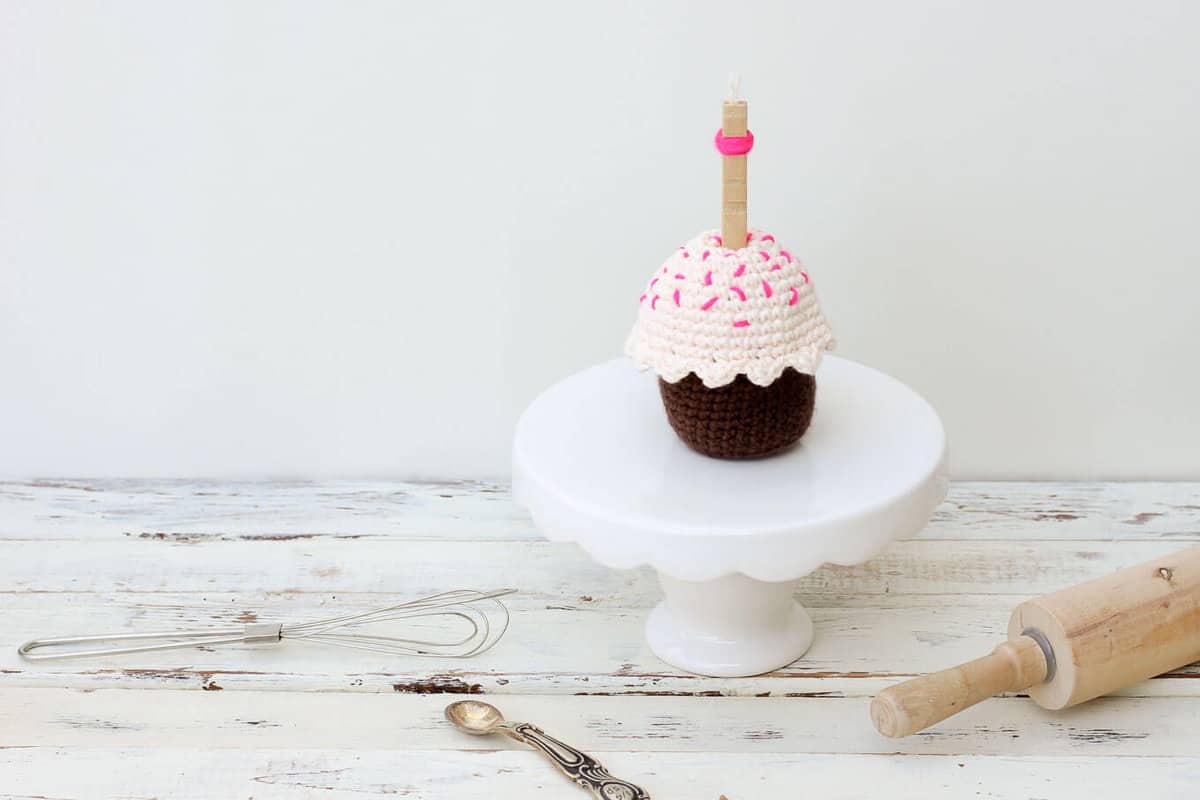 If you like to craft with your creative kid, you might like these projects too:
Potato Stamp Towels
Modern Popsicle Stick Hearts

GET INSTANT ACCESS TO THE BIRTHDAY SHIRT TEMPLATE!
Plus my entire library of free patterns and project templates.