I'm convinced sliced t-shirts are the next best thing to sliced bread. Seriously. How amazing is it that with just a pair of scissors, you can turn some ratty old t-shirt into this work of neck art.
So, today in this t-shirt scarf tutorial, I'm going to tell you how to create the easiest craft in the history of time. Several girlfriends and I got together recently for a craft night and this was our project of choice. Everyone, including the women who claim not to be creative (which I don't believe for a second) whipped up t-shirt scarves like it was their job. Read more about
prepping for that craft night
and the awesome scarves that came of it
here
.
So, are you excited yet? If you realize that you DIY yourself into a brand new t-shirt scarf in 15 minutes made only with things I guarantee you already have in your house, then I bet you are.
Here are the ingredients you'll need to make a t-shirt scarf in no time flat:
1. T-shirt(s). Probably doesn't come as much of a surprise. Try to find t-shirts that don't have seams running down the sides. If you're like me and every shirt you own has seams, I'll show you how to work around it. I used two tees for this scarf. I've found that one t-shirt feels more like a necklace and two results in more of a bulky, scarf look. Both have merit.
2. Scissors or a rotary cutter and board. Either works fine. A rotary cutter makes things a little quicker and straighter, but is by no means necessary.
3. (Optional) If you feel like flinging some paint like I did, you'll need fabric paint and a paint brush.
Okay, now it's time to chop up that tee! Begin at the bottom (near the waist) and cut off the bottom hem. Then cut strips of shirt approximately 1″ thick. (Don't worry too much about the strips being an absolutely identical width. This project is amazingly forgiving.)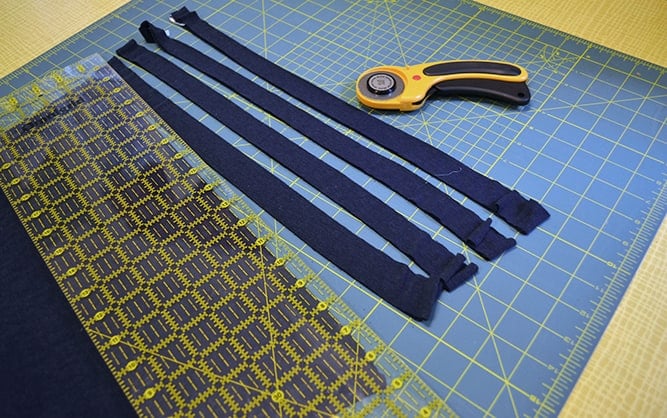 Next, take all the loops and stretch them a bit so the fabric curls back onto itself.

Now it's time to splat-splat-splatter paint. Or not. I must say, it sure is a fun way to get back to your 4th-grade art class roots. I laid these t-shirt "worms" on a paper bag and just started flinging fabric paint until I thought there were enough paint speckles.

Then I had to let the paint dry. (The most time-consuming aspect of this entire project.)
Now it's time to get those t-shirt strands in order. If your shirt(s) had seams, I suggest aligning all the seams so that they're all near each other. This will ensure that you don't have seams showing all over your scarf.

Okay, one more step and we're done! How easy is that? Now it's time to fasten all the strands together so you don't feel like you have a bunch of random hot loops (does anyone else remember those!?) hanging around your neck.

1. Cut one of your loops so it's a long strand. Grab a few inches of it (short tail) and hold it near your wad of seams.
2. Wrap the rest of the long tail and wrap it around the collection of seams and the short tail.
3. When everything seems pretty secure, tuck your long tail under one of the loops you've just made around the seams (sort of like you're tying a knot.)
4. Now it's time to tie a real knot. Use the rest of your long tail to tie a knot around one of the strands of your scarf. This will make sure everything is connected and not going to unravel. Trim the tail at the base of the knot.
Okay, dokay smokies. You've got yourself a t-shirt scarf! I like to wear mine double-wrapped because it's warmer that way and it hides the second set of seams that weren't covered by the fastening wraparound-y thing.

How amazing and easy are t-shirt scarves!? I've made about four and I wear them all the time. Really. It's not often that I make something I can rock a few times a week. Especially in 15 minutes. And for $0. That's a craft grand slam in my book.
In case you're not convinced of the t-shirt project awesomeness, let's take a look at what we whipped up at craft night.
These scarves are only the beginning. Just imagine all the braided, twisted options you can create!