Replace ratty slipcovers and add some paint to an old glider and you've got yourself a useful and chic chair for your baby's nursery. 
We set out for our new life in Colorado at the exact 20 week, half-way point of our pregnancy with Mo. It was so exciting, but it also meant that we spent the remainder of her gestation like nomads, living with a variety of generous family members while we looked for a home of our own.
I don't think pregnant women are meant to be nomads. Instead of nesting and hanging mobiles and embroidering "I Love You" art for our baby's nursery, we were were traipsing to home showings looking for a house whose tiny size, wood paneling or stinky carpet was overlook-able.
Since I couldn't pour my nesting energy into the nest we didn't have, I directed my hyped-up hormones to beloved Craigslist. I searched and searched for a glider in anticipation of all the sweet nights we'd spend nursing and snuggling in the wee hours.
(Turns out, we did nurse and snuggle. A lot. But it was always in some version of being propped up in bed, sprawled out in bed, or half-passed out in bed. Now though, we still read stories everyday in our trusty glider chair.)
I was pretty intimidated at the prospect of redoing the slipcovers on this beauty, but as you can see, it was an ESSENTIAL part of the project. The original fabric was weird and old, and worst of all, covered in cat hair. Ugh.
The replacement fabric I used is from Joann's and it's technically "home decor" fabric. It's thicker than regular cotton and therefore has a bit more structure and still looks pretty decent after being sat on regularly.
Since each rocking chair or glider is different, I'm providing some general tips I picked up from recovering mine as well as the step-by-step of how I did it. You'll obviously need to do a bit of improvising based on how your cushions are constructed, but I hope this tutorial gives you a good idea of how to tackle your chair makeover!
GLIDER RECOVERING TIPS & NOTES:
• I thought I might have to make my slipcover slightly larger than the original just to be able to wedge the cushions back in. Don't do this. Everything will look better if the fabric is taught and the cushion fills it completely.
• I dismantled all my pieces and then measured them to estimate how much fabric I would need. (Don't forget to include the ottoman in your calculations, if you have one!) I ended up getting about 5 yards and I had plenty extra. 
GLIDER MAKEOVER SUPPLIES
For your chair-refinishing convenience, this post contains affiliate links at no extra cost to you.
• seam ripper
• rotary cutter, mat board and ruler (or ruler and scissors)
• pins
• home decor fabric
• thread that matches fabric
• non-adhesive backed velcro (optional)
• sewing machine
• iron (to help with hemming – optional)
• staple gun to attach fabric to ottoman
• electric sander and/or sandpaper (medium and fine grit) 
• tack cloth
• paint (We used Behr "Stone Hearth.")
• paintbrush
• Floetral to thin the paint
• tools to take the chair apart (totally optional)
HOW TO RECOVER A GLIDER
1. Use a seam ripper to dismantle the original cover on your glider. Make sure to save all the pieces of fabric you take apart since they will form the template for your new slipcover.
2. Measure each piece and take note of the original seam allowance. (You'll want to use the same seam allowance when you sew.)
3. Once you know the dimensions of the old fabric scraps, use a rotary cutter to replicate each piece in your new fabric. If you don't have a rotary cutter, pin the old pieces to your new fabric and cut around them with scissors.
4. If you're adding velcro: fold over the hem twice and iron it flat. Pin velcro to the hem and sew around each edge of the velcro.
5. Pin your pieces together. If you didn't add velcro, make sure you plan to leave a section of the slipcover unsewn so that you can flip it right side out.
6. Sew all seams using the same seam allowance as the original slipcover.
7. Turn your slipcover inside out. If you're adding little tabs to keep the back cushion in place on the glider, you want to attach those now, before you put the cushion inside the cover. I simply made two little rectangles, added velcro and then measured where they needed to be placed on the cushion in order to wrap around the chair back spindles.
8. Take a second to admire your hard work! Now wrestle that cushion inside your slipcover like you're trying to mug it in a back alley. Unless you're looking to induce labor, this is a part I'd suggest asking for help with if you're eight months pregnant.
9. Repeat this process with the bottom cushion cover.
10. By the time we did cover the ottoman, I was about a week passed due and we were just trying to check boxes on our to-do list. We slapped some fabric down, stapled it and called it a day. You could definitely fold yours under to create a little more tidy look. (But if you're going for tidy, I might suggest avoiding having children in the first place. 😉 )
We don't use the ottoman anymore, which is why I forgot to photograph it. Oops!
HOW TO PAINT A GLIDER
1. We took ours apart to paint it. I owe this feat entirely to my woodworker dad, who does not take short cuts when it comes to this kind of stuff. He disassembled and reassembled the whole thing like a champ. It definitely made the painting easier, but if you don't have a eager dad involved in your project, I'd leave it assembled.
2. Sand all the surfaces of the chair using a medium grit sandpaper. Follow it up with a fine grit sandpaper to make sure it's smooth.
3. Use an air compressor, tack cloth or your tongue to remove any dust leftover from sanding.
4. Thin your paint according to the Floetral instructions. This will help ensure there aren't a lot of brush strokes on your glider.
5. Paint that puppy! Let it dry. Do it again! Let it dry. Do it again! Forever and ever.
Just kidding. Our chair took about three coats of paint. Mo was born 13 days past our due date, so we had plenty of time to watch paint dry.
6. Lovingly place your newly-covered cushions on your newly-painted chair and feel like a rockstar for making something unique, affordable and hip for your baby's nursery. You are a super mom!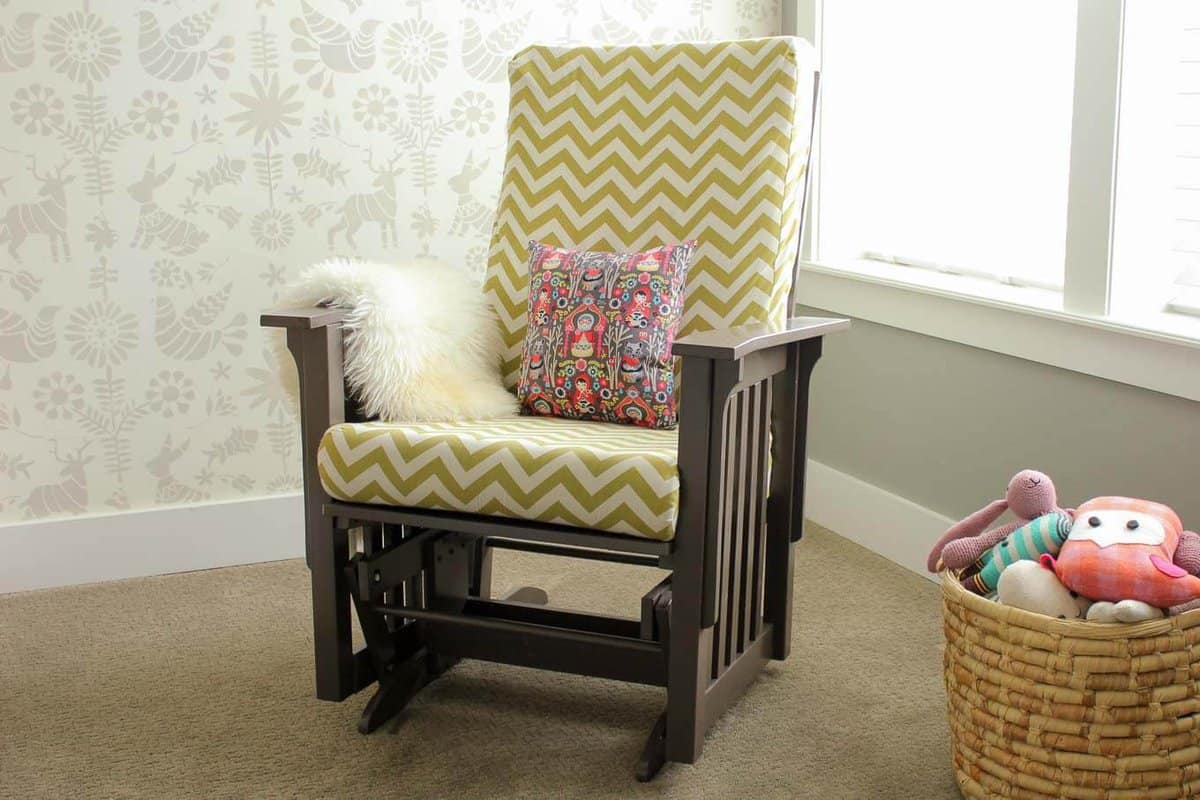 If you've got the need to nest too, check out these DIYs that would look great in a nursery!
How to Make Tree Art With Buttons (free template!)
Make a Hexagon Shelf With Popsicle Sticks (free template!)
DIY Wall Art With Inspiring Quotes
Make Floating Shelves in 15 Minutes Using Cigar Boxes
Make a Modern Bunny-Shaped Shelf (with no power tools!)
Have you made anything for your baby's nursery? I'd love to hear about it.

WANT THE SECRET STUFF?
Get instant access to my vault of exclusive FREE crochet patterns and craft templates.