Make an heirloom your family can snuggle up with year after year with this free corner to corner crochet Christmas afghan pattern!
UPDATE: I put together a corner to corner crochet video tutorial with lots of tips for beginners which you can find here. This photo tutorial on how to read a c2c graph and this tutorial on how to change colors and keep your yarn under control might be helpful as well! You can find all my free c2c crochet patterns here.
Is it appropriate to throw a party because you finish a crochet project? Because, if so, you're all invited. I'll bring the eggnog!
Many of you have been sweet enough to watch me plug along on this C2C Christmas afghan since August, so I think you deserve a special mention at this party. I started this project at the end of summer thinking that I'd have plenty of time to lovingly craft it over the coming months.
Then the reality of having two kids, a blog, a husband and about 12,389 other pattern ideas hit me. So here we are, almost mid-December and I'm finishing it just in the Saint Nick of time.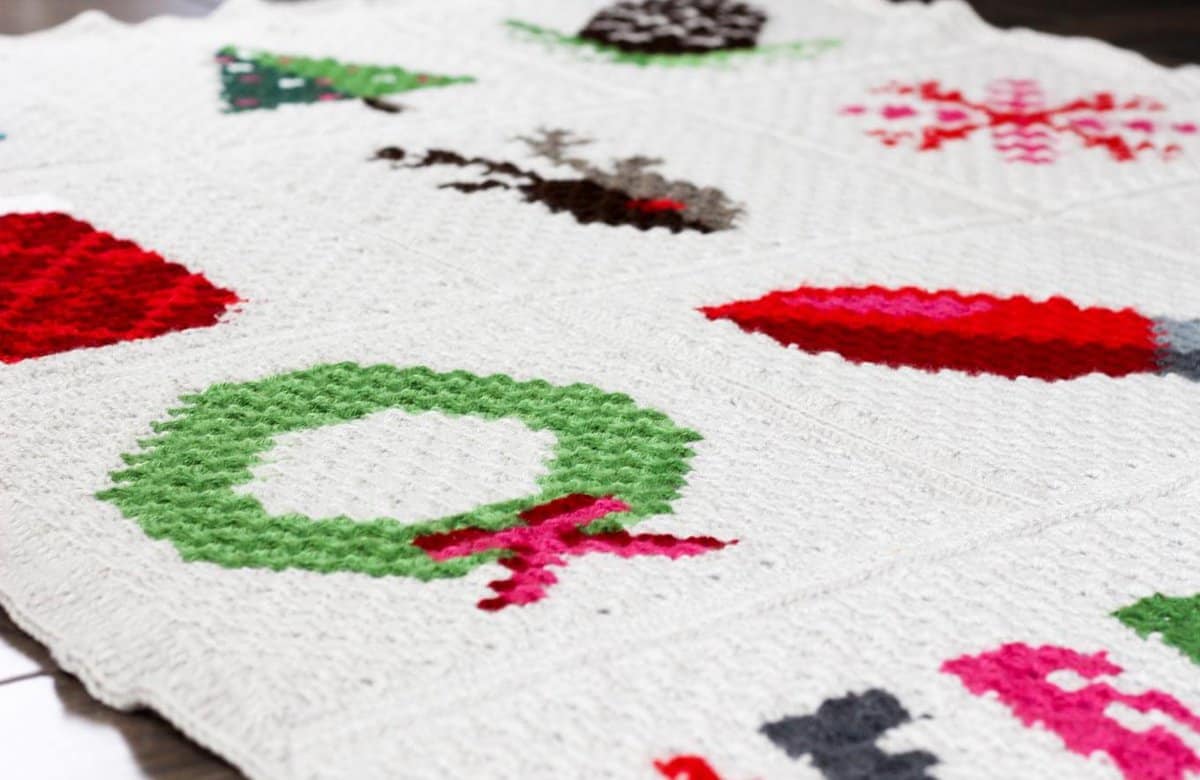 Want to know which projects distracted me from Christmas afghan over the last few months? Check out the "Granny Gives Back" hooded blanket, the "Piece of Cake" cowl, the "Dessert Winds" triangle scarf, these moccasins made from flip flops, the "Snowdrifter" chunky afghan, the "Winter Wanderer" Nordic super scarf, the "Santa's Helper" elf hat, this pumpkin cozy and these sweater boots with flip flop soles.
PHEW. I'm exhausted. And I'm ready to crochet something that doesn't require a graph. I have loved learning how to corner-to-corner crochet for this Christmas afghan. For my first go of it, I'm really happy with how this turned out. There are weird, wonky things about it if you look closely, but I don't plan to look closely. 😉
I hope my family curls up under this Christmas blanket to watch "The Polar Express" and sip hot chocolate for many years to come. (Don't worry, you better believe that hot chocolate is going to be in spill proof cups!)
Below you'll find the free printable graph patterns for each square in this crochet Christmas afghan. Also, I've included the "Merry & Bright" banner I added to the bottom of my blanket and the tutorials I created about adding borders to C2C squares and joining them with an invisible seam.
For some reason (perhaps because I took a couple months off between crocheting these squares and then tackling the banner), my banner turned out to be a looser gauge than the squares. You might notice that my 9-block section has an extra border of double crochet around it and the banner doesn't. The banner is designed, though, to fit across the width of three blocks that each have a double crochet border before being seamed together.
All of that is to say, you shouldn't have the same issue I did with needed to add extra borders (besides for aesthetic purposes!)
This entire Christmas afghan was worked in Lion Brand Vanna's choice (aff link). Each blog post notes the colors I used, but there are so many pretty colors of Vanna's Choice available, that I encourage you to follow your own creative vision!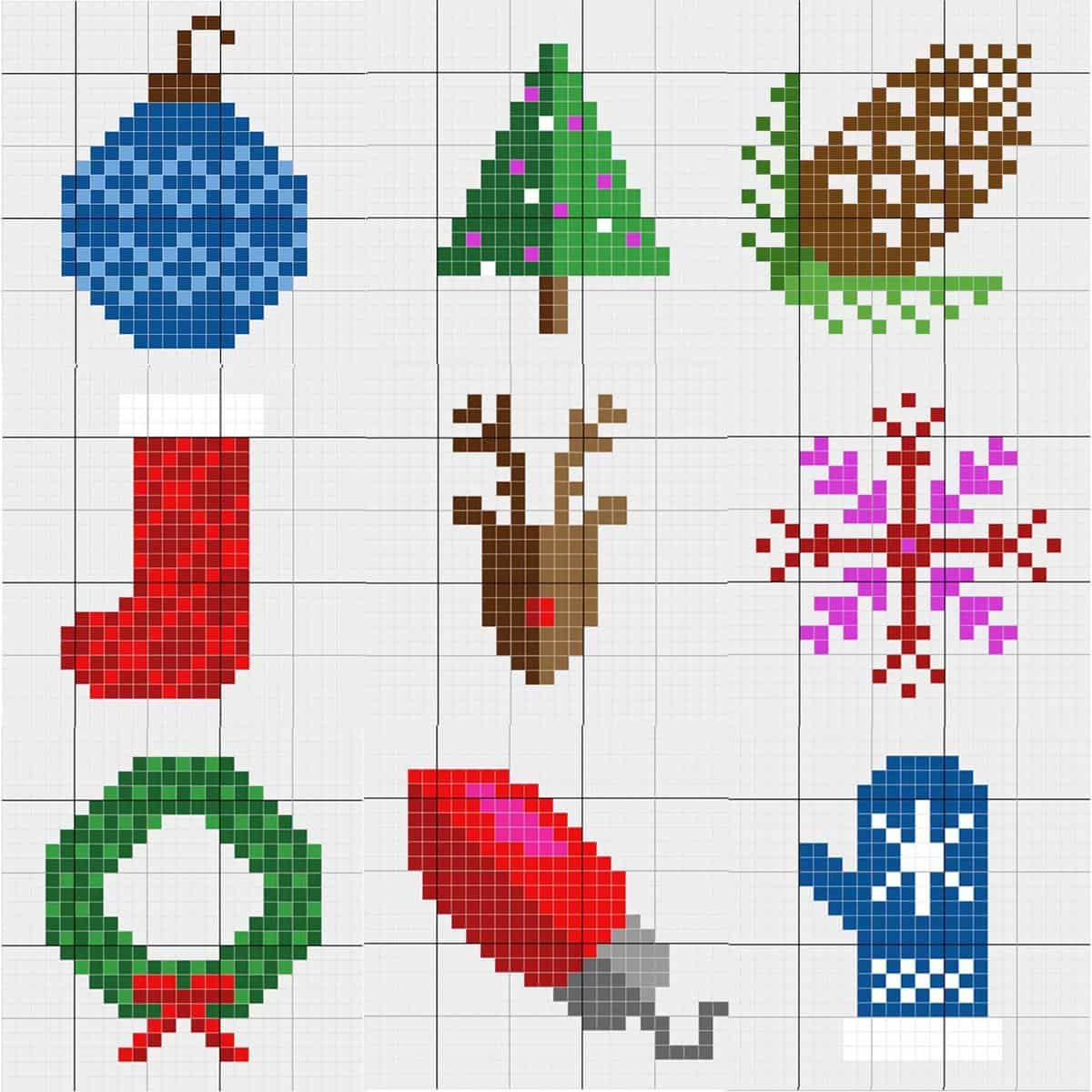 If you have been watching from the sidelines while I crocheted this afghan, now is the PERFECT time to start your own! Seriously, if you make one square a month starting in January, you'll have your own C2C crochet Christmas afghan ready to enjoy next year.
RELATED: Plan your dream temperature blanket project this January
In the meantime:
Add this crochet Christmas afghan pattern to your Ravelry favorites here.
Pin this project for later here.
Note: I worked the entire afghan using half double crochets instead of double crochets. (Read more details about how to do that here.) My finished blanket is approximately 57x66".
If you're a fan of corner-to-corner crochet, be sure to check out my free "Winter Wander" Nordic super scarf pattern too!
Related: Design Your Own Project with These Easy Blanket Stitches