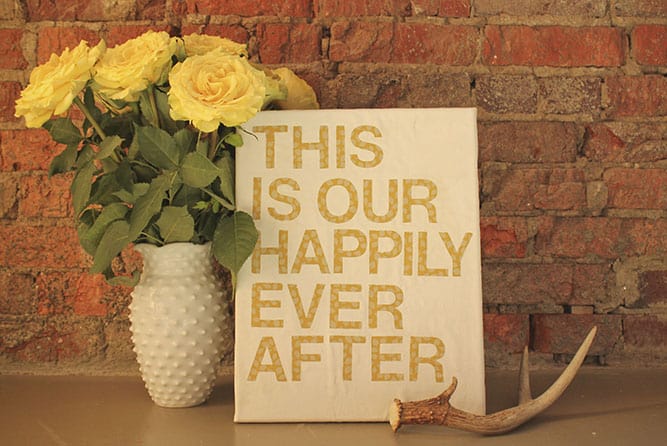 I was totally the girl who had drippingly sweet inspirational quotes like, "Reach for the moon. If you miss at least you'll be among the stars." hanging in my high school locker. So, it's not a huge surprise that half of the art that hangs on my walls these days includes some sort of positive message. What can I say? Ninety-eight percent of the time, I roll with the glass-half-full philosophy. The other two percent of the time, something's gotta keep me off the uppers.

Turns out I have an equally "inspired" group of friends. So for a craft night a little while ago, we decided to make some super simple wall art with quotes and phrases we personally found uplifting. (Speaking of inspiration, this post at A Beautiful Mess originally spawned the idea.) The host of craft night, Tatiana, came up with the brilliant idea to use fabric as the backdrop for the quotes, which I've since decided is the absolute best way to use that little piece of fabric with the A-mazing pattern that you just love, but simply have never known what to do with except for stash it in a box with other similar "treasures." And since I have about 300 such scraps, I'm guessing you must have at least one or two that would work perfectly for this project.
This DIY Wall Art can be made in about the same amount of time it's takes to whip up a box of macaroni and cheese, which made it a perfect project for a group of very chatty ladies.
Here's what you need to wallpaper your life with positive affirmations:
-a canvas
-a fabric scrap slightly larger than your canvas (Or experiment with an old map, the pages from a book or any other texture that strikes your fancy!)
-acrylic paint
-a paintbrush
-adhesive alphabet stickers (We got ours in the art aisle of Michael's.)
-staple gun (This is optional. You could also simply hot glue the fabric edges to the back of the canvas.)
*Also, please note that the our fabric isn't stapled in some of these images because we didn't have a staple gun at craft night. (Sorry to break it to the men reading this, but unfortunately most women don't wear tool belts and sexy overalls to craft night.) In hindsight, I recommend fastening the fabric to your canvas before you get started with your masterpiece.

1. Find a quote, phrase or song lyric that makes your heart sing. There's surprisingly little space on a canvas, so the shorter, the better. If you'd like to see what words inspire me, check out my "Amen" board on Pinterest. (No, it's not about Jesus. Not that I have anything against the guy.)
2. Use your staple or hot glue gun to securely attach your fabric to the canvas. Take care to fold the edges over like you're wrapping a present so they look neat and tidy when they're hanging on your wall. Try combining a few fabrics if you'd like!
3. Use your alphabet stickers to lay out your quote. Press them firmly onto the fabric so paint can't sneak underneath.
4. Time to get painty! Put a layer of paint over everything, including the letters. We found it easiest to also paint fabric on the side edges of the canvas.
5. Have a glass of wine and ponder life while your paint dries.

6. Time for the big reveal! Peel back your stickers to uncover the pop of alphabet-shaped color underneath. TIP: We found the letters could be reused a second time if they're removed carefully. More inspiration bang for your buck! Tomorrow, I'll show you how I used reused my letters to create a poster I absolutely adore.
7. What?! Done already? Yup, that's it! You've just DIYed yourself to a seriously inspiring wall accessory.

If anyone has any great quote suggestions, please leave them in the comments below—the idealistic high school sophomore in me is always looking for the next inspiring little nugget!
Linked up here!