Join makers and doers around the world in this four part series to learn to crochet your own modern, lightweight cardigan, aided by weekly step-by-step video tutorials!

The Alchemy Cardigan crochet pattern is part of a partnership with my friends at LoveCrochet.com. This post contains affiliate links.
Raise your hand if you like modern comfy sweaters, video tutorials and other people who love yarn. Me too! That's why I'm thrilled to announce a new project I've been working on for quite some time with my friends at LoveCrochet.com.
I'm convinced Make & Do Crew has the most friendly and creative "hookers" in all the internet land, so I'm super excited for us all to come together (digitally speaking, at least!) and make a project side-by-side during the month of May.
Are you already hooked?! Great, head to LoveCrochet.com to grab your yarn pack and a copy of the printable pattern.
Never done a crochet along and need more details? Watch the :30 video below to see this lightweight sweater in action and then read on!
What is the Alchemy Cardigan Crochet Along?
A crochet along simply means that crocheters across the land all make the same pattern at the same time. You choose your yarn color and then in May, the four stages of the CAL will each be released weekly on MakeAndDoCrew.com and in the printable pattern PDF available for purchase on LoveCrochet.com.
If you're a couch crocheter, you'll probably want to purchase the ad-free, easily printable pattern PDF, which includes a helpful stitch chart and schematic. Grab it here!

How does this crochet along work?
Beginning May 7th, Part 1 of the pattern and the step-by-step video tutorial will be released on MakeAndDoCrew.com. Each stage of the CAL will be offered for free right here on the blog or you can purchase the ad-free, printable PDF with stitch chart for $5 here. You'll only pay once, but then the PDF will be updated each week so can download it with the instructions for the new CAL stage.
New to making cardigans? Don't miss How to Crochet a Sweater for our best beginner tips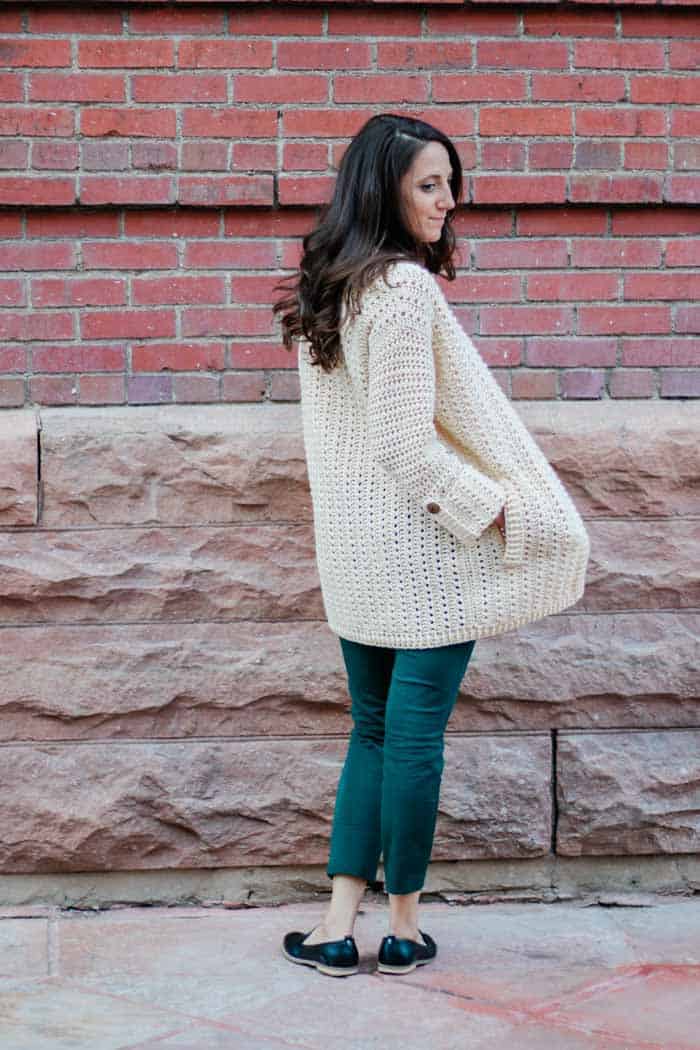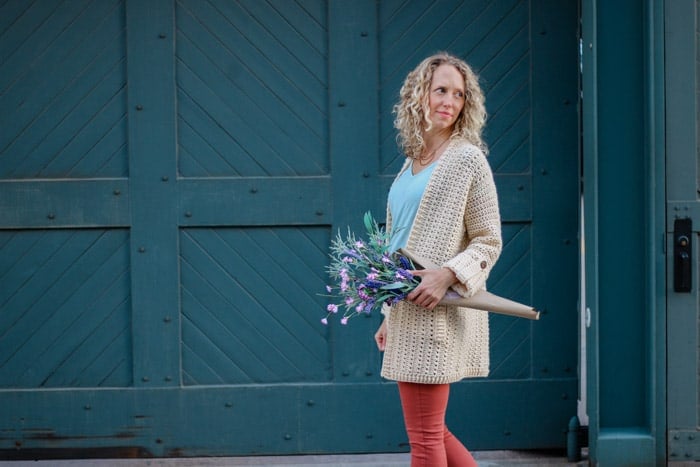 There will be lots of helpful crocheters in the Love Crochet CAL Facebook group working right alongside you, so be sure to hop over there to join in.
I'm also excited to announce that Make & Do Crew new has a new crochet community of our own on Facebook. Come join in our own little group here to share photos of your projects, ask questions and get to know other yarn-lovin' makers & doers like you.
Each following Monday for the next three weeks in May, a new stage of the pattern and an additional step-by-step video tutorial will be revealed. You can take as much time as you need to complete each stage--they'll be waiting there for you whenever you're ready!
Week 1: Kickoff, explanation of project, pattern and video tutorial for cardigan back is released. (UPDATE: Find Part 1 here.)
Week 2: Pattern and video tutorial for cardigan fronts is released. (UPDATE: Find Part 2 here.)
Week 3: Pattern and video tutorial for sleeves is released. (UPDATE: Find Part 3 here.)
Week 4: The grand finale! Pattern and video tutorial for seaming it all together and adding pockets and ribbing is released. (UPDATE: Find Part 4 here.)
More Free Crochet Sweater Patterns
Crochet sweater patterns don't need to be difficult. In fact, most of ours are made with very simple shapes. Dive into the wonderful world of crochet garments with cardigans, pullovers, ponchos, shrugs and more!
See more free crochet sweater patterns →

Where and when do I get my yarn?
Now! The crochet along begins in less than two weeks, so head to LoveCrochet.com to purchase your favorite color of Lion Brand Vanna's Style. This yarn is lovely to work with, completely washable and wonderful for warm weather crocheting. Plus, Love Crochet's price is fantastic -- you can make the whole sweater starting at less than $30! Order now here so your yarn will arrive in time for the CAL kickoff on May 7th!
While at Love Crochet, you can also easily see the details on hook size and other supplies you'll need for the CAL.
A special note to those chunky yarn junkies: Before you start thinking that we're gonna be crocheting with dental floss, let me assure you that this DK weight yarn is still going to give you a healthy dose of the quick gratification you crave. Because this cardigan is fairly fitted, the total amount of crocheting is less than something like the Habitat Cardigan making it a perfect project to whip up over the course of a month.

Can I make the sweater at a later date?
While we'd love to have you join us real time, the pattern and video tutorials will be available here on Make & Do Crew and on LoveCrochet.com after the CAL concludes, so you can order your yarn now and crochet at whatever pace works best for you.
What comes next?
• Be sure to order your yarn here and purchase the ad-free PDF here if you'll want a printable copy of the pattern when it's released.
• Join the Love Crochet CAL Facebook group and the Make & Do Crochet Crew Facebook group to meet other helpful crocheters.
• If you'd like, enter your email address below to be notified as soon as the first stage of the CAL is released!
Just received your yarn in the mail? Starting your sweater? SHOW US! I'd love to follow along with your Alchemy Cardigan journey. Use #alchemyCAL and tag us on Instagram (@lovecrochetcom and @makeanddocrew) to show off your stitches!
Please shout in the comments if you have any questions or if you already know you'll be crocheting along with me. I'd love to hear from you!
That was so fun! Now what?
Invitation to our Facebook group
Come discuss crocheting cardigans and lots of other projects and techniques in our Make & Do Crew Facebook group. Here thousands of helpful crocheters answer each others questions and share their stitches. Come join us here.
Find Your Next Sweater Project
More Free Patterns + Tutorials
Can't get enough free crochet patterns!? Me either. You'll definitely want to breeze through these collections to find your next project.
Learn a New Skill
And when you're ready to master a new skill, check out our detailed guides that include everything you need to know to level up your crochet game.
[convertkit form=5193712]