Requiring only single and double crochet and a very simple construction, this free crochet bag pattern is perfect for beginners. Neutral colors and a beautiful texture combine to form the perfect modern tote.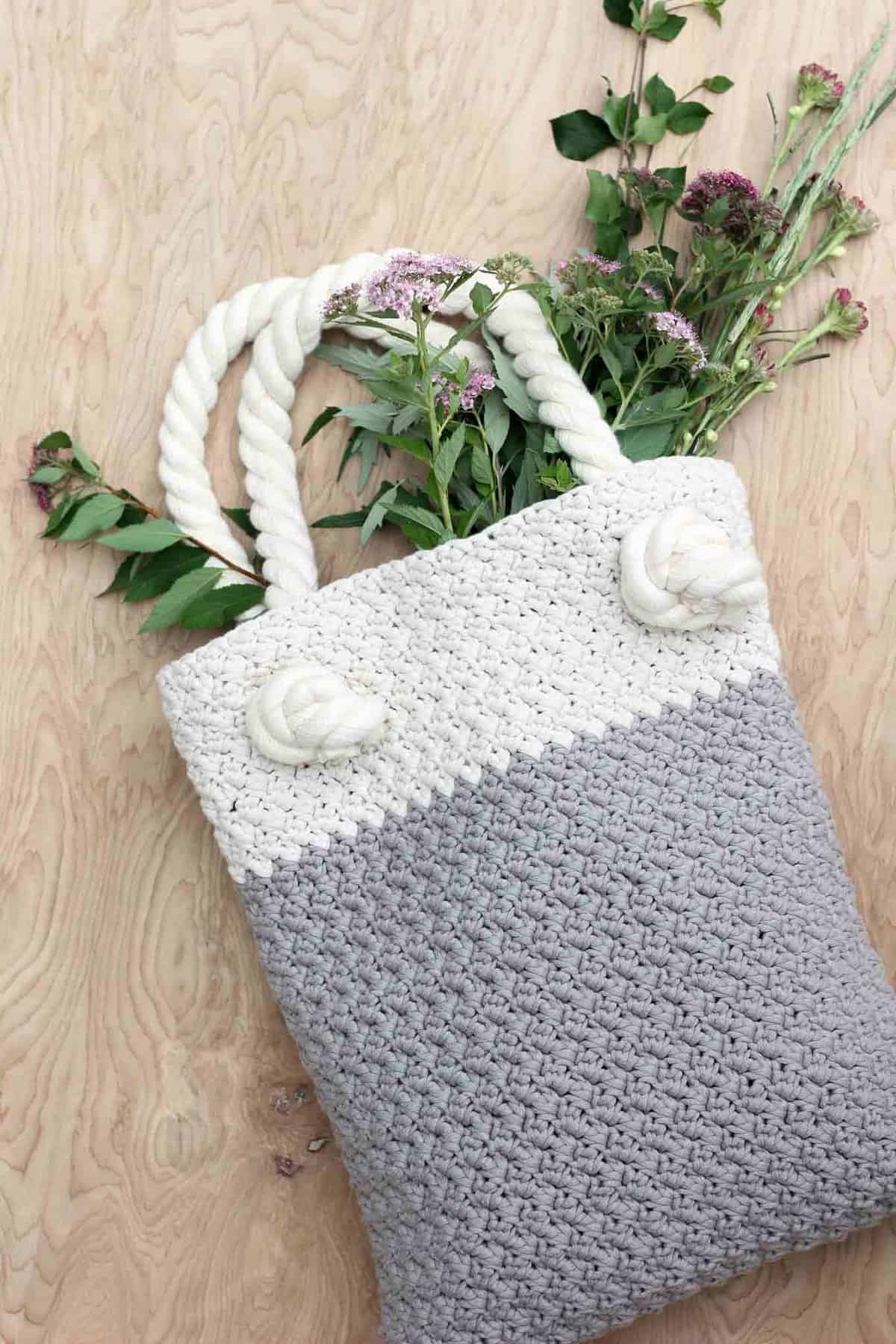 Calling all beginning crocheters! (Or more intermediate crocheters who like to zone out and watch Netflix while you're hands mindlessly make something beautiful!) This tutorial is for you!
This free crochet tote bag pattern is worked in the Suzette stitch, which I first came across on Potter & Bloom. (UPDATE: I created a simple video tutorial that shows you how do this stitch!)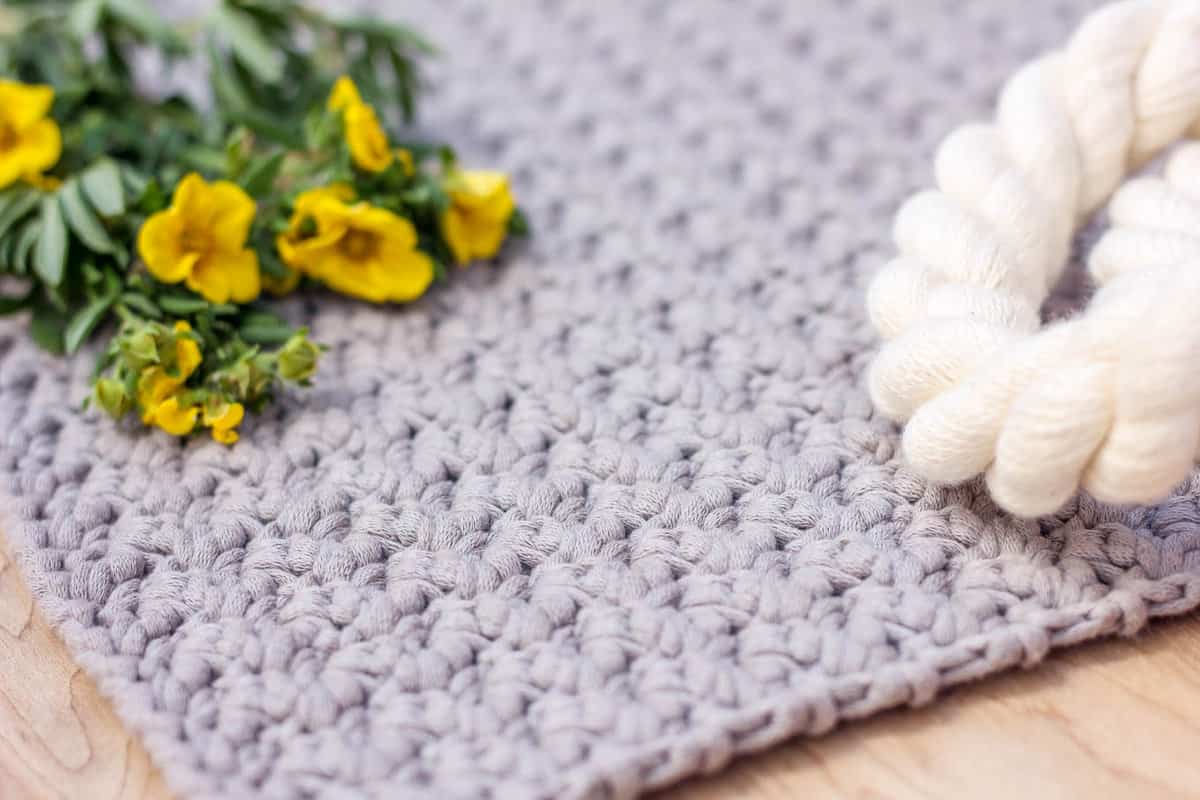 Even though the resulting texture of this stitch is gorgeous, the only skills you need to know to crochet this bag is how to single and double crochet and how to crochet a rectangle. Let's be honest, this tote bag is not a whole lot different from a really lovely giant crocheted washcloth sewn in half.
Which is awesome because speaking of sewing in half, the construction of this bag is super simple. Like, you don't have to have any crochet bag experience, crochet joining experience or really any other sort of experience to put it together. Just fold it and sew it.
Related: 30+ Best Crochet Crop + Tank Top Patterns
More Free Crochet Bag + Purse Patterns
From modern granny square bags to mesh market totes to circle purses, we've got lots more free crochet bag patterns for you to enjoy. With sturdy straps and stylish details, you might just become a crochet bag-a-holic.
See more free crochet bags & purses patterns →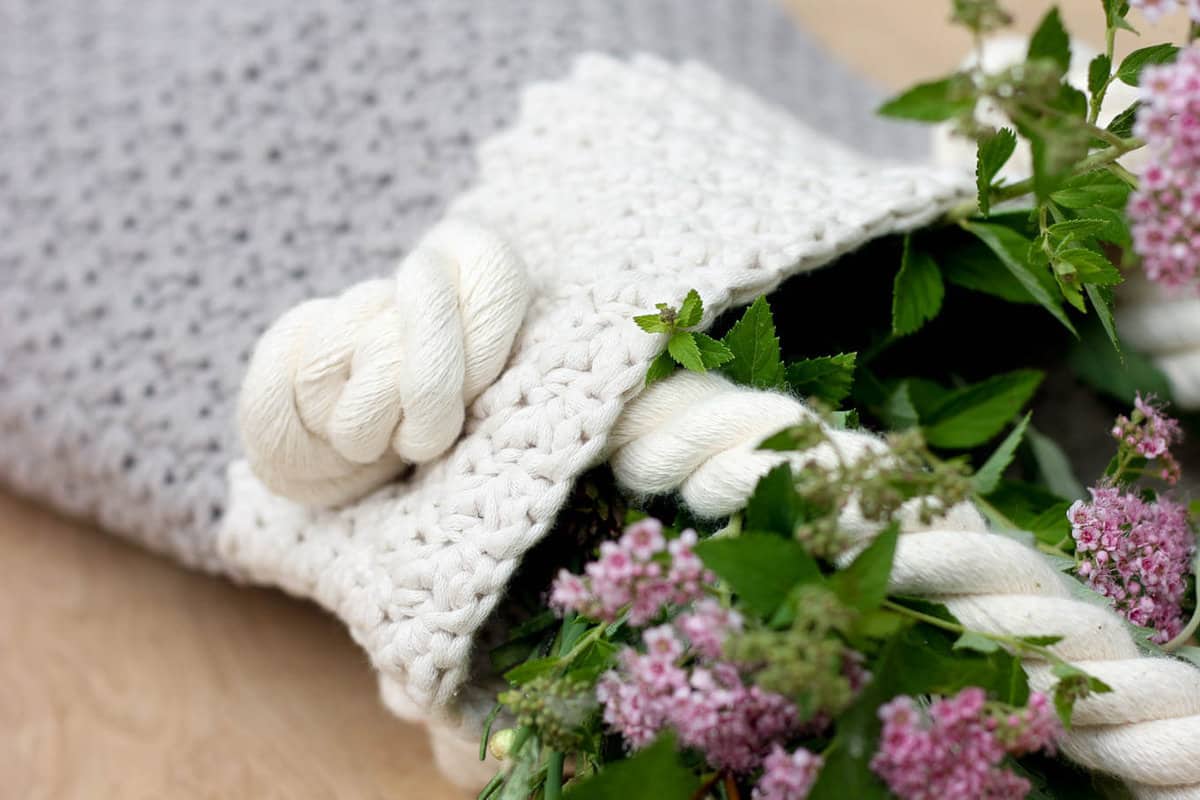 Have you queued up a movie yet? Because you have some wonderfully mindless, yet satisfying crocheting ahead of you.
"Suzette" Free Crochet Bag Pattern For Beginners
Crochet Bag Supplies
So you can spend more time crocheting and less time shopping, this post contains affiliate links at no extra cost to you.
• Bernat Maker Home Dec - 1 skein cream and 1 skein clay (Use your 40% off coupon!)
• size J/10 hook (I love this inexpensive set.)
• stitch markers
• 2.5 yds thick home decor rope (I found it in the curtain supplies section of JoAnn's. My Hobby Lobby and Michael's don't carry it.)
• tape (clear or masking)
• sharp scissors (I got these for xmas and they're fantastic.)
• measuring tape
• (4) ⅝" washers from a hardware store (Or curtain grommets from a craft store. These aren't essential, but they'll be helpful if you plan to carry heavy loads in your bag.)
white thread or Fray Check
Abbreviations - US Terms
fsc - foundation single crochet
ch - chain
sc - single crochet
dc - double crochet
sk - skip
st - stitch
Gauge
7 (sc, dc) groupings = 4"
12 rows = 4"
To work a gauge swatch in Suzette stitch, make a multiple of 2 ch for the foundation chain. 18 ch will be sufficient. Work rows 1 and 2 of the pattern, then repeat row 2 until the swatch measures approximately 5" high. If you'd like, save this swatch and sew it inside your bag as a convenient pocket.
To Make the Crochet Bag
Watch the Suzette stitch video tutorial if you prefer video learning!
Using "Clay" color, Fsc 81. (If you are overwhelmed by the idea of foundation single crochet, just ch 81 and progress with the pattern as written. The difference will be negligible.)
Begin the Suzette stitch pattern as follows: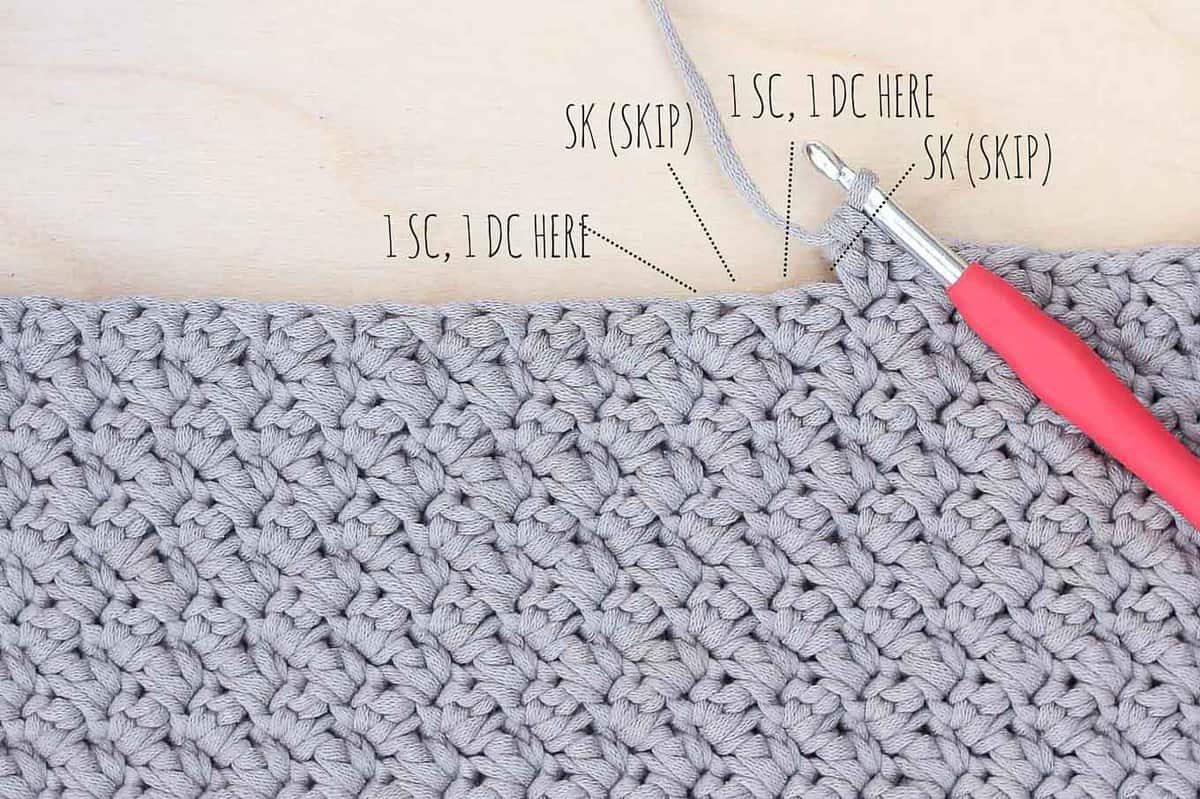 Row 1: (1 sc, 1 dc) into second st from hook, *skip next st, (1 sc, 1 dc) into next st; repeat from * to last st, 1 sc in last st; turn.
Row 2: ch 1, (1 sc, 1 dc) into first sc, sk next dc, *(1 sc, 1 dc) into next sc, sk next dc; repeat from * to end finishing with 1 sc in turning ch; turn.
Repeat Row 2 to form the stitch pattern and continue until work measures 11.5" (about 29 rows). Switch to "Cream" color and continue for 7 more rows.
To form handle holes (in 8th "Cream" row), place stitch markers in the 6th, 32nd, 48th and 72nd st. Work in pattern until marked stitches. At each marked stitch, sk the marked st and the 2 st that follow, ch 2 and resume pattern (sc, dc) in the 3rd st from the marked st. (Each hole should be 3 total unworked st with 2 ch spanning the gap above them.)
Cont in pattern for 4 more rows; fasten off, leaving a 12-15" tail.
Crochet Bag Finishing
Fold rectangle in half. The RS and the WS are essentially the same, so just press the sides together that look the prettiest to you.
Thread tapestry needle using the tail of the last cream-colored row. Seam the cream section of the bag with a mattress stitch, being sure to keep the tension even so that your bag doesn't have any holes or puckers. Err on the side of more, smaller stitches to make your seam more secure.
When you reach the clay-colored section, weave in the cream yarn and seam the rest of the bag side and bottom with clay yarn; fasten off and weave in ends. Turn bag right side out.
Add inside pocket out of fabric or crocheted swatch if you'd like.
Related: 30+ Free Crochet Dress Patterns: Beginner to Advanced
To Add Rope Handles
1. Measure 36" of rope. Wrap a piece of tape tightly around the rope where you plan to cut it. Then cut down the middle of the tape, leaving both freshly cut ends of rope wrapped in tape. Repeat to create a second 34" handle. Don't remove the tape because your rope will immediately begin to unravel.
2. From the inside of the bag out, thread rope through handle holes and place a washer on each end of the rope.
3. Tie a tight knot in the rope at the very end of each handle. Repeat for the second side.
4. Apply Fray Check to the end of each rope before removing tape. Alternatively, gently remove tape and tie a piece of thread tightly around each rope end to prevent fraying.
Hit the beach, the farmer's market or your lunch hour feeling awesome because you made something useful and beautiful with your own two hands!
That was so fun! Now what?
Invitation to our Facebook group
Come discuss crocheting easy purse patterns and lots of other crochet projects and techniques in our Make & Do Crew Facebook group. Here thousands of helpful crocheters answer each others questions and share their stitches. Come join us here.
More Free Crochet Patterns for Bags + Purses
And here are a few more free beginner crochet patterns to keep your hands busy: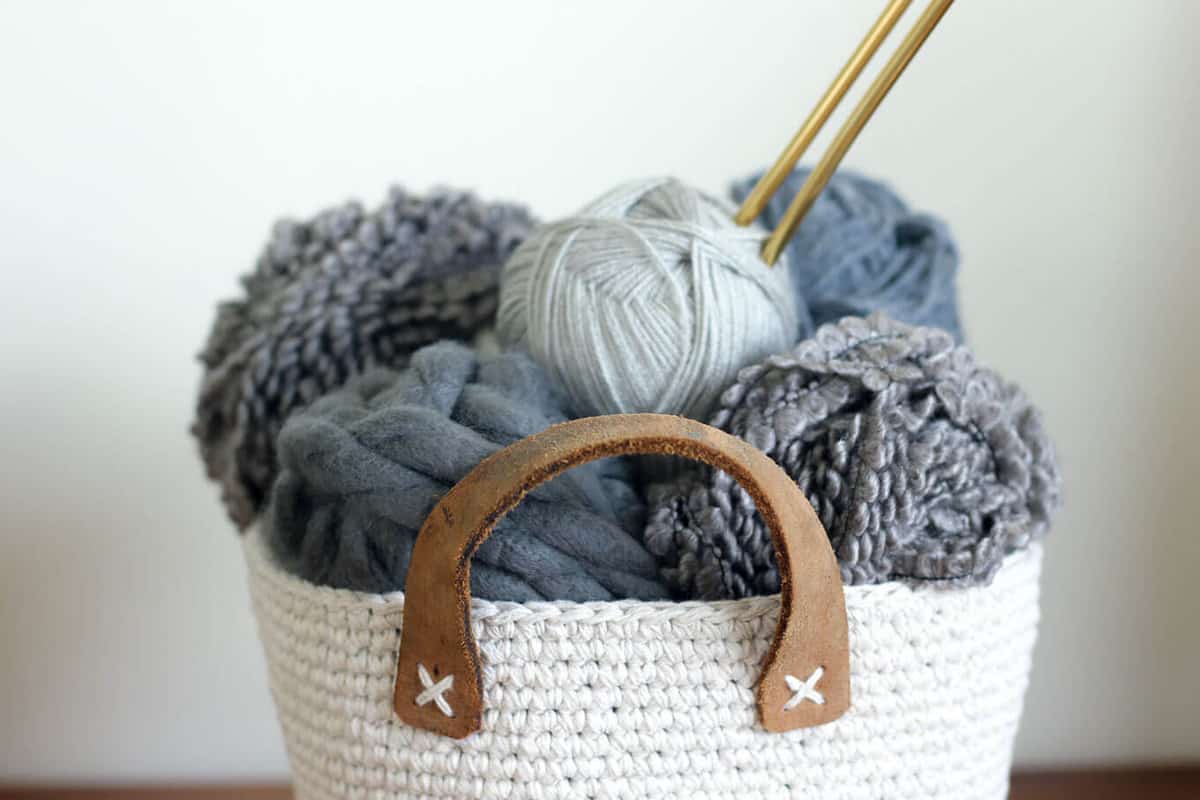 "Aspen Socialite" Headband (baby - adult sizes)
Dollar Store Twine + Thrifted Belt Basket (pictured above)
Basic Crochet Hexagon Pattern (Hip, modern and great for afghans!)